Christmas doesn't have to be around the corner for you to get into the festive spirit and think about your Christmas table meals or look for the perfect cookbook to buy as a gift for that friend or family member of yours who loves to cook!
That is why, in this article, we've compiled a list of 10 must-have Christmas cookbooks, all written by some of the most talented female chefs out there.
From classic recipes to modern twists on traditional favorites, these books offer a wide range of ideas and inspiration to help you make this holiday season one to remember.
So, let's see what we've got in store for you!
If you're following Chrissy Teigen on social media, then you know what to expect from this book!
Packed with flavor and personality, "Cravings: Hungry for More" is a cookbook that is full of bold and delicious recipes, many of which are perfect for a festive holiday meal.
One of the standout recipes in this book is the cheesy spicy breakfast hash, which is perfect for a cozy Christmas morning brunch.
Other must-try recipes include the parmesan and arugula salad, miso carbonara, and jalapeño-parmesan-crusted grilled cheese.
Of course, even though the recipes are to die for, what makes this cookbook so unique is Chrissy's candid and hilarious writing style, which is peppered throughout the book
Therefore, it is the perfect gift or purchase for anyone who loves to have fun in the kitchen and is looking for some inspiration to take their cooking to the next level!
Pros
Features a wide range of bold and flavorful recipes
Written in Chrissy Teigen's signature hilarious and candid style
Provides helpful cooking tips and techniques throughout the book
Cons
The writing style may not be for everyone
"Nigella Christmas: Food, Family, Friends, Festivities" by Nigella Lawson is a beloved classic among holiday cookbooks.
It offers a mix of traditional and modern recipes, with a focus on delicious and comforting food that is perfect for the festive season.
Lawson's warm and inviting writing style shines through in this book, making it not just a cookbook, but also a source of inspiration for festive entertaining featuring a range of recipes for all occasions, from Christmas Eve suppers to Boxing Day buffets.
Pros
Offers a mix of traditional and modern recipes for the festive season
Includes tips on festive entertaining and ideas for decorating the Christmas table
Provides a range of recipes suitable for different occasions, from holiday brunches to New Year's Eve parties
Cons
The book's focus on British Christmas traditions might be a bit limiting for some
Best Female Chef Christmas Cookbooks Buying Guide
How Much Should I Pay For A Good Christmas Cookbook?
The price of a good Christmas cookbook can vary, but on average, you can expect to pay anywhere from $20 to $50. However, some premium cookbooks may cost more than $50.
So, as you understand, the price you pay should reflect the quality of the recipes, the uniqueness of the content, and the overall value the book provides.
What To Look For When Buying A Christmas Cookbook?
When buying a Christmas cookbook, there are a few key things to keep in mind to ensure that you get the most out of your purchase. Here are some important factors to consider:
Range Of Recipes
First of all, look for a cookbook that offers a wide variety of recipes for all aspects of the holiday season, from festive mains to indulgent desserts and everything in between.
Unique Content
Seek out cookbooks with unique and creative recipes and ideas that you won't find in other books or online. 
Practical Tips
Choose a cookbook that includes practical tips and tricks for holiday cooking and entertaining, such as make-ahead recipes and freezer-friendly options.
Visual Appeal
Consider the layout, design, and quality of the photography in the cookbook to ensure that it is visually appealing and easy to follow.
Author Reputation
Last but not least, choose a cookbook written by a reputable author with a strong track record of producing high-quality cookbooks.
The Bottom Line
These 6 female-authored Christmas cookbooks offer a range of inspiration and practical advice to make your holiday season deliciously memorable, so buy either one of these books and we guarantee you will have a merry Christmas!
Frequently Asked Questions
Are Old Cookbooks Better?
Not necessarily! While some old cookbooks can be treasures that offer unique insights into traditional cooking techniques and regional cuisines, many of them are outdated and may not be suitable for modern tastes or dietary restrictions. 
On the other hand, newer cookbooks often incorporate contemporary ingredients and techniques while still honoring classic recipes!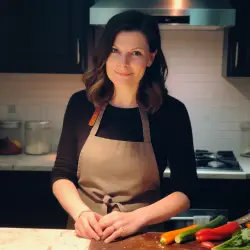 Latest posts by Barbara Hunt
(see all)