When you have a city with as many festivals and annual celebrations as New Orleans, you need to make sure that the people involved are well-fed, and that's why this bright and vibrant city now has over 1,500 active restaurants, and many of the biggest and most prestigious restaurants are actually headed by female chefs who have made their name well known to the locals.
From sushi shops and snack bars, all the way to Michelin-star restaurants, New Orleans is the home of so many amazing female-led food institutions that you really would be missing out if you didn't visit at least a few of them the next time you find yourself venturing through the incredibly memorably city of New Orleans. 
So that you can gain a better idea of who's actually behind these restaurants and who's leading and inspiring the cooking scene in the city, we've put together a list of 7 of the most famous and beloved female chefs(see also: 9 Best Famous Female Chefs We Absolutely Love) from New Orleans that we can't get enough of. 
1. Christina Balzebre
Ever since she was a young girl, Christina Balzebre was well aware of the fact that she wanted to one day become a high-level chef, to the point where she admitted that she used to "write up menus for family dinners, down to the detail".
However, her cooking career hasn't exactly been straightforward as she actually studied Sociology in school while working as a juicer in the local restaurants dotted around New Orleans. 
Eventually, she became a line cook and was soon introduced to the world of baking, something that she had a real knack for and that she now specializes in, serving some of her most unique baked goods in her Levee Baking Co. restaurant located on Magazine Street. 
While her vegan double chocolate cookies are a real delight to chow down on, if you do end up visiting Levee Baking Co., we would highly recommend her salted honey buttermilk pie which is referred to by many people as one of the best pies in all of New Orleans, and for very good reason. 
2. Martha Wiggins
Martha Wiggins has been recognized not only as one of the most talented female chefs in all of New Orleans when it comes to actual cooking, but also as a massive inspiration to so many young people across New Orleans thanks to her inclusion in Cafe Reconcile, a cooking (see also: 8 Best Cooking Channel Female Chefs We Absolutely Love)program dedicated to transforming the lives of at-risk youths by providing them with workforce development training and job mentorship. 
When Martha first took on the role of Executive Chief of Cafe Reconcile, she not only headed the program, but also aimed to transform the culinary experience of the cafe itself, contributing her own passion for cooking to make sure each and every customer has a memorable and pleasant dining experience. 
A few fan-favorite menu options include her show-stealing cauliflower, and especially the paneed pork reconcile which features celery, onion, peppers, and a whole range of herbs and spices to make a delightfully refreshing meaty dish packed full of flavor. 
3. Ana Castro
During her younger years growing up in Mexico City, Ana Castro became accustomed to and very familiar with the exotic world of Mexican recipes, but as she grew older and decided to pursue her passion of being a professional chef, she soon found herself being trained in one of the most prestigious schools in the world, Le Cordon Bleu, where she began specializing in French cuisine. 
As she traveled between Mexico and Europe, learning new custom recipes and perfecting her skills in the kitchen, she eventually decided it was time to establish a restaurant of her own in the bustling city of New Orleans where she established Lengua Madre.
The restaurant is first and foremost rooted in traditional Mexican cuisine, but there is also a small hint of European flavor thrown into the mix thanks to the wide range of ingredients she likes to use. 
She makes one of the best chilaquiles verdes recipes on the entire planet which is loaded with beans, garlic, onion, and just a dash of cinnamon to make this salsa-style dish as refreshing as possible. 
4. Lenora Chong
Every food enthusiast living in New Orleans is well aware of Morrow's, a Korean-inspired restaurant that serves up many familiar classic New Orleans dishes which feature an Asian twist to make the underlying flavors as exciting and unique as possible, and the wonderful woman leading this award-winning restaurant is Lenora Chong. 
When Lenora first took on the position of leading Morrow's, she was already familiar with the busy nature of New Orleans, having also been the owner of Lenora's Grill which became somewhat of a local hidden gem to the people of New Orleans. 
Now, Lenora Chong is back, and she's better than ever, serving up mouthwatering dishes like her Korean BBQ special, and grilled salmon which is elegantly garnished with a sweet and sticky teriyaki glaze. 
5. Cynthia Vu Tran
"The Queen of Creole Cuisine" has had one of the most fascinating and historically important careers as a female chef, (see also: 11 Female Great British Chefs We Adore)primarily because of the role she played during the American Civil Rights Movement when she would establish fine-dining establishments where civil rights activists, including Martin Luther King Jr himself, could meet in private while enjoying some fine dining. 
Her role during this turbulent period has been appreciated by the entire country, with multiple presidents personally congratulating her, and even tasting some of her finest recipes for themselves.
While Cynthia sadly passed away in 2019, many of her most popular and significant restaurants were stationed in New Orleans, and they are still just as popular today. 
Cynthia's incredible legacy lives on through her food, so if you're ever around Orleans Avenue and start to hear your stomach grumbling, you need to pay a visit to Dooky Chase, an award-winning restaurant that has been serving the people of New Orleans for over 70 years, and that houses some of Cynthia Vu Tran's most beloved recipes and dishes. 
6. Nina Compton
Specializing in Italian, Caribbean, and French cuisines, Nina Compton first began making a name for herself with the opening of her first restaurant, Compere Lapin, where she whipped up recipes inspired by her childhood life in St. Lucia. 
However, while Nina was gradually becoming more well-known as time went on, it was when she appeared on Top Chef: New Orleans that people really began to take notice, especially since she was voted the fan favorite on the show and also won second place after reaching the finals. 
Very soon after, the cooking media was infatuated with her, trying to pry all the details they could about where she would be cooking next, and her plans for the near future.
It wasn't long until she opened Bywater American Bistro, a casual New Orleans eatery that served Caribbean-inspired food featuring a slight New Orleans twist. 
7. Joy the Baker
Joy the Baker is a little different from all of the other female chefs (see also: 10 Female Mediterranean Chefs We Adore)on this list because while she does have a very long and respectable career in cooking, with her specializing in baking, she didn't become well-known for opening up a restaurant or appearing on a popular cooking TV show. 
In fact, Joy started simply showing her delightful desserts and treats to her fans on Instagram, and very soon, she became one of the most popular New Orleans-based chefs across all of social media. 
Since 2008, Joy has been blogging her entire cooking career on her website which features all of her recipes and plenty of tips on baking that she has learned throughout her many years whipping up these treats herself for her friends and family. 
While she may not be a 'chef' in the traditional sense of the word, since she doesn't actually currently work in a restaurant, if you take a look at the sheer amount of recipes she has on her website, all of which have their own personal twist to make them unique, it definitely is enough to put her up there with some of the most popular female chefs in all of New Orleans. 
Summary
From the legendary Christina Balzebre to new faces such as Nina Compton, all the way to social media mega-chefs like Joy the Baker, New Orleans is the home to so many amazing female chefs that it makes the city a real joy to be in since you know an appetizing meal won't be more than a few steps away from you at any time. 
With inspirational figures like these making quite the reputation for themselves in the New Orleans cooking scene, more and more young female chefs are appearing all the time, leading some incredibly unique restaurants and serving their own personal dishes to the hungry masses of the lively city of New Orleans, so we can only expect more incredibly talented women to make their name known to all food enthusiasts in the city over the next few years.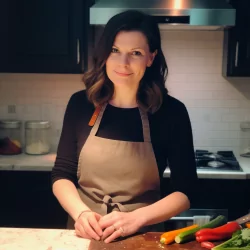 Latest posts by Barbara Hunt
(see all)