When you read a vintage cookbook, you're taking a peek into a time when cooking and eating habits were a lot different than they are today.
Many of these cookbooks featured ingredients and cooking techniques that were used in a bygone era when people's tastebuds were accustomed to food that often tasted a lot different than what many of us in the present day are used to. 
Alongside giving cooking enthusiasts a glimpse into more traditional recipes, vintage cookbooks also allow us to see the emergence of some of the most influential women in the cooking world, granting us an insight into how they became household names. 
Whether you want to find out about some old-fashioned recipes, or you simply want to learn more about some of the most influential female cooks, we've got a list right here of the very best vintage cookbooks written by female chefs (see also: 8 Female Chef Comfort Food Cookbooks You Do Not Want To Miss) that you need to check out for yourself!
Advertised as the 'ultimate vegetable feast', if you're a lover of plant-based recipes, or you're someone following a vegetarian diet, this is a classic cookbook written by the immensely talented Marian Morash that you're not going to want to miss out on. 
With a staggering 800 recipes packed in between the pages, 'The Victory Garden Cookbook' was hailed as the definitive vegetable-based cooking tutorial back when it was released in 1982. 
Even today, you'll struggle to find many books that can manage to feature as many nutritious and mouthwatering recipes into a single book without splitting it up into separate volumes. 
While Marian Morash nowadays runs her incredibly successful and popular Straight Wharf restaurant in Nantucket, when she was writing her Victory Garden Cookbook, a lot of her ideas actually came from experimenting while on the tv show Crockett's Victory Garden. 
While the show ended up gaining more viewers than expected, it was the cookbook that really took the world by storm.
Considering the enormous number of recipes the cookbook features, you can guarantee you'll be able to find something nutritious, exciting, and unique for you and the whole family to tuck into. 
With over 3 million copies sold since its release back in 1982, 'The Silver Palate Cookbook' is a recipe guide that anyone interested in smaller meals and snacks will have stored away in their kitchen cabinet, with it being hailed by many as one of the most innovative books centered around American cuisine to ever exist. 
It all started when the first ever gourmet carry-out shop in Manhattan, The Silver Palate, opened its doors in 1982. 
Visitors couldn't get enough of all the quirky and tasty snacks and meals that were on offer, from the curried butternut squash soup to the white sangria, it's easy to imagine that anyone walking into the store back then would have been stunned by how much was on offer.
Sheila Lukins, an already very experienced and well-respected name at the time, soon skyrocketed in popularity when she decided to include a collection of 350 of the most remarkable recipes featured in this shop, and other carry-out shops in America, into one cookbook.
The book has been recognized by many experienced chefs as one of the most revolutionary cookbooks ever written because.
For the first time, people could make these top-quality goods at home without having to even enter the shop, until all of a sudden, a lot of the food was being replicated across most households in America. 
Cookies became incredibly popular during World War 2 since they were easy to make and to send abroad to the soldiers on the front lines. 
Even after the war ended in 1945, they were still a very common sight as many bakers began putting their own personal twists on the regular cookie formula to make them softer, crunchier, or simply more flavorful. 
Betty Crocker was at the head of this movement and took the opportunity to dazzle cookie lovers with her own cookie cookbook which features 450 different cookie recipes, all of which are incredibly unique and suitable for different occasions. 
Whether it's a family gathering, a light snack for the kids, or simply just a solo treat to enjoy after work, Betty made sure to include something for everyone in this book. 
She even includes a section entirely dedicated to holiday cookies, meaning you can prepare an entirely new batch for you and the kids to enjoy when they have a few days off school.
Edna Lewis has been praised by many as "the first lady of southern cooking", and her most well-known book, and one of the most popular cookbooks ever written, 'The Taste of Country Cooking', is proof that she is more than worthy of that title. 
Edna made it her mission to teach people how to make delightful and satisfying meals by using only natural ingredients.
Not only are the hundreds of recipes included all a sheer delight on the taste buds, but the book itself is also structured in a way that makes it easy to flick through, and so much fun to read. 
Edna provides recipes for each of the four seasons, whether she's walking you through how to make some corn pone and crispy biscuits to feast on during the colder months, or a sweet potato casserole to enjoy in the summer.
This has made the cookbook timeless and means it can be whipped out for literally any occasion and at any time of the year. 
Because of just how many recipes are featured in this cookbook, it also means that you have more than a few choices on what to make for breakfast, lunch, dinner, and supper, so while it was written in the 1970s, it still holds up remarkably well to this day. 
Summary
Sometimes, it can be fun to look back at the classics to gain some new recipe ideas, and the good news is that there are plenty of vintage cookbooks written by incredibly well-known and adored female authors (see also "Female Chefs Of Chicago We Adore") that are still just as relevant to this day that will provide with an entire selection of classic and traditional cuisines and snacks to impress your friends and family with today.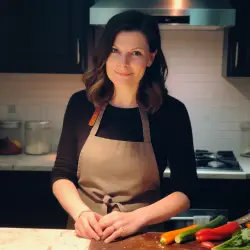 Latest posts by Barbara Hunt
(see all)