Losing weight can definitely be a lot more challenging than it first sounds, especially when you're trying to cut out meals and snacks that no longer fit into your new diet plan.
However, this does also mean that you must think up some brand new recipes that are a lot healthier and lower in fats and carbs to eat instead, which is never easy if you're not someone who has a good amount of experience in cooking. 
This is where weight loss cookbooks come in, providing you with hundreds of pages featuring nutritious and delicious recipe tutorials that can save you from combining a bunch of ingredients in the kitchen and hoping that they blend well together, which can often end in disaster. 
Many of the most popular weight loss cookbooks have been written by female chefs who have made a name for themselves in the cooking industry as pioneers of their craft, so when reading their books, you know you'll be getting nothing less than the very best in terms of nutrition and quality.
With that being said, let's take a look at 6 of the best weight loss cookbooks written by female chefs that you can find readily available online right now.
Through her own personal batching method, professional chef Suzanne Mulholland has been organizing ingredients, cooking utensils, and cutlery in a particular way throughout her entire career, and she says in her fantastic cookbook that this type of organization has helped her make recipes not only faster, but also healthier. 
This is because Suzanne tends to cut out all the excess ingredients from recipes that make them a lot unhealthier than they need to be, and this becomes evident when you flick through the hundreds of recipes in her cookbook that look familiar but have a slight twist to them so that they're much more acceptable to eat as part of a diet plan. 
Suzanne ensures to tell readers that they don't have to sacrifice flavor when they are deciding to undertake a diet plan, as long as they choose the right alternate ingredients that is, so whether you're a big fan of juicy burgers, spicy comforting curries, or just simply roast chicken dinners, Suzanne has a way to make these fan-favorite dishes even healthier.
A lot of people will recognize the name Ella Mills from the Netflix web series Down To Earth with Zac Efron, where she teaches the famous movie star the best vegan recipes to prepare when on a diet that are clean but also taste incredible and are very easy to make. 
While we only get a sneak peek at a handful of these recipes in the series, Ella goes into much more detail on how a lot of her favorite plant-based recipes are made, along with how beneficial they are to consume, in her Quick & Easy cookbook. 
As someone who is incredibly passionate about living a healthy and clean lifestyle, you can be sure that Ella only includes recipes that will fit right into a weight loss diet, but she also prioritizes including easy-to-make recipes which can be made with fairly basic ingredients, many of which you may already have lying around the house. 
Each of the 100 recipes included in the cookbook can be made between 10 to 20 minutes, making them easy to whip up while on a break, or even as a quick breakfast option to get you prepared for the day ahead.
If you have a few recipes that you can't get enough of but are worried that you might need to leave behind when switching to a healthier diet, the good news is that a lot of these dishes can be altered slightly to make them a lot more refreshing and cleaner.
In Skinnytaste, Gina Homolka goes through recipes that we're all accustomed to and guides readers through how to make these standard recipes as healthy and nutritious as possible, without getting rid of any of the flavors that make them so enjoyable. 
This cookbook is also great when you need some guidance on preparing healthy prep meals and snacks ahead of time, and with over 100 recipes featured, you are given a tremendous amount of choice in regards to the type of meals you decide to try incorporating into your diet, especially because they are all split up into either being breakfast, lunch, or dinner options. 
All recipes are also labeled as either vegetarian, gluten-free, dairy-free, or freezer-friendly which also makes it very accessible for anyone following a vegetarian diet or any other strict meal plan that excludes certain ingredients.
If you're not familiar with a Whole30 plan, it is essentially a diet that eliminates all sugar, alcohol, grains, and dairy to make each meal as nutritious as it can be, and is a diet many celebrities, including models and bodybuilders, have been known to follow so they can stay in shape. 
With that being said, it's definitely not an easy diet to become accustomed to, especially if you're doing so on your own, so this brand-new cookbook by the immensely popular Melissa Hartwig has been written to provide readers with a guide on how to follow the diet, and most importantly, how to stick with it. 
After Melissa talks about the benefits of following a Whole30 diet, she then goes through a wide range of recipe ideas for each day which will ease you into the strict diet plan, rather than throwing you in the deep end as soon as you begin reading. 
Many reviewers have commented on how the book manages to be accessible to experienced chefs and newcomers to the kitchen alike, so no matter how much you enjoy cooking, if you're primarily concerned with losing weight, this is a book you need to consider picking up.
The beauty of this cookbook, written by the incredibly talented duo of Pearl Barrett and Serene Allison, is that it features so many unique recipes that a few of them can be used as a way to start off a meal plan, while others can be recipe ideas that stick around for the long term. Either way, you can guarantee you'll be getting a variety of healthy foods that are all creative, clean, and very fun to make. 
All the recipes included in the cookbook are completely family-friendly, so you'll be able to whip up a lot of them for the kids to enjoy too, and don't worry, Pearl and Serene make sure to point out which recipes will be best to start off with if you're planning to whip up a meal for your kids, and they certainly know what they're talking about having 18 children between them. 
Alongside the plethora of hearty recipes, there are also a few smaller guides featured in the book that go over methods to keeping you and your family healthy without having to be restricted to the kitchen every hour of the day, making it a fantastic resource for maintaining a healthy lifestyle for you and your loved ones.
A low-carb, high-fat keto diet is often recommended to people who have experienced difficulty losing weight through other methods.
While fat is an essential component of the diet plan, research has shown that a ketogenic diet can still result in rapid weight loss, specifically because the body is burning so much fat to use for energy. 
It's not exactly a diet that would be the first recommendation by many fitness instructors, but it does serve as an excellent and very effective alternative method that can still help someone lose a few pounds.
Luckily, Carolyn Ketchum has provided a cookbook that goes over everything you need to know about following a keto diet, along with 150 recipes that all stay within the requirements of the diet plan to make them a lot cleaner and more healthy than they would be otherwise.
The book doesn't only feature food either since it is also packed with drink recipes that fit into a keto diet, some of which even include splashes of alcohol, giving you an idea of how fun and inventive a lot of these recipe ideas really are.
Summary
There's never any shame in looking for guidance when it comes to losing weight. It can be a very stressful and demanding journey if undertaken on your own, but with a handy cookbook at your side, you will be preparing delicious and nutritious meals in no time, so be sure to check out the books offered by these incredibly talented female chefs today.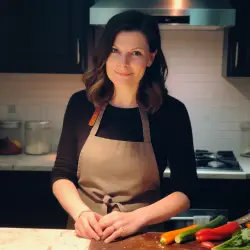 Latest posts by Barbara Hunt
(see all)