Are you looking for a cookbook that's perfect for college students? Maybe you want a book written by a female chef and don't know where to start? Or are you curious and want to know more?
No matter the reason that brought you here today, we have the answer for you!
Finding a female chef cookbook(see also: 7 Female Chef Kosher Cookbooks You Do Not Want To Miss) for college students to try can be tricky, especially if you have never bought a cookbook before.
You want to send your college-age child off with all the right tools, but there are so many cookbooks to choose from. 
How do you scroll through pages and pages of books to find the right one to buy?
Well, save yourself the trouble, and let us do the hard work for you!
We have done the research, tried and tested the cookbooks, and are proud to bring you 4 female chef cookbooks for college students to try! Keep reading to find your new cookbook today.
4 Female Chef Cookbooks For College Students
Below we have 4 female chef cookbooks for college students you need to check out!
Each book will provide a college student with easy and delicious meals to create, without breaking the bank. Let's take a look at them now. 
Candance Braun Davidson is a chef and food writer who has articles featured in some of the top magazines and has made food videos for the likes of Delish. 
So when we saw her name on a cooking book, we had to have it! 
Her Easy College Cookbook features 75 recipes that are not only quick and easy to make, but affordable too!
There are plenty of meals in here for breakfast, lunch, and dinner, plus great snacks and desserts!
What we love about the book is how many hacks she has included! You can learn great tips about saving money in your food shop and how to prep your kitchen!
All of the recipes come with substitution tops too that can make the meals veggie, vegan, and gluten-free if needed.
Pros
A wide variety of recipes to choose from
The prep tips are great for beginners who have never cooked before
Recipes are easy to follow
The book is an affordable price
Cons
Not all dorm rooms allow the appliances used in many of the recipes, making it impractical depending on the space college students are living in 
Next up, we have this fantastic book by Pamela Ellgen, a renowned chef, food blogger, and personal trainer.
The book is packed full of recipes that only require five ingredients, making it perfect for college students!
They don't need to worry about tons of ingredients that could go bad, saving them money on their grocery shopping and time prepping meals!
There is a wide variety of meals in the book, so no matter what they like to eat, they can make it themselves at college!
Plus, these recipes are student-approved, so you know the college student in your life will love them!
There is plenty of information in the book that will help them learn basic cooking skills, including everything from storing veggies to using knives correctly. You can't go wrong with this cookbook!
Pros
Wide variety of recipes to suit everyone's preferences
Basic meals that are packed full of flavor
Dorm-room-friendly recipes don't require lots of counter space or appliances
Perfect starter cookbook for beginners
Cons
No pictures of the food, making some of the recipes a little tricky to follow
The Complete Cookbook For Teen Chefs is the perfect cookbook for first-time college students! Olivia S Lawrence has packed this book full of 200 recipes they are sure to love!
All of the recipes can be prepared in 30 minutes or less, making it perfect for busy students!
Plus, all of the recipes are easy to follow, making them perfect for beginners.
There is a range of meals that can be made, including salads, bolognese, risotto, and delicious desserts like the cappuccino shake!
All of the recipes sound delicious, the hardest part will be deciding what to make each day!
Pros
A wide variety of recipes that you can choose from
The recipes are simple and easy to follow
All of the ingredients in the recipes are easy to find
All meals are quick to prepare
Cons
Some of the recipes require a lot of ingredients, which can make the recipes expensive to make 
Julee Morrison's Complete College Cookbook is another wonderful option to choose from! Not only does it have over 100 recipes that can be followed, but it is the perfect guide to a college kitchen!
The cookbook teaches students how to prep and store ingredients and plenty of cooking hacks to turn any space into the perfect kitchen!
It's a great book if you don't know what facilities will be available before your child heads to college.
No matter what kitchen they encounter, the book will teach them how to cook in space!
We love how affordable the recipes are too. They are all designed to be budget friendly so that delicious meals can be enjoyed, no matter the student's budget!
Pros
The introduction is packed full of useful information
Lots of tips that help cook in a limited space
Wide range of meals can be made in a microwave 
Budgeting tips allow students to get the most out of their food (and wallet)
Cons
More expensive than other cookbooks on the list 
What To Consider When Buying A Female Chef Cookbook For College Students
When you purchase a cookbook for college students, there are a few factors that you should consider.
Let's take a look at these now to help you narrow your search and find the best cookbook!
Available Space
Consider what space your college students will have. Are they moving into a space with a fully functioning kitchen? Or are they living in a dorm with a microwave and a toaster?
You don't want to buy a cookbook that is full of recipes that can't be used in their space.
Look out for cookbooks that are targeted to college students or come with recipes that can be used in limited space or microwaves. This way, the college student will get the most out of the cookbook.
Budget Friendly
College students never have any money, so be sure to buy a cookbook that focuses on budget-friendly meals. That way, they aren't left struggling to buy expensive ingredients that can only be used for one meal.
Look for cookbooks that are more versatile with their ingredients and focus on budget-friendly meals.
Dietary Requirements
Do you need a cookbook that includes vegetarian, vegan, or gluten-free recipes?
Look for cookbooks that either focus entirely on these recipes or offer adjustments and swaps on the recipes. 
That way, your college student doesn't need to look up what they can use as an alternative, but can just check the cookbook!
If you have a vegan or vegetarian college student, all of the cookbooks above come with meat-free meals, but you might want to consider a cookbook that solely has veggie or vegan meals.
Price
Finally, you want to consider the price of the cookbook itself. You don't know how much use the college student will get from the cookbook, so there is no point in spending a lot of money on a cookbook!
Make sure you look for an affordable cookbook that suits your budget. That way, if the cookbook doesn't get used as much as you would like, it isn't a total waste of money!
Consider your budget before making your purchase to ensure that you can afford the cookbook.
Final Thoughts
And there you have it, 4 female chef cookbooks (see also: 5 Female Chef Mediterranean Cookbooks You Do Not Want To Miss)that are perfect for college students! Each of these cookbooks is ideal for first-time cooks, college students, and anyone cooking for the first time!
The books are tailored to the limited kitchen space most college students encounter, so you can rest easy knowing whatever appliances they have, they can make delicious and nutritious meals!
Don't forget to use our tips to help you narrow your choice and find the perfect cookbook for the college student in your life.
Frequently Asked Questions
Before you leave us today, be sure to check out our brief FAQ section to answer any last-minute questions.
Do College Students Need A Cookbook?
This depends on the student! If they have never cooked before, a cookbook is a good option.
It will provide them with a good introduction to cooking and some staple meals that they can cook for themselves.
Even if a college student has cooking experience, a college cookbook can help them create meals in the limited kitchen space that most students have.
Should College Students Learn To Cook?
Yes, college students should learn to cook! Although most colleges will provide students with meals, cooking is a life skill.
Students must learn how to cook to help them improve their independence. Plus, it's cheaper than purchasing takeout every day!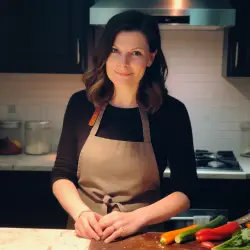 Latest posts by Barbara Hunt
(see all)