If you are a woman interested in all parts of domestic life, then you might already have heard of the Pioneer Woman.
This is a website that was set up by Ree Drummond, covering home and lifestyle, hair and beauty as well as cookery and recipes.
Due to the website's increasing success, Ree has branched out into publishing her own Pioneer Woman cookbooks, with recipes for the whole family, for the holidays, quick meals and meals you can make for your supper at the end of the day.
So what Pioneer Woman cookbooks are available? What recipes would be the most suitable for your family? Are there any Pioneer Woman holiday cookbooks(see also: 6 Female Chef Pioneer Woman Cookbooks You Do Not Want To Miss)?
Well, we've compiled a list of some of our favorites, covering a wide range of cuisines and recipes. You're bound to find something here that will suit your tastes. So, what are you waiting for?
Who Is The Pioneer Woman?
Ree Drummond is an author, blogger, food writer and photographer who started her own immensely popular blog in 2006 that she originally titled 'Confessions Of A Pioneer Woman', which was later shortened to just 'The Pioneer Woman'.
The website originally started as a place where Drummond could talk about topics related to her life living on a ranch and homeschooling her children, however, when she started posting about recipes, that is when the website took off.
Since then, the website has gone from strength to strength, with 13 million views per month in 2009, which increased to 23 million per month in 2011.
This has won many accolades at the Weblog awards in 2007, 2008, 2009, 2010 and 2011.
After this, Drummond also launched the website Tastykitchen.com, which is a free online community where amateur and professional chefs can submit and trade their own recipes.
Due to the website's success, she has now gone on to bigger and better things, including publishing multiple cookbooks.
Here we're going to list some of our favorites, with a brief description of what is included inside. All of the below books are authored by Ree Drummond.
6 Female Chef Pioneer Woman Cookbooks
This next book is one that is perfect for the holidays, giving you plenty of recipe ideas for Thanksgiving, Christmas, and Independence Day celebrations.
This contains all sorts of recipes that will cover you for appetizers, starters, mains, sides, and desserts.
This contains recipes for Christmas cookies, Halloween popcorn balls, watermelon sangria and rum cake that you can have for the Yuletide season.
These recipes are conveyed with a lot of humor and warmth. Once you have gone through this book, you'll want to start the whole thing again straight.
Pros
Some great recipes for the holidays
140 meals that you can make for yourself and your family
Includes breakfasts and brunch meals
Contains step-by-step instructions and photos
Cons
Not great for non-holiday treats
If you are looking for ways to make mealtimes easier, then this is the cookbook for you to have.
There are some dishes that you can whip up in just over 16 minutes, while others can be thrown into the freezer and stored for months at a time. This is great for busy mums on the go.
This has beef dishes, meatballs, and chili for both meat-eaters and vegetarians.
Most of these meals are dictated with a folksy charm, which makes the information all the easier to digest (if you'll pardon the pun). This is the one cookbook that you can rely on for every day of the week.
Pros
Starters, mains, desserts and sides all are covered
125 recipes that can be made easily
Funny and easy to understand
Quick meals for busy people
Cons
Might be too easy for some expert chefs
Next up, we have a cookbook that topped the list of New York Times Bestsellers, with thousands of great reviews, which are both a testament to the accessibility of the menu and the ease with which you can make a lot of the meals.
Whether it is delicious donuts or salsa, there is something for every palate and plate.
We would recommend that you try the Dr. Pepper-infused pulled pork, which will linger on the tongue for hours after you have eaten it. Some of the flavors and textures in this cookbook are one-of-a-kind.
Pros
Photos of each recipe
Great ideas for mains and desserts
Suitable for meat lovers and vegetarians
Photos mixed in with fond memories from the author
Cons
Might not be appropriate for expert chefs
We all live incredibly busy lives, from taking the kids to school or trying to put the baby to bed. Well, if you are struggling to make meals in between all of life's obligations, then this is the cookbook for you.
It comes with so many dishes that you'll be spoiled for choice. This has over 120 dishes, ranging from snacks to full meals.
You can guarantee that will be plenty here to keep your weekly mealtimes from getting too boring. There are also sweet treats to keep you smiling and satisfied.
Pros
A book aimed at busy people
120 incredible dishes
These are fun meals you can make with the kids
Breakfast, lunch and dinner snacks
Cons
Some readers have described these dishes as simplistic and unappealing
Best Female Chef Pioneer Woman Cookbooks Buying Guide
If you are looking for a decent Pioneer Woman recipe book, here are a few things that you can expect:
Great Photographs
Ree Drummond makes sure that she takes only the best pictures of her food. Once you see these pictures of the result, you won't want to wait to start making them.
Humor
This is no dry and uninspiring recipe book. Ree makes sure to put more than her fair share of her own personality into each dish. She also peppers them with memories and stories that mark them out from other cookbooks.
Easy To Understand
These recipes are very easy to comprehend, which makes them a great starting point for chefs who might not know a ladle from a rolling pin.
Conclusion
The Pioneer Woman website is popular for a reason, owing to the integrity of the recipes and the shining personality of Ree Drummond herself.
We hope that the Pioneer Woman cookbooks above have helped you to find the right recipe book for you and your family.
Frequently Asked Questions
Who Is Ree Drummond?
Ree Drummond is an author and food writer who started her own website in 2006 called The Pioneer Woman. She has also released several cookbooks under the title of 'The Pioneer Woman'.
What Other Books Has Ree Drummond Written?
She has also written a series of children's books called Charlie the basset hound. This is based on her real family dog, Charlie.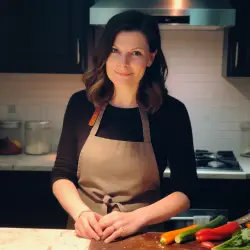 Latest posts by Barbara Hunt
(see all)