Who doesn't love a good, old-fashioned slice of pie? Whether you're more of a fan of sweet or savory fillings, these treats are perfect for all occasions.
A simple pie is not too difficult to bake, either – especially when guided by a helpful cookbook. In this guide, we have listed 12 of our favorite pie-themed cookbooks, written by female chefs.
From the traditional to the abstract, there are pies here for everyone to enjoy. So, let's get started.
12 Female Chef Pie Cookbooks You Do Not Want To Miss
The Sister Pie – a small pie shop located on the east side of Detroit – is honored in the first cookbook that we have in this list.
Lisa Ludwinski's Sister Pie is jam-packed with mouthwatering recipes that are based on the pies offered at the bakery.
The cookbook honors the innovation of the Motor City, and is filled with 75 accompanying images, as well as delightful line drawings by Ludwinski that are saturated with her tenacious aesthetic.
Bakers and pie enthusiasts alike won't be able to put this book down.
Next, this cookbook shows readers how to create 50 different sorts of delicious pies from scratch.
They can take pleasure in Kate Lebo's incredibly amusing, considerate, and uplifting tone while learning the secrets of creating stunning baked products.
Along with offering recipes, Lebo encourages her readers to ponder culinary history, significance, and status of pie in the universe of delectable dishes.
Be sure to check out Pie School if you're interested in learning the process, research, and craftsmanship required to make the perfect pie.
Helen Nugent's Pie Style offers straightforward, comprehensible advice and straightforward directions that enable one to accomplish remarkable outcomes, from the procedures for making a flawlessly crisp pie dough to the basic decorating methods required to produce stunning pie artwork.
In this cookery book, Nugent lifts the lid on making expert pies, enabling you to create your very own mouthwatering pie marvels at home.
Pie Style gives you the assurance you need to make outstanding pies of your own, thanks to its detailed directions and photographs that demonstrate every step.
Everybody loves a slice of pie, whether it's sweet or savory. However, when cooking a pie, it can take hours upon hours out of your day, and oftentimes, you will be left with a lot of leftovers.
If you want to solve this issue, check out Abigail Gehring's The Magic of Mini Pies. Not only do mini pies take less time to cook and create, but they look so cute!
No matter which type of pie your guests like the best, you can quickly prepare it in the proper quantities using a small pie maker or muffin trays. Gehring's book has it all!
Lauren Ko's distinctive geometric design has drawn a lot of attention on social media in recent years as a result of the way she highlights homemade pies by cutting and weaving fruit and dough into beautiful forms.

Ko's stunningly beautiful and imaginative designs look tough to construct, but can be made quite easily, providing that you have some time and patience.
These pies have an immaculate symmetry that complements their outstanding flavor. Check out Pieometry if you want to bake some bright, abstract pies at home.
The renowned chef and Netflix star Maya-Camille Broussard provides more than 85 recipes for pies, as well as other delectable dishes, in this multi-award-winning cookbook that helped make her bakery famous.
This is Justice of the Pies. Broussard also provides recipes that are based on the stories of those who have inspired her outside the kitchen; people that fight for social equality and fairness.
The reader will gain insight into the inspiration behind each pie by reading the brief story excerpt that is included with each recipe.
You can make a tonne of delectable pies with Saura Madani's Easy as Pie.
There is a dish here for every time of the year, whether you're searching for a festive pie to warm you up during the winter or a light, fruity pie for spring.
Any luscious pie may be handmade and crafted using the detailed instructions in Madani's cookbook.
Improve your pastry crust with a tried-and-true recipe for a crispy buttered shell to go with fifty original and traditional seasonal pies.
Next up, we've got a female chef-written cookbook that is absolutely perfect for any musical theater fan.
Sugar, Butter, Flour was inspired by the Broadway production, Waitress, which follows Jenna Hunterson, a fictional baker who is in charge of creating and naming new pies at a diner.
Each pie in this book is inspired by the musical, which was based upon the 2007 movie of the same name.
This cookbook is 'written' by Jenna herself, which adds another layer of fun for any Waitress fan.
The last book in this list is Cathy Burrow's Pie Squared, which has 75 failsafe recipes and creative decorating advice that will interest both baking nerds and casual bakers.
Just like ordinary pie, but bigger and better, slab pies are to die for. They are a simple alternative to precisely shaping out a spherical crust and are ideal for any gathering, party or simple family meal.
Slab pies can easily feed a large group of people lunch or desserts when prepared on sheet pans.
Final Thoughts
No matter whether you are a seasoned baker, or a novice beginner, these cookbook pie recipes will help you become an even better pie maker.
Grab one of these books today, and get baking in the comfort of your own kitchen! We hope you found this guide helpful.
Frequently Asked Questions 
What Is The Oldest Pie In The World?
The world's original pie, which had a crust made of oat, rye, wheat, or barley and was filled with honey, is thought to have been created in Ancient Egypt.
However, a chicken pie recipe was found on an inscription that was thought to have been etched about 2000 BC, long before the believed invention of the previously mentioned honey pie.
What Is The Most Consumed Pie In The US?
Not many people would be surprised to learn that the most popular pie in the US is apple pie.
This dessert has been a symbol for the states for centuries, and it is vastly produced and consumed by American citizens, as well as those in other countries around the world.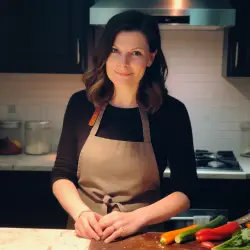 Latest posts by Barbara Hunt
(see all)