Sweet treats. You can't beat them. But out of all the sugary foods that you can make, pastries are often seen as the most difficult. You have to get the conditions just right for a perfect croissant or a pan au raisin.
But why should that stop you from making them at home? Even though some pastries can be tricky, with the right guidance, you will be able to make them in your oven with ease.
Whether it is Chelsea buns, sticky buns, cinnamon rolls, pies, or croissants, you could make them all even if you are an inexperienced baker. So, what are the best female-penned pastry cookbooks?
What are the best pastry guides for beginners? Are there cookbooks that deal with other sweet treats?
Well, we've compiled a list of some of the best pastry cookbooks written by women that we can find on the market. So keep reading to find out more.
What Types Of Pastries Are There?
There are generally 5 types of pastries: flaky, shortcrust, filo, puff, and choux. The thing that unites all 5 of these is the fact that they are all made with fat, water, and flour.
Flaky pastries are usually made for pie crusts and tend to shed a lot of layers when you eat them. These are usually made by butting the butter for the pastry in a food processor and whisking it until it is smooth.
You'll need to make sure you don't work this pastry too much. Shortcrust pastry is a lot thicker than other types of pastry and is usually made for tarts.
This usually requires half fat and half flour, which is what accounts for its dense consistency. Puff pastry takes the longest in the baking process and is usually used for the crusts in meat pies.
This is made by putting a rolling pin over cold butter. There is also a method of making puff pastry much faster. This is called rough puff.
Choux pastry is quite thin and comes in layers with a hollow center which is usually used to hold fillings. This pastry is made with eggs and rises due to the presence of air between each layer of pastry.
Filo pastry is another one that is formed of layers and is usually used for spring rolls and baklava. These sheets are laid on top of each other and baked until they turn crispy.
So now that we've learned about the different types of pastry, what are the best pastry cookbooks?
Well, we've compiled a list of some of the best female chef pastry cookbooks that you can currently buy on Amazon(see also: 6 Female Chef Cajun Cookbooks You Do Not Want To Miss). So what are you waiting for? Get the rolling pin out and let's get stuck in!
5 Female Chef Pastry Cookbooks
This is a cookbook that is written by an extremely experienced pastry chef and the judge of Junior Great British Bakeoff.
This starts from the ground up, discussing the principles of how to make a decent pastry, going from how to line your cake tins to understanding the importance of having the right fat content.
She then breaks down each different type of pastry, including pastries, custards, chocolate, cakes, biscuits and puddings.
Whether you are a beginner or an expert, you will find something new here. This comes with some amazing glossy pictures so you can see what you're aiming for.
Pros
Covers the main types of sweet treat
The perfect place to start for pastry cooks
Features the fundamentals of baking
Great color photographs
Cons
Might be daunting for beginners
Best Female Chef Pastry Cookbooks Buying Guide
If you are looking for a decent pastry book, there are a few things that you will not be able to do without. Here are just a few of them:
Covers All Pastry Varieties
There are some bakers who will only want to learn how to make the most popular types of pastry, whereas others will want to know everything about all of them.
If you are the latter, then you should make sure you have a pastry cookbook that covers filo, choux, puff, flaky and shortcrust.
Detailed Explanations
Pastry can be one of the trickiest things to bake, so you'll want to make sure that there are recipes that will guide you every step of the way.
Check to see that the recipes have correct measurements and there is not too much cooking jargon.
Something For Pros And Beginners
You can get some cookbooks that are aimed at just beginners and others that feature a mix of recipes for pros and newbies.
If you are new to baking, then you won't want to be stuck with recipes that are beyond your capabilities.
Conclusion
Hopefully, our list of some of the best female-penned pastry cookbooks has helped you to decide which is the best one for you.
There are plenty of pastry-only cookbooks, whereas there are lots that deal with biscuits, sweet treats and cakes too.
Frequently Asked Questions
What Should I Remember When Baking Pastry?
Make sure that you are preparing your pastry in a cool environment, otherwise the fat could melt.
Also, make sure that you come into contact with the pastry as little as possible and that you allow a lot of air to get in. Finally, allow the mixture to relax so the fat can harden.
What Is The Sweetest Type Of Pastry?
The shortcrust can be made sweeter by adding some extra sugar. You should also put in extra water and eggs to enhance the consistency of your final sweet shortcrust.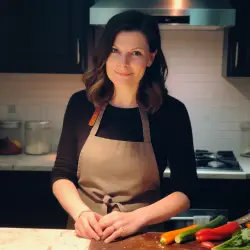 Latest posts by Barbara Hunt
(see all)