Do you love meals containing lots of shrimp, crawfish, and andouille sausage? Are you a big fan of jambalaya, filé gumbo, boudin sausage, or crawfish pie? Then you need to try Cajun cuisine! 
If you're unfamiliar with Cajun cuisine, then we're about to open your eyes to a whole new world. This article will work as your guide until you get your hands on a Cajun cookbook. 
However, there are a few considerations to make when purchasing the right Cajun cookbook for you, including specific recipes you'd like to try (see also "Best Hannah Swensen Recipes To Try Today"), your skill level, how many recipes are included, and whether or not pictures are included. 
With this in mind, this guide has provided you with everything you need to make the right decision when it comes to choosing the best Cajun cookbook. 
Let's get started. 
Best Female Chef Cajun Cookbooks
When it comes to Cajun cuisine, essentially, it is a combination of a range of different cooking styles, including Spanish, West African, and French techniques. 
Although, an integral component of Cajun cuisine is the ingredients. Generally speaking, the recipes are based on the ingredients found in the Louisiana area. 
Below, we have outlined some of the most common ingredients you can find in Cajun cuisine:
Freshwater Seafood – Bass, catfish, yellow and white perch, etc. 
Saltwater Seafood – Grouper, perch, trout, redfish, snapper, pompano, etc.
Meat – Chicken, turkey, goose, duck, pork (andouille sausage), dove, chorizo sausage, boudin sausage, hot link sausage, ponce, hog cracklings, salt pork, brawn, beef, tasso (ham, etc.), rabbit, snake, frog, alligator, etc. 
Shellfish – Oysters, shrimp, blue crab, crawfish, etc. 
Fruits and vegetables – Celery, bell peppers, scallions, onions, sweet potatoes, squash, cucumbers, tomatoes, cayenne peppers, collard greens, parsley, tabasco peppers, blackberries, limes, strawberries, oranges, lemons, muscadines, etc. 
Seasoning – Black pepper, oregano, garlic, chili pepper, bay leaf, onion, thyme, garlic, basil, cloves, marjoram, leek, sassafras leaf, curry, green mint, parsnip, chives, etc. 
Grains – Corn, wheat, rice, etc. 
When looking at the ingredients in Cajun cuisine, you can find the "holy trinity" of ingredients, including bell peppers, onions, and celery which can be found in most recipes. 
Moreover, Cajun cookbooks contain a range of cooking methods, too. Below, we have outlined the most common methods:
Boiling – This is generally used for seafood, including crawfish, crabs, shrimp, etc. 
Baking – This is typically performed with a furnace or an oven. 
Deep frying
Pan-frying
Braising – Here, you're combining wet and dry heat (for instance, searing and sautéing at high temperatures and then the remaining liquid at a low temperature). 
Barbecuing and grilling. 
Smothering – Here, you take a small amount of liquid and place it in a covered pot at a low temperature. 
Before you begin cooking, make sure that you have all the equipment necessary before preparing all the required ingredients. 
Leigh Ann crafted this cookbook to help you gain newfound confidence in the kitchen, providing you with recipes and tips to make your favorite meals from scratch. 
All the recipes outlined in this cookbook are delicious, stress-free, adjustable, quick to make, and family-friendly. 
Designed with the modern cook in mind, this cookbook combines classic Southern recipes with modern-day techniques and dishes. 
Here, you'll find recipes ranging from brie pizza, jambalaya pot pies, Cajun spiced pork burgers, and spicy crawfish boil soup. 
With each recipe, you'll receive a fusion of Cajun ingredients with traditional flavors. As a result, you can enjoy everything you love about Cajun cooking with the whole family. 
Pros:
Recipes are easy to follow. 
Outstanding photography. 
Delicious results. 
Cons:
Some ingredients are hard to come across. 
Shelley Marie Redmond, a culinary dietician, used her knowledge and experience to create Skinny Louisiana… In The Kitchen. 
Here, she researched the methods of combining authentic and delicious flavors of Louisiana dishes with the principles of eating and cooking healthy meals. 
For instance, she provides you with a list of pantry essentials and staples to help you whip up all your favorite meals. One tip includes using Greek yogurt as opposed to butter. 
However, that doesn't mean you can't enjoy all your favorite hearty Cajun recipes with a healthy twist, these include jambalaya packed with all the flavors and spices synonymous with Cajun culture, as well as staples like crawfish bisque seafood pasta. 
All the recipes outlined in the cookbook are easy to prepare, provide you with a ton of wonderful ideas, and turn out delicious each and every time. 
Pros:
Clean eating with a Louisiana twist. 
Creative recipes. 
Easy to follow instructions. 
Cons:
Only a few recipes are low in carbs. 
This cookbook features the talents of various chefs, however, while each contribution is a stand-alone appearance, it is their friendship that creates a natural response to Southern cuisine. 
It is their similarities and differences that make the book complete – creating a clear picture of Southern cooking. For instance, Peacock's Alambama upbringing and Lewis' Virginia roots in a small farming community. 
Plus, throughout the book, you're offered stories of traditions and people that help to shape each recipe. 
If you're looking for the perfect Southern cookbook then you have to try The Southern Living Ultimate Cookbook – it is an amazing resource to keep on hand. 
In fact, it is packed with tons of delicious and fundamental recipes when it comes to cooking Cajun meals – making you feel confident in the kitchen with step-by-step instructions for over 120 recipes, ranging from sauces, salads, beverages, and soups. 
Specific Recipes You'd Like To Try
Have you ever wanted to try gumbo, crawfish, or any other specific Cajun recipe? Then you'll want to find a cookbook that can help you achieve this. 
Skill Level 
Depending on your skill level – whether you're a beginner or a seasoned professional – you'll want a cookbook that can accommodate this. 
How Many Recipes Are Included
Different cookbooks can vary dramatically in the number of recipes they contain. Some can have 50 while others can include over 200. 
Whether or Not Pictures Are Included
Pictures can be advantageous when you're cooking a recipe you have never tried before – giving you an idea of what it is supposed to look like. 
Final Thoughts
With the help of these cookbooks, you'll be whipping up all your favorite Cajun recipes in the comfort of your own home. 
If you're looking for some of the best Cajun cookbooks, then you've come to the right place! Hopefully, this guide has informed you about everything you need to know about Cajun cooking, including the best female chef Cajun cookbooks(see also: 7 Female Chef Diabetic Cookbooks You Do Not Want To Miss). 
Frequently Asked Questions
What Is Cajun Cuisine?
Cajun cuisine is a type of cooking that originated in Louisiana. It is a combination of Canadian, French, Native American, and African influences.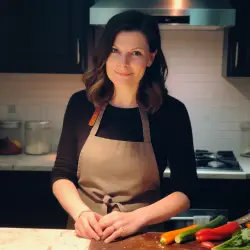 Latest posts by Barbara Hunt
(see all)