Learning to cook can feel quite daunting, but if you have the right cookbook you will find it much easier to develop your skills.
This guide will help you to find a fantastic cookbook for beginners written by a female chef to help you become an amazing cook in no time.
Female Chef Cookbooks For Beginners
Here are the top recommendations for cookbooks for beginners written by female chefs.
Rosemary Shrager is a British Chef and TV presenter who believes that anyone can learn to cook.
She has a lot of experience with cooking and teaching and knows just how to help beginners build their confidence.
This cookbook is carefully planned out to gradually teach beginners various techniques and cooking methods.
Pros
Experience - This book was written by an experienced chef and cooking teacher 
Simple - The recipes are easy to follow 
Ingredients - The ingredients are easy to get hold of which makes the recipes accessible
Cons
Diet - Not many of these recipes are diet friendly 
Delia Smith is one of the most well known British celebrity chefs and has a lot of experience.
She is well known for making cooking accessible and simple so that everyone can join in.
Her cookbooks are filled with foolproof recipes and clear instructions that are easy to follow.
This book is designed to teach you everything you need to know about being a great cook.
Pros
Simple - The recipes are simple to follow and easy to make 
Variety - There is a good variety of recipes included 
Reliable - This book has helped many people learn to cook over the years
Cons
Dated - This book is 30 years old so some of the recipes may be outdated and not very modern 
Samin Nosrat is an American Chef and TV presenter. Her book has a different approach to traditional cookbooks.
She teaches you how to master the four main elements of cooking in order to make a meal out of anything at any time.
This is a great way for beginners to learn how to cook and it will make you an expert at using leftovers to create something delicious.
Pros
Inspiring - The overall message of this book is inspiring for new and experienced cooks 
Simple - The recipes are easy to follow and teach you important skills 
Interesting - The concept of this book is more interesting than a standard cookbook
Cons
Anecdotes - There are a lot of anecdotes about the author's life which makes the book quite long 
Molly Baz is an American chef and food writer, and former editor of Bon Appetit magazine.
This book is a New York Times bestseller and is perfect for anyone who wants a modern cookbook for beginners.
The recipes are creative and they teach you how to improvise with the ingredients that you have available - an important skill for any cook.
Pros
Simple - The recipes are straightforward but very delicious 
Skills - You can learn the art of balancing flavor and improvisation in the kitchen 
Modern - The recipes are modern and there are QR codes that take you to instructional videos
Cons
Slang - This book contains a lot of slang words that some readers might find confusing 
A lot of people find it tricky to cook for themselves, especially if they are a beginner.
Most recipes are designed for families or larger groups, which means you have a lot of leftovers if you live on your own.
Joanie Zisk, creator of 'One Dish Kitchen', is an expert at solo cooking and has made this book of easy recipes that are suitable for beginners.
Pros
Simple - The recipes are designed to be easy to follow 
Portion - You can make enough food for one person or double up for larger portions 
Advice - The book has helpful advice on meal planning
Cons
Diet - A lot of the recipes have very high calorie counts which is not suitable for people on a diet 
This book is perfect for a beginner who wants to learn how to cook economically and practically.
It has lots of recipes that you can batch-cook and make ahead of time, so you can fill your freezer with nourishing meals. This is perfect for families or people with busy lives.
Pros
Useful - This book teaches you a very useful skill of make ahead cooking 
Advice - It also has advice on how to stock your pantry along with cooking techniques and tips on how to freeze food safely 
Recipes - The recipes are very tasty and nourishing
Cons
Freezer space - If you are learning to cook using this method then you will need a big freezer with plenty of space 
Nadiya Hussain is a British chef and television presenter. Her book is geared towards people who don't have a lot of time to spend in the kitchen but still want to eat well.
The recipes are simple and easy to make, with lots of tips on preparation and how to use up leftovers. This makes it a great choice for beginners.
Pros
Simple - The recipes are simple and easy to follow 
Advice - There is lots of useful advice for beginners 
Photographs - The photos help to guide you through the recipes
Cons
Measurements - It is quite tricky to convert the recipes into US measurements 
How To Choose The Best Cookbook For Beginners
There is something for everyone on this list, but how do you know which cookbook is right for you?
Here are some things you should consider when choosing your beginners cookbook. 
Cuisine
Do you want to learn how to make a particular type of cuisine? Or would you prefer a book that contains a range of different recipes so that you can learn how to cook a variety of different meals?
Make sure you think about this before you buy a cookbook.
Instructions
Beginners need step by step instructions that are worded simply. Images are helpful to demonstrate cooking techniques.
The instructions should be easy to follow, but with enough detail for someone who hasn't cooked before to understand what they need to do.
Recipes
Cookbooks come in various different lengths. Some have over 100 recipes and others have less than 50.
If you want to get value for money then you might want to choose a cookbook that has more recipes in it.
Alternatively, you may prefer to buy several smaller cookbooks to get more variety.
Photography
Some cookbooks have more photography in them than others. It is helpful to see a photo of what the finished meal is supposed to look like, and it can also entice you into cooking the recipe.
On the other hand, some people find it easier to have more written instructions than photographs.
Summary
All of the books on this list are written by female chefs (see also: 6 Female Chef Weight Loss Cookbooks You Do Not Want To Miss)and are ideal for beginners.
Whichever one you choose, you will be able to develop your cooking skills and make impressive recipes in no time.
Frequently Asked Questions
Here are some frequently asked questions about cooking as a beginner.
What Type Of Cookbooks Are Suitable For Beginners?
Beginner cookbooks need to have step by step instructions that are simple to follow. They should also include photographs to help you know that you are doing things correctly.
What Type Of Cuisines Should Beginners Learn To Cook?
A beginner chef can learn to cook any type of cuisine as long as they have the right instructions and guidance.
It is best to start off with simple recipes and build up to more complex ones.
How Can You Build Up Confidence As A Beginner?
The best way to build up your confidence as a beginner is to practice. Keep cooking regularly and don't be disheartened if something doesn't turn out the way you expected it to.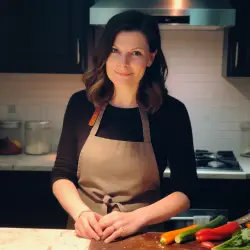 Latest posts by Barbara Hunt
(see all)