Comfort food is a go-to for many of us when we need a little pick-me-up or a dose of nostalgia. And who better to turn to for comforting recipes than some of the most talented female chefs in the industry?
In this article, we're highlighting 8 must-have cookbooks by female chefs that are packed with comforting and delicious recipes that you won't want to miss.
So, whether you're a seasoned home cook or just starting out, be sure to check out these incredible cookbooks and get ready to elevate your comfort food game!
Top 8 Comfort Food Cookbooks By Female Chefs
From classic dishes like mac and cheese and meatloaf to innovative twists on old favorites, these 8 fantastic cookbooks offer something for every palate. 
This amazing cookbook by Samin Nosrat explores the four main elements of cooking and how they interact to create delicious and balanced dishes.
The book is organized into four sections, each focusing on one of the elements.
Nosrat's approach to cooking is all about understanding these elements and how to use them to enhance the flavors of your dishes.
The book includes hundreds of recipes, ranging from simple salads to complex mains, as well as helpful tips and techniques for home cooks.
Several of the tastiest recipes include roasted chicken with lemon and thyme, grilled skirt steak with chimichurri, and green goddess dressing.
Pros
Very informative, helpful for improving cooking skills
Easy methods for maximizing taste
Cons
Some readers thought there was too much fluff 
Female Chef Comfort Food Cookbooks Buying Guide
Now we've been through the best female chef cookbooks for comfort food, check out our buyers guide to help you locate the best cookbooks for your tastes.
Finding The Best Cookbooks
Finding the best cookbooks can be a bit overwhelming, especially with so many options available today. Here are some tips to help you find the best cookbooks for your needs and interests:
Know Your Interests
Consider your cooking interests and what type of cuisine or style of cooking you want to explore.
Are you interested in baking, vegetarian cooking, or international cuisine? This will help you narrow down your search.
Check Reviews
Read reviews from trusted sources such as food bloggers, reputable food magazines, and online bookstores. This can give you an idea of the overall quality of the cookbook and its recipes.
Look For Reputable Authors
Look for cookbooks written by well-known and respected authors in the food industry. These authors often have a track record of producing high-quality cookbooks with reliable recipes.
Final Thoughts
These 8 female chef comfort food cookbooks are must-haves for anyone looking to explore the world of delicious and satisfying meals that evoke feelings of warmth and coziness.
Each of these cookbooks offers a unique perspective on comfort food, with a range of recipes that cater to different tastes and dietary needs.
So don't miss out on these amazing cookbooks, and get ready to indulge in some seriously delicious comfort food!
Frequently Asked Questions
What Makes A Good Comfort Food Cookbook?
A good comfort food cookbook should not only have delicious and satisfying recipes, but also provide inspiration and guidance for home cooks looking to create meals that evoke warm, cozy feelings.
It should offer a range of recipes that span different cuisines, ingredients, and levels of difficulty.
This variety ensures that there is something for everyone and keeps the cooking experience interesting.
Comfort food often involves hearty, filling dishes that can be complex to prepare.
A good cookbook should provide clear, concise instructions that are easy to follow, even for beginners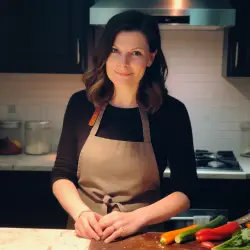 Latest posts by Barbara Hunt
(see all)