Pasta is one of the world's greatest gifts, Ask anyone. From the classic spaghetti to the beloved gnocchi, pasta helps you feel comforted and completely full.
Maybe a little more full than we need to be but no one is judging! So, if you are looking to make some of the most delicious pasta dishes in the world, where should you look? Not Tik Tok, not the internet, but cookbooks!
Pasta cookbooks hold all of the secrets that you need to make mouthwatering pasta dishes that will win every time.
Below are 5 pasta cookbooks created by some of the most talented female chefs in the world (see also "Female Indian Chefs We Adore"). Made to provide you with comfort and great-tasting pasta. Grab a pot and let's get into it!
5 Female Chef Pasta Cookbooks You Do Not Want To Miss
Missy Robbins is becoming a well-known name in the world of pasta and gastronomy.
Having been a James Beard Award nominee and IACP Award finalist, Robbins is taking the world by storm with her innovative techniques and mouth watering flavors.
Pasta: The Spirit and Craft of Italy's Greatest Food is a cookbook with over 100 pasta recipes. Whether it's Italian American or regional Italian, Robbins has covered it all.
Using as little as two ingredients, eggs and flour, you can create a range of incredible dishes that are going to have your mouth watering.
Robbins gives all the inspiration, guidance, and encouragement needed to make pasta exceptionally well, whether it's making pasta sheets for lasagna, stamping out pasta "coins" for Corzetti with Goat Cheese and Asparagus, or even purchasing handmade pasta to make Tagliatelle with Porcini, Rosemary, and Garlic.
Not sure if your pasta is turning out quite right? This cookbook is equipped with nearly 100 full-color images of pasta dishes to keep you on the right path.
ith 20 images from around Italy, you will be transported to the world of wine and art while cooking up some delicious pasta.
Pros
The cookbook is written by an award nominee chef with a focus on pasta.
Made with home cooks in mind so recipes are easy to follow.
Images are clear and aid in the cooking process.
Cons
There isn't an image for every recipe.
No conversion is provided in this cookbook which can be confusing for some home cooks.
Pasta is one of the world's most comforting dishes. Whether you prefer a creamy Prawn Linguine or a rich tomato ragu, there is a recipe to pleasure everyone's taste buds.
And Laura Santini shows you how to create them at home.
Santini has split her book into categories from Quick and Easy to Meat and Poultry, you will learn how to create every type of pasta dish there is without having a breakdown in the middle of the kitchen.
Featuring all of the classics with a slight Santini twist you have recipes such as Lemon Artichoke Pesto, Saffron and Zucchini, and a stunning Salmon Carbonara.
Pull out any of these recipes to impress everyone at your dinner party or as a special treat when you need some comfort. Who needs a partner when you have pasta?
Pasta Perfect is home to over 70 recipes ranging from authentic classics to modern and contemporary dishes.
No one will be left hungry or disappointed when you make a recipe from Pasta Perfect by Laura Santini.
Pros
Recipes are authentic and innovative to keep pasta interesting.
All of the recipes are easy to follow and cheap to make.
Images are high quality and vibrant.
Cons
Some ingredients needed can be hard to source.
The cookbook is rather expensive.
Have you always wanted to learn to make pasta by hand from a pro?
Jenn Louise is the 2012 Food & Wine Best New Chef and she has put all of her knowledge together in this educational yet fun cookbook: Pasta By Hand!
More than 65 hand-formed traditional pasta and dumpling recipes are included in this book, along with profoundly satisfying sauces that can be combined to your own personal taste.
This book is great for anyone wanting to learn how to make pasta from scratch or wants to learn more about the traditional methods of Italian cooking.
With step-by-step recipes and matching images, you will be learning from one of the greats.
Pros
Images are clear and match the dish.
Recipes are clear and easy to follow.
Cons
Pasta-making and full recipes are separate.
Best Female Chef Pasta Cookbooks Buying Guide
Expertise
One of the largest things to consider when selecting a pasta cookbook is to determine your own expertise level. If you are a complete novice, select cookbooks with easy to follow guides.
If you are more experienced in cooking and pasta making you can go for something more challenging and push yourself.
Dietary Needs
You or the person(s) you are cooking for may have certain dietary requirements. This means the cookbook you choose should be able to accommodate those requirements.
Whether you are gluten-free or vegan, your cookbook should contain the necessary alternatives or be completely focused on ingredients that suit your diet.
Images
An element that can transform a cookbook is the images that are included. Your cookbook should have high-quality, full-color images to help you understand the recipe and the final result.
Final Thoughts
There you have it! 5 Pasta cookbooks created by female chefs. From award-nominated chefs to Italian nonnas, you can learn from some of the best pasta chefs in the world. And all in your kitchen!
Whether you want to learn authentic techniques to create homemade pasta or want to prepare incredible dishes, there is a pasta cookbook for you.
With a selection of recipes that are going to have you excited to go into your kitchen and to get cooking!
Making your pasta at home is healthier than the stuff you find at the store. So, grab your eggs and flour, and let's make some pasta!
Frequently Asked Questions
What Is The Most Popular Pasta In The World?
Of all the noodle varieties, spaghetti is the most widely consumed. Many people love it, particularly children. This pasta is among the most widely prepared in the globe. Additionally, most eateries typically have it on hand.
Who Is The Most Famous Female Italian Chef?
A best-selling cookbook author, successful restaurateur, and host of public television with an Emmy award, Lidia Matticchio Bastianich also runs a thriving food and entertainment company.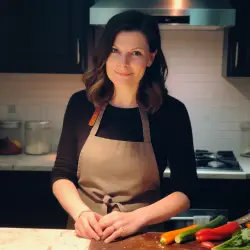 Latest posts by Barbara Hunt
(see all)