Palestinian food is one of the most delicious and unique on the face of the Earth.
They come in a variety of different flavors and textures, most of it is not too spicy, more using herbs to accentuate the natural flavors of a lot of the dishes.
Whether it is the Galilean Kebab Halabi, which is a kebab with a spicy tomato sauce and Aleppo pepper, a Mandi, which is meat, rice and vegetables in a special type of oven called a taboon, or Maqluba, which is native to the Gaza and is an eggplant, meat, rice and cauliflower casserole, there is something to satisfy all tastebuds.
So where can you find the best Palestinian cookbooks written by female chefs(see also: 6 Female Chef Vintage Cookbooks You Do Not Want To Miss)? What are the best Palestinian cookbooks for beginners? Do these cookbooks cover all the Palestinian regional dishes?
Well, we've compiled a brief list of some of the best female chef Palestinian cookbooks on the market.
What Is Palestinian Cuisine?
Palestinian food is classed as the foods that are largely eaten by the diaspora that have settled in Palestine and the surrounding territories, including various refugee camps.
Each region has its emphasis on certain foods and ways of cooking.
For example, the West Bank uses more bread and meat than some other areas of Palestine, whereas Gaza has more variety when it comes to seafood and spicy dishes.
The general flavor palate of Palestinian food is generally mild with the occasional flare of spice. A lot of the food is well cooked, giving it that melt-in-the-mouth texture.
There are also plenty of sweet foods, some of which are enjoyed throughout the year, others are reserved for special holidays. Most of these sweets are pastries that are coated in nuts such as pistachios or walnuts.
So where can you find the best cookbooks that will teach you how to make all of these sumptuous dishes?
Well, we have compiled a list of some of the best cookbooks for Palestinian food and all of them are written by female chefs.
7 Female Chef Palestinian Cookbooks
This is a cookbook that focuses on the meals that you would find in Palestinian homes rather than those you would find sold by street vendors.
These recipes are cultivated from things that the author's mother and grandmother passed down to her. There are plenty of diverse recipes to choose from.
Whether it is tangy yogurt and chickpea hummus, spiced rice with lamb neck, or honeyed dumplings, you can make something for breakfast, lunch, and dinner.
The recipes are easy to understand and come with color pictures.
Pros
This comes with a few hundred great reviews
Wonderful color photographs
Home-cooked Palestinian recipes
Great for beginners
Cons
Some people have reported consistency issues with the final dish
This next cookbook contains dishes that are gleaned from all over Palestine. This includes national dishes like Dawali, Shawarma, Baklawa and Musakhan, which is the national dish of Palestine.
This is a great cookbook to use if you are cooking for some Palestinian friends. There are also breakfast recipes, full-bodied main meals and desserts.
This is ideal for beginners who like to dabble in other cultures and experts in Arab food who want to flex their culinary muscles. This also comes with some high-definition color pictures.
Pros
Great recipes from all over Palestine
Both complex and simple dishes
A good place for intermediate chefs
Color pictures
Cons
Might be a little complex for casual chefs
This next book is an award-winner, with over 150 recipes from the land of Palestine.
This is inspired by 3 generations of the author's family, who share these recipes with us now along with some of the stories of how they came to be.
These are recipes that are both common to Palestine and unique to the author's family.
This has lots of dishes, from those you can have at breakfast to those you can enjoy during that special wedding celebration.
If you only have to buy one Palestinian cookbook, you have everything you need with this one.
Pros
150 delicious recipes
Plenty of color photographs
Tells a story of community and family
A great place to start for casual cooks
Cons
The history might not appeal to those who just want recipes
This book focuses on the region of Gaza and the multiplicity of dishes that it has on offer. This covers spices, stews, creamy dips, desserts, and sides.
If you want to put on your own Gazan spread, then this cookbook could be your bible.
There are also plenty of stories that come with these recipes, so you can learn a little bit about the history of each one and how they came to taste the way they taste.
This also has glorious color pictures of Gazan chefs at work in their kitchens. Who knows, it might inspire you to pay a visit to Palestine.
Pros
A great study of Gazan cuisine
130 recipes from Gaza
Covers every dish for every time of day
A great starting point for beginners and experts
Cons
Some readers are not fans of the book's political dimensions
This book is full of love as the author details her memories of cooking Gazan dishes. It is brimming with fragrant recipes including rice and meat dishes, breakfasts and desserts.
It covers year-round dishes as well as seasonal and celebratory ones, such as wedding foods.
This cookbook comes with plenty of color pictures of the food, which will certainly help you when you are making it, as you'll know what the final product should look like.
This is a great starting point for expert chefs who are looking to branch out into this type of cuisine.
Pros
A diverse array of Gazan foods
Fragrant and flavorful foods
Lots of color photographs
Traditional cuisine
Cons
Some of the recipes might be too daunting for casual cooks
This features around 100 recipes and is brimming with local knowledge and personal histories of each one.
There are also tips for preparing many of the foods, all of which are given with much humor, easing the way for many inexperienced chefs.
This has recipes for Palestinian dishes such as ful m'dammas, kidreh, and djaj mahshi.
Each of these dishes is packed with rice, meat and vegetables and is great for anyone looking to switch up their normal diet to something with more protein and nutrients.
Pros
Over 100 Palestinian recipes
A witty and engaging read
Features many seasonal dishes
A vivid description of many cooking methods
Cons
This might not teach anything new to experts on Arab cooking
Best Female Chef Palestinian Cookbooks Buying Guide
When shopping for a decent Palestinian cookbook, here are some things to look out for:
Different Regions
There are a few cookbooks that deal with specific regions, whereas others are more broad in their remit and cover the whole country.
Easy To Understand
If you are inexperienced with Palestinian cuisine, then you want something easy to understand and practical to follow. The ingredients should also be easy to source from your local supermarket.
Conclusion
We hope that our guide to female chef Palestinian cookbooks (see also: 6 Female Chef Cajun Cookbooks You Do Not Want To Miss)has helped you to decide which is the best one for your cooking requirements.
Frequently Asked Questions
What Foods Are Common In Palestine?
Meats like lambs are very popular in Palestine, as are various types of seafood, especially in Gaza. There is also a penchant for rice and peppers and spices are the order of the day for a lot of meals.
What Are Popular Palestinian Dishes?
Some of the common foods include knafeh, Jericho dates, olive oil, freekeh, musakhan, taboon and kebabs.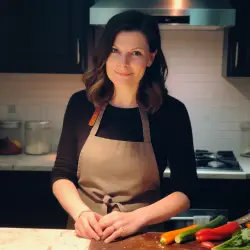 Latest posts by Barbara Hunt
(see all)