Lidia Bastianich is an Italian-American chef, a restaurateur, and a best-selling author of cookbooks.
She is also an Emmy-award-winning TV chef, well-known for her phrase 'Tutti a Tavola a Mangiare'.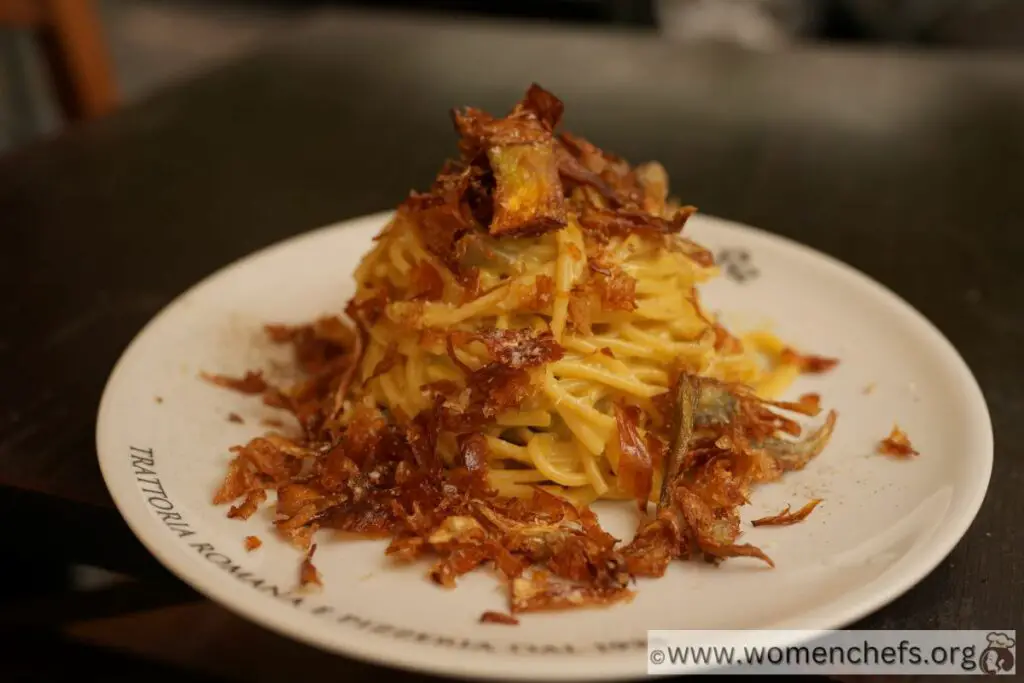 This essentially translates to 'Everyone get to the Table to Eat' and by trying a few of her recipes, you should be able to persuade a large gathering to do just that. Her recipes are undeniably tasty but also reassuringly easy to do.
In this guide, we will look at five amazing Lidia Bastianich recipes(see also: 5 Amazing Lidia Bastianich Pasta Recipes To Try Today). This will include Pasta with Baked Cherry Tomatoes, Penne with Ricotta and Mushrooms, and Spaghetti Alla Carbonara.
We will also detail Pasta Con Lenticche and Light Egg Pasta Dough.
Lidia Bastianich Pasta Flavor Profile
Like a lot of Italian cooking, Lidia Bastianich opts for flavorful dishes using fresh ingredients. Her dishes are typically no-fuss with a lot of homemade sauces involving vegetables, meat, and dairy products.
You can expect to use plenty of cheese and eggs yet only use a couple of pots to create filling dishes.
While this recipe may seem like a simple pasta bake, it is much more than that. There are several herbs included, a lot of garlic, and a fair amount of grated Parmesan cheese too.
Start by heating up the oven to 350°F and toss the cherry tomato halves in a bowl with three tablespoons of olive oil.
Sprinkle over a third of a cup of fine and dry breadcrumbs with a teaspoon of salt, and a quarter teaspoon of chili flakes.
Bake the covered tomato halves in the oven in a single layer for around 25 minutes when they should be lightly caramelized.
Cook the pasta in a large pot of boiling salted water then heat up more olive oil to sauté ten sliced garlic cloves.
Ladle in a couple of cups of pasta water to bring up a boil then reduce by half before adding in the chopped parsley leaves.
Remove the tomato halves from the oven, drain the al dente pasta, and toss with the parsley and garlic sauce.
Place the tomato halves on top, add shredded basil leaves, and toss it all together before serving with grated Parmesan cheese and the shredded ricotta cheese.
To create a hearty pasta dish, you only need half an hour for this recipe. Bring a large pot with salted water to a boil and cook your penne pasta to the directions.
While the penne cooks, heat up a quarter-cup of olive oil (extra-virgin ideally) in a skillet over a medium heat and sauté six sliced garlic cloves to a sizzle.
Next, stir in the teaspoon of chopped rosemary for some herby flavor, up the heat, then add thickly sliced mushrooms and a teaspoon of salt.
Add some freshly ground black pepper then chopped green onions to cook until wilted. Ladle in a cup of pasta water then cook until the mushrooms are tender.
Add the drained penne to the mushrooms and then stir in chopped parsley and one and a half cups of ricotta cheese.
Add a bit more pasta water if you want the sauce to be looser and then cook until warmed through before you remove the pan from the heat and serve with a sprinkling of Grana Padano cheese.
This is a classic Carbonara recipe (see also: 5 Amazing Lidia Bastianich Pasta Recipes To Try Today)that uses Bastianich's method of tempering those egg yolks with the hot pasta that cannot be beaten.
You only need a few ingredients yet ensure that the bacon slices are thickly-cut, that the cheese is either Parmesan or Grana Padano, and that the eggs are fresh. Consider a recipe for the two egg whites too, perhaps a meringue.
Bring a large pot water with salt to a boil while you cook the chopped bacon in a skillet over a medium heat.
Once the fat is almost completely rendered, push it all to a side of the skillet while you add the chopped onion.
As the onion tenderizes, combine the two cooked ingredients and ladle out four cups of salted pasta water into the skillet to bring to a quick boil then allow it to reduce quickly for your sauce.
As the sauce reduces, cook the spaghetti in your boiling water then whisk the two egg yolks together with just half a cup of pasta water.
Once the sauce is reduced to half its amount, the spaghetti should be al dente and you can mix it in. Add salt and pepper to taste then toss the spaghetti with tongs for an equal coating.
Remove from the heat, then mix in your egg yolks to stir until creamy while you add grated cheese to serve immediately.
Pasta With Lentils can be an incredibly filling dish that is also vegan and vegetarian-friendly.
It's also really simple to do with a few pantry ingredients, some fresh vegetables, and chunky tubular pasta. You should opt for rigatoni pasta though you can use other similar pasta shapes if you prefer.
This is also a dish that you can scale up or down so you can create some batch cooking or serve it up for a large gathering.
Place a cup of lentils in a pot and cover with enough water to cover them then add your vegetables. That includes two diced celery ribs and two diced carrots, a diced onion, and a couple of bay leaves.
Bring the mixture to a boil then reduce the heat to a simmer and cook until the lentils are tender while you bring another pot of salted water to a boil.
In another pan, heat up two tablespoons of olive oil then sauté two sliced garlic cloves until they start to go golden.
Add the lentil mixture, including the liquid, with two cups of crushed tomatoes, half a teaspoon of Kosher salt, and a pinch of red pepper flakes.
Bring to a boil then reduce to a simmer and cook until it has reduced by around a third though you can add some pasta water to loosen it up.
Boil up the rigatoni until close to al dente then drain and finish cooking the lentils then mix it all together before finishing with a drizzle of olive oil and chopped parsley.
Finally, you should want to create your own fresh pasta dough from scratch if you want to create some truly Italian pasta dishes.
Measure out a couple of cups of all-purpose flour then sieve it out into a medium-sized mixing bowl. Either add full eggs to the flour, though you can add egg yolks if you want richer pasta.
Beat them with a fork to combine then pour in three tablespoons of water and a quarter-cup of extra-virgin olive oil.
You can use a food processor for the recipe to pulse the ingredients until you get a dough. Try to use room-temperature eggs so you do not overheat the mixture.
Toss the mixture with a fork until it all clumpens together and you can begin to knead it. Turn the ball of dough onto a dusted work surface and knead until shiny and smooth without any lumps.
Flatten the ball into a disc, wrap in plastic wrap, and allow it to rest at room temperature for half an hour.
Once ready to use, remove the plastic wrap, roll it out to your desired thickness, and put it through a pasta machine.
Final Thoughts
With so many people tuning in to watch Lidia Bastianich, you should be tempted to create some of her pasta dishes.
She should be able to show you the ropes of authentic Italian cooking and her pasta dishes are relatively simple and fuss-free.
If you want to go truly authentic then create your own light egg pasta and use it with her recipes. Then again, you can simply use shop-bought pasta and jazz it up with some exceptional fresh ingredients.
Frequently Asked Questions
Which Dish Is Lidia Bastianich Best Known For?
Lidia Bastianich is well known for her pasta dishes yet her best-known dish is likely to be Risotto alla Milanese.

This is a sacred risotto dish in Milan and chefs are known for mixing it up for their own variations. For your own take on the dish, add some of your favorite ingredients though you can serve it with ossobuco.
Which Type Of Pasta Is Typically Enjoyed By Italians?
The most popular type of pasta in Italy is penny pasta which is shaped like a quill. It was created in Italy back in 1865 by Giovanni Battista Capurro.

He created a new device and patented its use in San Martino d'Albero, a tiny town close to Genoa.
5 Amazing Lidia Bastianich Pasta Recipes To Try Today
Course: Recipes
Directions
Pick a recipe from the list above
Click the recipe name and visit the website
Collect the ingredients and cook the food
Enjoy – don't forget to leave a review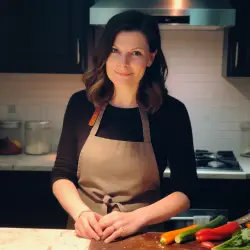 Latest posts by Barbara Hunt
(see all)