If you're the proud new owner of a pressure cooker or Instant Pot, you may be excited but also nervous to try it out, and this is totally understandable. Mastering the device can seem like a daunting prospect initially.
But rather than putting yourself through a lot of trial and error, why not turn to the experts in the field and purchase one of these great pressure-cooking cookbooks written by top female chefs?
Many of which have been certified by Instant Pot themselves! Whether you're on a keto diet, vegan diet, or you want to know how to use your pressure cooker to make holiday cooking easier, we've got you covered!
9 Female Chef Pressure Cooking Cookbooks You Do Not Want To Miss
With the Keto Instant Pot Cookbook, you can enjoy mouth-watering keto meals in no time!
Plus, it's the only authorized keto diet cookbook certified by Instant Pot, so you know that your recipes are going to turn out delicious, as well as be quick and easy to cook.
Written for busy families and individuals, this Instant Pot cookbook makes following a keto diet so much easier.
Skinnytaste One and Done is a life-saver for busy home cooks seeking simple, healthy dinnertime recipes.
Written by #1 New York Times bestselling author Gina Homolka, this cookbook combines her flavorful, healthy recipes with convenient cooking appliances.
Whether you want to make healthy dishes for your overall wellbeing, or whether you want to shed a couple of pounds, this book will make midweek cooking easier with hearty, healthy recipes.
Cooking in just one vessel streamlines your cooking, and cuts out fuss and cleanup. Music to our ears after a long day!
This cookbook is dedicated not just to pressure cooker and Instant Pot cooking but other appliances and cooking methods that simplify the process, such as the air fryer, Dutch oven, sheet pans, skillets, and slow cooker.
As is expected from Homolka, these recipes have minimal calories but big flavors, and are now more convenient than ever.
Containing 140 family-friendly, healthy recipes, 120 full-color photos, and nutritional information for each recipe, Skinnytaste One and Done is going to change your cooking routine forever.
The Instant Pot is a seriously versatile appliance, and this cookbook by Laurel Randolph helps you make the most of it with simple, delicious recipes that cut down prep and help you braise, boil, sauté, and slow cook like a pro.
What makes this cookbook so unique is an introduction to Instant Pot cooking with a detailed breakdown of its functions and features, step-by-step instructions and safety guidelines, a wide range of healthy recipes that are mouth-watering and quick to make; and useful cheat sheets and tips with guides to cooking times and how to cook your favorite dishes in a pressure cooker.
Instant Pots have taken the world by storm, with many devotees who swear by its convenience.
But finding reliable, delicious, quick recipes was once quite a challenge, until the Essential Instant Pot Cookbook came along!
This cookbook by Coco Morante has got you covered with every meal of the day, packed with many classic recipes like bean chili and spicy beef, a whole roasted chicken with mushroom sauce, and an indulgent New York cheesecake.
It also contains a range of hearty, modern meals like Greek-inspired Gigantes beans with feta, braised pork loin with caramelized onions, pork adobo, buttery cauliflower mashed potatoes, and so much more.
So whether you want to broaden your culinary horizon or want to buy the ultimate gift for the Instant Pot fan in your life, this is the book for you!
Holidays can be busy, fun, but also stressful! However, a pressure cooker or Instant Pot can make preparing a holiday meal so much simpler.
This cookbook contains 100 fantastic pressure cooker recipes for Thanksgiving and Christmas, as well as an introduction full of advice and tips on using this essential appliance.
You can learn how to make festive appetizers, first courses, and delightful drinks, as well as jaw-dropping entrées, side dishes, desserts, and dressings.
There's even a chapter dedicated to jazzing up leftovers, and gift ideas from your kitchen that people are sure to love.
Final Thoughts
We hope our picks for the 9 best pressure-cooking cookbooks by female chefs have inspired you to whip up some delicious meals in your Instant Pot (see also "Female Chef Heart Health Cookbooks You Do Not Want To Miss").
Frequently Asked Questions
Can You Cook Frozen Meat In A Pressure Cooker?
Yes, you can safely cook frozen food in a pressure cooker as it uses pressure to quickly move food through the 'Danger Zone.'
What Are The Best Foods To Cook In A Pressure Cooker?
Pressure cookers are great for making risottos and soups, and for making slow-cook dishes faster like casseroles.
Is It Safe To Put Raw Meat In A Pressure Cooker?
Yes, it is safe to put raw meat in a pressure cooker. In fact, raw ground meat cooks perfectly in an Instant Pot.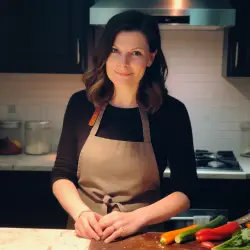 Latest posts by Barbara Hunt
(see all)