You might think of the idea of a raw food cookbook as a contradiction in terms, but they are out there, and the raw vegan diet is no exception.
Raw vegan cookbooks teach readers how to make smoothies, the tastiest raw vegetable salads and help readers formulate diet plans. But what is raw veganism?
This is simply the consumption of vegetables, seeds and other legumes but kept at a temperature between 40-49 degrees Celsius.
This means that none of the ingredients are cooked and everything comes as it is (except when you blend or puree it).
So where can you find the best raw vegan cookbooks that are authored by female chefs(see also: 9 Female Chef Vegan Cookbooks By Black Authors You Do Not Want To Miss)? Where is a good place to start for raw vegan diets? What recipes do raw vegan cookbooks offer and are they tasty?
Well, we've compiled a list of the best female chef raw vegan cookbooks that we could find.
What Is Raw Veganism?
We've all heard of the vegan diet. This is when you do not consume any animal products of any kind, such as meat and dairy. This is either done for health reasons or for ethical reasons.
Most people go vegan in protest of animal factory farming. The raw vegan diet goes one further than that.
You still eat all the same fruits, vegetables, nuts, seeds, and legumes that you would on the vegan diet, except that you do not cook any of it. It is all eaten in its raw form.
This diet has been claimed by its adherents to be very healthy, as it features food in its rawest form, the way we would have eaten it thousands of years ago.
This is very similar to the paleo diet, which seeks to emulate the types of food our ancestors would have eaten millions of years ago.
There are those opposed to the raw vegan diet who say that vegetables in their raw form are missing essential nutrients. The health benefits claimed by raw vegans have been disputed as pseudoscientific by their detractors.
Proponents say that it helps people lose weight and lowers cholesterol. So what are the best raw vegan diet cookbooks that you can find written by female chefs? Which book should you get if you are new to raw veganism?
Which books have the most recipes? Well, we've compiled a list of some of the best female chef raw vegan cookbooks (see also: 12 Female Chef Themed Cookbooks You Do Not Want To Miss)that we could find. See for yourself below!
6 Female Chef Raw Vegan Cookbooks
If you want to get recipes that are well-prepared and good for you, then this is a great book for you to get.
It comes with 100 recipes that are designed to boost your immune system and give you everything that you need to live a happier life, which includes losing weight.
These recipes are also allergy-free and gluten-free, conjuring up meals that are healthy yet not lacking in flavor.
This has dishes for every time of the day, including lentil stew, zucchini brownies and baked oatmeal with banana inside.
Pros
Breakfast, lunch and dinner meal plans
Simple measurements
Suggested substitutions for your meals
Features plenty of gluten-free and allergy-free meals
Cons
Some expert cooks might find these recipes too simple
This recipe book covers everything from the prep stage to the cooking stage, including what ingredients you'll need to source and what the nutritional benefits of each meal are.
This includes recipes for grapefruit pear salad, almond pumpkin seed vanilla cereal, and avocado pizza.
The aim of this book is to tempt you into the raw vegan diet by making all of the recipes completely affordable.
This is great for someone who might not have a lot of time and energy to dedicate to overhauling their whole diet.
Pros
Affordable raw vegan diet
Easy-to-follow instructions
Very simple to make
Features ingredients for cereal and pizza
Cons
Some people have said that there aren't that many recipes in this book
This next raw food diet book has both diet tips and general life advice for anyone looking to revamp their energy levels and boost their immune system.
This helps to encourage lifestyle change through the use of recipes, each of which comes with mouth-watering color photos.
This book was composed to boost people's diet, including increased skin and hair health, along with superfoods that you can use to cleanse the body of toxins.
This is all plant-based and contains lots of nutritional information on each meal.
Pros
Features over 130 recipes
How to make nut milk, smoothies and salads
Full-color photographs
Highlights all the nutritional benefits of a raw food vegan diet
Cons
This has been described more as a journal than a recipe planner
This is written by someone who has been voted the world's sexiest vegetarian over 50 by PETA and it details all the ingredients and recipes that you need to stay sexy and youthful yourself.
This has recipes for many smoothies, salads and stews. You'll have a recipe for every meal of the day in this book.
This includes recipes for chili, macaroni and cheese, crabless cakes, falafel, pizza, Pomodoro lasagna, Thai pasta, vanilla ice cream, strawberry ice cream, chocolate caramel bar, apple pie, baked fruit, sweet crepes and blackberry cheesecake.
Pros
Contains some delicious raw food sweets
120 raw vegan food recipes
Recipes for a healthy and radiant life
Tips on how to detox
Cons
Some readers have claimed that the recipes are time-consuming
If you are looking for a way of getting healthy and perhaps shedding a few pounds, then we would certainly recommend this raw food self-help guide.
This is gourmet-style cuisine rendered in such a way that it is possible for any family on any budget to use it.
This has recipes for green smoothies, berries and cream crepes, cashew hemp cheese, broccoli and mushrooms with wild rice, coconut-curry samosas, chocolate orange mousse, Mexican spiced brownies, and apple cobbler with maple cream.
Pros
Featuring hundred of raw food recipes
All vegetarian or vegan friendly
Will help you to prepare raw foods properly
Great for home cooking
Cons
This might be a little basic for experienced chefs
Best Female Chef Raw Vegan Cookbooks Buying Guide
If you are looking for a raw vegan cookbook, then you will need to look out for a few things:
Completely Raw Ingredients
You'll want to make sure that all of the ingredients are completely raw, whether it is vegetables or fruit.
Some of these recipes are quite liberal with how some of these foods are processed, but ideally, they should not be heated past a certain temperature.
Easy To Follow
Adopting a raw vegan diet can be quite daunting, which is why it will be very important for you to follow simple instructions when you first get started.
Conclusion
We hope that our guide to female chef raw food cookbooks (see also: 8 Female Chef Black Cookbooks You Do Not Want To Miss)has helped you decide whether or not you are going to pick one up. Remember there is a lot of diversity in this food group, so make sure you select the one that is right for you.
Frequently Asked Questions
What Are The Rules Of A Raw Food Diet?
You should make sure that all of the food that you eat is unprocessed, organic and plant-based.
What Should I Not Eat On A Plant-Based Diet?
The foods that you should avoid if you are wanting to go raw are as follows: Cooked fruits, vegetables, meats, grains, baked foods, roasted nuts and seeds, refined oils, table salt, refined sugars, flour, pasteurized juices, dairy, coffee and tea.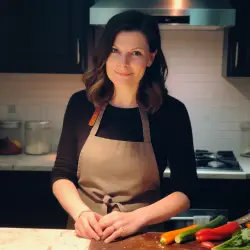 Latest posts by Barbara Hunt
(see all)