A cookbook is a handy tool to have in your kitchen, and the truth is, you can never have too many of them. The more recipes that you have on hand, the better!
Themed cookbooks are particularly fun, and they can be helpful if you are planning a themed party or gathering with your loved ones.
No matter your interest, you may find something in the guide that you'd like to check out yourself. In this article, we have listed 12 themed cookbooks that you do not want to miss out on. So, let's get into it!
The Best Of Female-Written Themed Cookbooks
A themed cookbook is always a fun gift to receive, whether someone else has gotten it for you, or you've grabbed one for yourself. These days, there are cookbooks that follow the theme of just about anything.
Some television shows or movies will release their own official cookbooks, while other cookbooks have been created unofficially by fans who are also into cooking.
While it may be more efficient to purchase a straightforward cookbook with 'normal' recipes inside, sometimes it can be more fun to create themed dishes.
This is especially handy if you are throwing a party or a gathering with a theme, and you're not sure what food to serve up.
Below, we have listed 12 of our favorite themed cookbooks, all written by female chefs. From television shows, to video games, to specific locations – there is a cookbook here for everyone!
If you're an avid Disney Park visitor – or you know someone who is – this may just be the best present ever.
The food served at Disney World is always delicious, and with the help of this book, you can recreate each of your favorite dishes at home.
This cookbook includes recipes for the tastiest Disney Park treats, including Mickey Mouse beignets, and the classic dole whip.
The book is also split into sections of each theme park, where each of the foods can be found in real life.
If you have ever wished that you could taste Monica Geller's cooking for yourself, you must grab the Friends' official cookbook for your kitchen. 
All the classic dishes from your favorite episodes are listed in this book, from Phoebe's grandmother's cookies to Rachel's meat trifle.
So, why not stick your head in a turkey, find some sunglasses, and get to work on some food good enough to serve at Central Perk?
Any musical theater fan will lose their minds if they have been gifted this musical cookbook.
Filled with dishes that have been inspired by the best of Broadway musicals, there are so many fun and tasty recipes to find in this cookbook.
The 'Rum Tum Tonic' cocktail and the 'Big, Beautiful Blondie' are just some of our personal favorites. Throw on your favorite soundtrack, and take a look through these fabulous recipes yourself.
Did you grow up watching The Simpsons? If so, we have no doubt that you wished that you could have a bite of Homer's pink, sprinkled donuts, or a sip of the Kwik-E-Mart's sugary Slurpees.
If this sounds like you, then this is something you'll definitely want to invest in.
With this cookbook, you can cook up all of the strange and wonderful treats that you have seen in Simpsons' episodes over the years. Mmm… strange and wonderful treats.
No one ever really thinks about what would happen if a zombie apocalypse were to occur, which is why everyone in movies and TV shows are always so unprepared.
With this cookbook, you can take the time to gear up this kind of scenario!
While some of the recipes in this book are satirical, and involve using food from your fridge to make some decent meals, there are a lot of survival tips to be found in there too.
You never know when these tips will come in handy!
The devotion to the 'Burger of the Day' joke is one of Bob's Burgers' best qualities.
Every time a new burger is revealed on the board in an episode, the name of the burger includes an amusing pun referencing its components.
You can make each of these delicious 'Burger of the Day' burgers in your own kitchen with the aid of this cookbook.
These include, to mention a couple, the 'Baby, You Can Chive My Car' and the 'Eggers Can't be Cheesers' burgers.
Were you one of those girls that loved Strawberry Shortcake when you were younger?
This loveable character has been around since the 1980s, and her and her friends all have wonderful, tasty names that make our mouths water.
This pretty cookbook contains plenty of sweet recipes that will take you back to your childhood. These desserts are perfect for all occasions, and are certain to satisfy any sweet tooth.
It's not entirely clear what each character in Game of Thrones consumes on a daily basis, since the plot does not focus on food.
However, it's fairly obvious that they are subsisting on some meals with a medieval flair. This cookbook organizes its dishes in a unique way by grouping them according to various regions of Westeros.
Even though some of these dishes are straightforward and traditional, one thing is for certain: red wine pairs perfectly with each of these dishes.
Lastly, we have a more unusual cookbook that older readers may not understand. If you have ever played Minecraft, however, this is definitely a cookbook that will catch your attention.
In this book, you will find a lot of cube-shaped foods, along with plenty of dishes that you can make yourself in the actual game.
This would be a fun gift for any parent whose child loves Minecraft, or even a gamer adult who still loves this game.
Final Thoughts
Whether you're a fan of video games, television shows, or you'd like to find out the best tips for surviving a zombie apocalypse, there really is a cookbook here for everyone!
Be sure to bookmark some of these books for future birthdays and Christmases. We hope you found this guide helpful.
Frequently Asked Questions
Do Cookbooks Make Good Gifts?
Cookbooks make great gifts for all occasions, from birthdays to Christmas.
Whether someone is a seasoned chef in their own kitchen, or they barely know how to boil an egg, a cookbook is a great way to help anyone sharpen up their culinary skills.
What Is A Themed Cookbook?
A themed cookbook is, as the name suggests, a cookbook with a theme. This theme may be seasonal, pop culture related, or anything you can think of, really!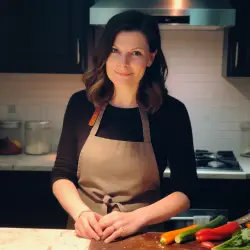 Latest posts by Barbara Hunt
(see all)