Cooking is a notoriously male-dominated profession but while the majority of head chefs are male, there are lots of female head chefs out there.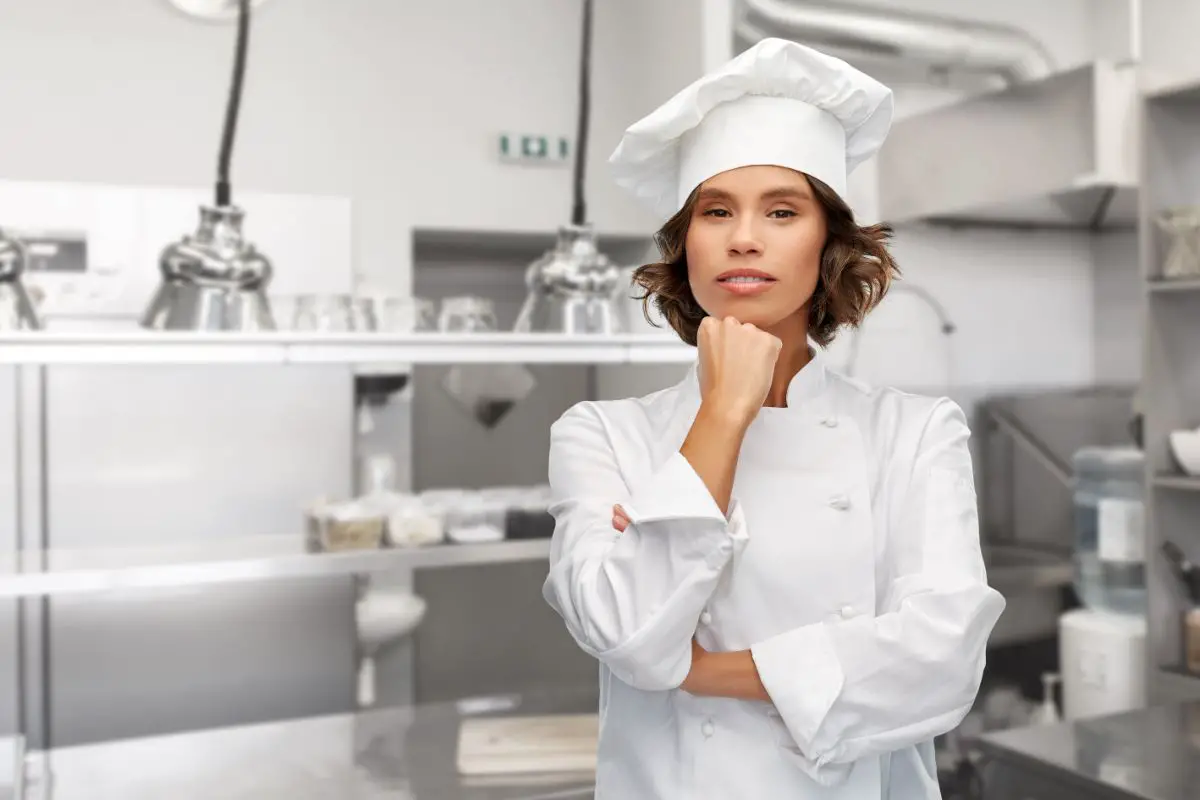 Ranging from household names to head chefs and multiple Michelin-star chefs, many successful female chefs from Great Britain have successfully made a name for themselves!
In this article, we have compiled a list of the most famous Great British chefs that we adore. If you're looking to find out more about the famous female Great British chefs, you'll find everything you need to know below.
Let's dive in! 
1. Erchen Chang
Some of the most popular restaurants in London started out as pop-ups and later developed into restaurants. Erchen Chang's restaurants Bao, Bao Fitzrovia & Xu are prime examples of this.
She was the first chef to sell squidgy buns out of a pop-up in a Hackney car park, which later developed into Bao restaurant with two outposts.
This restaurant has one chain in Soho and one in Fitzrovia. She has also opened a sister restaurant named Xu. 
Chang's restaurant is best known for its unique menu that has people queuing up around the corner to try her delicious food.
Chang lived in Taiwan until the age of 14 when she moved to London to attend boarding school. During her childhood, she would help out her grandmother in the kitchen.
She met Shing Tat Chung at the University College London, and the pair opened the street food stand in 2012 that kick started their career.
2. Kim Woodward
Kim Woodward is a fantastic chef from the UK.
She became the first female to run Gordon Ramsay's Savoy Grill restaurant when she was appointed Head Chef, making her the first female to run the kitchen in the 126 years that the restaurant has existed.
She has since been the head chef at the York & Albany in Camden, where she used her experience and unique talent to the restaurant. Since then, she has been appointed the head chef of the Strand. 
Kim has a large amount of experience in the field, spending some time in the US after college to develop her culinary skills in some of the top restaurants in America.
She returned home in 2007 where she started her career at the Gordon Ramsay Group as a Junior Sous Chef. 
In 2011, Kim appeared on Masterchef: The Professionals, where she reached the semi-finals of the competition and showcased her fantastic talent. She prides herself on making sustainable and conscious food choices. 
3. Nigella Lawson
Nigella Lawson is a famous British chef. She has written many different cookbooks and is a popular TV personality. 
Lawson has been on many different TV shows, even hosting two of her own for the BBC. She is well known for her wry sense of humor and her use of metaphors when describing her recipes.
She hosts Nigella Bites and Nigella Feasts which are both very successful.
Nigella Lawson has become a very popular household name in the UK, and internationally. She has developed irresistible recipes that range from common household dishes to much more haute cuisine.
Her recipes are great for the whole family.
Lawson began her career as a freelance journalist where she wrote for several different magazines. In 1998, she wrote her first cookbook named How To Eat.
This book was very successful and she sold 300,000 copies making her a bestselling author.
4. Alex Hely-Hutchinson
Alex Hely-Hutchinson began her career working in various pop-ups across London that focussed primarily on breakfast foods. Since then, she has opened up her own restaurant and secured herself a fantastic book deal.
Her restaurant, named 26 Grains, is located in Covent Garden. Expect to queue down the street for a chance to try her delicious brunches which are simple and balanced! 
If you find yourself in Covent Garden in search of an Instagrammable lunch, head over to 26 Grains! 
The recipes in her cookbook are very unique, inspired by her time spent living in Scandinavia. 
Recently Alex opened up another restaurant named Stoney Street. This restaurant focuses more on simple, everyday food. As a chef, Alex likes to create simple and seasonal dishes that everyone can enjoy.
She is a very young chef who is expected to go very far with her culinary skills!
5. Sabrina Gidda 
Sabrina Gidda started out studying Fashion PR and Marketing and doing some waitressing on the side. From this background, it is quite surprising that she went on to become one of London's top chefs!
She first got a taste for the kitchen from her waitressing days at The Dorchester and The Draft House. From there, she secured a scholarship named the Roux Scholarship.
She became the head chef at Bernardi's in 2015 after she was introduced to the Bernardi brothers. At this restaurant, she cooks seasonal, authentic Italian dishes in a beautiful setting.
6. Anna Hansen
Anna Hansen is a very popular Great British chef who began her career in the kitchen in 1992. Initially, she was the dishwasher at the French House Dining Room, and she moved up the ranks to become a chef.
She moved on to work at various restaurants throughout her career and then opened her own restaurant in 2008 named The Modern Pantry. 
Her style is very unique and she serves delicious dishes that combine traditional flavors with some unusual ingredients. In her cooking, you will find some very interesting ingredients, such as sour cherries and licorice!
She is also well known for her delicious desserts, specifically ones that combine white chocolate panna cotta with black sesame ice cream! 
7. Lisa Goodwin-Allen
Lisa is a brilliant UK chef. She is a trailblazer among female chefs in the country and has had a lot of experience over the years. Lisa became a head chef at 21 years old at the Northcote restaurant.
There, she developed the restaurant into one that was at the forefront of modern British cooking. 
She also runs a food festival named Northcote's Obsession food festival which is one of the best in the world, making her a pioneer and inspiration for young British female chefs.
8. Margot Henderson
Margot Henderson is a fantastic female Great British chef. She is the magic behind the wonderful London restaurant Rochelle Canteen.
Over the years she has worked in lots of the top London restaurants, and she runs a very successful catering business named Arnold & Henderson. 
She was born in New Zealand in 1964 but has since moved to the United Kingdom. She is married to the chef Fergus Henderson, so cooking certainly runs in their family! 
9. Sarah Barber 
Sarah Barber is a very successful Great British chef. She is the first female chef to work at Hotel Café Royal in 150 years.
Barber also launched the first dessert restaurant in London in the hotel. There, she showcased delicious cakes, pastries, and chocolates. 
Barber has worked in lots of fantastic restaurants in London, and she is well known for her pastry art that she takes with her to all of these restaurants.
You'll find yourself admiring the beauty of these pastries before you take a bite. You won't be able to admire them for too long though, as they are completely irresistible!
10. Skye Gyngell
Skye Gungell is a fantastic chef originally from Australia. She started out her cooking career in Sydney and Paris before she became the head chef at London's Petersham Nurseries.
Her training in France set her up for a successful career. 
She is well known for her elegant and seasonal cooking which she currently showcases at her restaurant in Somerset House. Her restaurant is called Spring, and the food she creates is very bright and Spring-like! 
Skye is very well known for her instagrammable food which is super colorful and unique! 
She is probably best known for her work in Vogue as an editor and during her time at Petersham Nurseries, she won a Michelin star! 
11. Anne Sophie Pic
Anne-Sophie Pic is one of the most successful chefs in the UK. She has earned many Michelin stars over the years. She comes from a successful cooking family, so she was bound to follow in their footsteps!
She opened a French restaurant in London at the Four Seasons Hotel named La Dame de Pic, and it earned a Michelin Star in 2018.
Pic doesn't have any formal training, so all of her success is very impressive. It is clear that cooking runs in her veins!
Final Thoughts 
So, there you have it! In such a male-dominated business, it can be very difficult to find success as a female chef.
In the UK, there are hundreds of chefs out there attempting to find success and make their mark, and in this article, we have outlined some of the amazing and inspiring women who have made a name for themselves in the industry.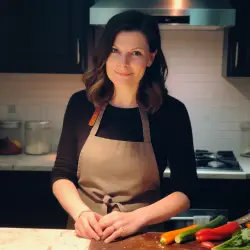 Latest posts by Barbara Hunt
(see all)