Adding halibut to your diet will never be a bad idea, it's a healthy protein source that also provides tons of B vitamins, potassium, selenium, and phosphorus too.
It's also practically devoid of carbohydrates and sugar too. And if all that wasn't enough, it's also pretty low in calories too. For example, 100g of the stuff will only set you back 111 calories.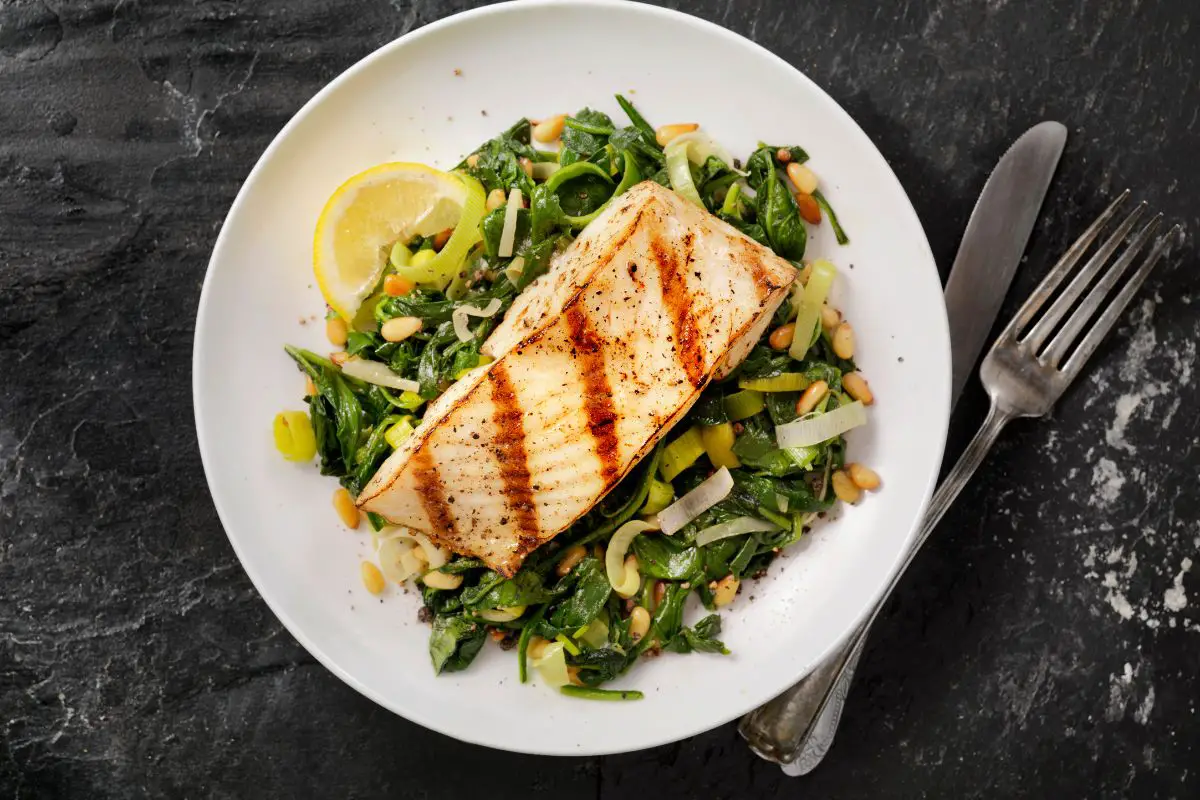 But if you're new to cooking, and even if you're not sometimes, thinking of delicious recipes that incorporate halibut can be a little tricky.
Thankfully, there are plenty of recipes already out there that are simple and easy to follow that create delightful dishes that you'll want to eat over and over again. 
So, with this in mind, we thought we would highlight some of our favorite halibut recipes for you to try. So, let's get straight to it. 
Starting off strong, we have Ina Garten's divine grilled halibut recipe (Also check out Amazing Ina Garten Fish Recipes). You can never go wrong with this recipe. The sauce is so tasty. It is rich, herby, a little creamy, and has a light summer feel to it.
Plus, the sauce can be prepared well ahead of time and stores really well. This means you can keep a jar of sauce ready and waiting for those weekday meals when you don't feel like cooking. 
The fish can be grilled at the last second and takes mere minutes to be ready. It's so moist and flaky that it will fall apart on your fork and then melt in your mouth too.
And not only does it taste amazing when served fresh, but it's as equally scrumptious at room temperature too. 
When the warmer months roll around, you'll often find yourself looking for a lighter and more refreshing meal. Well, this recipe provides exactly that.
You always know that a meal is going to be both tasty and healthy when it is bursting with color, and this meal boasts a variety of reds, greens, yellows, and more. 
The halibut is soft, flaky, and delicious, but it is the refreshing, bright-tasting, tangy, and fruity salsa that is the shining star of the show.
It's so tropical and delicious that we can almost guarantee that you'll rush straight back to the kitchen to make a second batch of the stuff. 
This thick and chunky soup is sure to put smiles on the faces of all that try it. The sauce is so creamy and delicious, it features tons of different flavors too.
From garlic to ginger, to coconut milk, to clam juice, each and every spoonful will have your taste buds dancing. It's also a great winter warmer for those colder nights. 
The grilled halibut works amazingly well in this fish curry too. Its mild flavor is somehow still not overpowered by the many different components and combinations that come together.
It's so soft and moist and adds an interesting texture to the meal. 
Now, this recipe technically calls for you to bake your halibut, however, you can easily follow all the instructions for the most part and just grill your fish as opposed to popping it in the oven. 
However, we simply couldn't not include this delightful tasty dish.
It is lactose intolerant friendly, gluten-free friendly, and super low in sodium making it a really healthy and inclusive option for pretty much everyone. 
And the result is a delightfully flaky fish that is a little bit herby and a little bit sticky and sweet. There are so many options for what you can serve this with too.
From wild rice to herby roasted potatoes, to mash – it all pairs amazingly well. 
Sticking to a Keto, Whole30, or AIP diet? Never fear, you can still get your scrumptious halibut fix like anybody else.
And considering this recipe is super quick and easy, you won't find a more convenient recipe for a mid-week meal where you don't want to slave away in the kitchen. 
The fish is mild, flaky, and oh-so-tender, and you really can't beat that fresh and summery robust chimichurri sauce that gets drizzled, or drenched, over the top of the halibut.
The sauce has a surprisingly bold flavor that helps ensure that this dish really packs a punch. 
If you're making a meal for guests any time soon, then you'll definitely want to break out this fantastically gourmet recipe. It's so easy to make and yet really looks like the stuff of super fine dining.
Don't worry, we won't tell your guests how effortless this meal was if you don't!
The fish is fresh, flaky, and incredibly moist. And then the garlic lemon butter sauce is absolutely phenomenal.
It has this really strong garlicky flavor with an underlying citrusy sweetness to it that will have you wanting to lick the plate clean! 
The addition of oyster mushrooms is also not something to miss!  
If you are in the need of a quick fish fix that requires minimal effort, then you won't find a better recipe than this one.
Not only is it ready in a mere fifteen minutes but it also requires no more than 4 simple ingredients. So, no need to run to the grocery store for this one. 
And you don't even have to sacrifice any of the delicious taste that you get from longer-winded recipes. This option still tastes astoundingly good.
The fish is as moist and tender as ever and pairs amazingly well with a fresh salad. 
Why not add halibut to your next Taco Tuesday? This recipe is so delicious and filling, and makes for the perfect summer meal.
You can expect all your favorite flavors to be incorporated such as crunchy cabbage, tangy salsa, and spicy pepper jack cheese. You'll also have tons of taco seasonings to choose from too. 
These are just as much fun to cook as they are to eat and are a great way to introduce younger children to halibut rather than just presenting them with salad and a slab of fish.
We all know how fussy little ones can be, right? 
Now, this recipe does recommend pan-searing your halibut, which you can try should you prefer, but you can still swap out the cooking method and opt for grilled halibut for an even healthier alternative. 
This is a perfect family-friendly meal that everyone is sure to enjoy. Who doesn't love a toasted brioche bun to sink their teeth into?
Well, it's even better when sandwiched between them is a tender and flaky mild halibut that has been slathered in a spicy sriracha aioli to give it a little extra kick. 
Plus, the meal can be ready in just 30 minutes which is always a bonus.  
Kababs, kebobs, skewers, regardless of what you want to call them, one simple fact remains, they are the perfect light yet luscious option for when the sun beats down relentlessly in the sky. 
And these skewers are so tasty. With each bite, you'll get flaky, melt-in-the-mouth, super-tender marinated fish and soft and seasoned veggies.
In this recipe, you're encouraged to use chunky onions and bell peppers, however, you could easily experiment with your favorite vegetables to suit your tastes. 
We definitely recommend adding a little zucchini to the mix too. 
These quesadillas are seriously addictive – they just taste so good. Place this in front of any family member and you are sure to be greeted with beaming smiles all around.
Inside each of your crispy and crunchy tortillas is flaky and tender halibut, pineapple chunks, mango salsa, Canadian bacon, and of course, a smothering of cheese. 
It's so fruity, tropical, light, and delicious. The cheese just oozes out of the quesadilla and all the ingredients come together in such a refreshing and scrumptious way.
You might want to double down on your recipe for this one because one quesadilla is surely not going to be enough. 
Final Thoughts 
Halibut is such a healthy and tasty option, so you really want to try and incorporate it into some of your meals where possible.
And now that you've seen the plethora of recipes that you can choose from, there's no excuse not to anymore. 
Whether you're looking for something a bit more simple and familiar, such as a kabab, burger, or taco, there's an option for you.
And if you prefer something a little more fancy and gourmet, options such as the grilled halibut with garlic and lemon sauce definitely need to be tried (If you like grilled food, also check out Female Chef Grilling Cookbooks). 
Regardless of which option you choose, though, we can guarantee that there will be full bellies and satisfied diners all around. 
11 Amazing Grilled Halibut Recipes Ina Garten To Try Today
Course: Recipes
Directions
Pick a recipe from above
Click the recipe name and visit the website
Collect the ingredients and the food
Enjoy – don't forget to leave a review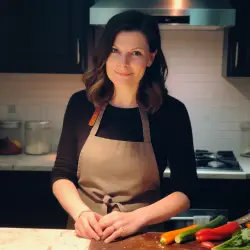 Latest posts by Barbara Hunt
(see all)