Welcome, culinary adventurers and veggie enthusiasts! Let's head out on a thrilling journey through the versatile realm of zucchinis, those unsung heroes of the vegetable world. 
It's time to dive headfirst into a zucchini extravaganza and uncover a world of delicious delights that will excite your taste buds and revolutionize your recipe repertoire.
Don't let their unassuming appearance fool you. Behind that vibrant green skin lies a vegetable powerhouse, capable of transforming mundane dishes into culinary masterpieces.
From savory to sweet, zucchinis offer an endless canvas for your imagination. In this article, we'll take you through zucchini recipe ideas suitable for breakfast, lunch, and dinner. 
Not only are zucchinis capable of savory deliciousness, from zucchini breakfast pancakes to roasted zucchini dishes, but they're also incredible for desserts! Prepare to be inspired, surprised, and most importantly, delighted by the incredible versatility of zucchinis. 
Here are our top 15 zucchini recipes for breakfast, lunch, and dinner. 
Breakfast 
Start your day with a delectable twist by incorporating zucchinis into your breakfast dishes. From zucchini pancakes and cookies to zucchini egg skillets, these green gems will add a nutritious and flavorful touch to your morning routine. 
This zucchini egg skillet recipe is not only delicious but it's incredibly easy to put together! Whether you fancy a tasty breakfast or are hosting a friendly brunch, this dish won't go amiss. 
We would recommend adding Italian seasoning and garlic for that extra explosion of flavor. This recipe is super fresh and super tasty, the zucchini and red peppers take this simple breakfast from bland to sweet and beautiful. 
If you're looking for a fantastic savory breakfast then these zucchini pancakes are a perfect and easy option.
Filled with ham, cheese, eggs, and zucchini, these pancakes make for a hearty and delicious meal that will see you through the activities of your busy day. 
To top it all off, they only take 30 minutes to make, so you won't need to put aside oodles of time in the morning. 
We've added this zucchini with eggs and cheese recipe to our breakfast picks, but you can enjoy this for breakfast, lunch, or dinner! There are no limits to this delectable dish. 
This recipe reminds us of warm summer memories at home with the family. This is bound to become a breakfast staple.
These zucchini bread breakfast cookies are super quick to whip up in the morning, or you can prep them the night before if you're short on time. 
We find these cookies to be great for breakfast, but also excellent additions to lunch boxes or even for taking breakfast on the go. 
This flavor combination never fails and this recipe in particular always results in a cooky that is perfectly light, sweet, and soft. 
Paula Deen uses her Southern charm to wow us again with this zucchini bread recipe. This dish is quick and easy to make and is perfect for snacking or for breakfast. 
While this recipe is easy to make, we would recommend cooking it the day before to allow yourself plenty of time for cooling. 
Not only is this zucchini bread delicious to eat, it makes an excellent gift to bring to any party. 
Dinner
Now, let's explore how to change the game with zucchinis for dinner. From stuffed and roasted zucchini to flavorful custard bakes, your guests will be delighted at the deliciousness of these recipes. 
Ina Garten shows off her culinary prowess with this recipe for parmesan roasted zucchini. If you're feeling bored of your regular go-to zucchini dishes, then we would absolutely recommend trying this on for size. 
Easy to make, yummy, and perfect for a family meal, you can't go wrong with this scrumptious dish. 
You've heard of stuffed peppers, now it's time to switch things up with Rachael Ray's tasty recipe for stuffed zucchini. 
Using the finest ingredients and only 30 minutes of your time, you can be met with the blissful flavor of parmesan, basil, garlic, and zucchini. 
We're simply obsessed with this one. 
Another of our favorites from Paula Deen. This delectably creamy dish is utterly heavenly and the perfect recipe for when you're looking for pure comfort food. 
The best part about this is that you only need one pot to make it and it yields 6 servings making it the perfect addition to your recipe repertoire. 
Here's our next pick for zucchini culinary sensations. This oven-roasted zucchini with a sprinkle of parmesan is truly scrumptious! 
This tasty dish offers a delightful crispness, is quick to make, and is perfectly healthy enough to leave you totally satisfied. 
Whether served as a side dish or enjoyed as a main course, this garlic butter-sauteed zucchini is sure to impress. 
Its simplicity and elegance make it a versatile addition to any meal, from a casual weekday dinner to a gourmet feast. Your taste buds are bound to thank you for this one. 
Dessert
Discover the surprising sweetness of zucchini in desserts! From moist and flavorful zucchini bread to indulgent chocolate zucchini brownies, these veggies will provide your dishes with a healthy twist to the treats. 
Get ready to satisfy your sweet tooth in a whole new way. 
These brownies are an imaginative fusion of decadence and nutrition. By incorporating grated zucchini into the batter, these treats become incredibly moist and tender while adding a subtle hint of earthy sweetness. 
Not only are these zucchini dessert squares incredibly delicious, but they also offer a healthier alternative to traditional desserts. 
Zucchini is packed with essential nutrients, vitamins, and dietary fiber, making these squares a guilt-free indulgence. 
Whether enjoyed on its own, dusted with powdered sugar, or drizzled with a tangy lemon glaze, this lemon zucchini cake is sure to be a crowd-pleaser. 
Its versatility makes it suitable for any occasion, from casual gatherings to elegant celebrations. It's the perfect dessert to brighten up a summer afternoon or to bring a ray of sunshine to a winter's day. 
This treat combines the comforting flavors of cinnamon and sugar with the subtle goodness of zucchini resulting in a cake that is both indulgent and satisfying. 
We recommend trying this cake alongside a delicious cup of joe to add an element of decadence to the experience. 
The warm, comforting aroma that fills your kitchen as this bakes will be a welcoming invitation for family and friends to gather and indulge in this perfect cake. 
True to its name, this recipe involves just one step: dumping all the ingredients into a mixing bowl and giving them a good stir. No complicated instructions or multiple stages—just a straightforward approach that yields fantastic results. 
Each bite is a delightful blend of flavors, with hints of spice and the sweetness of zucchini dancing on your palate. 
Final Thoughts 
Zucchini is great for uncovering a world of culinary possibilities. This list isn't extensive in its uses. Try using zucchini in your vibrant salads and add them as a side dish to other mouthwatering main courses. 
Zucchini has proven its worth as an incredibly versatile ingredient. So, go forth, experiment, and let zucchini elevate your cooking to new heights of taste! 
Frequently Asked Questions
What Can I Do With An Abundance Of Zucchini?
As zucchini is such a versatile ingredient, you can add it to practically anything without ruining the flavor profile. One of the easiest ways to use up your zucchini is to dice it and add it to your salads. 

Zucchini is also great diced and mixed with spaghetti bolognese!
Can You Freeze Fresh Zucchini?
Freezing zucchini can be an excellent way to increase its shelf life, however, there is a method to the madness. When defrosting, raw zucchini can become quite weepy and watery. We would recommend chopping and blanching your zucchini before freezing to avoid the watery fallout.
Do You Peel Zucchini To Eat It?
You don't need to peel zucchini to eat it, as a matter of fact, the skin is the most nutritious part of the vegetable. When chopping up zucchini, simply wash it off, chop off the stem, and then either slice, dice, or cut the zucchini into ribbons.
15 Easy Zucchini Recipes For Everyone To Enjoy
Course: Other Recipes, Recipes
Directions
Pick a recipe from above
Click the recipe name and visit the website
Collect the ingredients and the food
Enjoy – don't forget to leave a review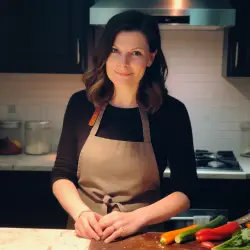 Latest posts by Barbara Hunt
(see all)