What makes sweet potatoes so special? Well, besides their vibrant orange flesh and naturally sweet taste, they are a nutritional delight. Packed with fiber, vitamins A and C, potassium, and antioxidants, sweet potatoes are a wholesome addition to any meal.
Plus, they have a lower glycemic index compared to regular potatoes, making them a smart choice for those looking to maintain stable blood sugar levels.
Most importantly, these versatile root veggies are not only packed with nutrients, but they also offer a palate-pleasing canvas for a wide array of delicious recipes. 
Everything from savory dishes to delicious desserts, sweet potatoes have something to offer for everyone's taste buds. 
Join us on this exciting exploration of sweet potato recipes, we're here to take you through our top 15 recipes featuring this tasty root vegetable.
In our opinion, no bowl of chili is complete without a large helping of cheese and sour cream. So luckily, the good chefs over at Delish have got us covered. 
What we really love about this recipe is the fact that it's vegetarian, and even though you can add meat to it, you don't have to. This dish is satisfying and filling without any extra protein. 
For a fantastic, family-friendly meal that you can have on the dinner table in less than 30 minutes, check out this sweet potato sausage skillet. Finding a meal that incorporates so many different vegetables but still manages to pack a punch with flavor is a great kind of dish to keep in your arsenal. 
Our favorite thing about this recipe is the fact that it's a skillet meal, meaning that there's less to wash up — which is always a bonus in our eyes. 
If you'd like a meal that's going to transport you to the sunny Mediterranean, then this next recipe is going to be right up your street. These Mediterranean sweet potatoes are super simple to make, but also super filling and satisfying. 
It can be difficult to find plant-based meals that leave you content, which is one of the reasons that we love this minimalistic bake.      
We don't know about you, but someone just has to mention the word Latkes and we'll come running. Maybe we're a little biased in that way, but we think that these sweet potato latkes are fantastic sides or starters for a lot of meals. 
If you've never tried a loaded sweet potato soup, then you have been seriously missing out. There is nothing better than a soup that is packed full of hearty vegetables, spices, and herbs.
Whether as a lunch in the Fall or a dinner in the chilly evening, this sweet potato soup is pretty basic, but you'll love the way it comes out. 
Sometimes you have leftover sweet potatoes — maybe from one of the other dishes that we've listed here — but not enough for another full meal. In that case, why not try to create a sweet potato puree like this one?
Perfect for side dishes or as a dip for all kinds of delicious bread, this sweet potato puree is a fantastic addition to anybody's recipe tin.  
Another recipe from Ina Garten here, this time she's showing off her twice-baked sweet potatoes. These potatoes are loaded with egg, shallots, and cheese, already a mouthwatering combination. Serve this dish piping hot with a meat of your choosing or as a side at a potluck or cookout. 
A combination that's been massively slept on is sweet potato and coconut. But Rachael Ray is hoping to convert more people to this incredible pair with her coconut-roasted sweet potatoes. 
If you're worried about these two ingredients pairing together, the process is really simple. For this dish, you'll just need to roast the potatoes in coconut oil instead of butter or olive oil. The two flavors pair nicely, with the coconut bringing out the sweetness of the potato. 
Rachael Ray seems to like her sweet potatoes to emphasize the sweetness. Another great example of this is her candied sweet potatoes with pecans. 
This is one of our favorite desserts for the fall, and our Thanksgiving table simply isn't complete without a place for these delicious potatoes. 
Our favorite thing about this dish is the fact that it's cooked on a skillet instead of in the oven. This saves a lot of space during big meals — who doesn't need more of that? 
We tried Ina Garten's twice-baked sweet potatoes, so now let's have a look at Paula Deen's take on the recipe. 
Ready on the table in less than half an hour, these super creamy twice-baked sweet potatoes make a great side dish for a variety of larger meals but are also perfect for a hearty lunch if served on a bed of salad. 
We can't believe it's taken this far through the list to bring up sweet potato pie! 
The absolute epitome of fall desserts, this recipe for sweet potato pie can transport you straight back home for the holidays — maybe now you can be the relative that always brings a sweet, creamy, sweet potato pie. 
Sure, this recipe takes a little while to bake, but the result is well worth the wait. 
If all this talk of the sweet stuff is leaving your teeth sore, why not check out this much more diet-friendly recipe: roasted sweet potatoes with a honey lemon dressing? 
Something that we love about this dish is how it combines the creaminess of sweet potato with crunchy pecans and crumbly feta or goat's cheese. We love the combination of colors and textures within this meal, and we think that you will too. 
How old were you when you first learned that gnocchi was potato and not pasta? For us, it was way more recently than we should probably admit to. 
Anyway, gnocchi is a fantastic choice if you're wondering what to do with a surplus of sweet potatoes, and this recipe in particular is so mouthwatering, we wouldn't blame you if you went away to make this dish straight away. 
If you like meal plans, then this next recipe could be a winner for you. It's so easy to make a double batch of this totally vegetarian but super tasty sweet potato and black bean chili. You can eat it fresh, save it for lunch the next day, or even freeze it for up to a month.
Last on our list are these sweet potato chips. If you've been looking for a healthier version of your typical chips, then this is the recipe for you. Whether you're serving them up as a side with a meal or just as a snack for yourself during the day, you need to give these a try. 
Final Thoughts
Sweet potatoes are not only delicious but a nutritional powerhouse. With our top 15 recipes, you can explore the incredible versatility of sweet potatoes, from comforting casseroles to delightful desserts. 
Whether you're craving savory or sweet, these recipes have got you covered. Enjoy your journey experimenting with these tasty super spuds!
Frequently Asked Questions
What Goes Well With Sweet Potatoes?
Sweet potatoes are a versatile ingredient that pairs well with a variety of flavors and ingredients. They go well with savory herbs, citrus fruits, maple syrup, bacon, and grain (and that's just for starters!) 

These combinations offer a range of taste experiences to enhance the natural sweetness and earthy flavors of sweet potatoes.
Should You Eat Sweet Potato Skin?
Yes, you can and should eat sweet potato skin! The skin of sweet potatoes is not only safe to eat but also provides additional nutritional benefits. 

The skin contains dietary fiber, potassium, and antioxidants. However, make sure to thoroughly wash the sweet potato before cooking to remove any dirt or residues. 

Ultimately, whether you choose to peel the sweet potatoes or leave the skin intact completely depends on personal preference and the specific recipe you're preparing.
How Long Does It Take To Cook A Sweet Potato?
The cooking time for sweet potatoes depends entirely on the method used. Baking takes about 45 minutes to an hour. Boiling typically takes 10-15 minutes, while microwaving takes 5-8 minutes on high power. Lastly, steaming takes around 10-15 minutes. 

It's important to check for doneness by inserting a fork or knife into the potato. Cooking times may vary based on size and freshness.
15 Simple Sweet Potato Recipes Everyone Needs To Know
Course: Other Recipes, Recipes
Directions
Pick a recipe from above
Click the recipe name and visit the website
Collect the ingredients and the food
Enjoy – don't forget to leave a review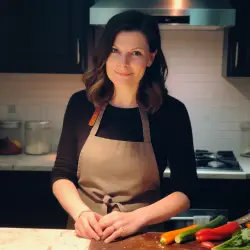 Latest posts by Barbara Hunt
(see all)