Noodle kugel is a traditional festive Jewish meal enjoyed by millions. However, non-Jewish people also enjoy noodle kugel, simply because it's delicious and easy to make at home.

Ina Garten's noodle kugel delivers egg noodles (like fettuccini pasta) baked into a fluffy, creamy custard spiced with cinnamon and sweet raisons. Its easy to make and is a great side dish.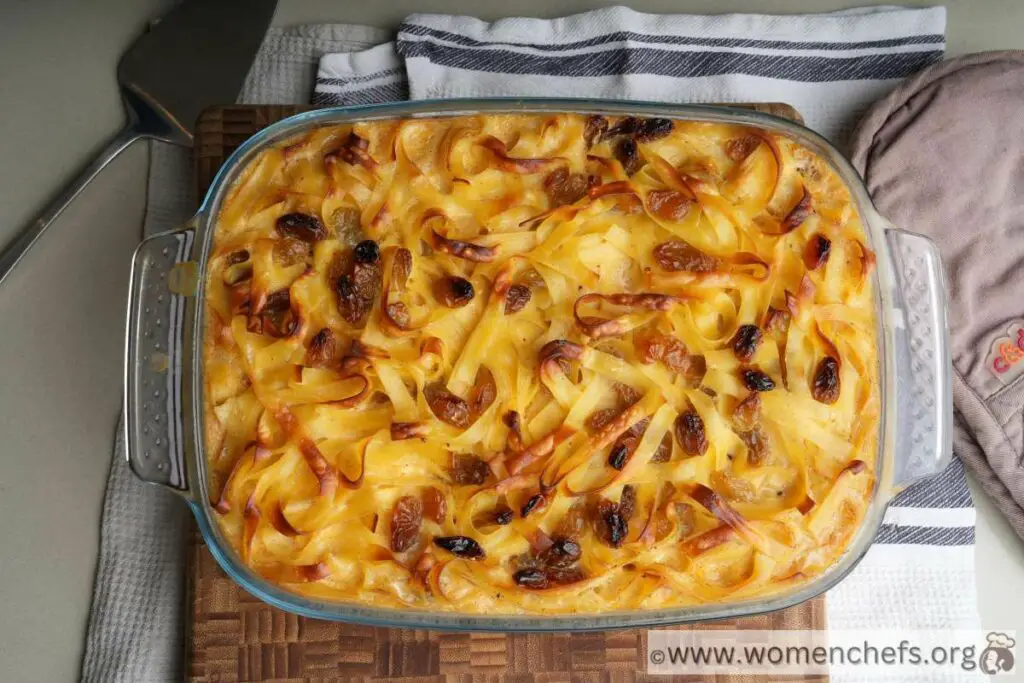 When And How To Serve Ina Garten's Noodle Kugel
In America, Jewish families often serve kugel during their Thanksgiving dinner. It even makes our list amongst Ina Garten's top thanksgiving recipes.

Noodle kugel goes well as a side with meats such as chicken, turkey, beef, and even fish. You can also serve it at your buffet table if you have many guests.

Since Barefoot Contessa's noodle kugel recipe is a little bit sweet, it can also be enjoyed as a dessert or brunch. 
If you are looking for a more traditional pasta recipe for a main dish, check out our list of amazing pasta recipes from Ina Garten.
How To Make Ina's Noodle Kugel
In this section I will give you step by step instructions with tips and photos on how you can make noodle kugel Ina Garten style.
You can skip straight to the recipe below if you prefer. I also have a 90 second video which shows you exactly how I make Ina Garten's noodle kugel to serve as a side with lunch.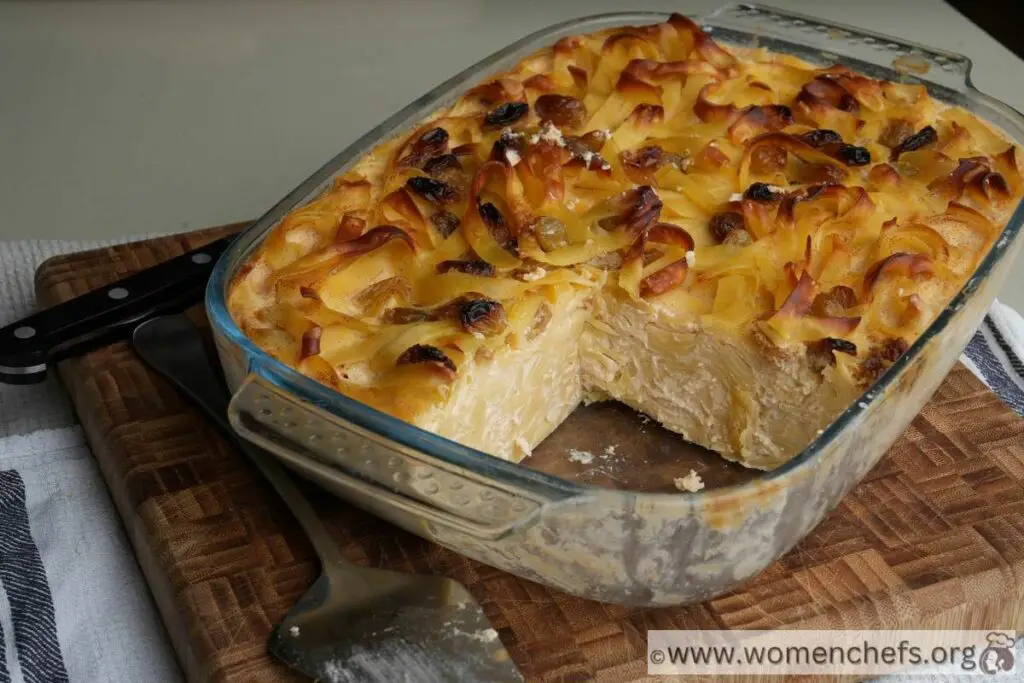 Step 1: Preheat The Oven
Nothing tricky here. Noodle kugel is baked in the oven, so it's important that the oven is preheated before the dish goes in to be baked.
Step 2: Get Your Ingredients Ready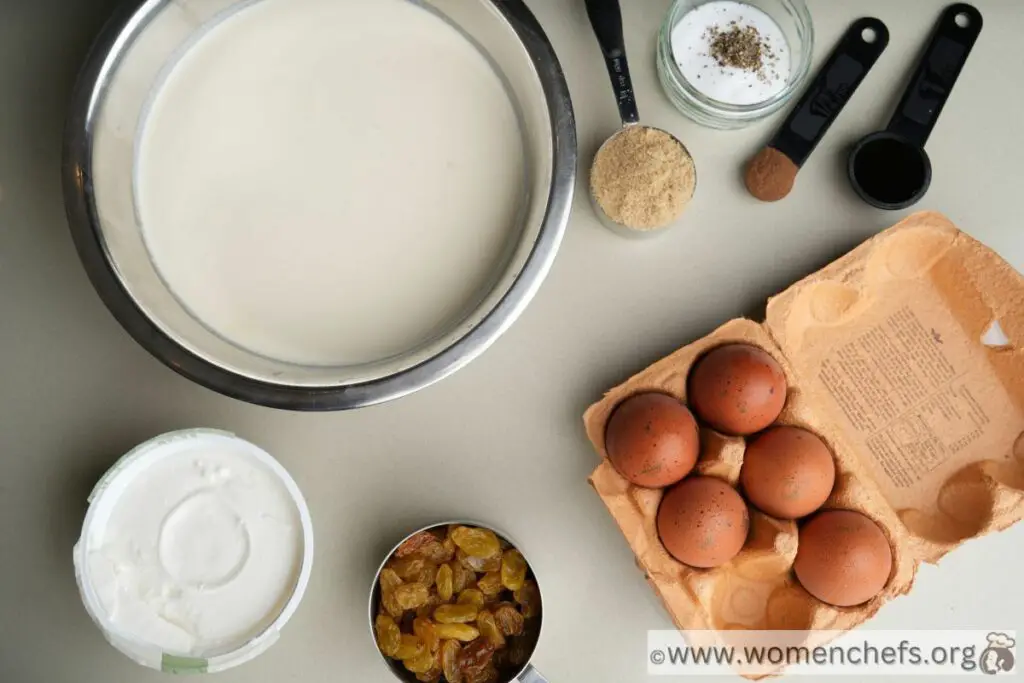 Measure all your ingredients beforehand to make it easier for you once you actually start mixing things up.
I find it much easier to have everything ready as I am in the middle of cooking.
Step 3: Cook The Pasta
Cooking the pasta is typically done by following the instructions already on the packet. Ina Garten's recipe calls for wide egg noodles.
The best pastas for noodle kugel are traditional pastas like tagliatelle or pappardelle. These are flat and wide in shape and are usually made with egg. Using a wider pasta means the pasta will sit nice and high in the baking dish, giving you a nice thick kugel. If you use something like spaghetti then the pasta will pack down and you will end up with a flat kugel.
Once the pasta is cooked, drain the noodles and mix them with the custard (when it's made).
Step 4: Make The Custard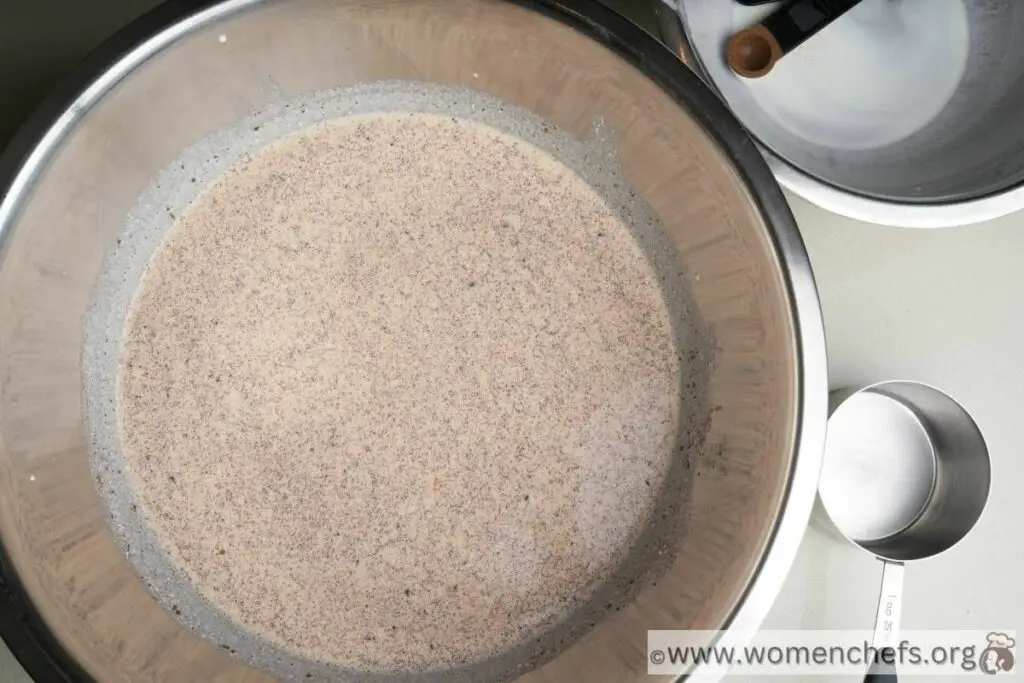 Making the custard is so easy, all you need is a bowl, and simply mix your eggs, cream, milk, spices, and vanilla together. 
You can mix by hand with a whisk or use a hand mixer like I do.
Step 5: Mix Noodles And Custard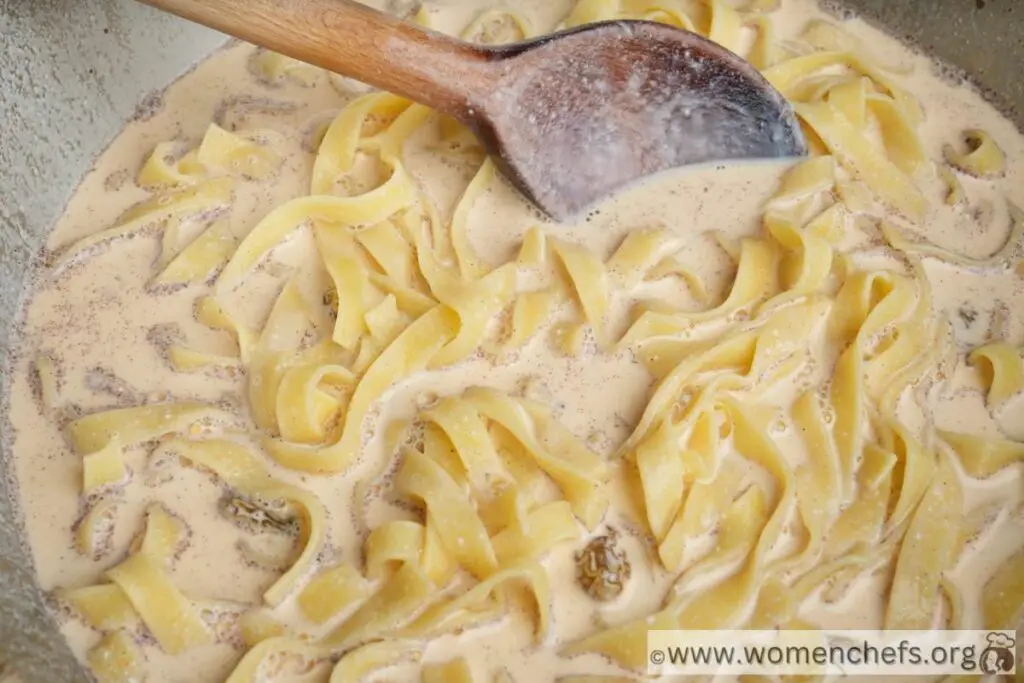 Mix the custard and cooked noodles together, and transfer them into a deep baking dish. 
Step 6: Prepare a Baine Marie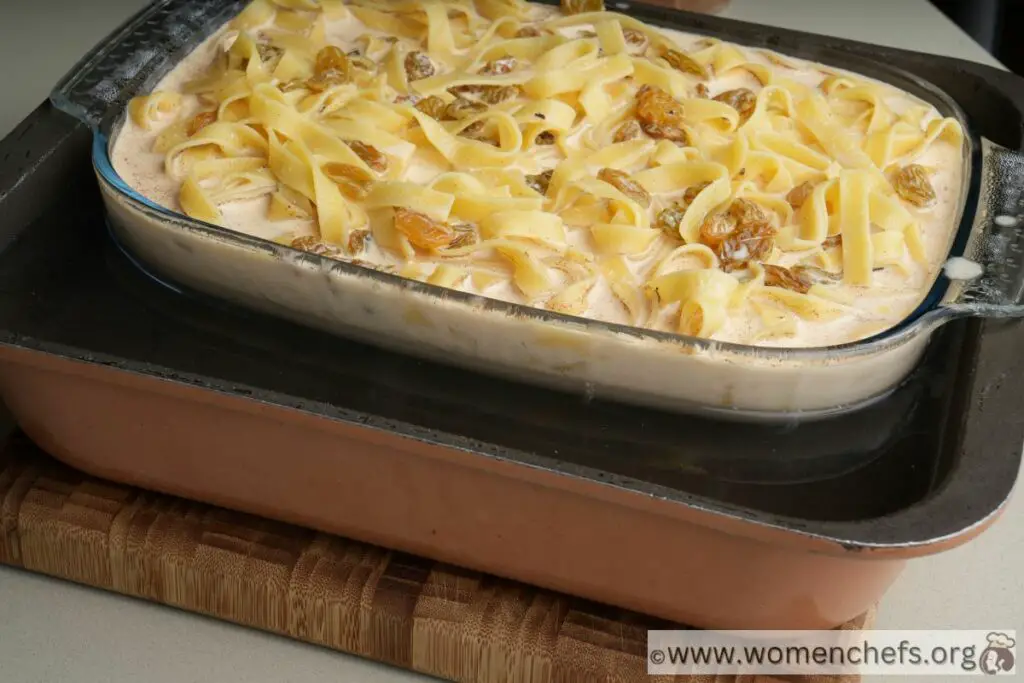 The baine marie (also known as a water bath) is often used for baking desserts, such as cheesecakes, chocolate desserts, and custard desserts.
It's a popular way to bake many dishes. The baine marie part is quite important, but it's quite simple to do.

You will need to fill an even larger baking dish (that can hold the main dish filled with your kugel) and then fill that with hot water, it should cover your main baking dish halfway, not entirely because you don't want water going inside your dish.
Remember to cover the dish before placing into the oven.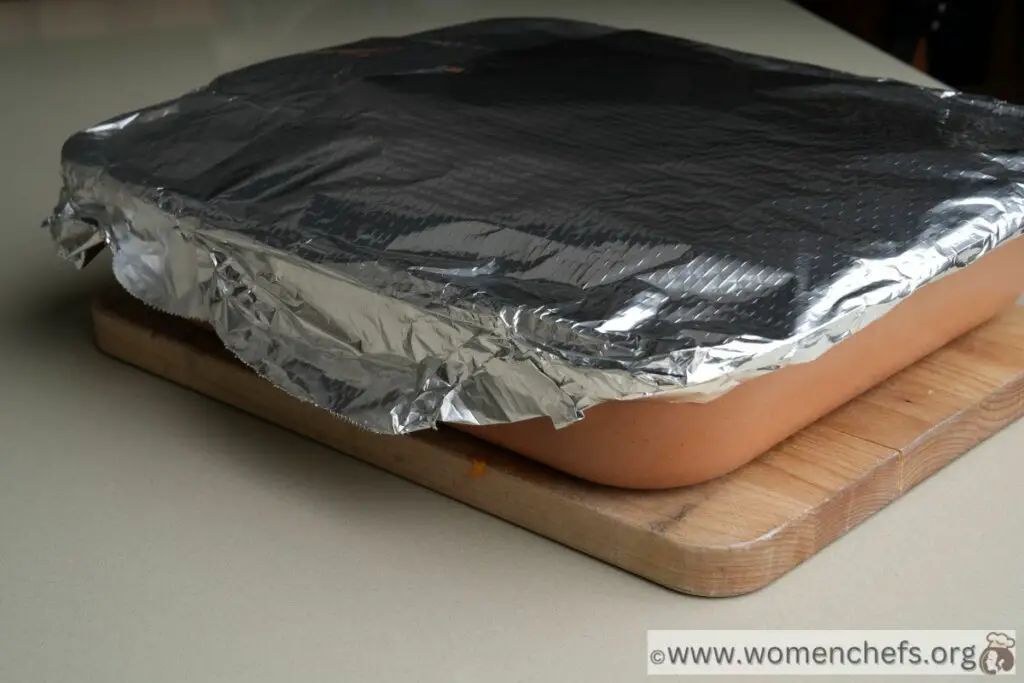 Step 7: Bake – the baking has two stages!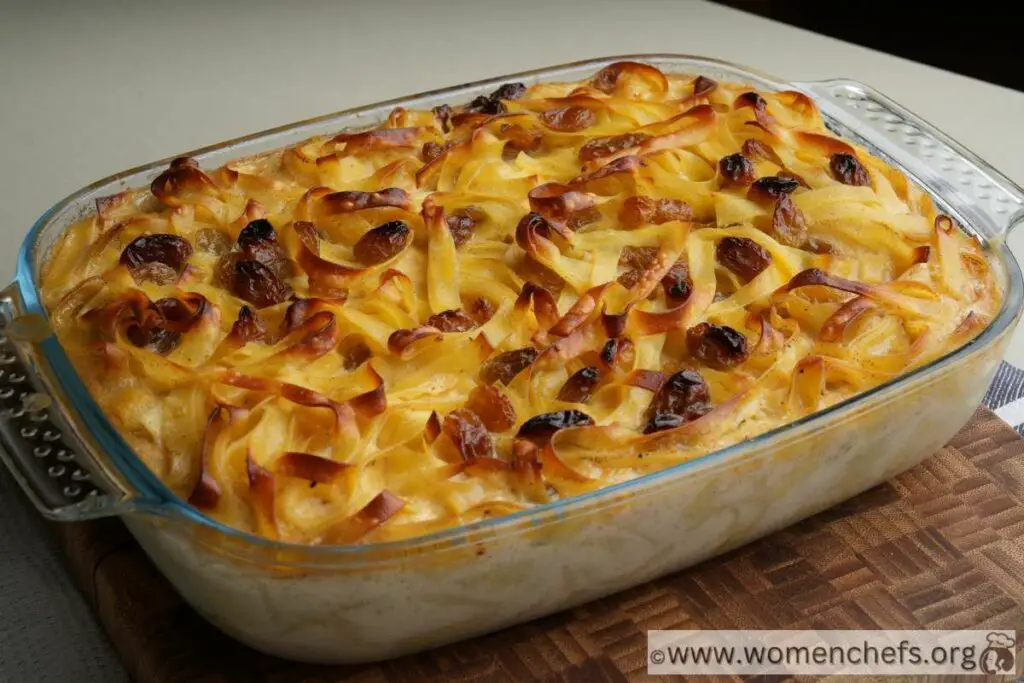 First stage, bake the kugel while covered for about 45 minutes.
Second stage, remove the cover and bake uncovered for another 45 minutes or until the custard is set and the top is brown and crispy.
The baking is quite long, which is why I like to start this dish early in the day, to allow it to bake, then cool completely.
Once cooled, it will hold together well and slice perfectly for serving.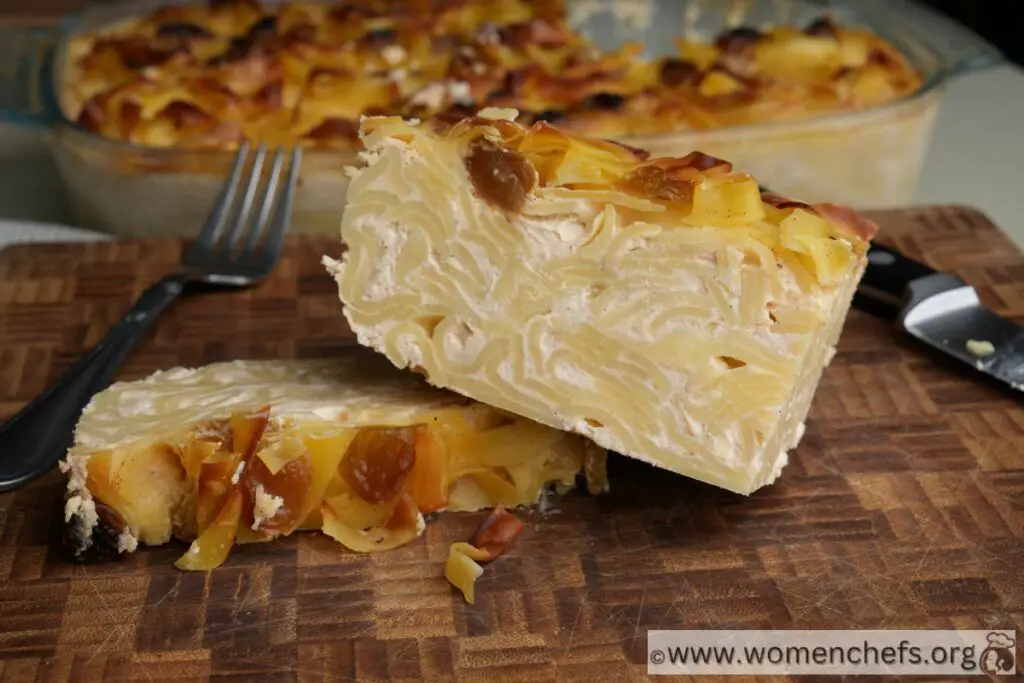 Ina Garten Noodle Kugel Recipe
Course: Sides
Cuisine: Jewish
Difficulty: Easy
Cooking time
1
hour 
30
minutes
Noodle kugel Ina Garten style is quick, easy and delicious. Pasta baked to golden perfection in custard, with a hint of cinnamon and raisins. A delightful comfort dish.
Ingredients
1 pound of wide egg noodles (Tagliatelle, Pappardelle, or Fettuccine)

5-6 large eggs depending on their size

4 cups of half and half (or make your own half and half using 2 cups of milk and 2 cups of heavy cream)

1/4 cup of packed light brown sugar

1 cup of ricotta cheese (you can also use cream cheese)

1 cup of juicy raisins (like golden raisins)

1/2 teaspoon of ground cinnamon

2 teaspoons of pure vanilla extract

1 tablespoon of salt

1/2 teaspoon of ground black pepper
Directions
Begin by preheating your oven to 350F. Grease a 10 by 13 by 2 1/4-inch baking dish with butter.
Add a touch of oil to a large pot of boiling salted water. Cook the pasta for 6 to 8 minutes until they are tender. Then, drain them.
In a large bowl, combine the eggs, half and half (or milk and cream cream combination), light brown sugar, vanilla extract, cinnamon, salt, and black pepper. Mix in the ricotta cheese and golden raisins. Finally, add the drained cooked pasta to this mixture.
Transfer the pasta mixture to the prepared baking dish. Place the filled dish within a larger pan and add enough hot water to reach halfway up the sides. Cover the entire setup with aluminum foil.
Bake for 45 minutes, then uncover and continue baking for another 45 minutes, or until the custard is just set.
To avoid it falling apart, let it cool completely in the baking dish before cutting.
Notes
Use Tongs Or a Pasta Spoons: When transferring the pasta from the custard mix to the baking dish, I recommend you to use tongs or a pasta spoon. This method ensures that you can arrange the pasta neatly in the baking dish before pouring the custard mixture over it. This will help distribute the cinnamon and raisins evenly on top of the pasta during the baking stages.
Baking Time: Bake the dish until the custard is fully set and has a golden brown top. Keep in mind that the raisins may darken or even blacken before the pasta reaches the desired browned state. You have the option to remove any overly blackened raisins.
Proper Cooling: It's best to allow the dish to cool thoroughly before attempting to cut it. This will help it maintain its structural integrity, preventing it from falling apart when served.
Serving Temperature: For an enhanced dining experience, you may want to heat the dish slightly before serving, rather than serving it directly from the fridge.
Noodle Kugel Commonly Asked Questions:
1. Is Noodle Kugel Served Hot Or Cold?
Noodle Kugel is most commonly served warm, since it typically accompanies main meals as a side, often meaty main meals. However, it can also be eaten cold. It can be great for a picnic or as a snack even.
2. How Long Can I Keep Kugel In The Fridge?

Barefoot Contessa's noodle kugel can last in the fridge for up to 5 days. However, you can also freeze it. In the freezer, it can last up to 2 months.

3. What Is The Best Way to Reheat Kugel?
The best way to reheat noodle kugel is to slice it into portions (if not already) and place them on a preheated baking tray in the oven. Reheating in the oven takes about 10 minutes.
Microwaving is faster, but the center may not heat through unless you microwave it for an extended period, which can affect the texture of the outer layers.
More Ina Garten Recipes: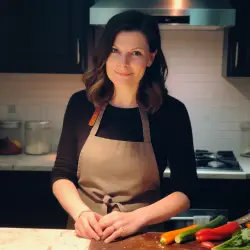 Latest posts by Barbara Hunt
(see all)