Some of the best and most popular Filipino dishes are made with meat. Adobo, sinigang, tinola, beef nilaga, kare kare, and bicol express are just a few that come to mind.
But that doesn't mean there aren't any vegan Filipino dishes, or even vegan alternatives to the above Filipino dishes, that don't taste just as delicious!
If you eat a vegan diet, we've rounded up 15 Filipino vegan recipes that you need to try.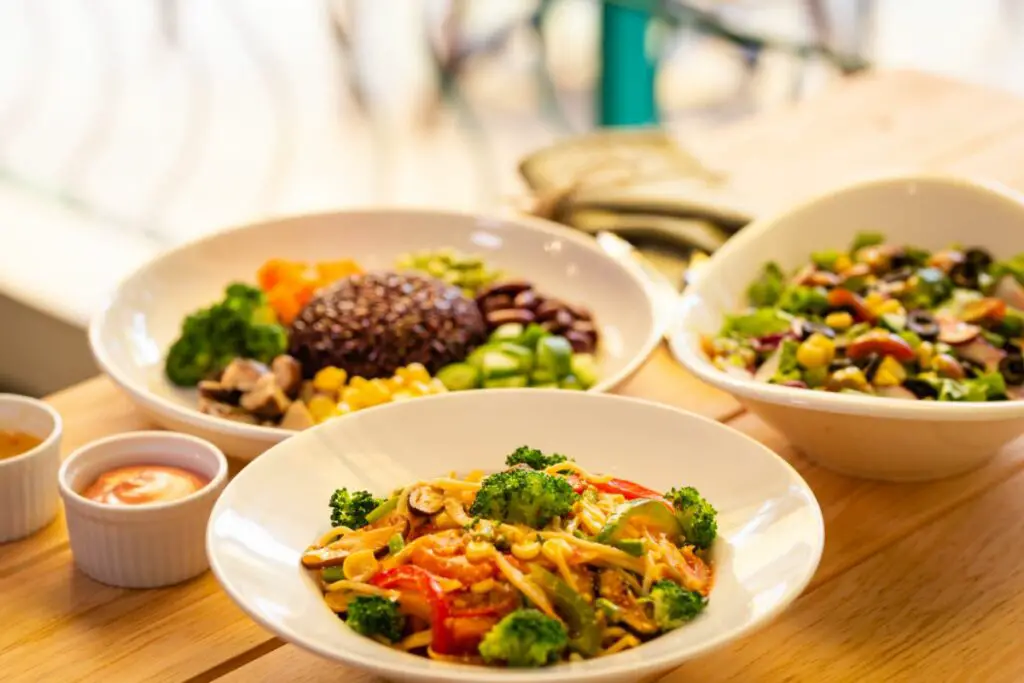 These vegan-friendly Filipino dishes are healthy, super tasty, and satisfying, no matter whether you've tried Filipino cuisine or not!
Traditional Filipino Vegan Recipes
Try authentic Pinoy food with these traditional Filipino vegan recipes.
Kare-kare is a popular Filipino dish usually made with beef. It's a stew with peanut butter as its main ingredient, plus different vegetables to give the dish texture, taste, and color.
This vegan Filipino peanut stew is the perfect vegan-friendly alternative to kare-kare. It's the best vegan kare kare we've tried so far, so it definitely won't disappoint if you've been looking for a plant-based version!
Adobo is one of the most popular dishes in Filipino cuisine, made using pork belly, chicken, or squid as the main ingredient. Vegan adobo is just as tasty, however!
The sauce is made using vinegar, soy sauce, ground pepper, garlic, and sugar – so this vegan Filipino recipe is also quick and easy to make, taking just five minutes to prepare and 20 minutes to cook.
Sisig is highly popular in the Philippines, served as a side or main dish with rice. It's typically made from pork jowl and maskara, but vegan alternatives exist, and this tofu sisig recipe is the one to try if you're yet to taste sisig!
This Crispy vegan Filipino tofu replaces pork with tofu, and it tastes just as good. It stays true to authentic sisig recipes with ingredients that include soy sauce, calamansi, and red chili peppers.
Here's another must-try Filipino vegan recipe that uses tofu. Giniling and Filipino picadillo are traditionally made using beef or pork, but this recipe will hit the spot if you're craving something comforting.
Other main ingredients you'll need include tomato paste, soy sauce, carrots, potatoes, and green olives. If you have access to plant-based ground meat, you can also use that as an alternative to tofu.
Lechon paksiw is a popular Filipino dish at gatherings, parties, and other special occasions, loved for its tangy, sweet taste. You don't have to miss out if you eat a vegan diet, however, as this vegan lechon paksiw recipe tastes as good as the real thing.
This recipe takes just 25 minutes in total to make, so it's quick and simple. What we especially like about this recipe is that it includes green jackfruit, which gives it a sweeter taste.
Veggie Filipino Vegan Recipes
If you love vegetables, try one of these veggie-loaded Filipino vegan recipes.
Lumpiang Shanghai is a famous dish in the Philippines that's essentially fried spring rolls influenced by the Chinese dish lumpia.

Lumpia is usually filled with meat and vegetables, but this recipe uses plant-based ground beef – and it tastes just as amazing.
For this Filipino vegan recipe, you'll need flex eggs, water chestnuts, green onions and garlic, carrots, nori, soy sauce, spring roll wrappers, and plant-based ground beef. These take one hour and 30 minutes to make but yield 50 servings!
Sopas is a Filipino-style macaroni soup. If you're craving macaroni, this is the recipe to try first; both quick and easy to make.
For this vegan chicken sopas recipe, you'll need vegan chicken or vegan bacon, soy curls, celery, carrots, cabbage, macaroni noodles, and coconut evaporated milk. For a less creamy taste and texture, you can use regular coconut milk instead.
Pancit is super popular in the Philippines – a fried noodle dish that involves meat, vegetables, and other ingredients flavored with soy sauce and lemon. If you're hunting for a vegan version, this vegan pancit canton recipe is one you won't stop making!
The best thing about this recipe is that it's also healthier than traditional pancit canton, using dry soy chunks, carrots, shiitake mushrooms, cabbage, and green beans. These stir-fried noodles are high in protein and low in saturated fat.
This vegan Filipino pancit bihon recipe makes another must-try pancit dish that's 100% vegan and packed with flavor. It's quick and easy to make, too, plus highly nutritious as this recipe is loaded with whole-food ingredients.
Bihon noodles are the key ingredient here, added to tofu, vegetables, and a simple but tasty sauce made from low sodium soy sauce, organic granulated sugar, and vegan bouillon base. All in all, it takes just 30 minutes to make.
Pinakbet is a colorful Filipino vegetable dish that's packed with nutrients due to all the vegetables in the recipe. This vegetarian pinakbet recipe is super authentic and a guaranteed crowd-pleaser at parties.
If you love veggies, this recipe will be right up your alley. It includes red shallot, squash, string beans, bitter melon, eggplant, and okra. To complete this dish, you'll need coconut cream, soy sauce, salt, and pepper. Simple and healthy!
Meat Substitute Filipino Vegan Recipes
Enjoy the taste and texture of meat without using real meat with these meat-substitute Filipino vegan recipes.
Filipino spaghetti is known for being very sweet, so you'll like it if you tend to add sugar to your bolognese recipe.! This recipe offers a vegan-friendly alternative to Filipino spaghetti, which is typically made with hot dogs.
Using vegan hot dogs, this vegan Filipino recipe still tastes meaty and authentic. Other main ingredients you'll need include tomato paste, celery, carrots, red bell peppers, sweet pickle relish, soy sauce, and non-dairy milk.
This vegan adobo recipe uses chicken-style seitan as the main ingredient, giving it a meatier texture than the eggplant adobo listed above. It's also easy to prepare and make, involving five minutes of prep time and 35 minutes of cooking time.
What makes this vegan adobo recipe stand out is how much flavor it offers, thanks to ingredients that include coconut milk, light and dark soy sauce, dried red chili peppers, and cilantro. It's savory, creamy, and slightly spicy all in one!
Bangus is a popular fish in the Philippines with a distinct taste, often flavored with a simple marinade of vinegar, salt, and pepper. This recipe offers the same traditional flavor but switches out bangus fish for tofu.
In this case, the tofu is given an authentic fish-like taste thanks to kombu. It also uses nori to give the tofu a texture similar to fish skin! So this recipe is as close as it gets to tasting Filipino bangus without eating fish.
Barbecue (inihaw) is just as popular in the Philippines as it is anywhere else. You don't have to eat meat to find out what it tastes like, though, as this vegan Filipino barbecue recipe offers the perfect plant-based alternative.
Soy curls replace the meat in this recipe, for which you'll also need soy sauce, white vinegar, vegan oyster sauce, garlic, calamansi, banana ketchup, red pepper flakes, and brown sugar. The end result will surprise you as it really likes barbecued meat!
Last but not least, tocino – a popular pork dish in the Philippines known for its reddish color due to how it's marinated. This vegan tocino recipe is a tasty plant-based alternative, using soy meat filets.
With a total time of 35 minutes (15 minutes to prepare and 20 minutes to cook), this recipe is a great last-minute dish. Using annatto powder is up to you, but it will give the dish its famous reddish color for a super authentic look!
Final Thoughts
And that's our list of 15 Filipino vegan recipes that you need to try, especially if you like the sound of Filipino cuisine but are struggling to find Pinoy dishes that are vegan-friendly.

Make your favorite dish from the above today. If you can't decide which one to make first, save this page for future reference!
Ready for more? Take a look at these vegetarian dishes.
Frequently Asked Questions
What Is The Most Eaten Filipino Food?
Adobo is one of the most widely eaten Filipino dishes, known for its savory taste that has made it one of the country's staples. It involves meat, typically pork or chicken, that's been marinated in vinegar, soy sauce, and garlic.
Does Philippines Have Vegan Food?
A lot of traditional dishes in the Philippines involve meat, but there are vegan Filipino dishes and Filipino recipes that can be made vegan by just changing the ingredients. There are also many FIlipino restaurants serving vegan food.
15 Filipino Vegan Recipes You Need To Try
Course: Cookbooks
Directions
Choose a recipe
Collect your ingredients
Prepare your dish
Enjoy.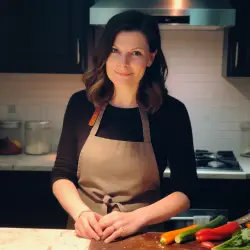 Latest posts by Barbara Hunt
(see all)