If you keep your diet veggie-based, you will be glad to know that most Filipino recipes involve lots of vegetables – including many Filipino staples!
Filipino food is known for its flavors that blend savory, sweet, and sour. So, even without meat, Filipino cuisine offers a treat for the palate that won't disappoint, no matter whether it's time for dinner or dessert.
To give you some cooking inspiration, we've rounded up the best 15 vegetarian Filipino recipes that you need to try.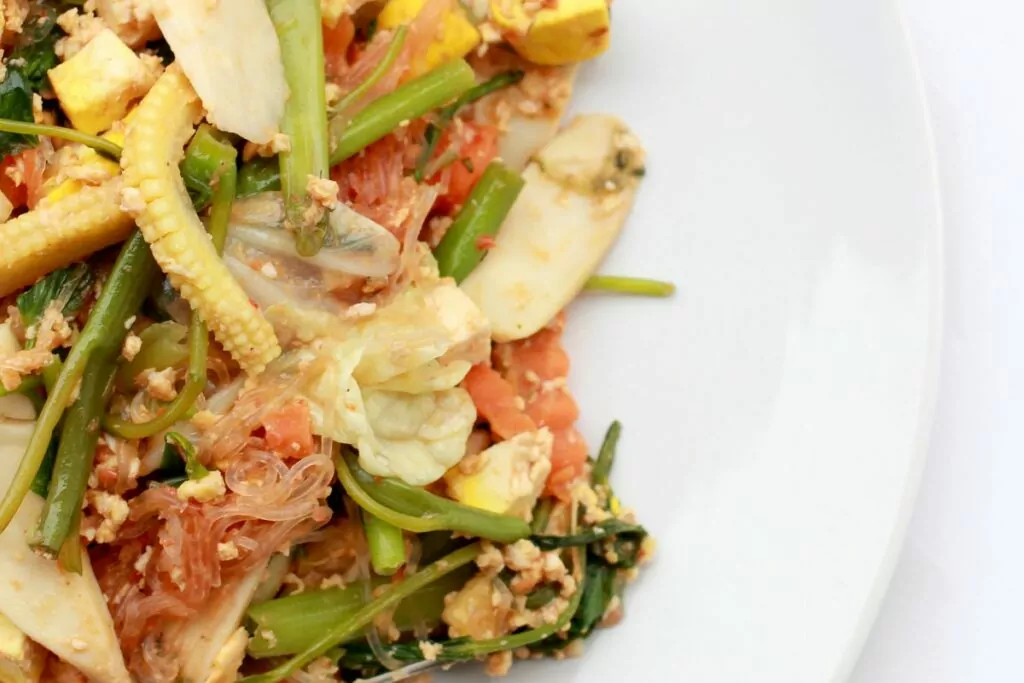 The following Filipino recipes are vegetarian or vegan – all filling, satisfying, and super delicious!
Easy Vegetarian Filipino Recipes
Tuck into a tasty dish in no time with these easy vegetarian Filipino recipes.
Adobo is one of the most well-known dishes in Filipino cuisine. Its savory and tangy flavor is from a combination of soy sauce and vinegar, usually used to marinate pork belly or chicken. It's just as tasty without meat, however, and this recipe is proof!
This Filipino veggie adobo recipe replaces meat with aubergine without sacrificing on the signature taste. You'll find most of the ingredients in your pantry, and it takes less than an hour to prepare and cook.
Sopas is a Filipino soup made with macaroni. It's an ideal starter or side dish, offering a creamy taste with plenty of vegetables. What we love about this sopas recipe is how it's simple yet authentic!
The main ingredients include carrots, red bell peppers, onion and garlic, cabbage, macaroni, and evaporated milk. Add vegan butter to make it creamier, or vegan ham and vegan sausages to give it a meaty texture while keeping it vegetarian.
Inihaw means barbecue in Filipino. Barbecues in the Philippines involve meat and fish, but you're not missing out if you want to eat vegetarian, as this recipe offers a vegan alternative that will hit the spot!
The best thing about this vegan Filipino barbecue recipe is that it looks as good as it tastes, so it's perfect for summer cookouts. Soy curls are the main ingredient, flavored with soy sauce, vegan oyster sauce, calamansi, and white vinegar.
If you're craving a flavorsome rice bowl, this vegan arroz valenciana recipe is a Mexican-style dish with a Filipino twist. It's creamy, sweet, and fruity, using tasty ingredients that include jackfruit, coconut milk, and jasmine rice.
If you're a veggie lover, this Filipino vegetarian recipe has peas, tomatoes, red bell peppers, and onions for a dish that's as healthy as it is delicious.
Tocino is a sweet-flavored meat in the Philippines known for its reddish color. Tocino is usually made from pork, but this recipe offers a veggie alternative using mushrooms. And it's our favorite vegetarian tocino recipe that we've tried so far!
For this mushroom tocino recipe, the main ingredients you'll need are oyster mushrooms, soy sauce, vinegar, pineapple juice, annatto powder (or atsuete powder), and tofu.
Flavorsome Vegetarian Filipino Recipes
Enjoy a world of flavors with these flavorsome vegetarian Filipino recipes.
Bola bola is a meatball dish in the Philippines that's perfect on its own or served with rice. This recipe offers a vegan alternative that's loaded with tasty ingredients, including red bell peppers, green bell peppers, carrots, and pineapple chunks.
The result is a sweet and sour dish with a fruity taste. It's also quick and simple to make, requiring just 10 minutes of prep time and 15 minutes to cook – a total of 25 minutes. Easy!
If you're yet to try ube, you're missing out. Ube is used in a wide range of Filipino delicacies, especially in desserts. This ube cream pie recipe is 100% vegetarian and should be tried if you haven't tasted ube yet!
This recipe takes ube to the next level with an Oreo and vegan butter crust, coconut cream and agave nectar filling, and coconut flakes. If you're looking to impress guests or satisfy your sweet tooth, this recipe shouldn't be ignored.
Kare-kare is another popular dish in the Philippines, typically made using beef mixed with a peanut butter sauce. This recipe offers a veggie alternative that doesn't sacrifice on kare-kare's unique flavor!
The main ingredients you'll need for this vegetarian kare-kare include banana blossom bud, eggplant, long beans, peanuts, bok choy, and black bean sauce. You can enjoy it as a comforting stew or serve it with rice for a filling dinner.
Champorado is a well-loved comfort food and dessert in the Philippines, which essentially consists of rice boiled in cream and cocoa powder. The result is a chocolate rice porridge that's sweet, creamy, and always satisfying.
For this 100% vegan champorado recipe, you'll need full-fat coconut milk or coconut cream, jasmine rice, glutinous rice, granulated sugar, and cocoa powder. For Filipino authenticity, add dried fish or evaporated milk to enhance the taste!
Pinakbet is about as vegetarian as it gets when it comes to Filipino dishes. It's a recipe that combines different vegetables in a hearty stew, so it's also one of the healthiest dishes you can find in Filipino cuisine.
The vegetables in this pinakbet include squash, sweet potato, long beans, eggplant, tomatoes, and okra. It's highly nutritious and also high in protein! If that's still not enough to convince you, this recipe takes just 30 minutes to prepare and 30 minutes to cook.
Authentic Filipino Recipes
Eat like a true Pinoy with these authentic Filipino recipes.
Bicol express is one of the most popular spicy dishes in the Philippines. It's made from chilis, coconut cream, and pork as its base ingredients, but it's just as good without meat! This recipe replaces pork with tofu, and it's a guaranteed spicy treat for the tastebuds.
Aside from tofu, you'll need hot green chili, shiitake mushrooms, ginger, full-fat coconut milk, garlic, onion, garlic and onion powder, and salt and pepper. It's quick and easy to make, too, requiring just 10 minutes of prep time and 20 minutes to cook.
Menudo is a sweet meat stew that typically includes pork and liver. Tofu is a great plant-based alternative for menudo, however, and this vegan Filipino fiesta menudo recipe takes it up a level by adding vegan sausage.
Alongside tofu, you can use vegan sausage or vegan hot dogs to give the stew more taste and texture. Other ingredients you'll need include potatoes, chilies, tomato, bay leaf, spring onion, carrots, and seitan. Add raisins to make the dish extra authentic!
"Pandesal" is a bread roll in Filipino, so if you're craving freshly baked bread as the perfect starter or side, this vegan pandesal recipe offers an authentic taste of the Philippines with lots of ways to get creative with the ingredients.
To make pandesal, you'll need active dry yeast, sugar, butter, milk, salt, all-purpose flour, and breadcrumbs. Before baking, you can also choose to fill your pandesal bread rolls with cheese, butter, jam, or chocolate.
Coconut cream and also evaporated milk are widely used in Filipino cuisine – especially Filipino desserts. This Filipino recipe, which combines coconut cream and veggies, is a must-try if you love vegetables as well as creamy sauces.
In just 30 minutes, this creamy veggie dish is ready to serve on its own or with rice and bread. The main ingredients include shiitake mushrooms, pineapple, bok choy, green chilis, chickpeas, ginger, and coconut cream. It also tastes just as good with regular milk!
Here's another veggie adobo recipe that's worth trying, especially if adobo is your favorite Filipino dish. It replaces meat with tofu (tokwa), mushrooms (kabute), and soy chunks, offering a healthier alternative that's just as delicious.
What we love the most about this recipe is the choice of plant-based alternatives to meat, so simply choose which one you prefer! You can also add boiled potatoes if you want to give your adobo dish extra texture and appeal.
Final Thoughts
And that wraps up our list of the best 15 vegetarian Filipino recipes you need to try today.

These recipes include vegetarian and vegan alternatives to some of the most popular Filipino dishes – all made with authentic Filipino ingredients and no meat!
Ready for more? How about some bitter melon recipes?
Frequently Asked Questions
How Healthy Is Filipino Food?
Although many Filipino dishes can be viewed as unhealthy due to commonly used ingredients such as pork, white rice, evaporated milk, and sugar, Filipino food can be healthy and more nutritious if cooked with healthy ingredients.
What Is A Popular Filipino Dessert?
Popular Filipino desserts in the Philippines include ube cake, leche flan, buko pandan, bibingka, puto, and halo halo. Many Filipino desserts are made with rice and are often vegetarian or vegan-friendly.
15 Vegetarian Filipino Recipes You Need To Try
Course: Cookbooks
Directions
Choose a recipe
Gather your ingredients
Prepare your dish
Enjoy.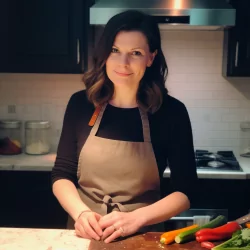 Latest posts by Barbara Hunt
(see all)