Filipino picadillo is a popular savory dish in the Philippines that's perfect as both a comfort food and a filling meal, made with ground meat, vegetables, and a combination of spices.
Unlike Mexican picadillo, which is known for its spicy taste, Filipino picadillo offers a savory taste with a subtle sweetness, so it's well worth trying!
Whether you've tasted Filipino picadillo or not, we've gone ahead and rounded up the best 15 Filipino picadillo recipes that will make your mouth water.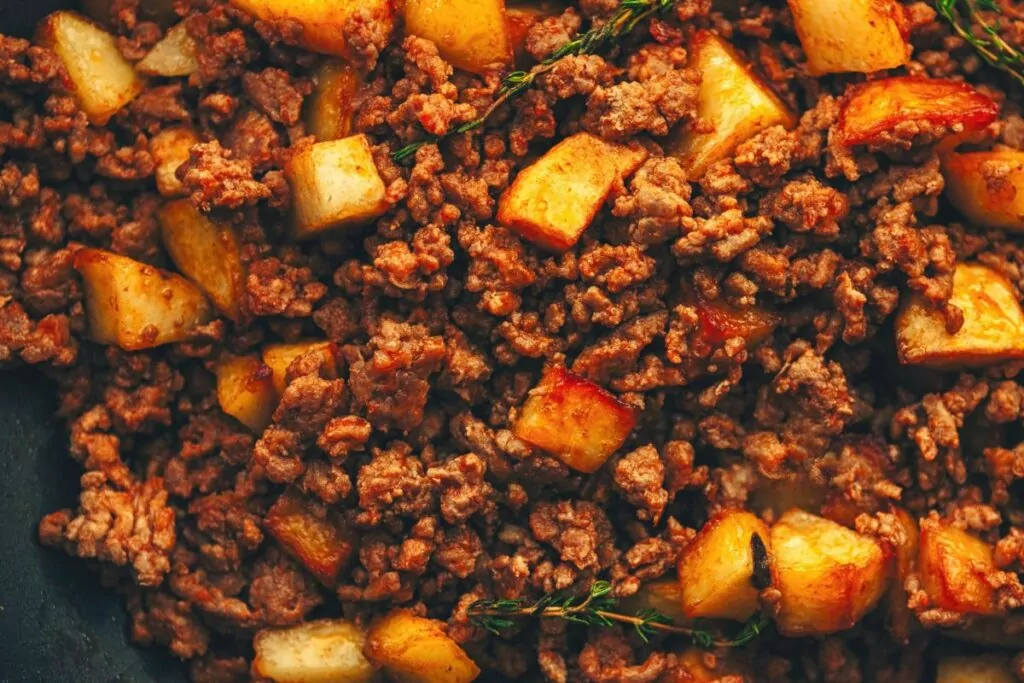 The following recipes include meat-based and plant-based (vegetarian and vegan) Filipino picadillo recipes!
Easy Filipino Picadillo Recipes
Make delicious Filipino picadillo in no time with these easy Filipino picadillo recipes.
This Filipino-style picadillo adds potatoes and olives for extra taste and texture. It's filling as a result and perfect for lunch or dinner, requiring just 10 minutes of prep time and 20 minutes to cook.
What we love about this Filipino picadillo recipe is that it gives you the choice of making Filipino picadillo soup or Filipino picadillo stew. The ingredients are similar, so it just depends on whether you're after something light or filling!
This Picadillo recipe is made with ground beef, potatoes, raisins, olives, tomatoes, and green peas. So it's a full-flavored Filipino picadillo recipe that won't disappoint, no matter whether you eat it as a stew or with rice.
The best thing about this recipe is that it's easy to make, involving just eight simple steps. It takes 50 minutes to make and can be served with patis and crushed chili. You can also use it as a filling for Filipino-style empanadas.
This Filipino-style beef picadillo adds coconut vinegar to give the dish sweetness and sourness. So, if you like your picadillo sweeter, more sour, or with a subtle hint of coconut flavor, this recipe is one you should try first!
Along with coconut vinegar, you'll need ground beef, Yukon gold potatoes, chayote squash, carrots, cilantro, ginger, garlic, soy sauce, and tomato. It's a simple recipe thanks to the small amount of ingredients.
If you're looking for a quick and easy Filipino-style picadillo recipe, this recipe is about as easy as it gets. Despite that, it makes an authentic-tasting Filipino picadillo!
The recipe involves cooking the ground beef with ground pepper, adding the tomatoes for flavor, then combining the potatoes, carrots, raisins, olives, and green peas with seasoning until brought to a simmer.
If you don't have time to go to your local supermarket, this Filipino picadillo recipe keeps the ingredients nice and simple. You only need eight ingredients in total to make it, so it's easy but still super satisfying.
For this simple Filipino picadillo recipe, you'll need ground beef, medium potatoes, red onion, tomato, garlic, fish sauce, water or stock, and vegetable oil. This is also a great base recipe that allows room for adding your own complementary ingredients.
Here's another Filipino-style picadillo that can be made in 30 minutes. The best thing about it is that it can be cooked using an instant pot or a deep pan placed on a stove.
For this recipe, you'll just need shallots (or one large onion), ground beef, tomatoes, potatoes, carrots, raisins, frozen peas, salt and pepper, soy sauce, and fish sauce. It's simple to make as a result and involves just three straightforward steps.
Authentic Filipino Picadillo Recipes
Taste true Pinoy flavors with these authentic Filipino picadillo recipes.
This Filipino picadillo recipe takes one hour in total! It involves just a handful of ingredients, which include ground beef, tomato sauce, medium potatoes, raisins, green peas, carrots, and soy sauce.
Make sure this Filipino picadillo recipe turns out perfectly by chopping the onions finely, dicing the carrots and potatoes so they are the same size as the peas, and using beef stock (or chicken or vegetable stock) to give it a fuller, saltier taste.
This unique Filipino picadillo recipe involves browning the potatoes, either by roasting or frying them, to add extra flavor. It's a quick and easy recipe, too, requiring 15 minutes of prep time and 15 minutes of cooking time!
The recipe yields four servings, but it's perfect if you're just cooking for yourself. If it's your first time making Filipino picadillo, this recipe really is simple as it involves just four steps.
If you prefer pork, this Filipino pork picadillo recipe is inexpensive to make yet oozing with flavor. Pork is arguably the most popular meat in Filipino cuisine, so this recipe is still as authentic as Filipino beef picadillo!
In addition to ground pork, you'll need carrots, potatoes, garlic, onion, olive oil, tomato sauce, fish sauce, and ground black pepper. As a result, it doesn't cost much to make and yields seven servings.
This Filipino picadillo is an authentic recipe using traditional Filipino picadillo ingredients, including ground beef, tomato sauce, raisins, potatoes, and carrots. It takes more time to cook due to having more ingredients, but the finished dish is worth it once you taste it!
All in all, this Filipino picadillo recipe takes one hour in total to make, which includes 15 minutes of prep time and 45 minutes of cooking time. Serve this Filipino picadillo recipe with rice and a fried egg on top for extra authenticity.
Giniling in Filipino translates to "ground meat" and is often used to refer to tomato and meat-based stews, such as Filipino picadillo, menudo, and asado. This giniling recipe is simple and involves ingredients that you're sure to already have in your pantry.
The main ingredients you'll need for this recipe include ground pork, tomato paste, garlic, raisins, salt and pepper, and oil.

You can also customize this recipe how you want using soy sauce or fish sauce, as well as your own mixture of potatoes, bell peppers, carrots, and peas.
Here's another easy yet authentic giniling recipe that doesn't take too much effort or time to make, using just the essential and traditional Filipino picadillo ingredients to create a dish that you can serve with rice or use as empanada filling.
What sets this recipe apart is how you can add quail eggs to give the dish a higher protein content, as well as green olives to add a tangy flavor. You can also use ground beef or ground pork with this recipe – just opt for what you prefer!
Vegan Filipino Picadillo Recipes
Enjoy meat-free Filipino picadillo with these must-try vegan Filipino recipes.
This giniling recipe swaps the most common Filipino picadillo ingredients with vegan-friendly substitutes, including vegan ground sausage, vegan ground beef, and vegan beef broth, while keeping the Filipino-style flavor traditional and authentic.
What we especially love about this recipe is how it uses red pepper flakes, kosher salt, cracked black pepper, green olives, and russet potatoes to add to the taste as well as make the dish much healthier!
If you're looking for vegan Filipino picadillo, this vegan giniling is a great plant-based recipe that retains the authentic Filipino taste and texture by switching regular ground beef for plant-based ground beef, beef stock for vegan beef broth, and fish sauce for vegan fish sauce.
The result is a healthier vegan alternative to traditional Filipino picadillo that tastes and looks just as good as the real deal! It takes 45 minutes to make in total, and leftovers can be stored in the fridge for up to one week.
As another vegan-friendly option, this meat-free Filipino picadillo recipe uses plant-based mince beef as opposed to ground beef. If you're a fan of cheeses, this recipe also includes plant-based shredded cheese for the finishing touch!
This recipe takes 35 minutes in total to make, involving ingredients that include plant-based minced beef and plant-based shredded cheese, soy sauce, tomato sauce, crushed tomatoes, potatoes, raisins, and mixed vegetables.
Final Thoughts
So that's our round-up of the 15 best Filipino picadillo recipes that will make your mouth water.

There's sure to be one recipe from the above that caught your eye, so what are you waiting for? Try one of these recipes today!
Frequently Asked Questions
What Is The Meaning Of Picadillo Food?
Picadillo is a Latin American and Filipino dish that combines ground meat with vegetables, tomato sauce, and different seasonings. Its flavor profile ranges from sweet and savory to spicy and tangy.
What Is The Difference Between Mexican And Filipino Picadillo?
Picadillo is a traditional dish in both Mexican and Filipino cuisine. The main difference between Mexican and Filipino picadillo, however, is the taste. While Mexican picadillo is typically more spicy, Filipino picadillo leans towards savory and sweet flavors.
15 Filipino Picadillo Recipes That Will Make Your Mouth Water
Course: Other Recipes
Directions
Select a recipe
Gather your ingredients
Make your dish
Enjoy.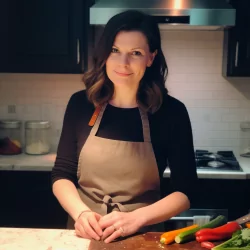 Latest posts by Barbara Hunt
(see all)