Ina Garten salmon cakes are a quick & easy way to incorporate fresh salmon and any variety of vegetables into a meal or bite sized snack.
Crispy on the outside and cooked as individual patties, Ina Garten salmon cakes are perfect as either the main dish or as finger food at group events. They can even be used as burger patties for an easy to eat meat free option.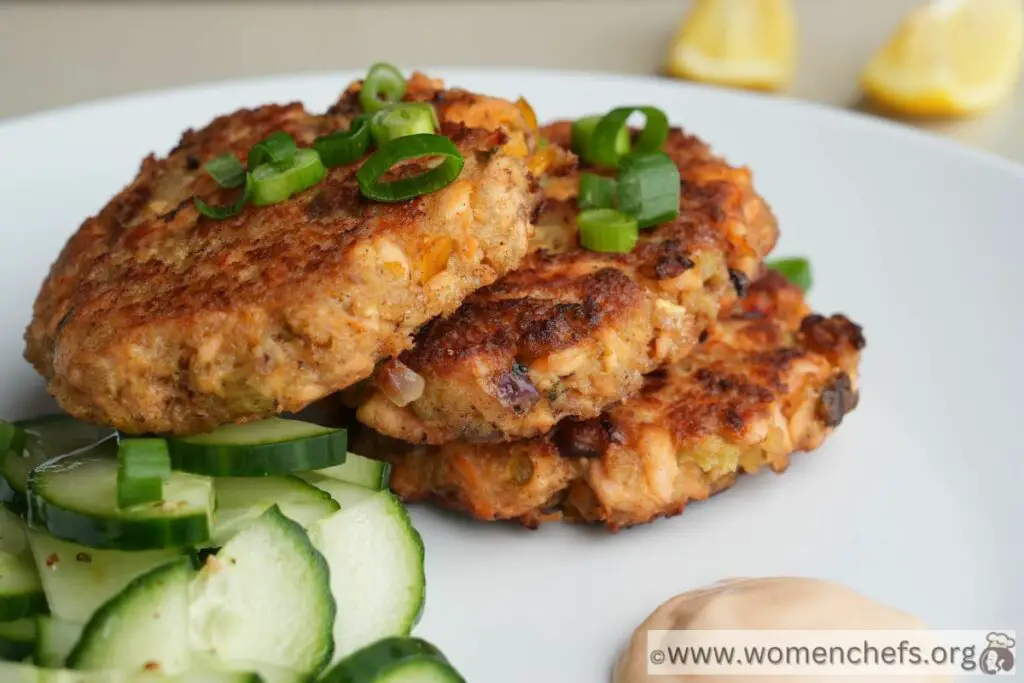 Ina Garten's salmon cakes are one of my favorite Ina Garten salmon recipes.
There are also some great salmon patty recipes by Paula Deen if you want to explore some more options.
Why You Should Make Ina Garten Salmon Cakes
Quick and easy: within the hour I can make around 10 x 3 ounce salmon cakes Ina Garten style. Perfect for a healthy meal with enough for lunch the next day. The recipe scales easily and it wouldn't take much more effort to make a big batch of smaller patties for a group event.
Versatile serving options: serve them as a main course for dinner or lunch, perfect as an appetizer or as finger food. Can be eaten either hot or cold. Add the patties to sandwiches or burgers and they can easily be eaten on the move. They also go well with so many salmon patty side dishes.
Crispy texture and very moreish: Ina Garten salmon cakes are delightfully crispy on the outside and perfectly moist in the middle. The texture alone makes them very moreish.
Fully customizable: Ina's salmon cakes recipe includes salmon and a range of vegetables but you can change this any way you like. Different types of fish, different additions, different cooking methods.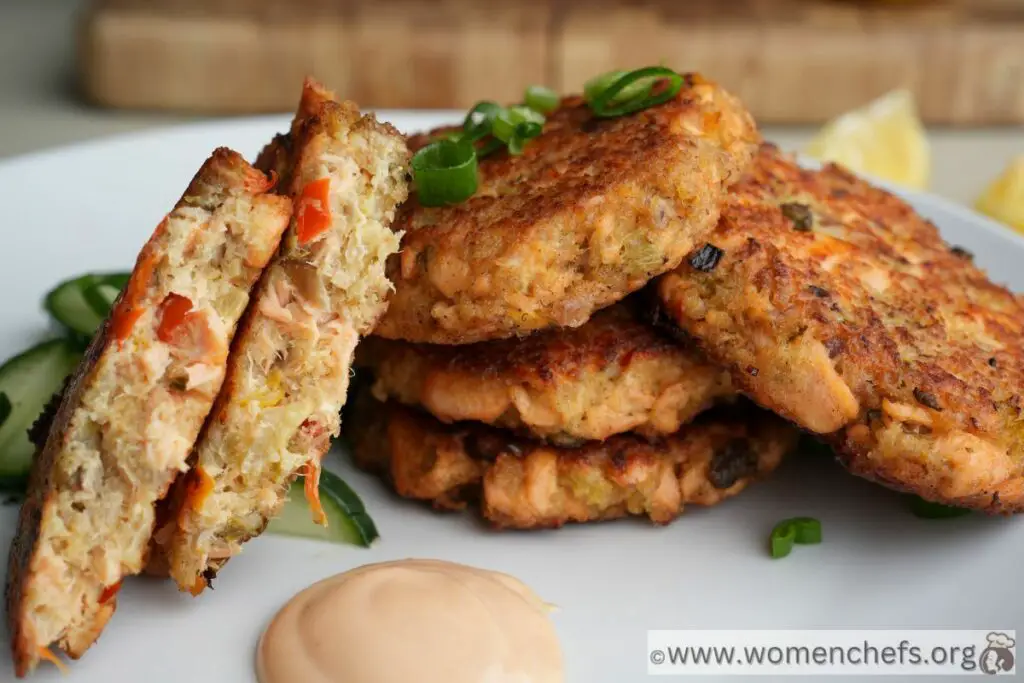 Ina Garten Salmon Cakes Recipe Tips
These tips will help you when it comes to making Ina Garten salmon cakes:
Manage moisture: Salmon is very oily so the mixture can be quite wet, making it difficult to form the salmon cakes. Avoid adding ingredients with high moisture levels, like tomato or zucchini. If the cakes wont hold together, add more bread crumbs and egg to the mixture.

Salmon cake size: Adjust your patty sizes depending on how you will be serving them. Keep the sizes consistent to make the cooking process easier. For individual patties served as a sit down meal or for burgers, I shape 3 ounce patties. For finger food servings you will want them to be smaller, around 1.5 – 2 ounces per patty.

Forming the salmon cakes: Wait for the ingredients to cool completely before shaping the cakes. Shape them round but don't flatten them out before cooking otherwise you risk them falling apart. Refrigerating the cakes for 20 or so minutes before cooking may also help. Flatten them gently once you add them to the hot pan for cooking.

Cooking the salmon cakes: don't over handle them especially at the start of the cooking process! Wait until they are well browned on one side before turning over. Ideally you only want to turn them once, gently with a spatula. Once they are cooked and cooled a little they will be firmer and easier to handle.
How To Make Ina Garten's Salmon Cakes – Step By Step
Ina Garten's salmon cakes recipe has a few steps but nothing is particularly difficult.

In this section I will give you a step by step guide with photos.
You can skip this section if you want to go straight to the recipe and instructions.
#1. Step 1 – Cook the veggies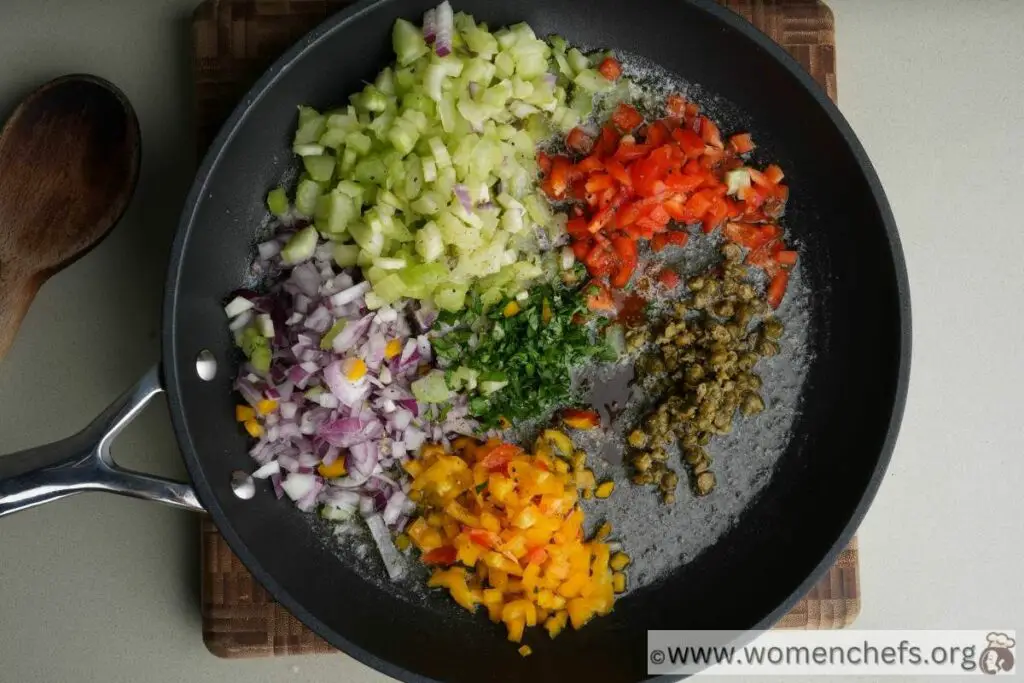 The butter and oil are melted and heated, then the veggies and spices are sautéed until tender.

Once the veggies are cooked, let them cool completely. 
#2. Step 2 – Cook the salmon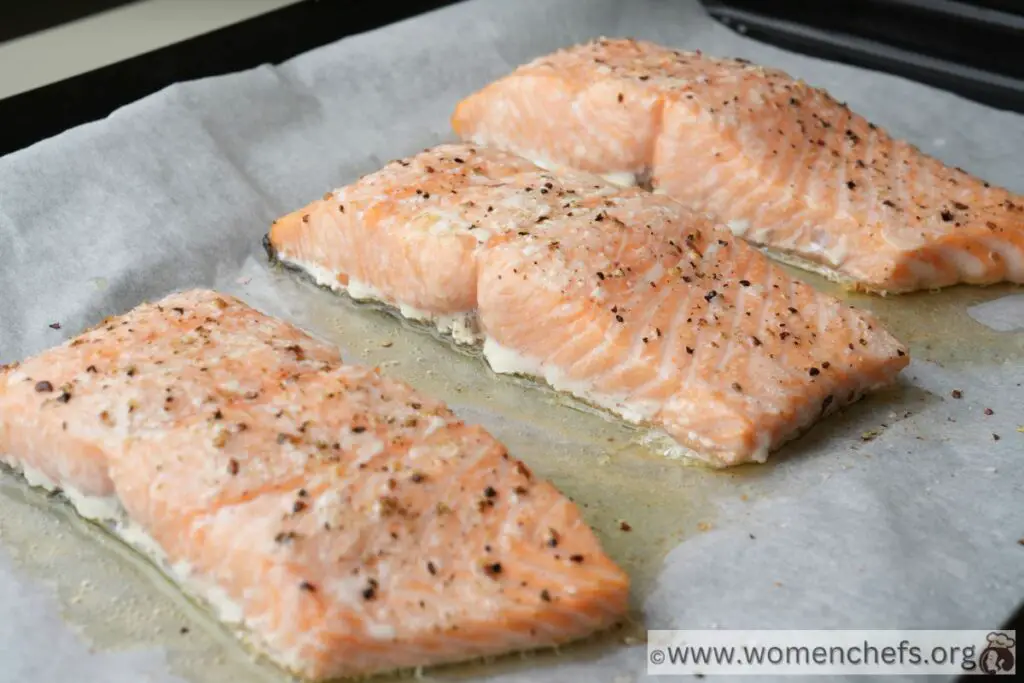 The recipe calls for cooked salmon. I like to buy a couple of fillets of salmon, and simply bake or broil them in the oven. Then cool them completely. You can, of course, buy pre-cooked salmon.
#3. Step 3 – Flake the salmon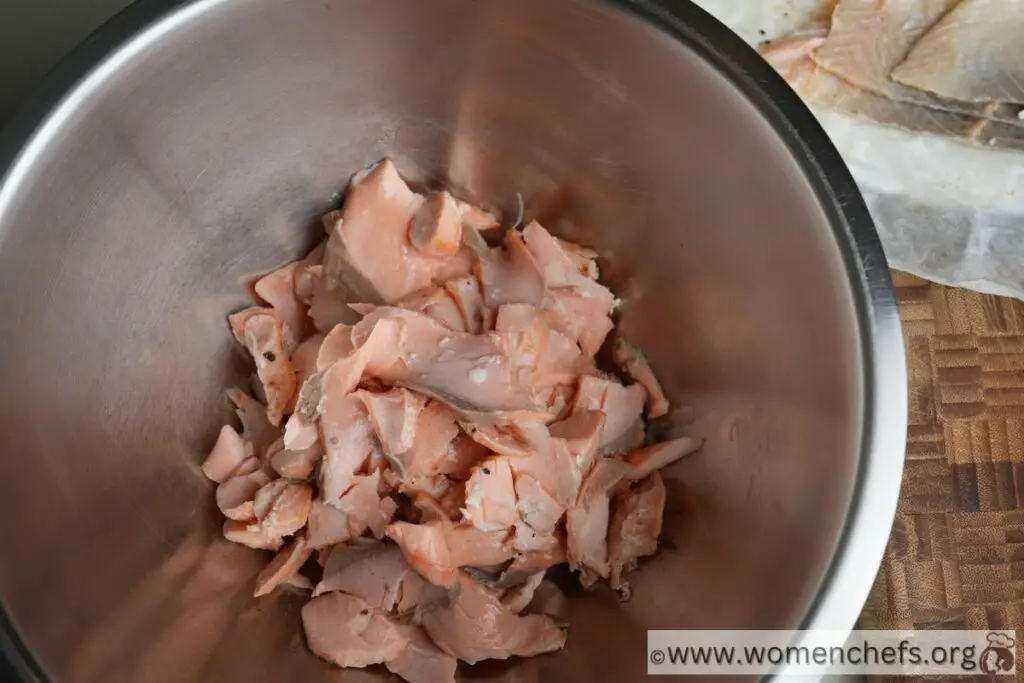 Once the salmon is cooked and cooled, flake the fillets either using a fork, or your hands. Discard the skin.
#4. Step 4 – Incorporate veggies and salmon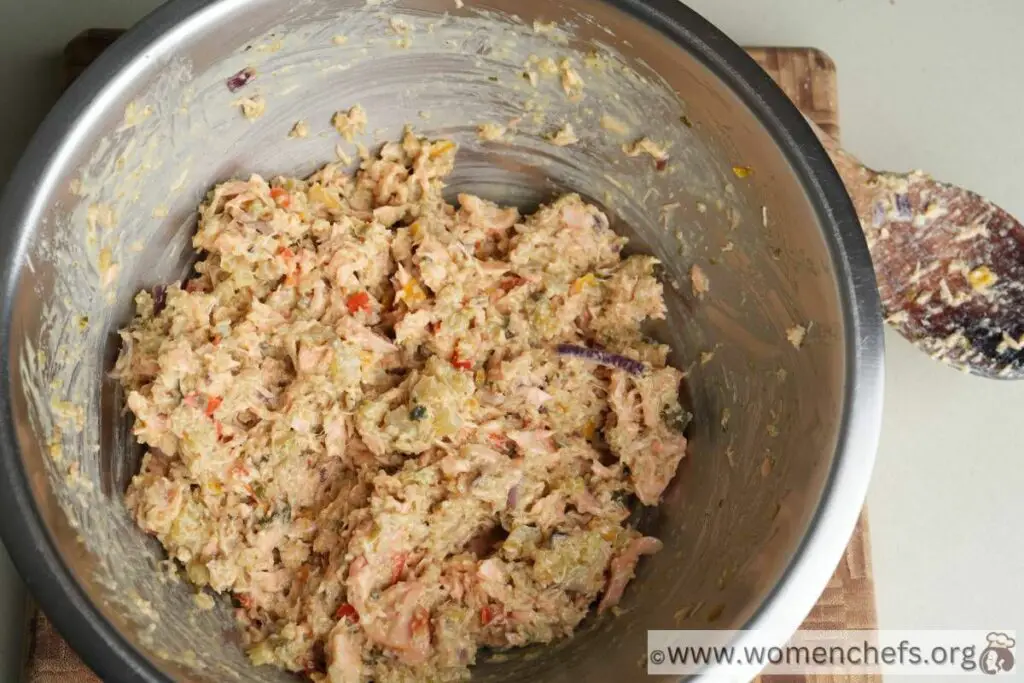 Combine the cooked veggies and flaked salmon in a bowl. Mix thoroughly but gently – you don't want to mash the salmon chunks.

Chill the mixture in the fridge for 30 minutes.
#5. Step 5 – Shape the patties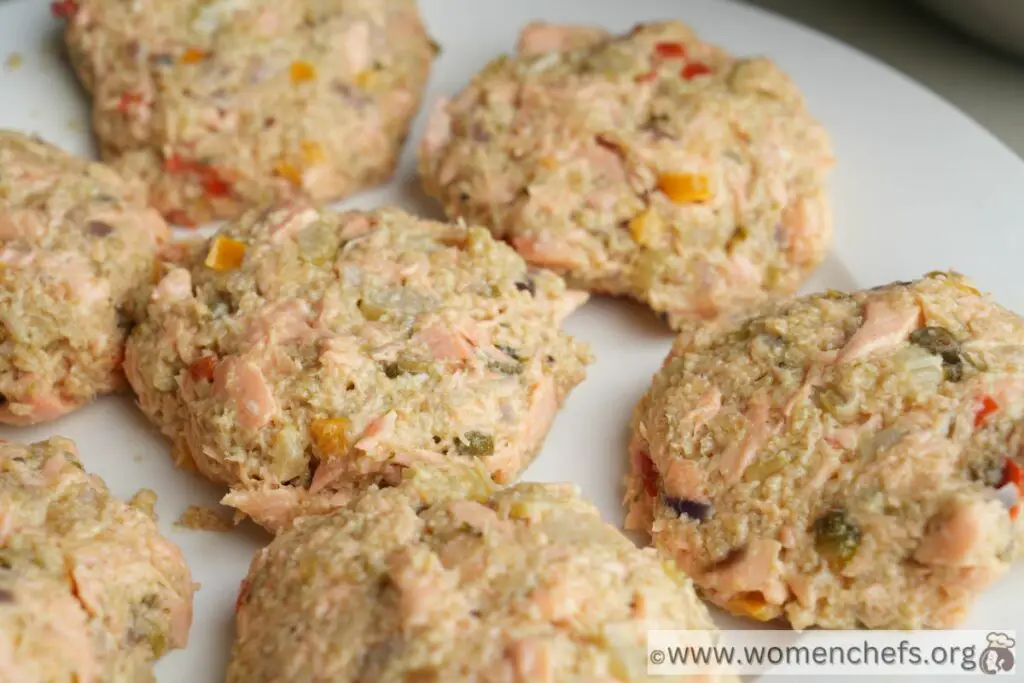 Once the salmon mixture has chilled, shape medium-sized patties.
#6. Step 6 – Time to cook!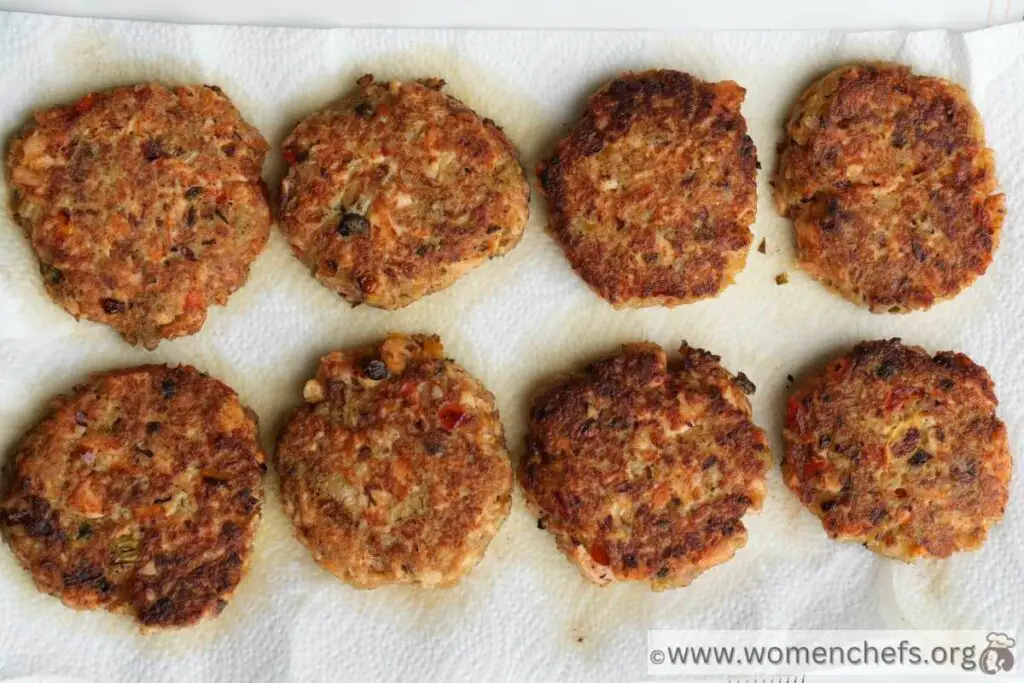 Heat butter and oil in a pan, and place the patties onto the pan. Cook for roughly 3-4 minutes on each side, until golden-brown. 
Ina Garten Salmon Cake Recipe
Course: Main
Cuisine: American
Difficulty: Easy
Discover a simple delight with Ina Garten's salmon cakes recipe. Crispy, flavorful, and easy to make. Perfect for any meal!
Ingredients
4 tablespoons of butter

4 tablespoons of olive oil

1⁄2 pound of cooked salmon (See notes*)

3⁄4 cup of breadcrumbs (I like Japanese panko bread crumbs for extra crunch)

1⁄2 cup of mayonnaise

2 teaspoons of mustard (I used Dijon)

3⁄4 cup of finely diced red onion (roughly 1 small onion)

1 1⁄2 cups of finely diced celery (around 4 stalks)

1⁄2 cup of finely diced red bell pepper (1 small pepper)

1⁄2 cup of finely diced yellow bell pepper (1 small pepper)

1⁄4 cup of fresh flat-leaf parsley, minced

1 tablespoon of capers, drained

1⁄4 teaspoon of Tabasco sauce

1⁄2 teaspoon of Worcestershire sauce

1 1⁄2 teaspoons of Old Bay Seasoning (or use cajun seasoning or simply paprika)

1⁄2 teaspoon of salt

1⁄2 teaspoon of freshly ground black pepper

Crushed red pepper flakes, to taste

2 extra-large eggs, lightly beaten
Directions
Preheat oven to 350f (if starting with raw salmon).
In a large sauté pan over medium-low heat, add 2 tablespoons of butter and 2 tablespoons of olive oil, the diced onion, celery, red and yellow bell peppers, minced parsley, capers, Tabasco sauce, Worcestershire sauce, Old Bay Seasoning, salt, and pepper. Cook until the vegetables become tender (roughly 15 to 20 minutes). Add mixture to a large bowl and let cool to room temperature.
If starting with raw salmon, while the vegetables are cooling put the salmon on an oven tray, season with salt and pepper and bake for around 15 minutes, or until the salmon is ready to flake apart easily. Remove and let cool completely.
Remove and discard any skin, flake the cooked & cooled salmon, then gently combine it with the bread crumbs, mayonnaise, mustard, and beaten eggs.
Incorporate the cooled vegetable mixture into the salmon mixture and mix thoroughly.
Cover the mixture and refrigerate for 30 minutes.
Shape the mixture into round salmon cakes. (Around 3 ounces each for individual meal portions or 1.5-2 ounce portions for finger food).
In a large sauté pan on medium heat, add the remaining 2 tablespoons of butter and 2 tablespoons of olive oil. Add the salmon cakes to the pan in batches and fry for about 3 to 4 minutes on each side, or until they achieve a golden-brown color (try to turn only them once).
Remove cooked salmon cakes to a paper towel to drain excess oils. Let rest for at least 5 minutes before serving.
Notes
*If using raw salmon, you can either roast the salmon in the oven for 10-15 minutes, air-fry it, or poach it. Either way, you will simply require cooled cooked salmon.
Ina Garten Crispy Salmon Cakes FAQs:
Are Ina Garten's Salmon Cakes Healthy?
Yes Ina Garten's salmon cakes are relatively healthy. They contain high amounts of protein, and some fiber from the vegetables used. On top of that, they are rich in omega-3 fatty acids.
Can I Freeze Ina Garten Salmon Cakes?
Yes, you can freeze salmon cakes. Once they are cooled completely, transfer them in freezer-friendly containers and pop them in the freezer. Alternatively, you can use freezer-friendly bags, but you will need to carefully lay them flat in the freezer. Frozen salmon cakes can last for up to 2 months.
What Do I Serve Salmon Cakes With?
You can serve salmon cakes with a fresh leafy green salad, potato salad, sweet potato fries, etc.
More Seafood Ina Garten Recipes: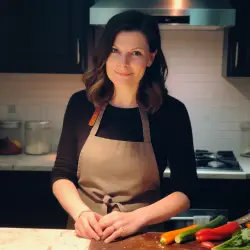 Latest posts by Barbara Hunt
(see all)