Ina Garten is known all over the United States, thanks to her easy and delicious recipes.
Also known as the Barefoot Contessa, Ina has plenty of salmon dishes to try, which are all made with flavorful, delectable ingredients.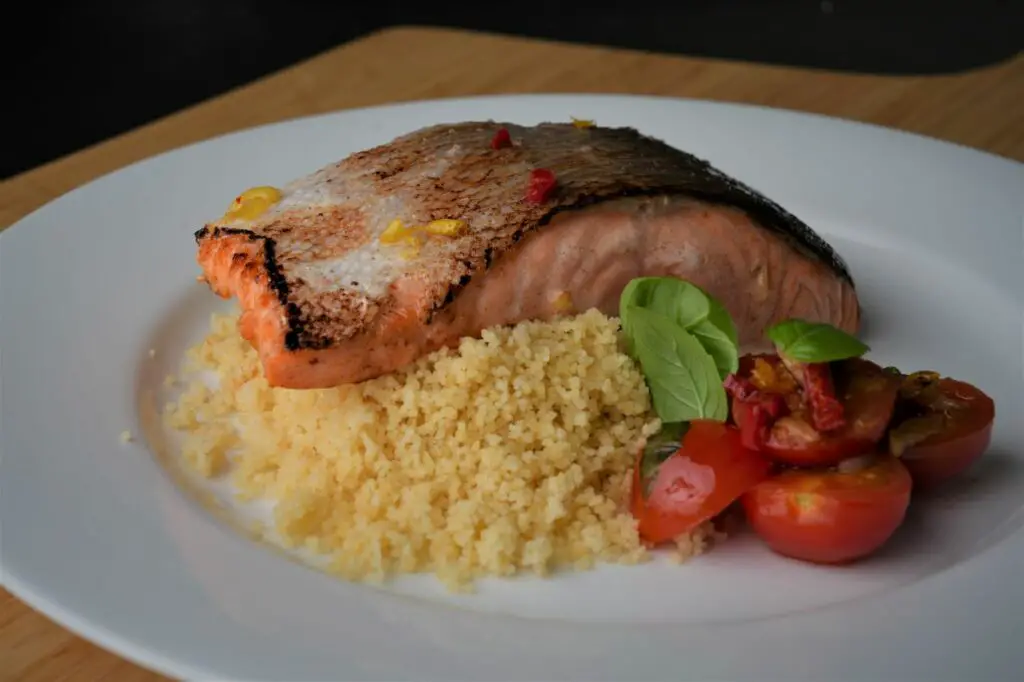 If you're thinking about working with salmon in the kitchen, you'll find Ina Garten's best salmon recipes in this post (Also check out Amazing Ina Garten Fish Recipes). These are all straightforward and versatile enough for any occasion. 
Whether you're making a dinner dish to impress houseguests, or a simple and quick weeknight meal, these Ina Garten recipes are sure to please! 
Keep reading to discover the Contessa's most appetizing salmon dishes!
We'll begin this list with Ina's salmon taco recipe. These tacos are a great beginner-friendly recipe, as you can have them ready in a little over an hour! 
You'll be premaking a slaw made with cucumber, dill, cabbage, and white wine vinegar. These all give the tacos fresh, zesty flavors with an underlying tang. 
The salmon is also made better, thanks to limes, Sriracha, and olive oil. The sauce gives the fish a lovely spice, while lime juice and zest add a zing to every bite.
The salmon mixture, along with the slaw, is folded into a warm tortilla. The result is a delicious taco that's great for a quick weeknight meal. 
These tacos will be messy, so keep some tissues close by while you eat! 
Ina's salmon cake recipe is slightly more complex than some of the other recipes on this list, but the additional time is certainly worth the effort! 
You'll be mixing roasted salmon with flavorful ingredients, including onion, Worcestershire sauce, capers, crab boil seasoning, and hot sauce. This gives each cake incredible savory, spicy flavors. 
The cakes are also made with breadcrumbs, which crisp up when cooked for a satisfyingly crunchy crust. You'll love biting into the breadcrumbs to reach the soft salmon center. 
These salmon cakes are crisp on the outside and fluffy and tender on the inside.
They are perfect for making for a special event, like a dinner party, but if you have enough time, they can work as a premade lunch or dinner option too. 
Enjoy these salmon cakes with a squeeze of lemon and some mayonnaise on the side! (Also check out Best Ina Garten Lemon Cake Recipes) 
This salmon recipe involves coating salmon with Panko, This is a Japanese-style product made from coarse, ground-down bread. 
The recipe involves mixing the panko with lemon zest, parsley, olive oil, and pepper. This creates a savory, tangy, and herby mixture that tastes amazing on top of the salmon.
You'll also be brushing the fish fillets with mustard, which adds a distinct flavor and helps the panko stick to the salmon. 
As you sear the salmon, the panko mixture turns into a crisp, flavorful coating. The contrast between the crunchy, zesty coating and the tender, soft salmon just melts in the mouth.
This dish is best served either hot or at room temperature. 
Keep some lemon wedges on the side, as you can squeeze these over the fish for additional flavor. 
If you're looking for an easy weeknight dinner recipe, you can make this salmon dish in just 50 minutes! 
This recipe involves salmon fillets, cherry tomatoes, sweet onions, and balsamic vinegar. You'll be sauteing the tomatoes with olive oil and garlic, then mixing them with basil and vinegar.
The vinegar brings out the sweet notes in the tomatoes and adds a pleasant acidity to the mix (Also check out Best Ina Garten Tomato Soup Recipes). 
You'll also be cooking the salmon in a cast iron pan before placing it in the oven. This gives the fish a crisp skin on the outside, while remaining tender and flaky as you cut into it. 
Remember to cover the salmon with foil, as this prevents it from drying out in the oven. 
If you've never tried deviled eggs before, give this smoked salmon version a try! Ina's recipe involves traditional deviled egg ingredients: egg yolks, sour cream, mayonnaise, chives, and seasoning. 
You'll be beating these into a fluffy mixture, along with salmon for a creamy, savory, and flavorful mixture. The salmon gives the mixture a nice smoky taste, while the chives add a little freshness. 
This mixture is spooned into hardboiled egg whites, transforming the eggs into a fantastic starter option. 
The recipe also involves topping each piece with salmon roe. These vibrant orange eggs add a pleasant contrast, complementing the dish with its salty, umami notes. 
These deviled eggs taste great on their own, but if you're making them for a home meal, enjoy them with some salad, or a slice of toast for a balanced lunch or dinner. 
This salmon dish is perfect for quick dinners, as you can have it on the dinner table in a little over half an hour. 
You'll be making a marinade that contains soy sauce, Dijon mustard, garlic, and olive oil. This may seem simple, but the soy sauce gives it incredible Asian flavors.
This is drizzled over the salmon, infusing the fish with these savory, slightly spicy notes. 
You'll also be grilling the fish for a few minutes on both sides, instead of cooking it in the oven. The salmon will be a little raw in the middle, but keep in mind that its heat will keep cooking the fish as it rests. 
Serve this grilled salmon with steamed vegetables and rice for a healthy, yet satisfying dinner! 
If you like Asian cuisine, here's another salmon dish that's packed with East Asian flavors! This salmon teriyaki recipe is great on nights when you need a healthy, delicious meal – and it's also beginner friendly! 
You'll be mixing maple syrup, ginger, garlic, red pepper flakes, soy sauce, and sesame oil to make a tasty teriyaki marinade. This is sweet, aromatic, and has a satisfying kick to it.
This mixture is spooned over the salmon before it roasts, transforming the fish into a tasty, delectable dish. 
The broccolini also complements the salmon well. It's very simple to make, as you only need to drizzle the broccoli with olive oil, salt, and pepper, then roast it until crisp.
The broccoli takes on a crisp outer skin with a soft, tender middle. 
With fluffy basmati rice, seasoned broccolini, and a crisp, flavorful salmon, this is a well-rounded dish that's perfect for family weeknight dinners! 
You can finish making this frittata in a little over an hour. It's a nice choice for weekend dinners, as well as backyard get-togethers in warmer weather! 
Ina's recipe involves mixing traditional frittata ingredients, like eggs, butter, and onions with scallions, cream, and dill.
The butter and cream keep the dish decadent, while scallions and onions add a pleasant savory, slightly sweet flavor. 
You'll also be using smoked salmon, which gives the frittata underlying salty notes, along with a gentle smoky finish.
The fish tastes amazing in combination with the goat's cheese, thanks to its creamy texture and buttery, tart notes. 
The smoked salmon already gives the frittata briny notes, so you won't need to use a lot of salt in this recipe. It's also best to use kosher salt, as this isn't as salty compared to table salt. 
This frittata is best served hot, as the cheese melts to make each bite extra decadent! Enjoy each slice with extra dill, or even a little hot sauce for anyone who's a spice fan!
Final Thoughts
Salmon is a versatile ingredient that works in a lot of different recipes. 
This recipe roundup features some of Ina Garten's best salmon recipes, so whether you need a starter, dinner party dish, or a weeknight meal, you're sure to find something that suits your needs above (see also "Amazing Ina Garten Lamb Recipes"). 
Happy cooking! 
Frequently Asked Questions
What Is The Best Way To Cook Salmon Without Drying It Out?
The trick to cooking salmon without it drying out is to use foil. Before you put your salmon in the oven, cover it with a tight coat of foil.

This ensures that the fish retains its moisture, preventing it from evaporating as it cooks.

It's also important to avoid cooking salmon for over 20 minutes at 385°F. Salmon is sensitive, so it does best when baked at a lower temperature. 
Should You Soak Salmon In Milk Before Cooking?
Some people like to soak salmon in milk before they bake it. Milk can help remove some of the salmon's natural, fishy odors.

The milk's protein will bind to the elements that are responsible for the smell, extracting it from the salmon.

You'll be left with better-smelling, clean-flavored salmon, as long as you remember to dispose of the milk down your drain. 
What Is The Best Way To Cook Salmon?
Pan-searing, or pan-frying, is a great way to prepare salmon. The method is simple, quick, and gives the salmon a pleasantly crisp skin.

You can pan-fry salmon in under half an hour, which is perfect for weeknight dinners after a long day at work.

Remember to season with salt, pepper, and a little lemon, as this will bring out the salmon's natural, tasty flavors. 
8 Amazing Ina Garten Salmon Recipes To Try Today
Course: Recipes
If you're after a delicious salmon dish, Ina Garten's recipes won't disappoint! From tacos to a tasty frittata, these salmon recipes are sure to please.
Directions
Pick a recipe from above
Click the recipe name and visit the website
Collect the ingredients and the food
Enjoy – don't forget to leave a review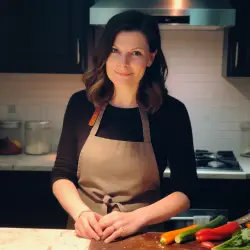 Latest posts by Barbara Hunt
(see all)