Goosebury Patch has been producing country cookbooks of just about every variety since 1992, and has over a hundred titles in its collection.

They're particularly popular with busy parents and mums because they are so yummy and family friendly.
Not to mention easy on the wallet as well!

They have recipes for every season, every meal of the day, from breakfast through to supper, and some for special occasions like Thanksgiving.

And the books are pretty handy to have in the kitchen because their comb binding means that they lie flat on the kitchen countertop, so you don't have to worry about holding the book in place or using kitchen tools as a bookmark.

We've been diligently going through the Gooseberry Patch catalog to pick out our favorites to write this round-up for you. We think you're gonna love it.

We're also giving you a brief guide to choosing a Gooseberry Patch cookbook, and a handy FAQ section where we answer your most frequently asked questions on the subject.

And without further ado let's get straight to it!
(The following cookbooks aren't listed in any particular order.)
Despite the title "Grandma's Best Comfort Foods", this is one of Gooseberry Patch's more recent cookbooks.
But in line with the title, it's packed with lots of comfort recipes,

It covers breakfasts, lunches, comfort food classics, sides and salads, foods for get-togethers, and of course desserts as well.

What we particularly liked about this cookbook was how the recipes mainly feature ingredients that are easy to get hold of in your local grocery store.

The highlights for us were the peanutty breakfast ring and Grandma's best cinnamon sugar bread.

Pros
Excellent comfort to cover every meal time and all the trimmings
The recipes use ingredients that are easy to get hold of
Cons
The dessert section is a little brief and could use some more recipes
This is the perfect cookbook for busy parents and guardians who endeavor to bring fresh fruit and veg into the family diet.

It features a total of 225 recipes, and all of them are family friendly ones that everyone will love to eat.
And it features lovely fresh foods, rather than canned goods and ready-meals.

There are breakfast dishes, soups and breads, snacks for both parties and everyday foods, family meals to enjoy around the table together, and of course plenty of healthy veggies!

The recipes are really tasty and even if you're not a particularly confident cook, you can easily do them.
And there are loads of recipes that you can make ahead of time.

The highlights for us were the pizza nachos and the skillet barbecued chicken!

Pros
225 tasty recipes that the whole family are sure to love
There are loads of recipes that you can make ahead of time
Cons
Not all of the recipes are made with a full 100% of fresh ingredients only
Unless you're raving foodies like us, you probably just like to get your food on the table as soon as possible.
And that's exactly where cookbooks like this one come in…

Not only is it brimming with quick to fix recipes, 235 to be exact, but it also has loads of handy tips for getting food on the table quicker, which is perfect for when you've got hangry people to feed!

There's make ahead tips, handy ingredient swaps, and time saving shortcuts to make prep time fly by.

The highlights for us were the peanutty breakfast wrap and the chocolate scones!

Pros
Specifically focused on making meal prep quick and speedy
Well over 200 yummy recipes that are all family-friendly 

Cons
How To Choose A Gooseberry Patch Cookbook
Here are some key things to consider when choosing a gooseberry patch cookbook
General Or Specific

Go through your cookbook collection to identify what might be missing.
Do you need a good all-round cookbook, or are you looking for seasonal recipes, or recipes using specific kitchen equipment?
Number Of Recipes
The greater the number of recipes that a cookbook has, the more chance you'll have of finding plenty of recipes you and your family like.

And that's one of the great things about Gooseberry Patch cookbooks is that, whereas some recipe books may only have 60 or so recipes, they often have 200 recipes or more.
Wrap Up

We hope you've enjoyed browsing through our shortlist of favorites.
And remember this is just a snapshot of the Gooseberry Patch collection, and you may surprise yourself with how many you'll want to get!

Still here? Stick around for the FAQ section.
Frequently Asked Questions
What Happened To The Gooseberry Patch Catalog?
Gooseberry Patch chose to discontinue their catalog business back in 2010 because their mail order sales dropped quite steeply around the time of the economic downturn, and as competition increased.

That said, however, they still continue to publish new cookbooks and calendars.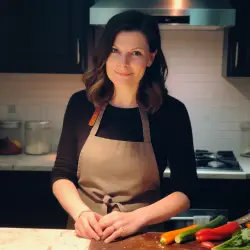 Latest posts by Barbara Hunt
(see all)