Sprouts: you either love them, or hate them. If you love them, you'll find an excuse to eat them with just about anything. And if you hate them, well, you'll probably go to all lengths possible to avoid them. 
If you're a brussels sprout hater, we're not going to promise that these recipes will convert you.
HOWEVER… we do recommend you give them a try. Our favorite chef Ina Garten has blessed us with a truly stunning collection of sprouts recipes (see also: 6 Best Ina Garten Meatloaf Recipes To Try Today)that will totally reinvent the way you think about this controversial vegetable.
You may emerge a brussels sprout fanatic! 
If you're already a brussels sprout lover, these gorgeous recipes are a great way to add a little more life and excitement to your usual dishes.
Just a few extra ingredients (and different cooking methods), will help you create an unforgettable dish that you'll want to recreate time and time again. 
Ready? Let's take a look at four of our favorite Ina Garten sprout recipes, and another of our favorite bonus recipes we just couldn't help but include! 
Need to breathe new life into your usual brussels sprouts recipe? This balsamic roasted brussels sprouts recipe is sure to get taste buds tingling.
As you may have guessed, balsamic vinegar is the hero ingredient in this recipe, and you'll be amazed at just how powerful a simple addition to your brussels sprouts can be!
To create these balsamic roasted brussels sprouts, you'll simply need to roast your sprouts with a helping of pancetta, salt, pepper and oil, and give them a generous drizzle of balsamic vinegar once they're cooked.
It'll take just 20-30 minutes to create a beautiful batch of these timeless roasted sprouts.
They're so good, you could eat them straight from the pan, but for best results, serve them up with tender, juicy meat, plenty of other roasted veggies, and some crispy potatoes. Delicious! 
Ingredients 
¼ cup of olive oil 
Salt and black pepper 
1 ½ pounds of brussels sprouts (ensure they're trimmed and cut in half to the core) 
4 ounces of pancetta sliced to around ¼ inch thick 
1 tbsp of syrup-like balsamic vinegar 
Want to do something a little different with your brussels sprouts? Why not try them sauteed, shredded, and generously seasoned?
Believe it or not, this recipe is a LOT simpler than it sounds. It uses just five staple ingredients (including the sprouts), and it comes out delicious every time!
If you need a new way to serve up brussels sprouts at your next dinner party, this is one recipe you won't want to miss. 
To create these sauteed shredded brussels sprouts, you'll need to put your sprouts in the food processor and blend them up, sautee them with some butter, oil, salt and pepper, and remove them when they're crisp and tender.
Once they're off the heat, you can even drizzle over a little balsamic vinegar to really make them pop, and feel free to add on some other seasonings if required, too!
This has to be one of our favorite brussels sprouts recipes ever, and it's really never been easier to totally transform the way you serve these classic veggies.
This is good enough to be eaten on its own (yes, really!), or you could serve it with a Sunday dinner. If you want to try something a little different, why not throw in some meat and enjoy this as a meal in its own right! 
Ingredients 
1 tbsp balsamic vinegar
Kosher salt and black pepper 
1 ounces of fresh brussels sprouts 
2 tbsp unsalted butter 
2 tbsp good olive oil
If you're a fan of the brussels sprouts and pancetta combo (let's be honest, who isn't!), then you're going to LOVE these shaved brussels sprouts with pancetta.
If you know someone that's still set on hating brussels sprouts, this may just be the recipe you need to change their mind. Honestly, we can't get enough of it! 
Simply cooking your sprouts in a slightly different way can totally transform their taste and texture. If the sight of a single circular brussels sprout is a bit of a turn-off, you'll be pleasantly surprised by this dish!
These brussels sprouts will take you approximately 40 minutes to create, and you'll need just a few simple ingredients. 
Cook your pancetta in a pan, transfer it to a plate, and then start to saute some butter, shallots, and processed brussels sprouts, with a generous helping of salt and pepper.
Add in your cooked pancetta and heat for another few minutes, and you're good to go! It's that easy, and just look at the result – heavenly! 
Ingredients 
1 tsp balsamic vinegar
1 package of brussels sprouts, trimmed
¾ cups shallots 
1 tsp extra virgin olive oil 
½ ounce pancetta 
Kosher salt and black pepper 
½ ounce of pancetta 
As you've probably noticed, all of these recipes are EXTREMELY easy to pull together. Turns out, brussels sprouts really don't need that much to bring them to life.
Just a few simple ingredients are all you need, and this recipe is no exception!
These roasted brussels sprouts with bacon are just as simple as they sound.
This is arguably one of the easiest (and tastiest) brussels sprouts recipes you'll ever have to make, and it's great for pleasing picky eaters during the holidays!
Although your roasted brussels sprouts will need a little prep work, they come out absolutely beautiful every time, and it's worth it to create this super-tasty, low-carb recipe. 
With this recipe, your roasted brussels sprouts will work hard to soak up all of those other beautiful flavors, including garlic, bacon and olive oil, and simply adding a drizzle of balsamic glaze at the end will bring it all to life.
We can't thank Ina enough for putting together this recipe, because honestly, it's a lifesaver! 
Best of all, once everything is prepared, you can simply throw all of your ingredients onto one pan, season, and leave it all to cook.
After about 25-30 minutes, your brussels sprouts will be ready to enjoy! Here's what you'll need to create these stunning sprouts: 
Ingredients
1 ½ pounds of Brussels sprouts, washed and dried 
⅓ cup of olive oil 
4 cloves of garlic (crushed or chopped) 
1 tsp of salt 
½ tsp cracked black pepper 
2 tbsp balsamic glaze 
4 ounces of bacon or pancetta 
We may have exhausted all of Ina's brussels sprouts recipes, but that doesn't mean we have to stop there.
If you're ready to try another delicious brussels sprouts recipe, look no further than this bonus addition: shaved brussels sprout salad with apples and goat cheese!
As you may have noticed, most of Ina's brussels sprouts recipes use a combination of the same ingredients in different forms.
Although they all taste delightful (and pretty different, for the most part), they can end up feeling a little samey.
That's exactly why you should try this gorgeous brussels sprouts salad, which leans on two hero ingredients, apples and goat's cheese, to bring the sprouts to life! 
This is a brussels sprouts recipe like no other. If you really want to push the boundaries of what you can do with your sprouts, this is one recipe you won't want to miss.
If you've never tried raw brussels sprouts before, this is the perfect recipe to help introduce you to their potential! 
This vegetarian-friendly recipe uses plenty of hazelnuts, too, but it's so versatile that you can add or omit any ingredients you like.
Feta or parmesan, walnuts and almonds, and other fruits like pomegranates and pears also work exceptionally well in this recipe! However, if you want to follow the one above, here's exactly what you'll need to bring it together. 
Ingredients 
For the Dressing 
¼ tsp black pepper 
1 tsp salt 
2 tbsp white wine vinegar 
3 tbsp lemon juice 
1 small shallot 
4 tbsp olive oil 
For the Salad 
½ cup walnuts or hazelnuts
½ cup dried cranberries 
1 apple (thinly sliced) 
1 pound of shredded brussels sprouts 
The Bottom Line 
Even if you're a sprout lover, it's easy to grow bored of eating the same-old sprout recipes.
We hope these stunning recipes have helped you see the hidden potential of this timeless vegetable, and encouraged you to get a little more creative in the kitchen! 
It really doesn't take much to spice up your sprouts and make them into a winning dish for even the fussiest of eaters.
Simply sauteeing them rather than boiling them, or adding in a few extra ingredients you may not have thought of (like nuts and fruit), can allow you to see these delightful little veggies in a whole new light! 
So, what are you waiting for? Get those aprons ready and try one of these five delicious sprout recipes today(see also: 10 Best Deliciously Ella Recipes To Try Today). Have you come out the other side a lover, not a hater? Let us know!
4 Best Ina Garten Brussel Sprouts Recipes To Try Today
Course: Recipes
Sprouts don't have to be boring – these gorgeous Ina Garten sprout recipes will make you fall in love with these little holiday favorites all over again!
Directions
Pick a recipe from above
Click the recipe name and visit the website
Collect the ingredients and the food
Enjoy – don't forget to leave a review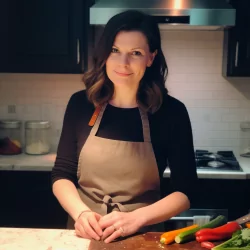 Latest posts by Barbara Hunt
(see all)