Peach cobbler, with its warm, gooey center and crumbly, golden top, is a perennial favorite.
It's a timeless dessert that often evokes memories of summer gatherings, family reunions, and the sweet aroma of freshly baked peaches mingling with cinnamon and nutmeg.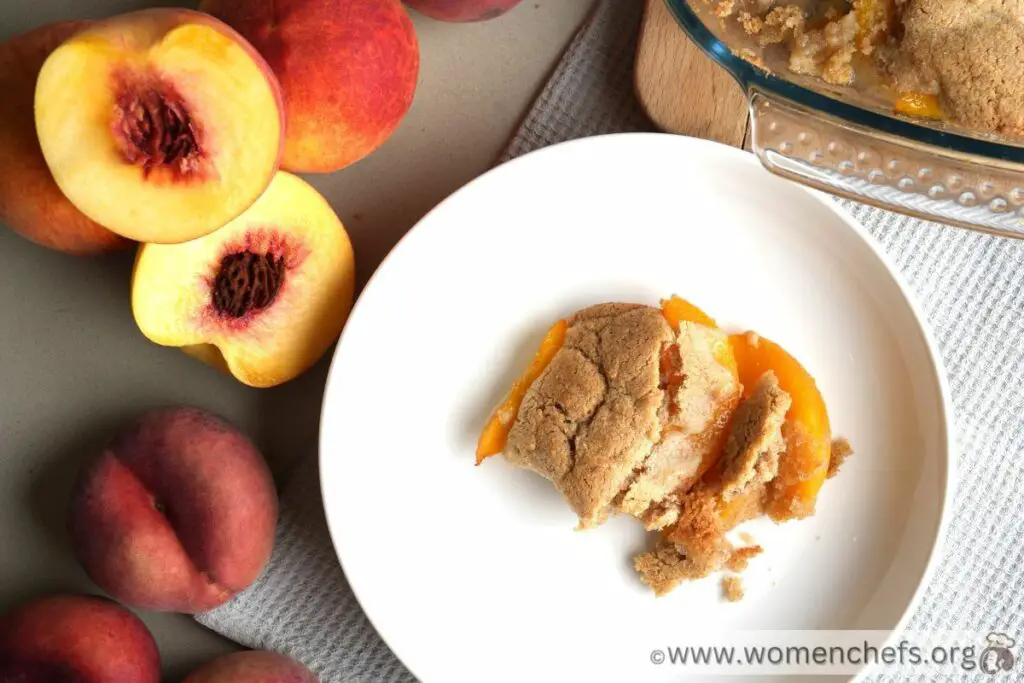 The peach cobbler's origins can be traced back to the early settlers of America. These settlers were accustomed to making European pies, but without the same ingredients and tools, they had to improvise.
Using ingredients that were readily available, including peaches, they devised a dessert that combined the fruit with a biscuit-like topping.
Over the years, the peach cobbler evolved, retaining its comforting flavors and rustic charm.
While the classic peach cobbler is undeniably delicious, there are numerous ways to tweak and transform this traditional dish.
We've tried and tested some incredible peach cobbler recipes and we are here to share the very best of those with you today.
Let's dig in:
Peach Cobbler Recipes For Novice Chefs
Let's start with some easy-to-make peach cobblers for beginners:
Using just self-rising flour, granulated sugar, butter, and canned peaches in syrup, this simple peach cobbler is both quick to prepare and deliciously satisfying.
With only four ingredients, you can't go far wrong with this recipe.
You can whip up this dessert in less than an hour and serve warm with vanilla ice cream.
The classic peach cobbler is a mix of fresh peaches, sugar, flour, milk, and a few other basic ingredients.
It serves as a foundation upon which countless variations can be built.
It's a great recipe to nail the basics of this traditional dessert and create your own variations in the future.
This traditional dessert from Betty Crocker uses Bisquick™ mix as its base for simplicity. Combine Bisquick™, milk, and nutmeg, then mix in melted butter to form the batter.
In a separate dish, sprinkle sugar over well-drained canned peach slices. Pour the Bisquick batter over the peaches and bake until golden.
The result is a comforting, sweet peach cobbler with a hint of nutmeg that was fuss-free to create.
Peach Cobbler Recipes That Pack A Punch
If you've got the basics under your belt and you're ready to level up your cobbler game, we've got some delicious ideas for you:
Add a splash of bourbon to your peach mixture for a deeper, slightly smoky flavor that enhances the sweetness of the peaches.
We enjoy this recipe served with salted caramel ice cream.
Add finely grated ginger to your peach filling for a warming kick.
The spice of the ginger juxtaposed with the sweetness of the peaches makes for a tantalizing taste.
We think it transforms this classic summer dessert into a real winter warmer.
Change up this classic dessert by using almond extract alongside vanilla for a nutty undertone.
You can also sprinkle slivered almonds on top before baking for a beautiful, crunchy garnish.
For the cookie lovers out there, swap your traditional cobbler topping for slices of cookie dough.
This creates a super indulgent dish that even the kids will love.
Serve with chocolate chip ice cream to complete the cookie experience.
For a tropical twist on the classic, add coconut extract and shredded coconut to the mix.
Coconut and peach work wonders together and transport you to warm beaches and cool cocktails.
Peach Cobbler With A Savory Twist
Hear us out – there's something weird and wonderful about incorporating savory flavors into your cobbler. You have to give these recipes a try to really understand:
While it might sound unconventional, adding a little rosemary to your peach mixture introduces a fragrant, earthy note.
Combined with a dash of cinnamon, this combination really elevates the dish.
Peach Cobbler Recipes With Other Fruits
If more fruit is more to your taste then peaches work wonderfully with berries to make a truly divine cobbler – let's take a look at some ideas:
Paula Deen's blackberry and peach cobbler is a must-try!
Renowned for her Southern cooking, she offers a delightful twist to the traditional peach cobbler by incorporating blackberries.
The combination of the tartness of blackberries with the sweet peaches results in a beautifully balanced dessert that's perfect for the fall.
The subtle blueberry flavors introduced in this recipe bring the classic peach cobbler to a whole new level – plus, the blueberries add a beautiful splash of color to the finished dish.
Serve this dish warm with a big dollop of vanilla ice cream.
If you enjoyed the above recipe, then you're going to want to add raspberries into the mix too.
This dish is topped with cinnamon-infused sour cream biscuits that will really make your mouth water.
Vegan And Gluten Free Peach Cobbler Recipes
If you're vegan of gluten-intolerant, we have a couple of recipes so you can enjoy this delightful dessert:
Make your cobbler vegan-friendly by using vegan butter and soy milk.
If you're not a fan of soy milk, you can use almond or oat milk instead.
Serve with a large scoop of vanilla ice cream.
If you're gluten intolerant, you don't have to miss out on this delicious dessert.
Swap some of the traditional ingredients for gluten-free flour (or almond flour), and gluten-free baking powder.
Peach Cobbler Muffins And Cakes
If you're not yet all cobbler-ed out, we've got some takes on the traditional recipe that you have to try.
Transform the classic cobbler into breakfast muffins that the whole family will demolish.
Incorporate canned peaches into your favorite muffin recipe, like the one above, and sprinkle with a streusel topping before baking.
The Peach Cobbler Dump Cake is a delightful fusion of cobbler richness and dump cake ease.
Utilizing canned peaches in heavy syrup, a boxed yellow cake mix, butter, and a hint of cinnamon, this dessert offers robust flavors with minimal effort.
Once baked, the dessert reveals a crumbly, golden-brown top with a luscious peach layer beneath.
Serve warm, perhaps with a scoop of ice cream, to enjoy the combined simplicity and taste of this peach cobbler dump cake.
Peach Cobbler Serving Suggestions
Vanilla ice cream is a classic pairing for the rich and comforting flavors of peach cobbler, but there are so many different options that can accentuate this dish – let's take a look at some of them below.
1. Classic Companions
Vanilla Ice Cream: The coolness and creaminess of vanilla ice cream against the warm and crumbly peach cobbler create a divine contrast in temperature and texture.
Whipped Cream: A dollop of freshly whipped cream, possibly infused with a hint of almond or vanilla extract, can add a light and airy complement to the dense cobbler.
2. Flavored Creams And Custards
Cinnamon Cream: Infuse your whipped cream with a hint of cinnamon or nutmeg for an extra layer of warmth.
Bourbon Cream: A touch of bourbon whipped into your cream can provide a rich and smoky undertone.
Crème Anglaise: This light pouring custard is a luxurious addition that offers a velvety layer beneath or atop your cobbler.
3. Fresh Garnishes
Mint: Fresh mint leaves can provide a refreshing contrast, both visually and flavor-wise.
Berry Medley: A mix of fresh berries like raspberries, blueberries, and blackberries can add a tart counterpoint to the sweet peaches.
4. Nuts And Seeds
Toasted Almonds or Pecans: A sprinkle of toasted nuts can add a delightful crunch and a nutty flavor.
Chia Seeds or Flaxseeds: For a healthier twist, sprinkle these seeds for added texture and a boost of omega-3s.
Take a look at these delicious peach recipes.
In Summary
The beauty of peach cobbler lies in its versatility. Whether you stick to the traditional recipe or decide to venture out with these innovative twists, the result is bound to be delectable.
Many cobblers will call for canned peaches, but if you have fresh peaches that are past their best, this is a great way to use them up and prevent waste.
We've included a wide selection of peach cobbler recipes above – from the classics, to added berries, and even a savory option – which variety will become your new go-to recipe?
Still hungry? We've got some wonderful peach recipes from Ina Garten you can try.
Frequently Asked Questions
What makes peach cobbler gummy?
Peach cobbler can become gummy when there's too much moisture in the filling or when the batter is overmixed, leading to the development of excess gluten.
How do you keep peach cobbler crust from getting soggy?
To prevent a soggy crust, ensure that your peaches are well-drained, consider pre-baking the bottom crust slightly before adding the filling, and bake at the recommended temperature to allow the crust to cook properly.
Is frozen or canned peaches better for peach cobbler?
Both frozen and canned peaches can work well for peach cobbler; however, many prefer canned peaches due to their consistent texture and sweetness, while others opt for frozen peaches for a fresher taste. Ensure proper drainage for both to avoid excess moisture.
16 Perfect Peach Cobbler Recipes To Try
Course: Cookbooks
Directions
Select a peach cobbler recipe from above
Gather your ingredients
Make your cobbler
Enjoy with ice cream.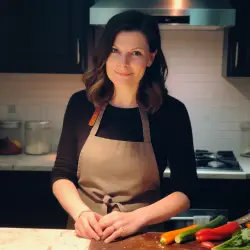 Latest posts by Barbara Hunt
(see all)