When it comes to crafting the perfect chicken pasta meal, the spotlight often falls on the main course itself.

But let's not forget the supporting cast that can turn a good meal into an unforgettable dining experience – side dishes.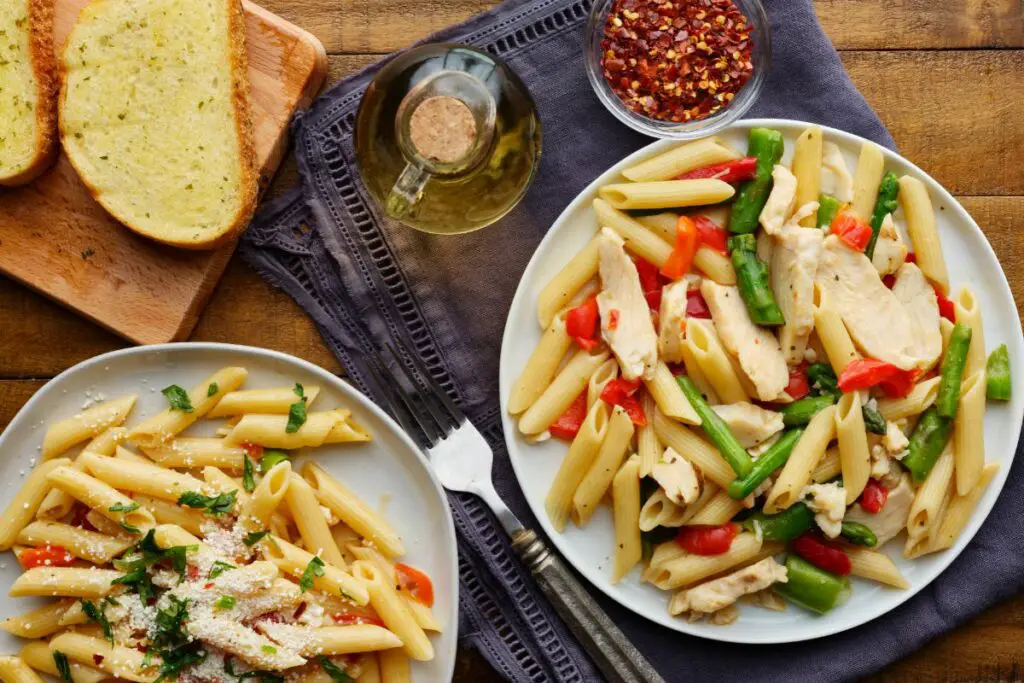 In this article, we will explore 15 of the most delicious chicken pasta side dishes that will not only complement your pasta but might even steal the show with their unique flavors and textures.
So, let's set off to discover some of the best side dishes to complement your midweek meals.
Super Salads
If you want a healthy salad to accompany your chicken pasta, we've got you covered:
This side salad is a refreshing twist on your typical leafy salad, mixing greens, romaine tomatoes, celery, and green onion.

What sets it apart is the sprinkling of garlic powder on top and the sunflower seeds for that extra boost of nutrients.
Cooking Tip: Toss the salad with your choice of dressing just before serving to keep the greens crisp and the flavors vibrant.
Pairing Dish: This salad pairs best with a creamy chicken Alfredo pasta for the perfect balance of freshness and richness.
Loaded broccoli salad is a crowd-pleaser featuring fresh broccoli florets, sharp cheddar cheese, crisp scallions, and a creamy dressing with just a hint of sweetness.
Cooking Tip: Blanch the broccoli for a minute before making the salad to enhance its color and texture.
Pairing Dish: Pair this salad when you've made a spicy Cajun chicken pasta to create a satisfying contrast of flavors.
The classic Caesar salad is a timeless favorite, with crisp romaine lettuce, homemade croutons, parmesan cheese, and a creamy Caesar dressing.
Cooking Tip: To get the best parmesan shavings, you can get a proper cheese shaver, OR you can just use a potato peeler.

Pairing Dish: Serve this Caesar salad alongside a lemon herb chicken pasta for a zesty and refreshing combination.
Beautiful Bread Sides
Sometimes, only a slice of garlic bread or a soft roll will cut it to complement your pasta.
Cheese garlic bread is a classic comfort food. Featuring a loaf of French bread and topped with a generous amount of melted cheese and garlic butter, this garlic bread is going to be a favorite at any dinner table.
Cooking Tip: For extra flavor, use a mix of mozzarella and parmesan cheeses.
Pairing Dish: Pair this cheese delight with a chicken and mushroom fettuccine for the ultimate Italian feast.
For a more artisanal feel, try this rustic garlic bread made with crusty bread, roasted garlic, olive oil, and a sprinkle of fresh herbs.
Cooking Tip: Try making your own bread if you want to feel like a real homesteader!
Pairing Dish: This artisanal garlic bread pairs best with a chicken piccata pasta for a delightful blend of flavors and textures.
This rosemary garlic bread is an aromatic treat. Fresh rosemary leaves are added to garlic butter, infusing the bread with an earthy, savory fragrance.
Cooking Tip: Use fresh rosemary for the best flavor. Crush it slightly to release the oils before adding it to the butter.
Pairing Dish: This bread pairs wonderfully with a lemon garlic chicken pasta for a Mediterranean-inspired meal.
Bacon and cheese fougasse is a savory bread that's perfect for sharing. It's filled with crispy bacon and a generous amount of melted cheese and is guaranteed to steal the show.
Cooking Tip: Make deep, diagonal cuts in the dough to create a beautiful leaf shape.
Pairing Dish: This indulgent bread pairs wonderfully with a creamy chicken and spinach pasta.
If you would like a side dish that's the perfect mixture of sweet and savory, check out this classic southern buttermilk cornbread. This recipe is made with cornmeal, buttermilk, and a touch of sugar.
Cooking Tip: Use a cast-iron skillet for the perfect golden crust.
Pairing Dish: Enjoy the cornbread with a spicy Cajun chicken pasta for a Southern-inspired meal.
Perfect Potatoes
If you're looking for a chicken pasta side dish that's a little more filling, you can't go far wrong with these potato recipes:
Crisp on the outside and tender on the inside, these delicious smashed fingerling potatoes are seasoned with olive oil, rosemary, and a pinch of salt. You'll have to grab your serving quickly because they won't last long once they're put down on the table.
Cooking Tip: Parboil the potatoes before smashing and roasting for the perfect texture.
Pairing Dish: These potatoes are the ideal companion for a creamy chicken carbonara.
Crispy roast potatoes are the epitome of comfort food. They are roasted until golden brown and seasoned with a blend of herbs and spices.
Cooking Tip: Preheat the baking sheet before placing the potatoes on it for extra crispiness all over.
Pairing Dish: Serve these roast potatoes with a chicken and sun-dried tomato penne for a fantastic combination.
Ina Garten's twice-cooked sweet potatoes are a sweet and savory delight. They're roasted until tender, then topped with a mixture of brown sugar, butter, and pecans.
Cooking Tip: Use a mix of orange and purple sweet potatoes for a visually appealing dish.
Pairing Dish: Pair these sweet potatoes with a creamy, tomato-y pasta meal for a delightful contrast of flavors.
Paula Deen's loaded baked potato casserole is the ultimate comfort food. Loaded with mashed potatoes, cheese, and crispy bacon, this side dish is perfect for hearty meals where you're cooking for lots of people, like a holiday.
Cooking Tip: Make sure to use the russet potatoes for the creamiest mash.
Pairing Dish: Pair this casserole with a chicken and broccoli Alfredo for a hearty and satisfying meal.
Further reading: Try Paula Deen's Scalloped Potatoes.
Other Delicious Chicken Pasta Side Dishes
If nothing on the list has quite hit the spot yet, we have some more ideas to share:
Slices of tomato are topped with parmesan cheese and broiled until bubble and golden in Paula Deen's easy side dish recipe. We love how easily this dish comes together, making it an incredible side dish that's sure to impress.
Cooking Tip: Sprinkle a pinch of dried basil or oregano for added flavor.
Pairing Dish: These tomatoes complement a simple chicken and pasta primavera beautifully.
Rachael Ray's stuffed savoy cabbage is a comforting dish with a twist. Cabbage leaves are stuffed with a flavorful mixture of beef, pork, and veal, with rice, then simmered in a tomato sauce before getting stuffed in a savoy cabbage.
Cooking Tip: Carefully blanch the cabbage leaves to make them pliable for stuffing.
Pairing Dish: Serve this cabbage dish with a light pasta meal for a filling and hearty meal.
You might think it strange to pair mac n' cheese with a pasta meal; however, this healthier take on the classic dish actually makes the perfect entree.

Instead of just macaroni shells, this recipe combines cauliflower with pasta and a creamy, cheesy sauce to make a great side dish to all sorts of meals.
Cooking Tip: Steam the cauliflower to retain its nutrients.
Pairing Dish: Enjoy this guilt-free mac 'n' cheese with a grilled chicken and penne pasta for a hearty yet balanced plate.
If you enjoyed this recipe, take a look at some of Rachael Ray's Pasta Recipes here.
Final Thoughts
There you have it, our roundup of the best 15 chicken pasta side dishes to improve your dining experience.

Whether you're a fan of fresh salads, cheesy garlic bread, or comforting potatoes, there's something here for everyone.

These side dishes not only complement the flavors of your chicken pasta but also add variety to your meals.
Don't hesitate to try them out and impress your family and friends with your culinary skills.
Hungry for more? Take a look at these spaghetti side dishes.
Frequently Asked Questions
Can I Prepare These Side Dishes In Advance?
Absolutely! Many of these dishes can be partially prepared in advance. For salads, you can wash and chop the vegetables ahead of time and store them in separate airtight containers.

For bread and potatoes, you can prep them and then finish cooking or toasting just before serving for the best flavor and texture.
Are There Any Vegetarian Options?
Yes! Several of these side dishes are either already vegetarian-friendly or can be made with just a few substitutions.

For example, you can remove the bacon from the loaded broccoli salad or the cheese fougasses to make them suitable for a vegetarian diet. Similarly, you can use vegetable broth in the place of chicken broth in the recipes that call for it.
What's the Best Way to Reheat These Side Dishes?
Though the particular times and heats will depend on which dish you want to reheat, the basics remain the same.

For example, you can reheat any of the garlic breads in a preheated oven at 350°F (175°C) until they're warmed through. For roasted potatoes, a quick blast in an air fryer or toaster oven should help them regain their crispiness.

Leftover salads, however, are best enjoyed cold and fresh, so keep them in the refrigerator and consume within three days.them
15 Great Chicken Pasta Side Dishes
Course: Other Recipes
Directions
Select a recipe from above
Gather your ingredients
Prepare your side dish
Enjoy!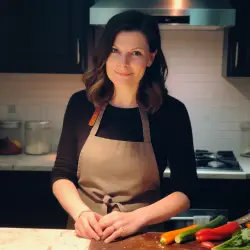 Latest posts by Barbara Hunt
(see all)