Roast chicken is a culinary treasure, a traditional kitchen staple that's simple, timeless, and even nostalgic for some.
The best thing about roast chicken is that it's highly versatile. It's juicy, savory perfection on a plate that can be served with almost anything.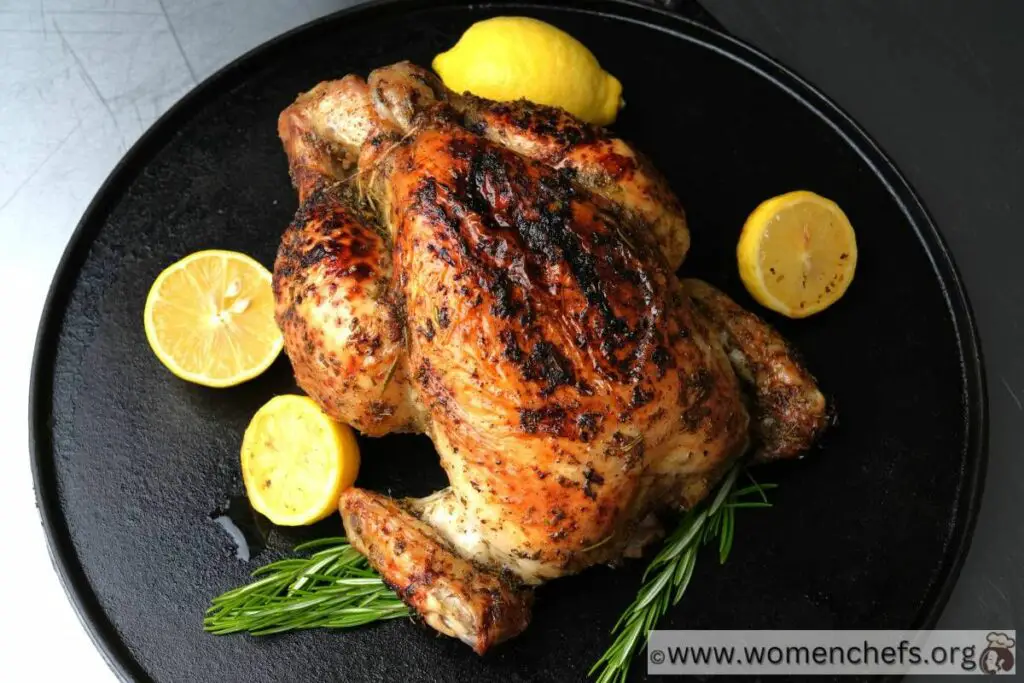 The downside? It's highly versatile! So, it can be hard to choose which side dish to pair with it.
But that's why we've put together a list of 15 great roast chicken side dishes – our favorite accompaniments for succulent, seasoned roast chicken!
Traditional Roast Chicken Side Dishes
Starting off, here are our favorite traditional roast chicken side dishes.
Mashed potato is a classic side dish. It's the fluffy texture that makes it the perfect side with roast chicken, especially when made with butter. That's why this mashed potato recipe is our favorite!
Use baking potatoes to achieve a light and fluffy texture. Other than potatoes, you'll need garlic, milk, butter, salt, and ground black pepper. Once you taste it, this homemade mashed potatoes recipe is sure to become your new go-to.
Roast chicken calls for roasted vegetables. But not just any roasted vegetables; roasted vegetables flavored with balsamic vinegar, dried thyme, and garlic (you need to try it). And the best thing is that you can use any vegetables you like.
This recipe uses broccoli, mushrooms, butternut squash, yellow squash, zucchini, and red bell pepper. So if you're looking for something colorfully appetizing, this roasted vegetables recipe is it!
Stuffing is always a crowd-pleaser – especially on Thanksgiving. Still, this stuffing recipe is perfect whenever roast chicken is involved, made using a unique combination of stale and toasted bread cubes.
With 45 minutes of prep time, this stuffing recipe takes a little longer to prepare than other stuffing recipes. But the end result is worth it! Plus, let's face it: you can't beat homemade stuffing.
You can't serve roast chicken, or any of the above for that matter, without perfect homemade gravy. This is our favorite gravy recipe, as it's easy to make and has just the right consistency. Did we mention that it also tastes like KFC gravy?
This gravy recipe uses chicken and beef stock cubes (yep, together) along with flour, onion or garlic powder, and hot water. It's really that simple and is ready to serve with your roast chicken in just a few minutes.
If you're yet to try it, cauliflower cheese is a British side dish that will become your new favorite way to eat cauliflower. It involves baking cauliflower in cheese sauce (the more, the better), so think creamy macaroni cheese – but with cauliflower.
This recipe's cheese sauce is to die for, combining Red Leicester cheese, gruyère cheese, cream, milk, butter, and nutmeg powder. But the best thing is you can use any cheese you prefer. Pro tip: just don't buy pre-shredded cheese, as it will powder the sauce.
Vegetable Roast Chicken Side Dishes
Roast chicken and veggies are perfect together – so you can't go wrong with the following sides!
If you're looking for something healthy to go with roast chicken, try this recipe for skillet green beans. Each serving comes in at 70 calories with no sugar and less than a gram of saturated fat. Yet it tastes amazing!
The secret to the taste is adding red pepper flakes to the oil, then garlic and kosher salt once the green beans start to brown. This recipe yields 5 cups to share, ready in just 15 minutes.
Want a roast chicken side dish that will stand out? Check out this lentil and broad bean salad with ginger dressing recipe. It's vegetarian and gluten-free, so it's also a great roast chicken side dish that everyone will love.
The main ingredients here are dried yellow lentils, broad beans, beetroot, asparagus, frozen peas, baby spinach, and walnuts. If that doesn't sound healthy, appetizing, and protein-packed, we don't know what does!
Forget plain broccoli; broccoli that's caramelized is a game-changer – a simple but satisfying variation with a touch of sweetness. This recipe involves browning the broccoli in a skillet before flavoring with garlic, crushed red pepper, and lemon.
So, it's a unique way to prepare broccoli that tastes even better when served with roast chicken. Plus, this caramelized broccoli recipe takes 35 minutes in total!
These brown sugar-glazed carrots are so dreamy you can eat them on their own. With roast chicken, however, they provide a sweet-tasting accompaniment with a moist glazing that you can make from brown sugar, honey syrup, or maple syrup.
We recommend this tasty roast chicken side dish for its versatility as well as how easy it is to make. You'll only need eight ingredients—most of which you're sure to find in your pantry – and 10 minutes for preparation.
Mushrooms are a classic side dish with roast chicken, adding depth and complexity thanks to their woody, earthy taste. What gives this sautéed mushrooms recipe its kick is its glazing made from garlic butter and soy sauce – a must-try!
Ready in under 15 minutes, this recipe is arguably the easiest roast chicken side dish on this list. Despite that, it's no less tastier. So expect a bitter yet rich spin on regular mushrooms that will perfectly complement the roast chicken.
Simple Roast Chicken Side Dishes
Looking for something quick and easy? Try these simple roast chicken side dishes!
The best coleslaw is homemade coleslaw. And once you try this classic coleslaw recipe, you'll never buy store-bought coleslaw again! What makes this coleslaw great is the addition of Dijon mustard, with your choice of adding yogurt or sour cream.
All in all, it takes just 15 minutes until it's ready to serve. And don't forget that coleslaw is a side dish that goes well with almost anything. So this recipe is definitely one worth saving!
If you love to bake, why not bake up some perfect homemade bread rolls to go with your roast chicken? We love this white bread roll recipe for its great taste, light texture, and simplicity, requiring just six ingredients to make.
What's more, these white bread rolls are egg-free and vegetarian. Prep time is just under 2 hours and 30 minutes, but if you enjoy baking your own bread, you'll enjoy making this recipe.
Lemon herb quinoa is one of our favorite ways to make quinoa. It's an easy-to-make side dish that's rich in nutrients (and low in sugar) with a lemony, nutty, herby taste that goes perfectly with roast chicken.
Alongside quinoa, the main ingredients are dried marjoram (oregano works, too), dried thyme, dried rosemary, parsley, fresh lemon juice, and fresh lemon rind. To make the quinoa extra fluffy, don't forget to fork the mixture before serving.
This homemade rice pilaf recipe is the ideal rice dish to serve with roast chicken thanks to its vibrant flavor profile – the perfect way to complement savory roast chicken if you like a touch of spice.
You can use long-grain white rice, basmati rice, or jasmine rice with this recipe, as what gives it its kick is the mixture of onion powder, garlic powder, ground coriander, salt, and paprika seasonings. Garnish with parsley for the finishing touch!
Potato salad is up there with the best roast chicken side dishes, as the light, refreshing, and creamy flavors are the perfect way to complement roast chicken's savoriness. It's a crowd-pleaser, too, so you can't go wrong with it if you're entertaining guests.
We've made this creamy potato salad recipe countless times, and it never disappoints. What sets it apart is how it includes celery, pickles, red onion, and hard-boiled eggs. Yep, chopped hard-boiled eggs are the secret ingredient, and you need to try it to see why!
Final Thoughts
So there you have it: 15 great roast chicken side dishes that won't disappoint, no matter whether you're cooking for the family or need the perfect side dish to take to a Thanksgiving dinner.
Need more side dish inspiration? Check out our chicken pasta side dishes here or these simple lemon chicken sides.
Frequently Asked Questions
Is Roast Chicken Healthy?
Roast chicken is healthy due to its high nutritional value, being a good source of protein and various essential vitamins and minerals. Despite that, chicken skin is high in unsaturated fat, and some preparation methods can also make roast chicken more unhealthy.

Can Roast Chicken Be Frozen?
It's not always easy to eat a whole roast chicken, but you'll be glad to know that roast chicken can be frozen. Just allow it to cool first, then make sure to store it in the freezer properly – either in plastic wrap, aluminum foil, an airtight container, or a freezer bag.
15 Great Roast Chicken Side Dishes To Enjoy
Course: Other Recipes
Directions
Choose a dish from above
Gather your ingredients
Prepare your dish
Enjoy.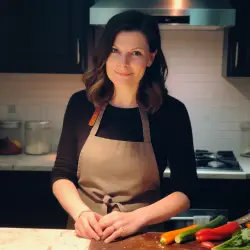 Latest posts by Barbara Hunt
(see all)