When it comes to preparing a delightful meal, lemon chicken is undoubtedly a crowd-pleaser. Its zesty and tangy flavors bring a burst of freshness to the table.
While lemon chicken itself is a star, pairing it with the right side dish can take your dining experience to the next level. In this article, we've curated 15 simple yet delicious lemon chicken side dishes that will complement your main course beautifully.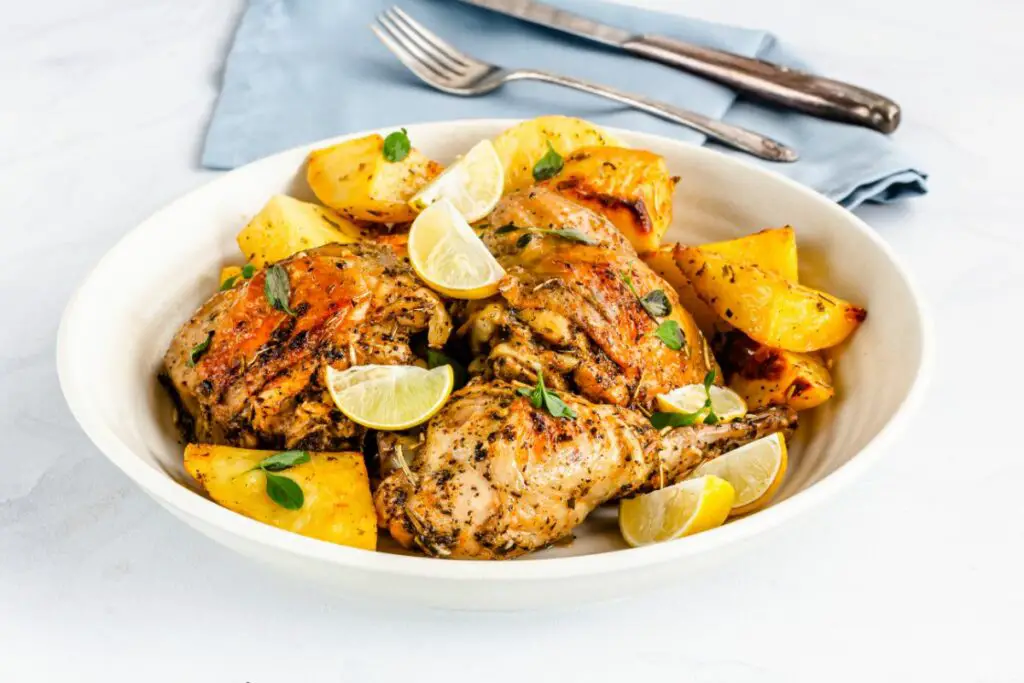 Whether you're hosting a dinner party or just looking to add some zest to your weeknight dinner, these side dishes are here to impress.
Pasta And Rice
If you're looking to get transported to the bustling markets of Marrakech, you need to try this Moroccan-style couscous. It's a delightful combination of fluffy rice grains infused with aromatic spices, sweet dried fruits, and crunchy nuts.

This Moroccan couscous is a very popular dish that will pair wonderfully with a big dish of lemon chicken.
Cooking Tip: Fluff the couscous with a fork after cooking to ensure light and separate grains.
Fun Fact: Did you know that couscous is considered the national dish of Morocco? It's often prepared in traditional steamer pots called "kiskis".
This Mediterranean orzo salad is a colorful mix of orzo pasta, fresh veggies, Kalamata olives, and crumbled feta cheese, all tossed in a lemony vinaigrette.

Either serve this along with each plate of lemon chicken or set it in the middle of the table and allow your guests to serve themselves.
Cooking Tip: Rinse the orzo in cold water after cooking to prevent it from sticking together.
Fun Fact: "Orzo" in Italian means "barley", but the pasta itself actually has Greek origins.
Creamy and luxurious, this no-stir brie risotto is a cheesy dream come true. It's infused with lemon zest for that perfect balance of flavors.

This makes a fantastic side dish for lemon chicken for a hearty and warming meal.
Cooking Tip: Gradually add warm broth and stir gently to achieve the creamy texture.
Fun Fact: Risotto is a dish that is deeply rooted in Italian culinary tradition, and the name "risotto" comes from the Italian word "riso" which simply means "rice".
Further reading: Take a look at these tasty risotto side dishes.
Salads
Rachael Ray's vegetable chunk salad is a hearty medley of crisp vegetables like cucumbers, bell peppers, and cherry tomatoes tossed with a zesty lemon dressing. We love how the flavors and textures complement the lemon chicken.
Cooking Tip: Chill the salad for several hours before serving for a refreshing crunch.
Fun Fact: This chunk salad makes a fantastic dish for a picnic or potluck.
Paula Deen's potato salad is a Southern classic that brings a comforting, homey vibe to your lemon chicken meal. Tender chunks of boiled potatoes are coated in a creamy mayo-based dressing, accented with diced celery, red onion, and hard-boiled eggs.
Cooking Tip: Allow the potato salad to chill for at least an hour in the refrigerator so that the flavors can meld together for a tastier outcome
Fun Fact: Potato salad has been enjoyed for centuries. It's believed to have originated in Germany and eventually made its way to the United States, becoming a classic Southern side dish.
Our next recipe is another from Paula Deen, this time a marinated vegetable salad. This is a tangy and colorful side dish that adds a burst of flavor to your lemon chicken dinner.

A medley of fresh vegetables, including broccoli florets, cauliflower, cherry tomatoes, and bell peppers, marinated in a zesty Italian dressing.
Cooking Tip: Let the vegetables marinate for a few hours or overnight in the refrigerator to enhance the flavors.
Fun Fact: Paula Deen's Southern cooking often emphasizes the use of fresh, seasonal vegetables, and this marinated salad is a testament to that tradition.
This cucumber, avocado, and feta salad is a refreshing and creamy side dish that compliments the zest of lemon chicken. Sliced cucumbers, creamy avocado chunks, and crumbled feta cheese are drizzled with a lemon and olive oil dressing.
Cooking Tip: Gently toss the salad just before serving to keep the avocado from turning brown.
Fun Fact: Cucumbers have a high water content, making them an excellent choice for keeping you hydrated, especially if it's a hot summer day.
Vegetables
For a crispy and savory side dish that pairs wonderfully with lemon chicken, then look no further than this baked parmesan-panko-crusted zucchini.

Zucchini slices are coated in a mixture of parmesan cheese and panko breadcrumbs and then baked until golden and crunchy.
Cooking Tip: For extra crispiness, place the zucchini slices on a wire rack on top of a baking sheet to allow air circulation while baking.
Fun Fact: Did you know that zucchinis are actually fruits? They're known for their rapid growth and abundance during the summer months.
Garlic-herb roasted vegetables are a fragrant and savory side dish that enhances the flavor of lemon chicken. A medley of colorful vegetables, such as carrots, bell peppers, and broccoli, is tossed with garlic, fresh herbs, and olive oil, then roasted to perfection.
Cooking Tip: Ensure even roasting by spreading the vegetables in a single layer on the baking sheet, and don't overcrowd them.
Fun Fact: Roasting vegetables to enhance their natural sweetness is a method that has been used for centuries.
Roasted cabbage steaks are a simple yet flavorful side dish that perfectly complements the brightness of lemon chicken. Thick slices of cabbage are brushed with olive oil, seasoned with garlic and herbs, and roasted until tender and slightly caramelized.
Cooking Tip: Preheat your baking sheet before placing the cabbage steaks on it. This helps sear and caramelize on the bottom.
Fun Fact: Cabbage is a versatile and hardy vegetable that can be stored for a long time without wilting.
This next recipe is an elegant side dish that adds a touch of sophistication to your lemon chicken dinner. Asparagus spreads are wrapped in salty prosciutto and then drizzled in fragrant garlic butter.
Cooking Tip: Roast the asparagus until it's tender but still crisp for the best texture.
Fun Fact: Asparagus is actually a member of the lily family and is related to onions and garlic.
Sauteed green beans with garlic are a simple yet flavorful side dish that pairs wonderfully with lemon chicken. Fresh green beans quickly sauteed with garlic and a hint of lemon zest.
Cooking Tip: Make sure not to overcook the green beans; they should remain vibrant and slightly crisp.
Fun Fact: Green beans are sometimes called "string beans" due to the string-like fiber that is used to run down the seam of older varieties.
Potatoes
Ina Garten's mashed potatoes are the epitome of creamy, buttery goodness, making them an ideal side dish for lemon chicken. Yukon Gold potatoes are boiled until tender, then mashed with butter, cream, and roasted garlic.
Cooking Tip: To infuse extra flavor, roast the garlic in the oven before adding it to the mashed potatoes.
Fun Fact: Mashed potatoes are a super versatile side dish that is beloved all around the world.
Rachael Ray's crushed crispy potatoes with cheese are a savory and cheesy side dish that elevates the flavors of lemon chicken. Baby potatoes are boiled, crushed, and then baked until golden and crispy, with a generous topping of melted cheese.
Cooking Tip: Use the flat bottom of a glass or a fork to gently crush the boiled potatoes before baking.
Fun Fact: Rachael Ray's 30-minute meals made her famous for her quick and easy recipes.
Oven-roasted potatoes are a classic and comforting side dish that enhances the flavors of lemon chicken. Bite-sized potatoes are tossed with olive oil, garlic, and herbs.
Cooking Tip: For even cooking, make sure you don't overcrowd the potatoes on the baking sheet.
Fun Fact: Due to them being a fantastic source of vitamins and minerals, potatoes are one of the most widely consumed vegetables globally.
Final Thoughts
Incorporating these 15 simple lemon chicken side dishes into your culinary repertoire is a surefire way to elevate your meals and delight your taste buds.
So, the next time you're planning a lemon chicken meal, consider one of these delightful side dishes to complete the experience.
Ready for more? Take a look at these Chicken Piccata Side Dishes.
Frequently Asked Questions
Can I Use Other Types Of Cheese In The Brie Risotto?
While brie adds a unique creaminess to the risotto, you can experiment with other cheeses, such as camembert or goat cheese, to achieve different flavors.
Are There Vegetarian Alternatives For Lemon Chicken
You can substitute lemon chicken with marinated or grilled tofu or a hearty portobello mushroom steak.
15 Simple Lemon Chicken Side Dishes
Course: Other Recipes
Directions
Choose a recipe
Select your ingredients
Prepare your side dish
Enjoy!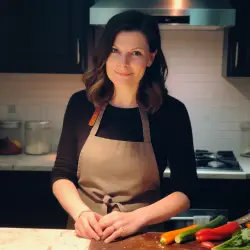 Latest posts by Barbara Hunt
(see all)