When it comes to creating a delicious meal, chicken piccata is a classic favorite. Its tender chicken, zesty lemon, and savory capers make for a mouthwatering dish.

But what elevates it to a memorable experience are the side dishes that accompany it.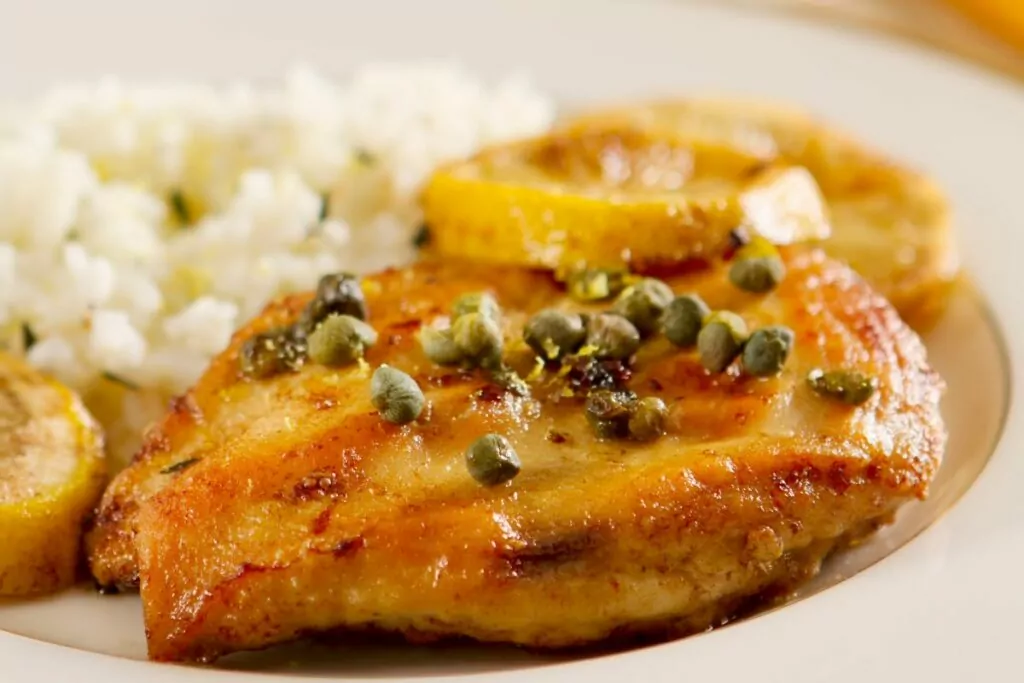 In this article, we'll explore 15 simple chicken piccata side dishes that not only complement the main course but also add a burst of flavor and variety to your dinner table.
Vegetables
Roasted to perfection, these vibrant green asparagus spears are drizzled with a tangy lemon and garlic sauce. The slight char on the outside gives them a delightful crunch while the insides remain tender.
Cooking Tip: Snap the woody ends of the asparagus before roasting to ensure they cook evenly.
Fun Fact: Did you know that asparagus plants can live up to 20 years?
These green beans are a simple yet flavorful side dish. Steamed to retain their vibrant color and crispiness, they are tossed in a garlicky butter sauce for an extra kick of flavor.
Cooking Tip: Steaming green beans preserves their nutrients better than boiling.
Fun Fact: Green beans are a low-calorie source of vitamins and minerals, making them a healthy choice.
Paula Deen's recipe brings together Brussels sprouts, sweet onions, and crispy bacon in a harmonious blend of flavors. This side dish adds hearty and savory elements to your meal.
Cooking Tips: Slice the Brussels sprouts thinly for quicker cooking and a milder taste.
Fun Fact: Brussels sprouts belong to the cabbage family and are named after the capital of Belgium.
Roasted with fresh thyme and a touch of olive oil, these carrots take on a delightful caramelized flavor. They're tender with a slight crunch, making them a wonderful pairing for chicken piccata.
Cooking Tips: Use fresh thyme sprigs for the best aroma and flavor – even better, grow it yourself, and then you'll always have access to fresh thyme.
Fun Fact: Carrots come in a rainbow of colors, from orange and purple to white and yellow.
A quick saute with garlic and a drizzle of olive oil transforms fresh spinach leaves into a vibrant, nutrient-rich side dish. It's a fantastic way to get your greens in.
Cooking Tip: Spinach cooks down significantly, so use more than you think you'll need.
Fun fact: Spinach is famously known as Popeye's favorite food for its iron content and strength-boosting properties.
A medley of root vegetables, including carrots, parsnips, and potatoes, are roasted to perfection and glazed with a sweet honey sauce. The result is a comforting and satisfying side dish.
Cooking Tip: Cut the vegetables into uniform sizes for even cooking.
Fun Fact: Honey has natural antibacterial properties and can be used as a remedy for minor cuts and burns.
Pastas, Breads, and Grains
Creamy mashed potatoes are elevated with the addition of roasted garlic and fresh chives. This side dish is the epitome of comfort food.
Cooking Tip: Roast the garlic until it's soft and caramelized for a sweet, milder flavor.
Fun Fact: Potatoes were first cultivated in South America and are now one of the most widely consumed vegetables in the world.
Quinoa pilaf is a lovely grain dish that showcases the nutty and slightly earthy flavor of quinoa. Cooking in flavorful chicken or vegetable broth, quinoa is transformed into a fluffy and light base.

It's perfectly combined with sauteed onions and a medley of colorful bell peppers.

The result is a vibrant and aromatic pilaf that not only complements your chicken piccata but also stands on its own as a nutritious and satisfying side dish.
Cooking Tip: Rinse quinoa before cooking to remove its naturally bitter coating.
Fun Fact: Quinoa is often called a "superfood" due to its high protein and nutrient content.
Fluffy couscous is paired with sweet dried cranberries and crunch almonds, creating a delightful contrast of textures and flavors. We love couscous because it's a low-carb alternative to rice.
Cooking Tip: Fluff the cooked couscous with a fork to keep it light and airy.
Fun Fact: Couscous is a staple in North African cuisine and is often used as a base for savory dishes.
Creamy polenta, made from ground cornmeal, is enriched with parmesan cheese for a rich and satisfying side dish that's both creamy and slightly grainy. Enjoy this as a side dish or appetizer for your chicken piccata.
Cooking Tip: Stir constantly when adding cornmeal to prevent lumps from forming in your polenta.
Fun Fact: Polenta is a traditional Italian dish that has been enjoyed for centuries.
This pasta dish is all about the bright flavors of lemon and butter. The zestiness of the lemon cuts through the richness of the butter, making it a perfect accompaniment to chicken piccata.
Cooking Tip: Use fresh lemon juice and zest for the best citrus flavor.
Fun Fact: Pasta is a versatile and beloved staple in Italian cuisine, with over 600 different shapes and sizes.
Garlic bread is a comforting classic, and when it's cheese, it's even better. This side dish features slices of baguette slathered in garlic butter and topped with a generous layer of melted cheese.
Cooking Tip: Broil the bread for perfectly melted cheese and a crispy top.
Fun Fact: Garlic has been used in numerous cultures for centuries for its medicinal properties and flavor-enhancing qualities.
Salads
Ina Garten's take on the classic Caprese salad involves roasting tomatoes and fresh mozzarella, resulting in a warm and gooey masterpiece. It's drizzled with balsamic glaze for that extra touch of flavor.
Cooking Tip: Roasting tomatoes intensifies their sweetness and flavor.
Fun Fact: The Caprese salad is named after the island of Capri in Italy.
This light and refreshing salad combines thinly sliced cucumbers and red onions, all marinated in a zesty vinegar dressing. It's a perfect palate cleanser alongside the richness of chicken piccata.
Cooking Tip: Use a mandoline silver for consistently thin cucumber slices.
Fun Fact: Cucumbers are made up of over 95% water, making them a hydrating choice, particularly during the hot summer months.
A simple yet classic combination of ripe tomatoes, fresh basil leaves, and a drizzle of olive oil and balsamic vinegar. The vibrant red and green colors are not only visually appealing but also indicative of the salad's refreshing taste.

Each bite bursts with all of the flavors of summer, as this salad captures the essence of Italian cruising in a simple yet irresistible combination that's both light and invigorating.
Cooking Tip: Use high-quality extra virgin olive oil (EVOO) for the best flavor.
Fun Fact: Basil is sometimes called "the king of herbs" because of its prominence in Mediterranean cuisine.
Final Thoughts
Incorporating these 15 simple chicken piccata side dishes into your meal planning not only enhances the flavor but also adds depth and variety to your dining experience.
If you need a side dish to round out your meal or to make the food go further for large crowds, then side dishes are the perfect way to make sure that no one goes hungry.
Whether you opt for vibrant vegetables, satisfying grains, or refreshing salads, these sides are sure to elevate your next chicken piccata dinner. Experiment with different combinations to find your perfect pairing, and enjoy the culinary adventure that awaits you.
So, get cooking and savor every bite of your delightful meal.
Frequently Asked Questions
What's The Secret To Creamy Mashed Potatoes?
If you want to make sure that your mashed potatoes come out perfectly fluffy, then you can try mixing them up with a hand mixer- that way, you minimize the lumps and ensure that everything is incorporated properly.
What Is Picatta Made From?
Piccata is essentially a vinaigrette, served warm, that you cook in a frying pan. Typically, this sauce will be made with butter, lemon juice, biting alliums like minced shallots or onions, and capers for a briney funk.
What Wine To Serve With Chicken Picatta?
The best wine to serve will be an acidic white wine. Generally, if there's white wine in the sauce, you should likely pair it with the meal. Chardonnay or Pinot Grigio are great choices that can cut through the complex flavors of the chicken piccata.
What is Piccata in English?
Piccata is an Italian word that means "larded" as a reference to the butter/fat that's used in the sauce.
15 Simple Chicken Piccata Side Dishes
Course: Other Recipes
Directions
Choose a recipe from above
Gather your ingredients
Prepare your side dish
Enjoy!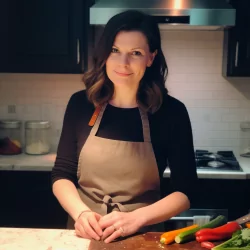 Latest posts by Barbara Hunt
(see all)