Spaghetti squash is a versatile and healthy vegetable that has gained popularity in recent years as a lower-carb alternative to pasta. Its mild, slightly sweet flavor makes it an excellent canvas for a wide range of side dishes.
Spaghetti squash is a specific species of squash with flesh that turns into spaghetti-style noodles once cooked. It's packed full of vitamins and nutrients, especially when compared to regular spaghetti.
It's popular with people who are looking to avoid gluten but also with those just looking for something a little different in their lives.
Whether you're looking to add a nutritious twist to your meal or explore new culinary horizons, these 15 simple spaghetti squash side dishes will tantalize your taste buds. Whatever you're craving, we've got you covered.
Salads
This Mediterranean-inspired salad features tender grilled chicken, vibrant vegetables, and a zesty lemon herb dressing. Spaghetti squash adds a unique twist and delightful texture to this classic salad.
Cooking Tip: To grill the perfect chicken, marinate it in the lemon-herb dressing for at least 30 minutes before grilling to infuse it with flavor and tenderness.
Fun Fact: The Mediterranean diet is renowned for its health benefits, promoting heart health and longevity.
This refreshing salad combines sweet corn kernels and juicy cherry tomatoes with spaghetti squash. A simple dressing of olive oil, lemon juice, and fresh herbs ties the ingredients together.
Cooking Tip: To make the salad extra vibrant, use a mix of colorful heirloom cherry tomatoes.
Fun Fact: Corn and tomatoes are both considered "new world" crops, originating in the Americans and later spreading across the globe.
Meat-Based Dishes
Spaghetti squash takes on the role of a hearty base for this classic Italian-American dish. Sausage, pepper, and onions are roasted to perfection and served over the squash.
Cooking Tip: Make sure to slice the sausage, peppers, and onions evenly for even cooking.
Fun Fact: This dish is often served at Italian-American festivals and gatherings, celebrating the rich cultural heritage of Italian immigrants.
Beef empanadas are savory turnovers filled with a flavorful mixture of ground beef, onions, and spices. Serve these alongside spaghetti squash for a hearty and filling meal.
Cooking Tip: Use a fork to crimp the edges of the empanadas to seal them shut effectively.
Fun Fact: Empanadas are popular in many Latin American countries and are often enjoyed as street food.
These sweet and tangy meatballs are a crowd-pleaser at any gathering. Spaghetti squash adds a lighter element to balance the flavors.

Something that we love about these meatballs is being able to make them ahead and let them cook all day in the crockpot so they're tender by the time you come to eat them.
Cooking Tip: If you want even more convenience, you can use frozen meatballs.
Fun Fact: Although the combination of grape jelly and BBQ sauce sounds unusual, it creates a deliciously sticky, sweet glaze for the meatballs.
This dish features crispy chicken in a sweet and tangy orange sauce. Use spaghetti squash in this recipe instead of rice for a low-carb alternative.
Cooking Tip: To achieve perfectly crispy chicken, try coating it in cornstarch before frying.
Fun Fact: Though the origins of orange chicken are in the Guangdong province of China, this dish is particularly popular as an American-Chinese dish.
Potato Dishes
Kielbasa sausage and tender potatoes are roasted with garlic, onions, and a blend of herbs and spices. This dish works as a main course or as a side dish, depending on how much you make. Serve with spaghetti squash for a unique twist to this comforting meal.
Cooking Tip: Using the highest quality kielbasa will guarantee that you get the best flavor in your dish.
Fun Fact: Kielbasa is a type of Polish sausage and is often enjoyed at traditional Polish celebrations.
Paula Deen's roasted potatoes are simple yet flavorful, seasoned with a blend of herbs, and roasted until crispy on the outside and tender on the inside.
Cooking Tip: Ensure the potatoes are spread out in a single layer on the baking sheet for even cooking.
Fun Fact: Paula Deen is known for Southern cooking and comfort food recipes – these potatoes are a true testament to that.
Ina Garten's scalloped potatoes are a decadent side dish featuring thinly sliced potatoes baked in a creamy and cheesy sauce.
Cooking Tip: Use a mandoline slicer to achieve uniform potato slices for even cooking.
Fun Fact: Scalloped potatoes are a classic American comfort dish, often served at holiday feasts.
Garlic butter shrimp is a mouthwatering dish that brings together succulent shrimp, aromatic garlic, and rich butter for a harmonious blend of flavors. This dish offers a delightful balance of seafood richness and the comforting warmth of garlic and butter.
Cooking Tip: To achieve the best results, pat the shrimp dry with a paper towel before cooking it.
Fun Fact: Shrimp is one of the most popular seafood choices worldwide and is often considered a delicacy.
Vegetable Dishes
This dish showcases earthy mushrooms sauteed with garlic and butter. Spaghetti squash serves as an interesting base for these garlic mushrooms.
Cooking Tip: Use a mix of mushroom varieties for a depth of flavor and texture.
Fun Fact: Mushrooms are considered fungi and are more closely related to animals than plants in terms of their genetics.
Eggplant parmesan features breaded and fried eggplant slices layered with marinara sauce and mozzarella cheese. These slices make a fantastic addition to any spaghetti squash meal.
Cooking Tip: Make sure to drain the eggplant slices on paper towels after frying to remove excess oil.
Fun Fact: Eggplant parmesan is also known as "melanzane alla parmigiana" in Italy and is believed to have originated in Southern regions.
Rachael Ray's sauteed spring vegetables are a medley of vibrant veggies like asparagus, peas, and zucchini. Spaghetti squash adds a unique texture to this springtime dish.
Cooking Tip: Quickly sauteing preserves the fresh, crisp texture of the vegetables.
Fun Fact: Rachael Ray is known for her fast and easy cooking style, perfect for busy weeknights.
Bread
Bruschetta is a classic Italian appetizer featuring toasted bread topped with creamy ricotta cheese, fresh basil, and ripe tomatoes. Spaghetti squash can be used as a gluten-free bread alternative.
Cooking Tip: Drizzle the bruschetta with a quality balsamic glaze for an extra layer of flavor.
Fun Fact: Bruschetta is pronounced "bru-sket-ta" in Italian, with the emphasis on the first syllable.
The final recipe on our list features Rachael Ray's puff pastry parmesan breadsticks. These are a delightful blend of puff pastry and parmesan cheese, baked to perfection. Serve with a creamy spaghetti squash for a delightful and filling meal.
Cooking Tip: Brush the breadsticks with melted butter before baking for a golden, buttery finish.
Fun Fact: Puff pastry was thought to be originally created in ancient Egypt and later perfected in 17th-century France.
Final Thoughts
These recipes aren't just about meeting some arbitrary nutrition guidelines for how big a meal should be, they're about elevating your whole dining experience.

They're about turning a simple side dish into a main player in your evening meals.
So whether you're looking for a lighter alternative to traditional carbs, exploring gluten-free options, or simply looking for a unique twist to spice up your dinners, spaghetti squash has you covered.
These side dishes are a great way to enhance your meal and make it more satisfying.
Frequently Asked Questions
How Do I Cook Spaghetti Squash?
To cook spaghetti squash, preheat your oven to 375°F (190°C). Cut the squash in half lengthwise, scoop out the seeds, and brush the flesh with olive oil. Place the halves cut-side down on a baking sheet and roast for about 30-40 minutes until the flesh is tender. Then, use a fork to scrape the squash into spaghetti-like strands.
Can I Freeze Cooked Spaghetti Squash?
Yes, you can freeze cooked spaghetti squash. Let it cool, place it in an airtight container or freezer bag, and store it in the freezer for up to 6 months. Thaw it in the refrigerator before reheating.
What Is Similar To Spaghetti Squash?
If you're looking to find another noodle/spaghetti replacement that has a neutral flavor and is low in carbs and calories, then you should try zucchini noodles. You can create zucchini noodles at home by using either a spiralizer or a julienne peeler.
15 Simple Spaghetti Squash Side Dishes
Course: Other Recipes
Directions
Select a recipe
Gather your ingredients
Prepare your meal
Enjoy.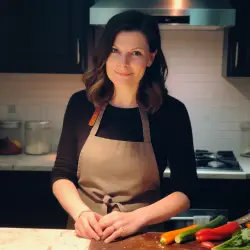 Latest posts by Barbara Hunt
(see all)