Fried chicken is a beloved comfort dish. With its golden crispy coating to its tender and juicy fillings, you can't beat a bucket of homemade chicken on an evening. Whether it's a busy weekday or a Saturday night party, who doesn't love fried chicken?
But sometimes, a plate of fried chicken isn't enough to satisfy a table full of hungry bellies. Sometimes, you need more. That's where these amazing simple fried chicken side dishes come in.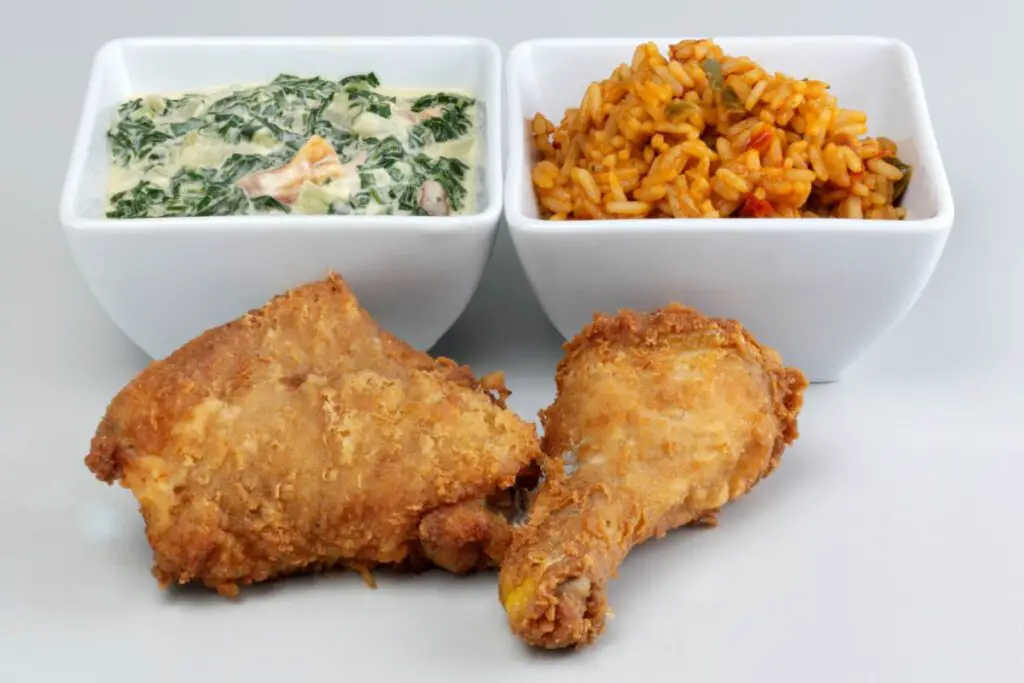 Whether you're looking for a great gravy recipe or the secret to the perfect cornbread, then look no further! In this article, we'll explore 15 simple side dishes that will elevate your fried chicken experience to unseen heights.
From classic favorites to unique creations that will tantalize your taste buds, let's dive right in and discover the delightful world of fried chicken sides.
Potato And Bread Sides
Creamy mashed potatoes with a twist! Rachael Ray's recipe infuses mashed potatoes with soft cheese and aromatic herbs, resulting in a dish that's rich, flavorful, and utterly comforting. The perfect side for your fried chicken.
Cooking Tip: Whip the potatoes with a hand mixer for extra fluffiness.
Fun Fact: Mashed potatoes are enjoyed all over the world, from American Thanksgiving dinners to British Sunday roasts.
This golden, slightly sweet cornbread is the perfect complement to fried chicken. It's soft on the inside with a deliciously crisp crust – you'll have to save yourself some before you serve it because it's sure to be gone in a flash!
Cooking Tip: Use buttermilk for a tangy kick in your cornbread.
Fun Fact: Cornbread has Native American origins and has been enjoyed for centuries.
Paula Deen's Southern biscuits are light, fluffy, and oh-so-buttery. They melt in your mouth and are the ideal vehicle for soaking up gravy or pairing with fried chicken.
Cooking Tip: Hand the dough gently and sparingly in order to keep the biscuits tender.
Fun Fact: Biscuits are a quintessential Southern comfort food and a symbol of hospitality.
Vegetable Sides
Crisp cabbage and carrots come together in a tangy, creamy dressing in this classic Southern coleslaw recipe. It's a refreshing contrast to the richness of fried chicken.
Cooking Tip: Let the coleslaw chill in the fridge for an hour or two before serving to let the flavors get to know each other.
Fun Fact: Coleslaw was originally made with a vinegar-based dressing and gained popularity in the United States in the late 19th century.
Collard greens, slow-cooked with smoky bacon and aromatic seasonings, offer a balance of earthy flavors and a hint of sweetness. They're a classic Southern side dish and well-suited to go alongside your fried chicken.
Cooking Tip: Add a pinch of sugar to balance the bitterness of the collard greens.
Fun Fact: Did you know that collard greens are a nutritious leafy green vegetable packed with vitamins and fiber?
Tangy dill pickles and pasta combine in this unique salad, creating a zesty and satisfying dish that's sure to delight your dinner guests. If you're worried about the meal being too filling, feel free to leave out the pasta from this side dish.
Cooking Tip: Use dill pickle brine to add an extra level of flavor to the dressing.
Fun Fact: Pickles have been around for thousands of years and were even favored by Cleopatra.
Fried Sides
Crispy on the outside and tender on the inside, homemade french fries are the ultimate comfort food. They're perfect for dipping in ketchup or your favorite sauce.
Cooking Tip: For the crispiest results, try double-frying your potatoes!
Fun Fact: French fries actually originate from Belgium, not France.
Southern fried okra is a crunchy and addictive side dish. The okra's natural sliminess disappears during frying, leaving you with a wonderful crunch.
Cooking Tip: Use cornmeal for a classic Southern coating
Fun Fact: Okra is often used as a thickening agent in gumbo and other Southern dishes.
Hush puppies are deep-fried balls of cornmeal batter that are crispy on the outside and soft on the inside. They're the perfect bite-sized indulgence to pair with fried chicken for a Southern-style feast.
Cooking Tip: Use cold buttermilk when making the batter, as this will lead to a lighter and crispier texture once fried.
Fun Fact: Hush Puppies are said to have gotten their name because people used to throw small pieces of fried cornbread to quiet barking dogs.
Also known as maduros, fried sweet plantains are a delicious Caribbean side dish. They're caramelized to perfection, offering a delightful contrast to the savory fried chicken.
Cooking Tip: Use ripe plantains for a sweeter taste.
Fun Fact: Plantains are a staple in many tropical cuisines and are a relative of the banana.
Fall into another Southern classic with these crispy, tangy fried green tomatoes. The green tomatoes offer a delightful tartness that pairs wonderfully with fried chicken.
Cooking Tip: Coat the tomato slices in seasoned cornmeal for extra crunch.
Fun Fact: "Fried Green Tomatoes at the Whistle Stop Cafe" is a popular novel and movie that helped to popularize this dish.
Other Unique Sides
Ina Garten's mac and cheese is the epitome of cheesy indulgence. This dish combines creamy cheese sauce with perfectly cooked pasta for a gooey, comforting side.

Just like with the dill pickle pasta salad, if you're worried about your meal being too hefty, just half this recipe to ensure you don't end up with too much.
Cooking Tip: Mix different cheeses for a complex flavor profile.
Fun Fact: Thomas Jefferson is believed to have introduced mac and cheese to the United States in the late 18th century.
Gravy is the unsung hero of fried chicken sides. This recipe for easy gravy from scratch is a savory masterpiece that ties your meal together.
Cooking Tip: YOu can make this grav alongside any of these other sides, and it will all work perfectly as a meal. We highly recommend this gravy with cornbread or biscuits as a side for fried chicken.
Fun Fact: Gravy has been a staple in European cuisine for centuries for adding richness and warmth to meat-based dishes. Dry chicken is no match for a well-made gravy.
Deviled eggs are a timeless appetizer or side dish. They're creamy and tangy and make for a delightful accompaniment to fried chicken. Serve these at any potluck or picnic, and you'll see how well they go down with a crowd.
Cooking Tip: A touch of Dijon mustard adds a nice kick to the filling.
Fun Fact: Deviled eggs have been a party favorite in the United States since the mid-20th century.
Rounding out our list are these smoky baked beans. These make a hearty and smoky side dish that adds depth to your fried chicken feast. The combination of beans and a savory sauce is just so simply irresistible, you'll be making these with every meal!
Cooking Tip: Slow-bake the beans for the best flavor.
Fun Fact: Baked beans have a history going as far back as the Native Americans, who would flavor their beans with maple syrup and bear fat and then bake them in pots placed in a pit covered by hot rocks.
Final Thoughts
There you have it! Fifteen simple yet delicious fried chicken side dishes that will turn any meal into a memorable feast.

Whether you prefer classic favorites like mashed potatoes and gravy or dare to experiment with unique sides like dill pickle salad and sweet plantains, these accompaniments are sure to be crowd-pleasers.
So, the next time you fry up a batch of crispy chicken, don't forget to whip up one or more of these delectable sides to complete your meal. It doesn't matter if you're sharing it with family and friends or savoring it on your own; the perfect side dish can make all the difference.
Happy cooking!
Frequently Asked Questions
Can I Use Store-Bought Mashed Potatoes For The Rachael Ray Recipe?
Whilst you can definitely use store-bought mashed potatoes for convenience, making them from scratch with soft cheese and herbs as per the recipe truly elevates the flavor. But if you're short on time, you can just as easily use store-bought.
Can I Make Hush Puppies Or Fried Green Tomatoes Without Deep Frying?
Traditionally, the fried recipes included on this list would all be deep fried; however, if you're looking for a healthier alternative, then you can definitely try baking them. Just be aware that they probably won't come out as crispy.
What's The Difference Between Gravy and Sauce?
The difference is that gravy is typically made from meat drippings and thickened with flour or cornstarch, while sauces have a broader range of ingredients and flavors. Either one will be great with your fried chicken, but they'll make a big difference to the flavor of your dish.
15 Simple Fried Chicken Side Dishes
Course: Other Recipes
Directions
Choose a recipe
Gather your ingredients
Prepare your side dish
Enjoy.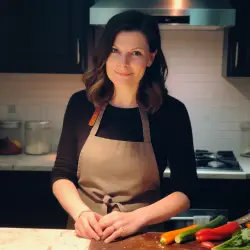 Latest posts by Barbara Hunt
(see all)