Coleslaw – so many of us just pick up some pre-made coleslaw from the grocery store but did you know that it's super quick and easy to just make your own?
There are lots of benefits to making your coleslaw and there are lots of amazing recipes you can try out today.
Here are just some of the very best Paula Deen coleslaw recipes for you to try.
Check them out below, pick out the ones that best match your preferences, and give them a try!
Why Coleslaw Is So Great
Coleslaw is a staple side dish found at picnics, barbecues, lunches, and dinners all over the world – but why? Because it's so dang tasty!
Coleslaw brings a tangy flavor that is difficult to get in a lot of dishes.
This is thanks to its use of vinegar or mayonnaise as it brings a pickled flavor that is a unique and delicious and smooth texture.
It's a tasty way to serve up some important veggies including cabbage, carrots, onion, and more for a balanced meal. Plus, it's quick and easy to make yourself!
The best thing about making your own coleslaw is that you can adjust the ingredients to suit your tastes.
You can make spicy coleslaws, sweet coleslaws, and very sour and tangy coleslaws – the options are endless!
Check out the list below to discover lots of ways you can make your very own coleslaw!
For a traditional coleslaw recipe, try out this one from Paula Deen.
The recipe takes inspiration from traditional coleslaw recipes from Georgia, Paula Deen's home state, making this coleslaw recipe a classic Southern choice.
It contains all the classic ingredients needed in a tangy, delicious coleslaw – crunch cabbage, carrots, red onion, and more .
It's smooth and creamy thanks to the addition of mayonnaise and lemon juice, which also brings its own sour zest.
This makes it the perfect recipe for barbecues and picnics where you need a delicious side to serve with your favorite southern meal.
It's a classic choice that doesn't really bring anything new or exciting if you are already familiar with coleslaw (which, let's be honest, most of us are) – but if it ain't broke, don't fix it!
Classic coleslaw recipes can be a little complex because they contain so many ingredients.
This cranks up the prep time because you have to take so much time out of your day just to chop, slice, and shred all of your ingredients ready for your coleslaw.
Sometimes, you just want to make a quick and easy coleslaw with as few ingredients as possible – so this easy coleslaw recipe is definitely one for you to check out!
It only uses four ingredients that come prepared so your prep time is as short as possible.
This makes it a great recipe to try out if you are super short on time and you just want to serve up a basic, easy coleslaw quickly.
While there are no additional flavors to blow away your taste buds, this Paula Deen recipe is definitely practical and short and sweet – so you can't go wrong!
There are lots of recipes out there for traditional or easy coleslaws but what if you want to try something different? What if you want to try experimenting with your coleslaws to serve up some new and quirky flavors?
This Paula Deen recipe will show you how to make a refreshing lemony coleslaw.
Lemon works amazingly well with chicken or seafood dishes and so, if you are planning on serving these kinds of main dishes, a lemony coleslaw could serve as the perfect side dish!
It's sharp, zesty, and the perfect refreshing side to serve during hot summer barbecues – so give it a try!
Another light, refreshing coleslaw Paula Deen recipe is this choice for a corn-based coleslaw.
Most coleslaw recipes don't include corn but corn can bring a touch of sweetness to your coleslaw, turning it on its head.
However, it's still tangy thanks to other important ingredients such as the mayonnaise and the juiced lime.
All these flavors work incredibly well together to make a delicious side dish for your summer barbecues or picnics.
So, if you have a sweet tooth, why not try this recipe for corny coleslaw?
The corn brings just a taste of sweetness to your coleslaw without going overboard so it better satisfies your palette (Also check out Paula Deen Corn Casserole Recipes).
Coleslaw is usually served as a cool, creamy alternative side to serve alongside spicy foods but what if you love spicy food? Then try out this recipe for a sweet and spicy coleslaw!
It combines the sweetness and tartness of apples with the heat of a smooth, jalapeno pepper jelly.
This allows the coleslaw to keep its traditional smooth texture and tangy pickled flavor – but shakes things up by adding plenty of natural sweetness and a ton of spice!
This makes it the perfect coleslaw for those who adore spicy foods and don't mind piling the heat onto their meals.
Of course, not everyone will appreciate the heat of this coleslaw but this is why making your own coleslaw is so much fun.
You can make yourself your own sweet and spicy coleslaw you know you will truly appreciate while everyone else can stick to their cool dollar-store premade coleslaw.
There are lots of ingredients you can add to a coleslaw but one unusual addition seen in recent years is broccoli.
Broccoli has become a 'trendy' vegetable as more and more people try to incorporate it into different dishes.
This is in part to make them more healthy as broccoli is packed with lots of important nutrients and vitamins we need to keep our bodies in great condition.
It has a ton of vitamin c, vitamin K, iron, potassium, and fiber – so it's easy to see why broccoli has made its way into coleslaw!
This Paula Deen recipe turns the coleslaw into a dish in its own right by adding ramen noodles, giving it way more body.
So, you can combine your carb side dish with this broccoli-based coleslaw for a delicious side to serve with your meat – or enjoy it on its own as a vegetarian-friendly meal!
Peanuts have their own unique salty, nutty flavor that makes them incredibly popular. So, it's easy to see why so many people are adding peanuts to their coleslaws!
This Paula Deen recipe makes a delicious peanut coleslaw with plenty of other savory ingredients including radishes, scallions, bean sprouts, and more, all working together.
The addition of peanuts also helps bring a whole new texture to this coleslaw.
The traditional tangy mayonnaise is swapped out for a peanut sauce instead, making it drier but ramping up the peanut flavor!
Final Thoughts
So, those were some of the best Paula Deen coleslaw recipes for you to try out (Also check out Best Pamela Reif Recipes To Try).
There are tons of flavors open to you from sweet and spicy to zesty lemon and nutty peanuts – there's bound to be a coleslaw recipe that really speaks to you!
Check them out in the list above, pick out your favorites, and happy cooking!
Frequently Asked Questions
Is White Vinegar Better Than Apple Cider Vinegar In Coleslaw?
It all comes down to your personal preference!

Apple cider vinegar is often used in coleslaws that avoid mayonnaise (usually to make the coleslaw vegan-friendly) as it adds its own rich, sweet, tart flavor.

However, adding apple cider vinegar and mayonnaise to your coleslaw can really enhance these flavors. For some people, it's overpowering but to others, it's just right – so it all comes down to your preference!
Is It Better To Make Coleslaw The Day Before?
It's generally agreed that coleslaw tastes better the longer it is left to sit. This means that when you are preparing your sides for your meal, it's a good idea to make your coleslaw a day before so it has time to stand.

However, it's important that you remember to refrigerate your coleslaw during this time, keep it out of direct sunlight, and don't leave it to stand for multiple days otherwise it will become soggy and unsatisfying.

So, yes, it is better to make coleslaw the day before serving!
Why Does My Homemade Coleslaw Go Watery?
There are two potential causes behind a watery coleslaw – the cabbage is too moist, or you have simply left it to stand for way too long.

Cabbage contains a lot of water and because it is such a key ingredient in coleslaw, it's easy for a lot of water to just 'leak out' of the cabbage used in your coleslaw.

On one hand, this moisture is important for keeping your coleslaw smooth but too much can turn it watery and unappetizing.

The trick is to salt the cabbage before you use it, drying up any moisture. You should use up your coleslaw a day or two after making it because the longer it is left to sit, the more watery and soggy it will become.
7 Amazing Paula Deen Coleslaw Recipes To Try Today
Course: Recipes
There are lots of great ways you can make coleslaw. Here are 7 amazing recipes from Paula Deen for you to try to make some delicious types of coleslaw!
Directions
Pick a recipe from above
Click the recipe name and visit the website
Collect the ingredients and the food
Enjoy – don't forget to leave a review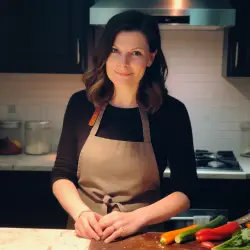 Latest posts by Barbara Hunt
(see all)