Filipino cuisine is treasured for its bold, tangy flavors and ingredients like vinegar, soy sauce, calamansi, and coconut milk.
Chicken is a key ingredient in many dishes, including stews, skewers, curries, and more.
In this article, we will share 17 authentic Filipino chicken recipes so that you can make the juicy, comforting flavors of this cuisine at home.
Let's dig in!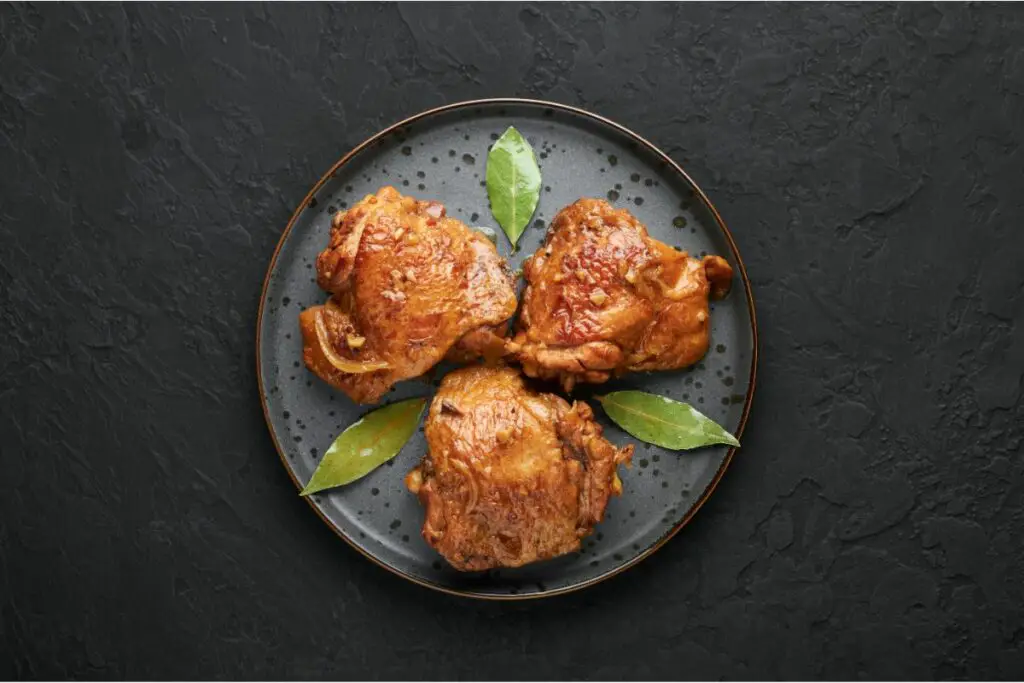 Filipino Chicken Soups And Stews
We are kicking off with some hearty soups and stews.
These comforting soups and stews slowly simmer chicken until fork-tender in broths infused with Filipino flavors.
They can be enjoyed on their own or over rice.
Tinola is a hearty Filipino favorite featuring chicken thighs, chayote, and malunggay leaves simmered in broth with ginger, garlic, and onion.
The chayote squash has a mild sweetness that complements the slightly grassy, bitter malunggay leaves. Alternatively, you can use papaya instead of chayote and bok choy leaves instead of malunggay leaves.
For maximum depth, brown the chicken before adding it to the pot and simmer the soup gently for 45 minutes, allowing the flavors to marry.
The vegetables should be very soft, and the chicken should be fall-off-the-bone tender.
Season the soup to taste with fish sauce for a savory saltiness, and garnish with fresh ginger, green onion, or cilantro before serving for an extra aromatic pop.
Tinola can be enjoyed on its own or ladled over steamed jasmine rice to soak up the soulful broth.
Arroz caldo is a creamy, comforting Filipino rice porridge, and we love how the chicken imparts a deep, savory flavor that's truly warming.
To make arroz caldo, simmer chicken thighs and sliced ginger in broth until the rice is soft and swollen, resulting in a thick, sticky texture.
Before serving, mix in traditional toppings like halved boiled eggs, sliced green onions, and crunchy fried garlic chips, which provide texture contrast and richness.
This nourishing porridge is the ultimate comfort food, perfect for chilly weather or when you need a soothing hug in a bowl.
Top tip: Adjust the broth added to reach your desired consistency.
Translating to "chicken stewed in coconut milk," this Filipino dish braises chicken thighs in a coconut milk sauce flavored with ginger, garlic, onions, and chilies.
If spice isn't your thing, you can leave out the chilies, but it's worth bearing in mind that the coconut milk offers a lush, velvety texture and subtle sweetness, counteracting any heat from the chilies.
Diced papaya and spinach provide color, additional nutrients, and contrasting texture.
Enjoy served over rice or on its own for a richly satisfying meal, and allow this fragrant stew to transport your taste buds to the tropics.
This Filipino vegetable stew gets savoriness from shrimp paste and substantial texture from chicken thighs.
Additional vegetables like squash, eggplant, okra, beans, and more simmer for 30 minutes until very soft.
The shrimp paste amplifies the other ingredients with a salty, umami backbone.
This makes for a hearty one-pot meal when served over rice.
Adjust the spice level by adding more or less of the shrimp paste.
Chicken Caldereta is a savory Filipino stew with tender chunks of chicken simmering in a luscious tomato-based sauce, enriched with liver spread, bell peppers, potatoes, and carrots.
You can add green olives to enhance both texture and flavor.
Simmer the ingredients for about 45 minutes for a heartwarming, robust meal.
This versatile dish pairs perfectly with steamed rice or crusty bread.
Halang-Halang is a spicy Filipino chicken stew that utilizes coconut milk, green papaya, and chili.
The chicken is cooked until fork-tender in a broth flavored with ginger, garlic, and onions.
Coconut milk adds a creamy richness, while chili leaves bring a subtle heat to this palate-pleasing dish.
It's best enjoyed hot, preferably over a bed of fluffy white rice.
Filipino Chicken Skewers
Marinated and grilled, these chicken skewers deliver tempting contrasts of texture and big Filipino flavors. They work well as appetizers or main dishes.
Meaning "grilled meat" in Tagalog, inihaw are delicious Filipino grilled chicken skewers.
The chicken marinates for at least an hour in a blend of banana ketchup, lemon or calamansi juice, soy sauce, garlic, brown sugar, and 7Up.
If you can marinate the chicken overnight, the flavors are even better.
The calamansi adds a unique tang, while the brown sugar contributes caramelized notes.
Grill over medium-high heat until charred with nice grill marks while the interior stays juicy.
Pair with rice and extra banana ketchup dipping sauce for authentic Filipino flair.
Influenced by Indonesian cuisine, Filipino chicken satay marinates chicken for 1-2 hours (or overnight, if you can) in fish sauce, ginger, soy sauce, chili, turmeric, peanut butter, sugar, curry powder, lemongrass, lemon and garlic before skewering and grilling.
The ingredients help to tenderize the meat while contributing a touch of balanced sweetness.
Char over high heat for smoky depth while keeping the interior moist.
Serve with a creamy peanut dipping sauce.
Chicken Inasal is a classic grilled chicken dish from the Visayas region.
The chicken is marinated in a blend of lemongrass, calamansi, vinegar, and annatto oil, giving it a distinct orange hue.
The chicken pieces are then grilled to perfection, resulting in a smoky, juicy, and tender meat that's full of flavor.
It's traditionally served with rice and a side of achara (pickled green papaya).
Filipino Braised And Simmered Chicken
These comforting Filipino chicken dishes involve long, slow braising or simmering in sauces for ultra-tender juiciness and concentrated flavors.
Considered the unofficial national dish of the Philippines, chicken adobo simmers chicken for 30-45 minutes in a marinade of vinegar, soy sauce, garlic, and peppercorns.
The vinegar tenderizes the meat and provides a bright acidity to cut through the salty umami of the soy sauce.
Whole peppercorns add mild heat and a fruity pop.
Simmer until concentrated into a glaze-like sauce that generously coats the intensely flavorful, fall-off-the-bone chicken.
Serve with rice to soak up every last drop of the addictively tangy-salty sauce.
Afritada stews boneless chicken thighs for 30-40 minutes in a tomato sauce until very tender.
Onions add depth, while chicken stock provides the body.
You can add banana ketchup for a touch of tart, ketchup-like flavor without overpowering the dish.
The boneless chicken allows the sauce to fully permeate the meat.
Enjoy this saucy, juicy chicken over steamed rice, sopping up all the flavorful sauce.
Adapted from a Spanish beef dish, this Filipino chicken stew simmers chicken in tomatoes, potatoes, carrots, olives, bell peppers, liver spread, and spices until the sauce thickens and the chicken is fall-off-the-bone tender.
The liver pâté enriches the tomato sauce for a melt-in-your-mouth texture and savoriness.
Olives provide briny pops of flavor.
This dish is excellent served over rice to soak up the luscious sauce.
Filipino Chicken Asado is another slow-cooked Filipino dish that involves simmering chicken in a tangy tomato and soy sauce mixture infused with bay leaves and citrus juice or calamansi.
The dish is slightly sweet, salty, and tangy, perfect when drizzled over warm, steamed rice.
Mechado is a Filipino stew where chicken is marinated in soy sauce and calamansi juice (or swapped for lemon), then simmered in a tomato-based sauce with potatoes.
The dish gains its name from the Spanish word "mecha," meaning wick, traditionally because a strip of pork fat is inserted into the meat.
However, in this chicken version, it's all about letting the flavors meld together for a harmonious meal.
More Of Our Favorite Filipino Chicken Recipes
These recipes highlight chicken in traditional Filipino appetizers, curries, fried chicken, and more.
A popular Filipino snack, these fried empanadas contain a savory filling of ground chicken sauteed with aromatic garlic, onions, and green peas.
Fold the mixture into dough, then fry until crispy and golden for a satisfying, hearty snack or appetizer.
This uniquely Filipino chicken curry balances the creamy, warming flavors of coconut milk with chicken, peppers, potatoes, carrots, and spices.
Gently simmer until the chicken is cooked through, and the vegetables are tender but not mushy.
This dish serves well over rice or egg noodles.
For a play on American fried chicken, this recipe marinates chicken in garlic, vinegar, soy sauce, and black pepper before dredging in flour and frying until ultra-crispy outside and juicy inside.
The flavors add a distinctly Filipino undertone of tangy brightness underneath the crispy exterior.
Conclusion
From stews to skewers, these 17 Filipino chicken recipes offer an insider's guide to cooking mouthwatering Filipino cuisine.
Making them allows you to experience and appreciate the comforting yet vibrant soul of Filipino flavors.
Which chicken dish will you be indulging in first?
If you're more of a pork person, then we've got plenty more inspiration for you.
The 17 Best Filipino Chicken Recipes
Course: Other Recipes
Directions
Choose a chicken recipe
Gather your ingredients
Make your meal
Enjoy.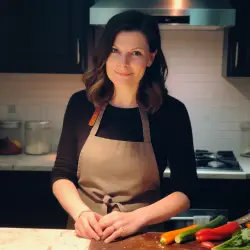 Latest posts by Barbara Hunt
(see all)