Quiche, a dish that conjures images of French patisseries (though it actually originated in medieval Germany) and elegant brunches, has a rich history and an even richer taste.
This savory pie, filled with a creamy custard and an array of ingredients ranging from vegetables to meats, has become a universal favorite.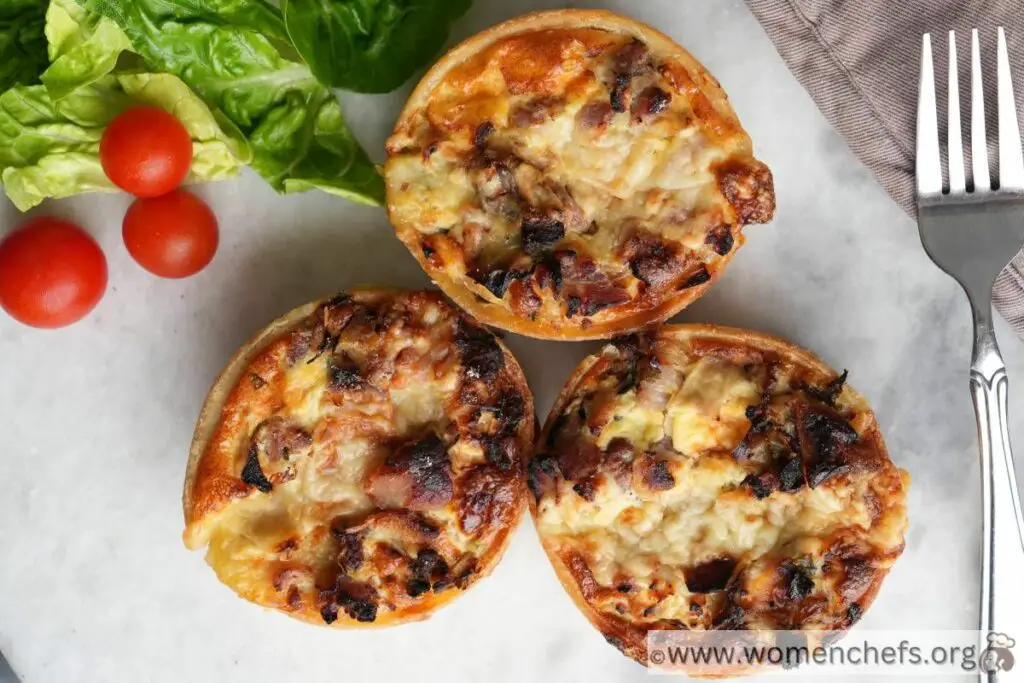 This versatile, tasty pastry can be enjoyed in many ways, and it's great for using up leftovers in the fridge.
In this article, we will share our love of the humble quiche and inspire you to create your own masterpiece at home.
Keep reading for some quiche recipe inspiration.
Quick And Easy Quiche Recipes (Make In Less Than An Hour)
Let's kick off this tasty rundown with a selection of quiche recipes that you can make at home in under an hour – great if you're running late with your party prep!
This super easy quiche is an enticing blend of creamy Parmesan and sharp Cheddar cheese that is harmoniously combined with the heartiness of cubed ham and the freshness of broccoli.
The biscuit mix and softened butter add a delightful thickness, culminating in a rich and satisfying dish.
And the best bit? It only takes 50 minutes to make
Starting with a convenient refrigerated pie crust, this quick and simple quiche incorporates a flavorful mixture of fresh eggs, creamy milk or rich cream, and seasonings of salt and pepper.
The addition of succulent chopped ham, a generous serving of shredded cheese, and a mild bite of green onions completes this classic, yet always delectable, culinary delight.
Starting with a pre-rolled pie crust saves a whole lot of time and stress with this recipe, and you can have it ready to serve in under an hour.
Classic Quiche Recipes
There's one quiche that stands head and shoulders above the others when you think of the classic quiche – well it would if quiches had head and shoulders, anyway.
We share a stunning Quiche Lorraine recipe with you below – as well as our favorite foolproof classic quiche recipe.
Oh, how we love a Quiche Lorraine!
Traditionally made with lardons and Gruyère or Swiss cheese, a Quiche Lorraine is both hearty and luxurious.
This recipe uses lardons, Gruyère, crème fraîche, and double cream for an indulgent quiche, but you can use bacon if you prefer.
You can serve this delight fresh out of the oven or serve it cold later.
This quiche truly lives up to its name as a foolproof classic.
A customizable cup of filling ingredients pairs exquisitely with a diverse cheese selection, be it the nuttiness of Gruyère, the sharpness of cheddar, or the tang of feta.
The silky base is formed by whisking large eggs with a luxurious mix of half-and-half, further elevated by the foundational flavors of kosher salt and freshly ground black pepper.
Celebrity Quiche Recipes
Let's dive into some star-studded quiches – three of these are from celebrity chefs who are renowned for their delicious quiche recipes, and the other is a little royal surprise!
Starting with a traditional short-crust pastry crafted from plain flour, butter, and an egg, this quiche captures authenticity.
Its creamy custard base is a rich blend of double cream, milk, whole eggs, and additional yolks seasoned simply with salt and pepper.
The filling boasts a harmonious combination of sliced onions and tomatoes, complemented by generous amounts of grated cheddar, thick slices of ham, and aromatic thyme sprigs.
James Martin knows a good quiche, and you can't go far wrong by following his recipe.
This southern-inspired Paula Deen quiche blends the crispy comfort of hash browns with a rich, savory custard.
Typical of Paula Deen's signature style, it's a delightful fusion of homestyle ingredients, including generous portions of cheese and a touch of meat, making it a heartwarming choice for any breakfast or brunch spread.
A decadent offering from the Barefoot Contessa, this quiche is an indulgent blend of succulent imitation crab meat set within a creamy, flavorful custard.
Ina Garten's crab quiche is true to her style; it's elevated with sophisticated ingredients and seasonings, making it a luxurious choice for brunches, lunches, or special occasions.
And we love that the Barefoot Contessa encourages the use of a pre-made crust!
A royal rendition of the classic dish, this quiche, which was served at The Coronation, presents a luxurious blend of tarragon-infused custard paired with the richness of cheddar cheese.
The presence of nourishing spinach and broad or soya beans adds depth, culminating in a dish that is both regal and satisfying.
Some might say it's fit for a King!
Flavorful Veggie Quiche Recipes
If you've got this far and you've still not fallen in love with any of these quiche recipes, keep reading – we've got some mouth-watering ones coming up.
This Mediterranean-inspired quiche marries the earthy tones of spinach with the sharp, tangy taste of feta.
The inclusion of parmesan and paprika elevates the flavors, making it a favorite among vegetarians.
You'll need just over an hour to prepare this dish, but it's definitely worth it.
Calling all fungi friends – this one's for you!
Mushrooms, with their meaty texture and earthy flavor, find a harmonious partner in the nutty, creamy Gruyère cheese.
A little thyme (or you could use rosemary) complements the cheese and mushrooms perfectly.
This quiche recipe is the epitome of rustic elegance.
Tomato, basil, and mozzarella – name a better trio … we'll wait …
Drawing inspiration from Italy, this quiche is vibrant both in taste and appearance.
Juicy tomatoes, aromatic basil, and soft mozzarella cheese meld beautifully, reminiscent of a summer Caprese salad.
There's something about broccoli in a quiche that we just love.
And this is a combination that has graced many a dish, from soups to casseroles – broccoli and cheese really are a match made in heaven.
In quiche form, they offer a balance of vegetal crunch and creamy decadence.
You'll need about an hour and a half for this recipe, so use a premade crust to save some stress!
Mini Quiche Recipes (Great For Parties)
Although you can serve a full quiche at a party, mini versions are far more suited to finger food – especially for little mouths!
These also make delightful appetizers.
Perfect for a party or a picnic, these mini bacon and cheese quiches pack a punch and will be a real crowd-pleaser.
You can whip them up in less than an hour.
Just like with a full quiche, there are so many things you can do with the mini version, but we adore this bell pepper, parsley, and mozzarella combo.
And finally, we bring you these mini Mediterranean quiches.
With sun-dried tomatoes, green olives, feta, and gruyere cheese, each bite will transform you to warm summer days.
In Summary
Quiche, with its boundless variations, remains a beloved dish for all occasions. From classic recipes to contemporary twists, there's a quiche to satisfy every palate.
Whether you're a novice or a seasoned chef, these recipes invite you to explore the delightful world of savory pies.
You may also like: Quiche side dishes.
Frequently Asked Questions
What's the difference between quiche and Quiche Lorraine?

Quiche is a general term for a savory pie filled with a custard made from eggs, cream, and various fillings like cheese, vegetables, and meats.

Quiche Lorraine is a specific type of quiche originating from the Lorraine region of France, traditionally made with a creamy custard base that includes lardons or bacon and cheese, usually Gruyère or Swiss.
Can you use 2% milk instead of heavy cream in a quiche?
Absolutely, you can use 2% milk instead of heavy cream in a quiche, but it will result in a lighter, less creamy custard filling.
Should I blind-bake pastry for quiche?
Yes, blind baking the pastry for quiche is recommended to prevent a soggy bottom and to ensure a crisp crust.
How do you keep the bottom crust of a quiche from getting soggy?

To prevent a soggy bottom crust, blind-bake the crust before adding the filling, and ensure that wet ingredients, like vegetables, are well-drained or sautéed to reduce moisture.
Do you poke holes in quiche crust?

Yes, when blind baking a quiche crust, it's advisable to poke holes in it using a fork to prevent the crust from puffing up during baking.
What temperature should quiche be baked at?
Quiche is typically baked at a moderate temperature, usually around 350°F (175°C) to 375°F (190°C), to ensure the custard sets properly without over-browning the crust.
Can I Freeze Quiche?
Absolutely, quiche can be frozen. To freeze a quiche, first allow it to cool completely, then wrap it tightly in plastic wrap or aluminum foil and place it in a freezer-safe container or bag. It can be stored in the freezer for up to 3 months.
15 Great Quiche Recipes (From Mini Masterpieces To Celeb-inspired Nibbles)
Course: Other Recipes
Directions
Choose a quiche recipe from above
Collect your ingredients
Make your quiche
Enjoy.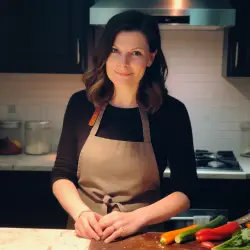 Latest posts by Barbara Hunt
(see all)