Quiche, with its rich, creamy filling and flaky crust, is a beloved dish that's perfect for any meal of the day.

Whether you're hosting a brunch, enjoying a light lunch, or savoring dinner, quiche is a hearty treat that never disappoints.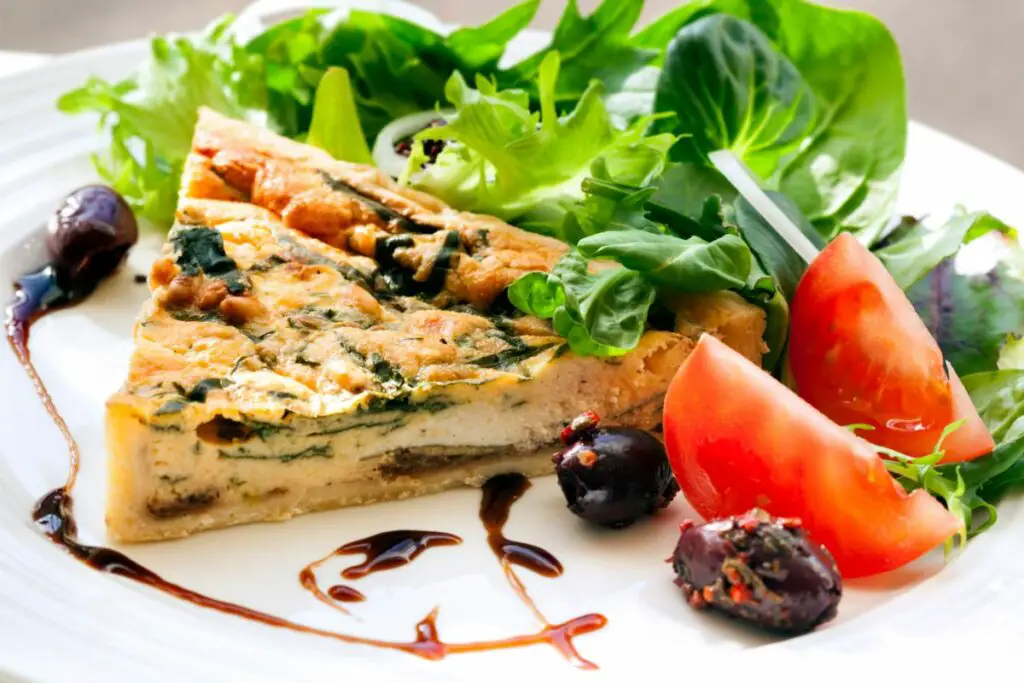 To take your meal to the next level, we've curated a list of 15 great side dishes that will complement your quiche perfectly.

From refreshing salads to savory veggie sides, these options are sure to excite your taste buds.
Let's explore these amazing quiche side dishes and add a dash of culinary creativity to your next meal.
Side Salads
This classic green salad is a refreshing combination of crispy lettuce, colorful bell peppers, juicy cherry tomatoes, and cucumber slices. Drizzle it with your favorite vinaigrette for a burst of freshness.
Cooking Tip: To keep your greens crisp, toss the salad with the dressing just before serving.
Fun Fact: Did you know that lettuce is a great source of vitamin K, which is essential for blood clotting and bone health?
The Caprese salad is a visual and flavorful delight, featuring ripe tomatoes, fresh mozzarella, fragrant basil leaves, and a drizzle of balsamic glaze. It's a taste of Italy on your plate.
Cooking Tip: Use the freshest ingredients available to make this salad shine.
Fun Fact: Caprese salad's colors – red, white, and green – mirror the Italian flag.
A colorful medley of seasonal fruits like strawberries, melon, pineapple, and grapes, this salad is both healthy and satisfying. A sprinkle of mint leaves adds a refreshing twist.

Though you might not have thought to pair a quiche with fruit salad, we find that it's actually a great combination for brunch.
Cooking Tip: Add a squeeze of fresh lemon juice to keep the fruits from browning.
Fun Fact: Pineapples contain an enzyme called bromelain, which can tenderize meat – it's the part that makes it feel like pineapple is eating you back.
Quinoa takes center stage in this protein-packed salad, accompanied by cherry tomatoes and cucumber, all tied together with a zesty lemon vinaigrette. It's a delightful blend of flavors and textures.
Cooking Tip: Rinse quinoa thoroughly before cooking to remove its natural bitter coating.
Fun Fact: Quinoa isn't a grain; it's actually a seed related to spinach and beets.
This crisp and tangy salad features thinly sliced cucumbers dressed with a creamy yogurt-based dressing infused with fresh dill. It's a perfect palate cleanser.
Cooking Tip: Slice the cucumbers thinly for the best texture.
Fun Fact: Cucumbers are 95% water, making them a hydrating choice for hot summer days.
A warm, creamy goat's cheese round is perched atop a bed of mixed greens, cherry tomatoes, and toasted nuts. A drizzle of honey or balsamic reduction adds a sweet touch.
Cooking Tip: To get the gooey, warm center of the goat cheese, bake it just until it starts to soften.
Fun Fact: Goat's cheese is easier to digest for many people compared to cheese made from cow's milk.
Veggie Sides
Asparagus spears are roasted to perfection with a flavorful garlic butter sauce, resulting in tender yet crispy stalks with a delightful buttery richness.
Cooking Tip: Snap off the woody ends of asparagus before cooking to ensure a tender bite.
Fun Fact: Asparagus is a natural diuretic, which means it can help flush excess salt and fluid from your body; just make sure to keep yourself hydrated if you're consuming a lot of diuretic food and drink.
Fresh spinach is lightly sauteed with garlic, creating a vibrant, nutrient-packed side dish that's as healthy as it is delicious.
Cooking Tip: For a milder flavor and faster cooking, you baby spinach. Just remember that spinach reduces in size a lot when cooked, so always use more than you think.
Fun Fact: In medieval times, the green pigment from Spinach was extracted to make green ink and dyes.
This French vegetable medley combines roasted or sauteed eggplant, zucchini, bell peppers, and tomatoes, seasoned beautifully with automatic herbs like thyme and basil.
Cooking Tip: Presentation is so important when it comes to ratatouille, so be sure to layer the vegetables evenly to get a feast for the eyes as well as your tastebuds.
Fun Fact: Ratatouille originated in the region of Nice, France, and its name comes from the Occitan word "ratatolha," which means "to stir up."
Ina Garten's recipe showcases the best of summer produce, including cherry tomatoes, zucchini, and cherry tomatoes, all roasted to perfection.

These vegetables pair perfectly with rich and savory quiche to create a hearty and satisfying meal.
Cooking Tip: To achieve perfectly caramelized summer vegetables, spread them out in a single layer on your baking sheet. Crowing the veggies can cause them to steam instead of roast.
Fun Fact: Bell peppers come in various colors, but they're all the same fruit; the differences in color result from ripeness and maturity.
Creamy or vinegar-based, coleslaw is a quintessential side dish. It's made with shredded cabbage, carrots, and a tangy dressing. It goes great as a side dish for quiche, as well as other sides on this list.
Cooking Tip: Let the coleslaw sit for a bit after dressing it to allow the flavors to mix and mingle.
Fun Fact: If you've ever wondered what the difference between coleslaw and slaw is, then wonder no more. The "slaw" part of the word is likely derived from the Dutch word for salad, where "cole" means cabbage.

A slaw can be a tangy dressing with other base ingredients, but a "coleslaw" has to include cabbage.
Potatoes And Bread Sides
These tender roasted potatoes are infused with the flavors of garlic and fragrant herbs. They make for a satisfying and aromatic side dish to lots of meals, including quiche.
Cooking Tip: The more uniform you can get the potatoes, the more evenly they'll cook.
Fun Fact: Potatoes are the fourth most consumed crop in the world, after rice, wheat, and corn.
Paula Deen's cornbread recipe yields a moist and slightly sweet cornbread that's perfect for soaking up the flavors of your quiche. We recommend serving this cornbread with a salad that has a tasty dressing.
Cooking Tip: Use buttermilk for extra moistness and a tangy flavor.
Fun Fact: Cornbread has deep roots in Native American cuisine, dating back centuries.
We think you'll also like these quiche recipes from Paula Deen.
These oven-baked sweet potato fries are seasoned to perfection, resulting in crispy, slightly sweet fries that are hard to resist. Something that we love about these sweet potato fries is that they're a great, healthier alternative to regular fries.
Cooking Tip: Toss the sweet potato fries with a bit of cornstarch for extra crispiness
Fun Fact: Despite their name, sweet potatoes aren't actually related to regular potatoes. They belong to the Morning Glory family.
These indulgent breadsticks are wrapped in crispy bacon, adding a salty and savory twist to your quiche meal.
Cooking Tip: Make sure to secure the bacon well with a toothpick so that it doesn't unravel during baking.
Fun Fact: If you're looking for a way to improve your appetizers, then wrap it in bacon. Small bites of food wrapped in bacon have been a popular party treat for decades.
Final Thoughts
Incorporating the right side dish can elevate your quiche experience from ordinary to extraordinary.

Whether you choose a refreshing salad, savory veggies, or comforting potatoes, these 15 great quiche side dishes offer a wide range of flavors and textures to satisfy every palate.
So, the next time you serve quiche, consider pairing it with one or two of these amazing sides for a meal that's guaranteed to impress.
Frequently Asked Questions
What Is The Formula For Quiche?
Generally, you're going to use 1 large egg to 1/2 cup of milk. For example, if you're making a standard 9-inch quiche, you're going to use 3 eggs and 1 1//2 cups of whole milk or cream. This ratio makes it really easy to scale up or down as needed.
Is Quiche Just An Omelette?
Down to the nitty-gritty, a quiche and an omelet are very similar. However, the cooking methods set them apart. For example, an omelet is cooked over a stove and folded over, whereas a quiche is baked in the oven and has a pastry crust.

A frittata, on the other hand, is an open-faced omelet (as in not folded over) with a variety of toppings like sausage and goat cheese.
15 Great Quiche Side Dishes
Course: Other Recipes
Directions
Choose a recipe
Collect your ingredients
Prepare your side dish
Enjoy.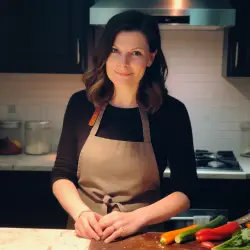 Latest posts by Barbara Hunt
(see all)