If there's one thing that can make taco night even more memorable, it's the addition of delicious side dishes.

While tacos themselves stead the show, the right accompaniments can elevate your meal to a whole new level.
Whether you're looking for something refreshing, spicy, or satisfying, we've covered you with our list of the 15 best taco side dishes.
From zesty salsa to flavorful salads, these dishes will have your taste buds dancing with delight.
Soups And Salads
This fresh black bean salad is a vibrant medley of black beans, corn, red bell peppers, red onions, and cilantro, all tossed in a zesty lime vinaigrette. It's a refreshing and nutritious side that complements the richness of tacos perfectly.
Cooking Tip: To enhance the flavor, let the salad marinate in the vinaigrette for at least 30 minutes before serving.
Fun Fact: Black Beans are packed with Protein and fiber, making them a healthy addition to your taco night.
Rachael Ray's black bean and corn salad is a delightful combination of black beans, corn, red onions, and cherry tomatoes, all tossed in an olive-based dressing. It's a refreshing and healthy side dish.
Cooking Tip: Use fresh corn when in season for the best flavor and texture.
Fun Fact: Rachael Ray is famous for her "30 Minute Meals" and approachable cooking style, meaning that all of her recipes can be whipped up quickly at the same time as your tacos.
Looking for more inspiration from Rachael Ray? Try her leftover pasta recipes.
This creamy Mexican street corn soup captures the essence of elote, a popular Mexican street food. It's a velvety blend of roasted corn, spices, and creamy. Everything is finished with a finish of queso fresco and a squeeze of lime.
Cooking tip: Roast the corn on an open flame for an authentic smokey flavor.
Fun Fact: Elote, or Mexican street corn, is typically served on a stick and coated with mayonnaise, chili powder, and cheese.
For a chilled soup that combines cucumber, bell peppers, and tomatoes, check out this cucumber gazpacho for the perfect filling side dish if your tacos aren't quite satisfying enough. It's a cool and crisp side dish to balance out the heat of your tacos.
Cooking Tip: Allow the gazpacho to chill in the fridge for at least an hour before serving.
Fun Fact: Gazpacho originates from the Andalusian region of Spain and is traditionally served as a soup that can cool you down during a hot summer.
Dips And Slaws
If you're looking for a tangy side dish for your tacos, then you need to check out this tomatillo salsa verde.

Zesty and slightly spicy, this salsa is made from tomatillos, jalapenos, cilantro, and onions. It adds a burst of fresh, vibrant flavor to your taco night.
Cooking Tip: Char the tomatillos and jalapenos before you mix the salsa together for a smokier flavor.
Fun Fact: Tomatillos are often mistaken for green tomatoes, but they have a unique tartness and have a papery husk.
Authentic Pico De Gallo is a classic Mexican salsa made with diced tomatoes, onions, jalapenos, and lime juice. It's a refreshing and spicy accompaniment that adds a burst of freshness to your tacos.
Cooking Tip: Remove the seeds from the jalapenos if you would prefer a milder heat.
Fun Fact: "Pico de Gallo" literally translates to "rooster's beak" in Spanish, possibly referring to the way that people eat it with pinched fingers.
If you love a salsa verde but want to switch it up a bit, then you need to try this kiwi avocado twist. It combines the tartness of kiwi with creamy avocado, resulting in a sweet and tangy salsa, still with a hint of spice.
Cooking Tip: Adjust the jalapeno heat level to suit your taste. If you want to be able to customize each dish for a table with varying preferences, use chili flakes as well.
Fun Fact: Whilst kiwi is not native to Mexico, it pairs surprisingly well with traditional Mexican flavors.
Hawaiian coleslaw is a tropical-inspired twist on classic coleslaw that perfectly pairs with your tacos—incorporating pineapple, red cabbage, and peeled carrots for a sweet and crunchy side dish.
Cooking Tip: This dish only really stays good for one day, so if there are any leftovers (though we doubt there will be), make sure you finish them the next day; otherwise, they'll have to be thrown out.
Fun Fact: Coleslaw is believed to have originated from the Dutch term "koolsla", which means "cabbage salad".
Authentic Mexican Guacamole is a creamy blend of ripe avocados, tomatoes, onions, and lime juice. It's the quintessential Mexican side dish that adds richness and flavor to your taco feast.
Cooking Tip: Cover your guac with plastic wrap directly on the surface of the dip in order to keep out as much air as possible to prevent browning.
These Spicy Refried Black Beans are a flavorful and spicy twist on traditional refried beans. They're cooked with chipotle in adobo, cumin, and garlic for an extra kick.
Cooking Tip: Adjust the spice level by adding more or less chipotle peppers.
Fun Fact: "Chipotle in adobo" is smoked and dried jalapeno peppers soaked in a tomato-based sauce.
You may also enjoy: Taco soup recipes.
Vegetables
These blistered shishito peppers are mild, thick-skinned Japanese peppers that are quickly cooked until they blister and char. They're served with a sprinkle of sea salt, creating a delightful snack or side dish.
Cooking Tip: If you have one, use a hot skillet or grill for quick blistering.
Fun Fact: Most Shishito peppers are mild, but about one in ten might end up surprising you with some heat.
Ina Garten's Orzo with roasted vegetables is a delightful pasta salad featuring orzo pasta, roasted vegetables, feta cheese, and a lemony vinaigrette. It's a refreshing and colorful side dish.
Cooking Tip: Roast the vegetables until they're slightly caramelized for added flavor.
Fun Fact: Although Orzo looks like a grain, it's actually a small pasta shape.
The final recipe on our veggie list is Ina Garten's green beans Gremolata. This is a vibrant side dish featuring crisp and tender green beans tossed with gremolata – a mixture of lemon zest, garlic, and parsley. It adds a zesty and herby touch to your taco night.
Cooking Tip: Blanch the green beans briefly to retain their vibrant color and crispness.
Fun Fact: Gremolata is an Italian condiment traditionally served with osso buco, but its fresh flavors will complement your tacos perfectly.
Ready for more? How about some Mexican vegetable side dishes?
Rice Sides
Easy Mexican rice is a flavorful and fluffy rice dish cooked with tomatoes, onions, garlic, and spices. It's the ideal side dish to soak up the delicious taco juices.
Cooking Tip: Rises the rice before cooking to remove excess starch and achieve a fluffy texture.
Fun Fact: Mexican rice is also known as "arroz rojo" due to its reddish hue from the tomatoes.
Paula Deen's Mexican rice is a comforting and cheesy rice mixed with minced garlic and plenty of onions and peppers. Something that we really love about this rice is how you can adjust it to your own preferences for how spicy the side dish will be.
Cooking Tip: Use long-grain rice for the best texture in this dish.
Fun Fact: Paula Deen's Mexican casserole is a testament to her culinary creativity, bringing a touch of Southern comfort to this Mexican-inspired dish.
You may also like: Paula Deen Taco Soup Recipes
Final Thoughts
Enhance your taco night with these delectable Mexican side dishes for tacos that offer a wide variety of flavors and textures.

Whether you're craving something refreshing like the fresh black bean salad or indulging in the creamy goodness of Mexican corn soup, these sides will take your taco experience to new heights.
Don't be afraid to customize the spice levels and ingredients to suit your taste and make your taco night a fiesta to remember.
Looking for more? How about some enchilada side dishes?
Frequently Asked Questions
What is a Good Topping For Tacos?
As well as any of these incredible side dishes, when you serve tacos, you'll want to make sure that you have lettuce, cheese, and sour cream on hand to top your tacos with.
How Can You Elevate Tacos at Home? 
If you're looking for ways to elevate your homemade tacos, then you might want to consider upgrading to shredded meat instead of ground and sourcing some really high-quality tortillas – or even making them at home!
How Do You Throw a Killer Taco Party?
When throwing a taco party, it's all about options! You want to set everything out in the middle of a large table so that your guests have the option to customize their tacos however they want.

Include hard and soft shell tacos, a variety of toppings and dips, and whatever sides you think your party guests will love.
15 Amazing Taco Side Dishes To Spice Up Taco Night
Course: Other Recipes
Directions
Choose your favorite taco side recipe
Gather your ingredients
Prepare your side dish
Enjoy with tacos.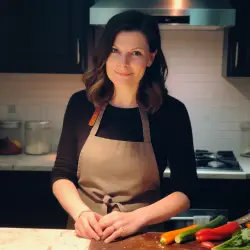 Latest posts by Barbara Hunt
(see all)