With their crispy, flavorful fillings, fish tacos are a beloved dish that transports your tastebuds straight to the shoes of Baja California. But what's a great fish taco without some equally fantastic side dishes to accompany it?

We've compiled a list of 15 mouthwatering side dishes that will take your fish taco experience to a new level.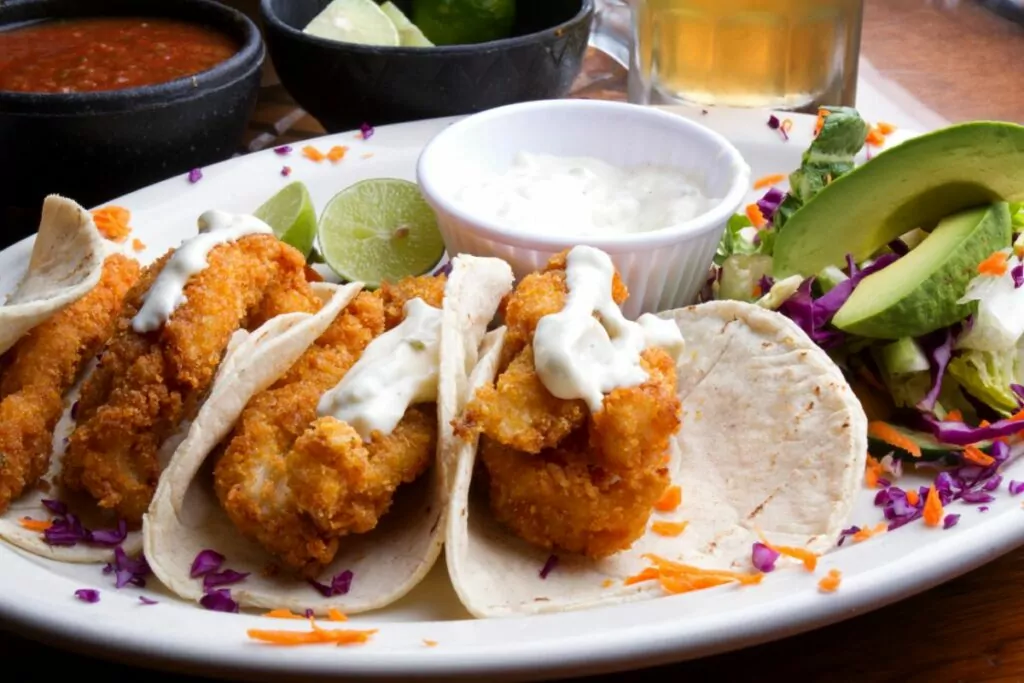 From creamy avocado salsa to smoky chipotle parmesan sweetcorn, these sides are sure to engage your taste buds and impress your guests.
When it comes to fish tacos, the sides you choose can make or break the meal. They complement the flavors, add variety, and provide a well-rounded dining experience.

So, let's dive into the world of delectable side dishes that will have you reaching for more!
Dips And Slaws
Bright and delicious, avocado salsa is a heavenly blend of ripe avocados, diced tomatoes, finely chopped onions, and a squeeze of zesty lime juice. We love how this salsa adds a delightful burst of flavor to your fish tacos.
Cooking Tip: Avocado salsa differs from guacamole because it isn't mashed together or creamy.
Fun Fact: Avocados are technically berries, and they are packed with heart-healthy monounsaturated fats.
This tropical delight combines diced pineapple, red onions, jalapeno peppers, cilantro, and lime juice for a sweet and tangy salsa that balances the savory flavors of your fish tacos.
Cooking Tip: For an extra kick, leave the seeds and membranes in the jalapeno peppers when dicing.
Fun Fact: Pineapple contains bromelain, which is an enzyme that aids with digestion.
Take your guacamole up a notch by adding some heat. Mix mashed avocados with minced garlic, diced tomatoes, and a finely chopped jalapeno for a spicy kick. This guac is creamy and goes amazingly as a dip or as a topping for your fish tacos.
Cooking Tip: You can control the level of spice in this guac by adding more or less jalapenos seeds, depending on your preference.
Fun Fact: The Aztecs, who lived in what is now Mexico, were the first to make guacamole.
Jicama, a crispy and slightly sweet root vegetable, takes center stage in this slaw. Combine jicama, carrots, and cabbage, and dress them with a refreshingly citrusy vinaigrette.
Cooking Tip: To make your jicama easier to peel, first slice off both ends, then use a vegetable peeler to remove the tough outer skin.
Fun Fact: Jicama is rich in dietary fiber, making it great for digestion.
Tangy and slightly spicy, tomatillo salsa verde is made from roasted tomatillos, cilantro, jalapenos, and onion. It's perfect for adding a burst of flavor to your fish tacos.
Cooking Tip: Roast the tomatillos and jalapenos for a smoky depth of flavor before blending.
Fun Fact: Tomatillos are often mistaken for green tomatoes, but they actually belong to a completely different plant family.
Rice
Fluffy white rice is taken to a new level with fresh cilantro and a splash of zesty lime juice. This fragrant rice pairs wonderfully with fish tacos either as a side or as an appetizer.
Cooking Tip: Add the lime juice after the rice is cooked to preserve its vibrant flavor.
Fun Fact: Cilantro is known for its distinctive aroma and is actually the signal of a specific genetic marker that, among other things, causes cilantro to taste like soap.
A hearty side dish that combines Spanish rice with seasoned black beans. The combination of flavors and textures is the perfect complement to your fish tacos.
Cooking Tip: Use long-grain rice for a fluffy texture in your Spanish rice.
Fun Fact: Rice and beans are a staple in many Latin American cuisines, providing a balanced source of protein and carbohydrates.
Elevate your rice game by preparing a delicious batch of fried rice. Use leftover rice and stir-fry vegetables, soy sauce, and your choice of protein for a savory side – go with egg if you want a lighter side dish or beef if you want a super hearty meal.
Cooking Tip: Cold rice works best for fried rice because it's less likely to become mushy.
Fun Fact: Fried rice is a popular dish in Asian cuisines, and it's known for its versatility and ability to use up leftovers.
Corn
Elotes, or Mexican street corn, is a must-try side dish. Grilled corn on the cob is slathered with mayonnaise, cheese, chili powder, and a squeeze of fresh lime juice, creating a gorgeous combination of flavors.
Cooking Tip: Soak the corn in water before grilling to keep it moist.
Fun Fact: Elotes are a beloved street food in Mexico and have been enjoyed for generations.
A refreshing salad featuring black beans, sweet corn kernels, red onions, and a zesty lime dressing. This side dish provides a satisfying crunch and a burst of flavors.
Cooking Tip: Rinse canned black beams thoroughly to remove any excess salt and starch.
Fun Facts: Black beans are a good source of plant-based protein and are rich in fiber, great for people on a meat-free diet.
Ina Garten's chipotle parmesan sweetcorn is a flavor-packed dish that features grilled corn slathered with chipotle mayo and sprinkled with parmesan cheese.
Cooking Tip: Grilling the corn adds a delightful smoky flavor to the dish.
Fun Fact: Corn is one of the oldest cultivated crops in the world, with a history dating back thousands of years.
Veggies
Tostones, or twice-fried green plantains, are crispy and addictive. They are sliced, fried, smashed, and fried again until golden brown. Serve with a garlic dipping sauce for a delightful crunch to accompany your fish tacos.
Cooking Tip: Use green plantains for a starchy texture, not ripe ones, which are sweet.
Fun Fact: Tostones are a popular snack in many Latin American and Caribbean countries.
Chili rellenos are roasted mild chiles stuffed with cheese and topped with a flavorful tomato sauce. These cheesy and spicy delights are perfect for spice lovers.
Cooking Tip: Roast the chiles until the skin is charred, then steam them to make peeling easier.
Fun Fact: Chili rellenos are believed to have originated in the Mexican state of Puebla.
Fries And Nachos
Swap regular fries for sweet potato fries. Rachael Ray's oven-baked sweet potato fries are seasoned with a hint of cinnamon and paprika, providing a sweet and savory contrast to your fish tacos.

Something that we love about these fries is that they are a significantly healthier alternative to fries.
Cooking Tip: Cut the sweet potatoes into uniform strips for even cooking.
Fun Fact: Sweet potatoes are an excellent source of vitamins and minerals, including vitamin A and potassium.
Paula Deen's spicy nachos are loaded with tortilla chips, melted cheese, and a zesty pico de gallo. These nachos are a fiesta of flavors and textures in every bite.
Cooking Tip: Layer the chips and cheese evenly to ensure every chip is covered with cheesy goodness.
Fun Fact: Nachos were invented in the 1940s by Ignacio Anaya, and back then, they consisted of just nachos, cheese, and jalapenos.
Final Thoughts
These 15 amazing fish taco side dishes are not only a feast for the taste buds but also a celebration of diverse flavors and textures that enhance your fish taco night.

Whether you're craving something creamy, spicy, tangy, or crispy, there's a perfect side dish to complement your meal.
Elevate your next taco night with these delectable accompaniments with these fantastic side dishes in your culinary repertoire, and your fish taco nights will be unforgettable gatherings of flavors and fun.

Experiment with different combinations, and don't hesitate to customize them to your taste preferences.
Happy cooking!
Hungry for more? How about some fajita side dish inspiration?
Frequently Asked Questions
What Kind Of Fish Is Best For Fish Tacos?
The best fish for fish tacos include tilapia, cod, halibut, mahi-mahi, or even shrimp. Basically, you want to choose a mild and flaky fish that can be grilled or fried to perfection.
What's The Origin Of Fish Tacos?
Fish tacos originated in Baja California, Mexico, where fresh seafood was abundant. They have since become a popular dish worldwide, known for their versatility and deliciousness.
Are There Any Vegetarian or Vegan Side Dish Options?
Absolutely! The black bean and corn salad, jicama slaw, and many of the salsas are vegetarian and can be easily adapted to be vegan by omitting any dairy ingredients.
15 Amazing Fish Taco Side Dishes
Course: Other Recipes
Directions
Choose a recipe from above
Gather your ingredients
Prepare your side dish
Enjoy with your fish tacos.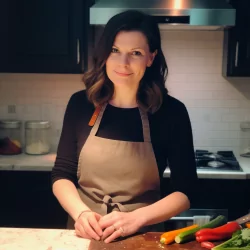 Latest posts by Barbara Hunt
(see all)