Fried fish is a versatile dish that can be paired with a variety of sides to create a complete and satisfying meal.
Whether you're having traditional fish and chips or a more sophisticated battered fish preparation, the choice of side dishes can elevate the entire dining experience.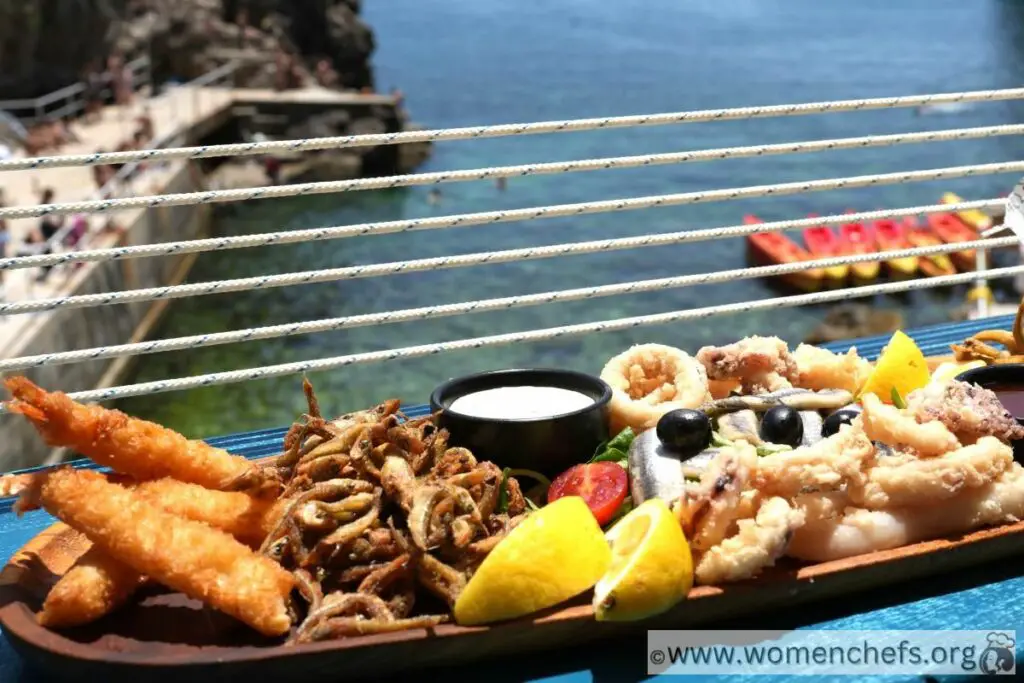 In this article, we'll dive into an array of delicious sides that are perfectly suited to accompany your fried fish.
Easy Fried Fish Sides
Let's start with the classics – simple side dishes to complement fried fish.
A staple at many fish fry events, coleslaw provides a tangy and creamy contrast to the rich flavors of fried fish.
Made with a base of shredded cabbage and mixed with carrots and red onion, it's finished with a vinegar and mayonnaise-based dressing and a dash of paprika.
This isn't a filling side, so we recommend pairing it with something else – there are plenty of ideas below.
Soft, creamy, and utterly comforting, mashed potatoes are an all-American favorite that pairs well with almost any protein, fried fish included.
You can keep it simple with butter and milk or jazz it up with ingredients like garlic or cheese.
However you cook yours, you won't be disappointed with this side.
Remember, for the best mash, use red russet potatoes.
Crispy on the outside and soft on the inside, garlic bread is always a crowd-pleaser and can work with so many meals.
Its robust flavors of garlic and butter can hold up against the richness of fried fish, making it an excellent side choice.
Take your traditional French fries to the next level by seasoning them with Cajun spices.
The bold flavors and subtle heat make them a superb pairing for fried fish.
Serve with salsa or sour cream to balance the flavors.
Sometimes, simplicity is key.
Steamed rice can serve as a blank canvas to soak up any sauces or gravies you might have with your fried fish, making each bite a perfect blend of flavors.
If steamed rice is a bit bland for you, you can always add some herbs and spices.
Sweet potato fries are easy to make and can be a nice alternative to traditional fries.
Cook your sweet potato fries with a dash of olive oil for a crispy finish.
If you want to spice them up, add some garlic or paprika.
Veg To Complement Your Fried Fish
Vegetables are a timeless side dish for fried fish. They offer a healthy complement to fried foods to provide the perfect balance on your plate.
For a low-carb option that still packs a ton of flavors, consider serving zucchini noodles, also known as "zoodles," alongside your fried fish.
You can toss them in a light garlic and lemon sauce to enhance their flavor.
This super healthy zucchini side is light and delicious.
If you're team sprouts, this side dish recipe is for you!
When roasted in the oven, Brussels sprouts transform into crispy, caramelized bites of goodness.
Their earthy flavor profile makes them a unique and delicious side dish for fried fish.
Green beans sautéed with almonds and lemon juice offer a burst of freshness and a touch of elegance.
The crunch of the almonds pairs wonderfully with the crispy fish, while the lemon juice ties it all together.
This is one of our all-time favorite side dishes for fish meals.
For a healthier side that still offers a lot of flavors, consider grilling some asparagus spears.
Keep it simple – drizzle them with olive oil, sprinkle some salt and pepper, and grill until tender.
The smoky flavors of the grill elevate the asparagus and make it a perfect companion for fried fish.
Quick and simple, sautéed spinach is a healthy side that pairs wonderfully with fried fish.
Just a few minutes in a pan with some garlic and olive oil, and this leafy green transforms into a flavorful side.
Steeped in a rich broth with bacon, Southern collard greens offer a hearty and flavorful accompaniment to fried fish.
It takes some time to make this side, but the end result is absolutely worth it.
Why not add cornbread to your fish dish for a perfect Southern finish? We've included a recipe later on in this article.
The earthy sweetness of roasted beets pairs beautifully with the creamy tang of goat cheese.
This luxurious combination will stand up to even the most flavorful fish without overwhelming it.
It's a perfect light side that's packed full of flavor.
Simple but stunning, you have to try roasted red pepper with your fried fish.
The sweetness of roasted red peppers can offer a nice contrast to the saltiness of fish.
They can be made ahead of time and served at room temperature, making them a convenient side option.
Salads And Dips
Salads and dips are the perfect accompaniment for fried fish – we've included a few ideas for you below:
If you're looking for a lighter and more nutritious option, a quinoa salad loaded with veggies like bell peppers and cucumbers could be just what you're after.
This particular recipe calls for bok choy, carrots, and broccoli stems, but you can add and remove veggies to your taste.
Whatever you add, a light vinaigrette dressing ties it all together beautifully.
A simple salad of fresh tomatoes and basil leaves, drizzled with a balsamic reduction, can provide a light and refreshing counterpoint to the richness of fried fish.
The red onions are a delightful bite.
A salad made with thinly sliced cucumbers, onions, and a light vinaigrette can offer a crisp, refreshing contrast to your fried fish.
It's an easy-to-make side that's also very versatile.
This is a less conventional but delightful pairing for your fried fish.
Guacamole is usually thought to be a side for tacos rather than fish, but the creamy avocado with the crunch of red onion and the kick of jalapeno actually brings a unique dimension to the fried fish experience.
If you want to add a little tropical flair to your meal, this spicy mango salsa provides the ideal contrast to the deep flavors of fried fish.
Hearty Sides
Some of the easy sides we've included in this guide are super hearty, but if you're looking for more comforting and filling sides, here are some more ideas:
A Southern staple, hushpuppies are deep-fried cornmeal dough balls, often served alongside fried fish.
They share the same crispy texture but offer a sweet and soft interior that complements the fish beautifully.
What better to mop up extra tartar sauce or fish drippings than warm, flaky biscuits?
A dash of honey butter elevates these from simply comforting to heavenly.
It's a Southern dream!
These delightful wedges pair wonderfully with fried fish for a hearty meal.
The garlic flavor of the wedges teamed with the parmesan and the parsley, elevates the dish and adds gourmet flavors.
Another Southern classic, sweet cornbread offers a different kind of sweetness and texture to contrast with your fried fish.
Whether made into loaves or muffins, cornbread is a versatile side that everyone enjoys.
It's a real crowd-pleaser.
Roasted to perfection and flavored with lemon juice and garlic, these Greek-inspired potatoes are a match made in heaven for fried fish.
The acidity of the lemon juice cuts through the fish's richness, and the garlic adds an extra layer of flavor.
Tips For Choosing The Perfect Side Dish
Fried fish is very versatile and can be paired with a variety of sides, but here are some tips for choosing the perfect sides to complement your meal:
Match flavor profiles: A spicy fish recipe may benefit from a milder side, while a mild fish may need a flavorful side to shine.
Consider textures: A mix of textures will keep each bite interesting.
Keep dietary restrictions in mind: Always have at least one or two options for guests who may have dietary restrictions.
In Summary
The possibilities for side dishes to accompany fried fish are practically endless, limited only by your personal tastes and creativity.
Whether you opt for traditional sides like mash or wedges or venture out into more exotic options like quinoa salad or zucchini noodles, the right sides can turn your fried fish into a memorable meal.
You can mix and match your sides, too, for the best possible meal.
Frequently Asked Questions
What side goes with fried fish?
A variety of sides can complement fried fish, but classic options include coleslaw, French fries, and hushpuppies for a traditional meal.
What to eat after fried fish?
For dessert after fried fish, consider something light and refreshing, like a fruit sorbet or a slice of lemon tart, to balance out the richness of the fried food.
24 Fried Fish Side Dishes To Make Your Mouth Water
Course: Other Recipes
Directions
Choose your favorite recipe from above
Collect your ingredients
Prepare your side dish
Enjoy with fried fish.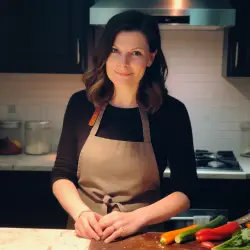 Latest posts by Barbara Hunt
(see all)