Risotto, a dish as versatile as it is comforting, has cemented its place in global culinary traditions.
Originating from Northern Italy, this creamy rice concoction has evolved into a staple that can suit almost any palate or occasion.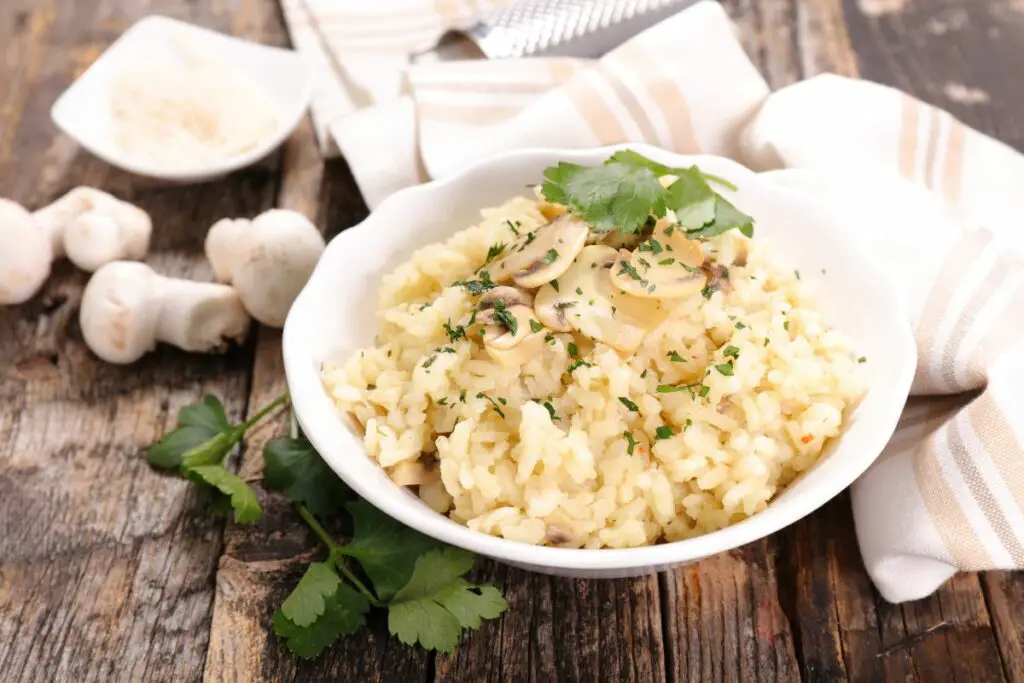 Whether you're looking for something vegetarian, seafood-based, or packed with different meats, there's a risotto out there for you.
Below, we explore our favorite risotto recipes, each offering a unique flavor profile guaranteed to leave you wanting more.
Easy Risotto Recipes
A foundational dish for any aspiring risotto cook, this recipe centers around the creamy richness of Parmesan cheese.
With a base of Arborio rice simmered in chicken stock, it's a fuss-free option that still delivers the classic, comforting taste of a well-made risotto.
When you get this basic recipe right, you can start to be more creative with your risotto.
This light and zesty recipe introduces a fruity twist to the traditional risotto formula, but it remains simple to make – an ideal recipe for risotto beginners.
A harmonious blend of lemon zest and juice punctuates the earthy undertones of peas and Arborio rice, offering a well-balanced dish that's perfect for spring or summer.
Classic Risotto Recipes
The epitome of Italian comfort food, this quintessential recipe relies on a medley of simple yet high-quality ingredients.
With a core of Arborio rice patiently cooked in a flavorful stock, this dish is a study in the mastery of texture.
Grated Parmesan and a touch of butter round out the experience, delivering a creamy, savory dish that serves as both a versatile side and a satisfying main course.
Steeped in culinary tradition, this Milanese staple captivates with its deep saffron hue and luxurious texture.
Using Arborio rice as a canvas, the dish draws its signature color and aroma from precious saffron threads, culminating in a risotto that's as visually stunning as it is flavorful.
Garnished with a generous helping of Parmigiano Reggiano, it serves as an elegant side or a standalone treat.
Veggie Risotto Recipes
This autumnal risotto from Ina Garten brings together the aromatic magic of saffron with the hearty sweetness of butternut squash.
The two main components enhance the creamy Arborio rice base, creating a medley of flavors and textures that are both comforting and sophisticated.
Whether served as a lavish side or a main course, this dish transforms the simple act of eating risotto into a seasonal celebration.
A forager's dream, mushroom risotto brings the earthy flavors of mushrooms to the fore.
Complementing the mushrooms, this recipe calls for white wine, parsley, and parmesan to elevate the dish.
Featuring a mix of chestnut and porcini, this risotto pairs well with a robust red wine and is hearty enough to be a meal in itself.
A vibrant addition to any table, beetroot risotto combines the natural sweetness of beets with the starchy comfort of rice.
Its bold red color makes it visually striking. Top it with goat's cheese, toasted walnuts, and parsley to really complete the dish.
If you don't enjoy goat's cheese, you can opt for feta instead. Whatever cheese you choose, your guests will love this creation.
This is your go-to risotto for the spring season when asparagus is at its peak.
Lemon zest and juice add a refreshing twist, making this dish ideal for warmer weather and outdoor dining.
Serve alone or pair it with grilled fish.
A dish that revels in the juxtaposition of flavors, this risotto marries the earthy freshness of spinach with the tangy boldness of Gorgonzola cheese.
The Arborio rice provides a creamy backdrop, allowing the more pronounced ingredients to shine without overwhelming the palate.
Ideal for those who appreciate a little complexity in their comfort food, this recipe delivers a well-balanced, mouth-watering experience.
A must-try for the autumn season, pumpkin risotto brings together the sweetness of pumpkin with traditional risotto creaminess.
Flavored with garlic and nutmeg, it's a dish that embodies the comforting essence of fall.
Protein-rich Risotto Recipes
If you want to enjoy your risotto with a protein-packed punch, you can add seafood, chicken, or even ground beef:
This hearty risotto brings a robust, meaty twist to the classic Italian dish – perfect as a winter warmer.
Ground beef is skillfully integrated into the creamy Arborio rice, adding both texture and depth of flavor.
Seasoned with garlic and chives, the dish transcends the typical risotto experience, serving as a fulfilling main course that combines the best of Italian and homestyle cooking.
Channeling the essence of the sea, this luxurious risotto recipe combines shrimp, mussels, and scallops, balanced by fresh chives and parsley, but you could also add other seafood ingredients like crab or calamari to make this dish your own.
Served with a good helping of parmesan, it's a dish that transports you to a seaside Italian village with each spoonful.
Offering a complete meal in a single pot, chicken and pea risotto is comfort food at its finest.
Tender pieces of chicken, along with the fresh pop of green peas, make this dish both balanced and fulfilling.
For those who can never have enough bacon, this risotto delivers exactly what you're looking for.
Combined with the subtle sweetness of leeks, the bacon adds a smoky, meaty depth that's impossible to resist.
Risotto Making Tips
Many people are nervous about making risotto, worried that it's too complicated and that it won't turn out right.
Our recommendation would be to start simple – perhaps one of the recipes from the very start of this article.
You want to choose a recipe that isn't overly complicated and doesn't contain too many ingredients and build up your confidence from there.
We've included some additional tips below:
The Right Rice: Arborio rice is the traditional choice for risotto due to its high starch content, which contributes to the dish's creaminess.
Constant Stirring: Continuous stirring helps to distribute heat evenly and ensures that the rice cooks uniformly.
Quality Stock: A high-quality stock can make or break your risotto, so opt for homemade or high-quality store-bought options.
Risotto Pairings And Serving Suggestions
When it comes to pairing risotto with other foods, you have a wealth of options. Below are some classic and innovative ideas to consider:
Wines: A crisp white wine like Pinot Grigio or a light red such as Pinot Noir can balance the creaminess of the dish.
Salads: Light, leafy greens with a tangy vinaigrette can offset the richness of the risotto.
Meats: For those who enjoy a meaty companion to their risotto, consider grilled or pan-seared chicken for a lighter touch.
For a more luxurious experience, richer meats like braised osso buco or short ribs offer deeper flavors that harmonize exceptionally well with the creamy texture of the dish.
Shellfish: For a seafood angle, shrimp and scallops make excellent pairings. These shellfish bring a touch of the sea to your risotto, complementing its creamy, delicate flavors.
Fish: Choices like salmon and sea bass bring a delicate yet flavorful contrast to the creamy risotto.
Their natural flavors and textures offer a balance that complements rather than overpowers the dish.
Vegetables: Roasted or steamed vegetables can also be a good match, especially if they share a flavor component with the risotto.
In Summary
From the comforting classic Parmesan to the adventurous beetroot, these risotto recipes demonstrate the dish's uncanny ability to adapt to different flavors and ingredients.
Whether you're a risotto novice or a seasoned pro, this guide provides ample inspiration for your next culinary undertaking, ensuring that your risotto will not only be delicious but will also speak to your own tastes and creativity.
Want another bite? Take a look at these delicious risotto side dishes.
Frequently Asked Questions
What is the secret to a good risotto?
The secret to a good risotto lies in using high-quality Arborio rice and constantly stirring while gradually adding warm broth, which allows the rice to release its starch and create a creamy texture.
How do restaurants make risotto so creamy?
Restaurants achieve creamy risotto by using a high-starch rice variety like Arborio and employing meticulous stirring to coax the starch out of the rice.

Some chefs also finish the dish with a mantecatura, a final addition of butter, and Parmesan cheese to enhance creaminess.
What adds flavor to risotto?
Flavor in risotto is built up by using a flavorful stock or broth, sautéed aromatics like onion or garlic, and high-quality cheese such as Parmesan.

Additional seasonings, herbs, and main ingredients like vegetables or proteins further customize the flavor.
What liquid is traditionally used in risotto?
Traditionally, a high-quality chicken or vegetable broth is used as the cooking liquid for risotto. Some variations may also use fish stock, beef broth, or even wine.
Should you stir risotto as it cooks?
Yes, you should frequently stir risotto as it cooks to encourage the starches to release from the rice, which creates the dish's signature creamy texture.
15 Simple Risotto Recipes Everyone Needs To Know
Course: Other Recipes
Directions
Select a recipe from above
Gather your ingredients
Create your risotto
Enjoy.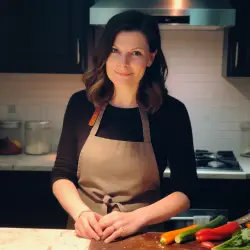 Latest posts by Barbara Hunt
(see all)