Pasta is widely regarded as one of the greatest culinary creations in the world. There is almost nothing that it doesn't go with.
There are so many different types and shapes of pasta noodles that you can make delicious dishes with. However, the most interesting type of pasta by far is orzo.
Technically, orzo is classified as pastina because of its tiny size. 
The small, rice-shaped pieces of pasta are the perfect way to bulk out a salad and turn it from a side dish into an appetizer, or even a main dish.
Because orzo is a type of pasta, it is perfectly suited to soaking up the flavors of the other ingredients in your salads.
In this article, we will look at some of the best orzo salad recipes created by Ina Garten that you have to try today. 
The first recipe on this list is a beautiful orzo salad with feta. This is a recipe that is designed to be used as a side dish to accompany an entree.
With that being said, it is possible to increase the portion size to make it into the perfect office lunch. 
One of the best things about this recipe is that it is full of bright, rainbow colors and different textures which makes it look fresh and inviting.
Because of the ingredients used in the recipe, this salad works really well when it is made ahead of time and consumed later.
The addition of lemon juice to the orzo gives the whole salad a really refreshing and light taste that is perfect for warmer weather.
This is a super quick and easy recipe for anyone to make. Although Ina's recipe calls for certain vegetables to bring some color to the dish, it is possible to change the dish up by using whatever vegetables you have in your kitchen already. 
Aside from being a great side dish or convenient lunch option, this delicious orzo and feta salad is perfect for potlucks, picnics, and parties.
Not only will the salad bring a fun pop of color to the table or blanket, but it will also provide a wonderfully light-tasting option.
The second recipe on this list is the perfect way to step outside your comfort zone when it comes to salads.
When you make salads as a side dish or as an appetizer, it can be incredibly easy to get stuck in a rut, making the same things over and over again. 
This wonderfully filling orzo salad is the perfect dish to serve to your family or bring to a get-together with friends.
It is possible to build upon the previous salad to turn it into this one, however, the vegetables that you add should be different.
Despite the incredible flavors of this dish, it is surprisingly easy to make. The fresh vegetables and seasoning do all the work to bring this dish to life. 
The combination of diced cucumber, red onion, and scallions give the salad an amazing crunch that brings a new dimension to the dish.
The feta makes the dish creamy and along with the olive oil works as a sort of salad dressing to bring all the ingredients together.
The use of fresh herbs such as dull and parsley keeps the salad light and fresh. You can easily substitute these herbs for others that you prefer such as mint. 
Roasted vegetables make a great side dish on their own. The slightly sweet flavors make them seem less like one of your five a day and more like a treat.
They are incredibly flavorful, however, on their own, they aren't overly filling and can leave you wanting more.
Ina Garten's recipe for orzo salad with roasted vegetables is the perfect way to avoid this. 
The recipe is so simple and quick to make that you will find yourself making it all the time for any get-together or simple lunch.
The best thing about this recipe is that you can use any vegetables that you have left over to make up the roasted vegetable part of the recipe.
This makes it a great go-to recipe for avoiding food waste and making your groceries go further.
The natural oils and juices that are produced when you roast the vegetables contribute to the amazing dressing that brings all the flavors together.
The use of lemon juice helps to cut through the oil of the vegetables and keep the dish looking its best if you are making it ahead of time. 
If you want a more filling orzo salad that works perfectly as a main dish as well as a side or an appetizer, this is the recipe for you.
Ina Garten's recipe for roasted shrimp and orzo is not only filling and nutritious, but it is also bursting with amazing flavors that blend really well together. 
Something that Ina Garten does really well with all her orzo salad recipes is including feta cheese.
Although there are other cheeses that could potentially work in an orzo salad, feta is the perfect combination of crumbly and creamy.
Adding it to the salad in larger, diced cubes makes the salad just creamy enough to feel more filling. 
The roasted shrimp in this salad is incredibly flavorful and the aroma is soaked up by the orzo, helping to bring all the aspects of this dish together.
Ina Garten uses scallions, parsley, dill, and cucumber to bring additional flavor to the salad.
Because Ina's recipes are so versatile, it is super easy to swap these herbs for others that you prefer such as cilantro.
The final recipe on this list is perhaps the most refreshing orzo salad recipe that has ever been created.
Ina Garten has really shown just how clever she is when it comes to using the right flavors in the right proportions for this orzo salad.
Although the orzo pasta makes up the main ingredient in this dish, it certainly isn't the star of the show. 
This lemon orzo salad is the perfect side dish for any meals that involve chicken or fish (Also check out Amazing Ina Garten Chicken Salad Recipes), it can also be a great potluck or cookout dish to accompany other dishes.
There are only 6 ingredients that are required to make this wonderfully refreshing dish, including the oil to prevent the pasta from sticking to itself. 
This salad is essentially made from cooked orzo, salt and pepper, lemon zest and juice, and some fresh dill.
The light flavors of the lemon and the dill make this the perfect summertime dish to keep you full without feeling heavy.
As with all of Ina's orzo salad recipes, you can add some small chunks of feta to the salad to make it slightly creamier and give it a slightly different flavor.
With that being said, it isn't necessary for this salad to be the perfect side dish.
Final Thoughts
Ina Garten is renowned for making incredibly easy but delicious recipes that can realistically be made at home with ingredients that you are likely to have in your kitchen already.
This is true of her orzo salad recipes too. Although these recipes are super simple, they are packed with flavor for a delicious meal. 
Frequently Asked Questions
Does Ina Garten Specialize In Salads?
Ina Garten hasn't specialized in any particular type of food such as salads during her career. With that being said, she has created many salad recipes and many orzo recipes.

All of her recipes can be found in her many cookbooks or in various episodes of her award-winning TV show Barefoot Contessa. 

Is Ina Garten A Chef Or A Baker?
Ina Garten is definitely a chef rather than a baker. She is one of the most popular TV chefs of recent years.

Her television show Barefoot Contessa has won four Emmy awards and she has won the hearts of many viewers over the years.

With that being said, Garten does include baking in her recipes from time to time, particularly with her amazing homemade desserts such as sweet pies. 

Garten's style of cooking is very much home cooking and comforting foods. Her cookbooks are incredibly wholesome and are perfect for home cooks of all abilities.

Whether you have never set foot in a kitchen in your life or you have been cooking for your family for decades, you will be able to benefit from an Ina Garten cookbook. 

Where Did Ina Garten Learn To Cook?
Despite Ina Garten's incredible success in the culinary world with her award-winning TV show and multiple cookbooks that have sold all around the world, she actually never had any formal culinary training. 

Instead, Garten decided that she was going to learn how to cook after a camping trip in Paris.

Upon returning to the US, Garten taught herself how to cook using Julia Child's cookbooks. 
5 Best Ina Garten Orzo Salad Recipes To Try Today
Course: Recipes
Directions
Pick a recipe from the list above
Click the recipe name and visit the website
Collect the ingredients and cook the food
Enjoy – don't forget to leave a review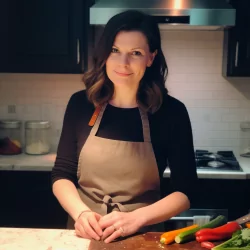 Latest posts by Barbara Hunt
(see all)