Are you craving a hearty, flavorful, and satisfying meal that's as easy to make as it is delicious? Look no further than the enticing world of taco soups!

These comforting one-pot wonders bring the irresistible taste of Tex-Mex cuisine right to your kitchen.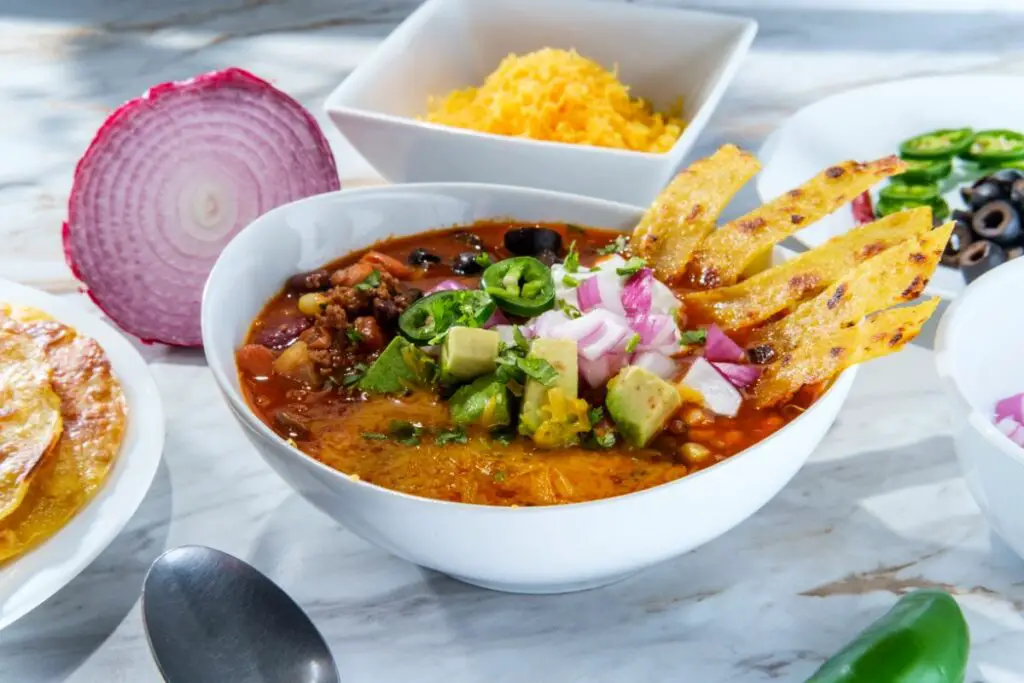 Whether you're a seasoned home cook or a kitchen novice, we've gathered 15 taco soup recipes that are super easy to prepare.
So, without further ado, let's check out these incredible dishes, one bowl at a time.
Simple Classics
Let's start with the classic taco soup – a warm and savory bowl of goodness.

This recipe combines ground beef, beans, corn, and a medley of spices to create a rich, flavorful brother that's perfect for a cozy night in.

The secret ingredient here is taco seasoning mix, which imbues every spoonful with that familiar and beloved taco taste.
Cooking Tip: To enhance the flavor, brown the beef with diced onions and garlic before adding it to the soup.
Pairs With: A side of Mexican-Street Corn (Elote) makes an excellent compliment to Taco soup.
Sometimes, simplicity is the key to a satisfying meal. The simple taco soup recipe is a go-to for busy weeknights when you need something quick, nourishing, and delicious to put on the table.

Using canned vegetables and pre-made taco seasoning, you can whip up this meal in no time without compromising on flavor.
Cooking Tip: Lean ground beef makes for a healthier twist on this recipe if you want a dish that'll feel a little less heavy.
Pairs With: Serve your simple taco soup with warm, buttery rolls – perfect for dipping into the brother and soaking up every bit of flavor.
For those who crave a little heat in every spoonful, this spicy taco soup recipe is a must-try. This variation kicks up the heat with added green chilis. If you're a fan of bold flavors, this one's for you.
Cooking Tip: You can control how hot you want your soup to be by the amount of green chilis that you include. If you're worried about different spice tolerances around your table, start with a mild soup, and add hot sauce and diced jalapenos to individual bowls if people want them.
Pairs with: Cool down the heat with a side of cucumber salad.
Get ready for an explosion of Tex-Mex flavor. This recipe combines the bold and zest flavors of Texan and Mexican cuisines into one bowl.

With black beans and fire-roasted tomatoes simmered with a blend of spices, this soup is hearty, spicy, and, most importantly, super tasty.
Cooking Tip: Adjust the level of spiciness by adding more or less chili powder and jalapenos according to your taste preference.
Pairs With: Try this soup with a refreshing avocado salad. The creamy avocado and citrus dressing provide a cooling contrast to the soup's heat.
Quick Meals
Short on time but still craving a homemade meal? This 30-minute taco soup is your new best friend.

This recipe is a lifesaver for busy days when you need to serve a wholesome dinner between work, school, and club commitments.
Cooking Tip: To save even more time, use pre-cooked and shredded chicken instead of ground beef. It's a versatile twist that works wonderfully!
Pairs With: If you have the time but just prefer a quick meal, you could whip up a batch of cheesy quesadillas for a speedy and satisfying side dish.
Eating well doesn't have to break the bank, and this next recipe proves just that. This wallet-friendly option uses canned ingredients, making it a cost-effective choice for families and anyone watching their grocery expenses.

Don't let the affordability fool you; it's packed with flavor.
Cooking Tip: Consider using frozen corn or dried beans for an even more budget-friendly alternative. Just be sure to soak and cook the beans before adding them to the soup.
Pairs With: A side of Mexican rice is a perfect complement to this budget-friendly taco soup. It's filling, easy to make, and keeps your meal low-cost.
Does anybody actually like doing dishes? We don't think so. That's why this one-pot recipe is a lifesaver.

With minimal cleanup, you can enjoy a fantastic meal without washing multiple pots and pans.
Cooking Tip: To make cleanup even easier, consider using a slow cooker liner.
Pairs With: A plate of warm, homemade tortilla chips is the ideal sidekick for your one-pot taco dish.
Join the instant pot craze with this quick and easy recipe. This instant pot taco soup combines all the fantastic flavors of a slow-cooked soup but in a fraction of the time.

It's perfect for those days when you want a comforting meal without the long wait.
Cooking Tip: Utilize the saute function of your instant pot to brown the meat and saute the onions and garlic before pressure cooking.
Pairs With: Serve your instant pot taco soup with warm tortillas for a satisfying meal that's ready in a flash.
Slow-Cooker Meals
Flexibility is key with this next recipe. You can choose to cook it on the stovetop for a quicker meal or use your trusty slow cooker for a more hands-off approach.

Either way, you'll end up with a delicious, hearty soup.
Cooking Tip: When using a slow cooker or crockpot, allow the flavors to meld together by cooking on low for 6-8 hours. This will result in richer, tastier, and more tender meat.
Pairs With: Consider serving this soup with a side of zesty coleslaw; the crisp, tangy slaw balances out the richness of the soup.
If you're a fan of set-it-and-forget-it cooking, your slow cooker is probably your favorite tool in the kitchen. Slow cooker taco soup is a fantastic recipe to try out because it lets your slow cooker do all the work whilst you go about your day.

The result is a mouthwatering soup that bursting with flavor.
Cooking Tip: For a deeper flavor, brown the beef in a skillet before adding it to the slow cooker.
Pairs With: Try pairing your slow cooker taco soup with a side of guacamole and tortilla chips.
Looking for a taco soup that will satisfy even the heartiest of appetites? This hearty crockpot taco soup has you covered.

This recipe is loaded with ground beef, beans, and a variety of veggies, making it a filling and robust meal.
Cooking Tip: Experiment with different types of beans, like pinto, kidney, or black beans.
Pairs With: A side of Mexican rice or Mexican roasted vegetables would pair perfectly with a dish like this.
Celebrity-Chef Recipes
When it comes to comfort food, Paula Deen is a trusted source of inspiration. Deen's variation of taco soup is a delightful blend of Tex-Mex flavors with a Southern touch.

Follow this recipe for a heartwarming dish that's perfect for gatherings.
Cooking Tip: Don't be afraid when you see that the recipe calls for ranch dressing; it adds a unique flavor twist, but one that is a delightful change.
Pairs With: Cornbread muffins are a classic Southern accompaniment that complements this soup beautifully.
Rachael Ray brings this delectable recipe from Kareem McKenzie – of the New York Giants – to the fore

This version includes a medley of beans, tomatoes, and spices that create a cold and unforgettable taste experience.
Cooking Tip: If you want to add an extra kick to this recipe, consider using canned chili beans.
Pairs With: Serve with a side of tortilla strips for added crunch.
Another Rachael Ray recipe here, this time with a sloppy taco Stoup, which is a hybrid between stew and soup. It's a satisfying meal that's sure to become a family favorite.
Cooking Tip: To make it even heartier, add diced potatoes or pasta to the stoup.
Pairs With: A side of cheesy garlic bread never goes amiss, and we think it would pair wonderfully with this meal.
Finally, Ina Garten puts her own spin on taco soup with the Mexican chicken soup recipe.

This variation features tender chunks of chicken, vegetables, and a rich brother infused with Mexican flavors.
Cooking Tip: Use bone-in, skin-on chicken thighs for the most flavorful and tender meat. Remove the skin before shredding the chicken.
Pairing Dish: A side of Elote (Mexican Street-Corn) complements this chicken soup perfectly.
Final Thoughts
Incorporate these incredible taco soup recipes into your meal rotation, and you'll never have a dull dinner again. Whether you prefer it spicy, hearty, or quick and easy, there's a taco soup recipe here for every occasion.
So gather your ingredients, follow our cooking tips, and enjoy a delicious trip to Mexico from your own kitchen!
Frequently Asked Questions
Which Taco Soup Recipe is Vegetarian?
For a vegetarian option, consider making any of these recipes without the meat and with a plant-based protein alternative like tofu or extra beans instead.
Can You Store and Reheat Leftover Taco Soup?
Yes! To store taco soup, transfer it into an airtight container once cool and refrigerate for up to 3 days. Use the microwave or stovetop to reheat, stirring occasionally and adding more water if it starts to thicken up too much.
15 Amazing Taco Soup Recipes You NEED To Try
Course: Other Recipes
Directions
Choose your favorite recipe
Gather your ingredients
Prepare your taco soup
Enjoy!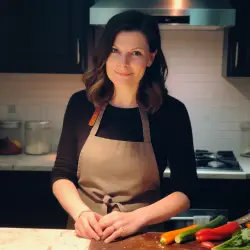 Latest posts by Barbara Hunt
(see all)