There's only one way to describe enchiladas: like a fiesta on a plate.
We love enchiladas. Who doesn't? They're flavor-packed, fun to make, and super versatile.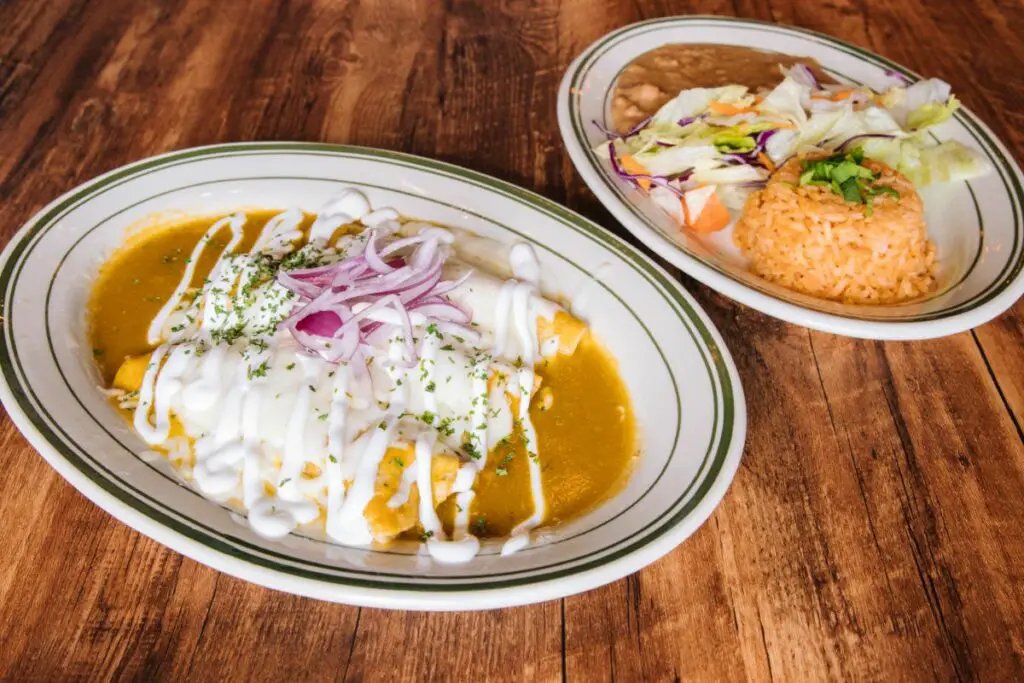 But enchiladas aren't just versatile because they can be meaty, veggie, spicy, or zesty; they're versatile because they go perfectly with a host of must-try side dishes.
That's why we've rounded up 15 amazing enchilada side dishes that you need to try today, ideal whether you're hosting friends or cooking for one.
Just be warned: these enchilada side dishes will make your taste buds water!
Sometimes simple is best, and that's exactly why coleslaw is a go-to side. It's easy to make and not too filling. But this coleslaw recipe comes with a twist: it's Mexican-inspired, making it the perfect side dish to serve with enchiladas.
The prep time for this Mexican coleslaw recipe is 35 minutes, but 30 minutes of that is chilling the mixture in the refrigerator before serving. It's also mayo-free – a bonus if you're watching your calories.
If you prefer guacamole over coleslaw, you'll be glad to know that this guacamole recipe is just as quick and easy to make. It's ready to serve in 10 minutes, after all, so you can whip it up while your enchiladas are in the oven.
What we like about this recipe is that it includes serrano (you can also use jalapeño), which gives it a truly authentic Mexican kick. It also doesn't leave out cilantro and lime juice – both mandatory for guacamole, let's be honest – so it really is the perfect guacamole recipe.
Some people use black beans. But pinto beans are the best choice if you want to make authentic refried beans – a Mexican staple that pairs perfectly with enchiladas. They're high in protein, too, which is ideal if you want to feel fuller for longer.
This easy refried beans recipe is easy because it only requires four steps to make. And considering it only takes 10 minutes to prepare and 15 minutes to cook, there's no excuse not to try this amazing enchilada side dish.
It doesn't get more Mexican than salsa. It can be used as a substitute for traditional enchilada sauce and is also a great enchilada topping if you're someone who can never get enough of that tangy tomato flavor.
Like the guacamole recipe listed above, this homemade restaurant salsa recipe is ready to serve in 10 minutes. Just follow the four simple instructions and get ready to taste a salsa that offers the perfect balance of sweet and spicy.
We wouldn't include salsa on this list without recommending our favorite tortilla chips recipe. Salsa and tortilla chips are a match made in heaven, after all, and an amazing side dish to serve with enchiladas.
These baked tortilla chips are dashed with lime juice and seasoned with spices, so you can bet they taste better than regular store-bought chips. This recipe only involves five ingredients, too, which you probably already have in your pantry!
Salsa fresca, also called pico de gallo, is a staple Mexican sauce that sets itself apart from traditional salsa. The ingredients are chopped instead of blended, creating a salsa with a chunkier texture.
So, if you haven't tried pico de gallo before, this salsa fresca recipe is definitely worth making with your next batch of enchiladas. It takes 10 minutes to put together – simply chop the ingredients and combine them in a bowl.
Tamales are spicy, savory, or sweet with a faint nutty flavor, so they're a great complement to enchiladas. What's special about this recipe is that it's authentic, thanks to the masa harina dough, using Mexican rice as the filling (instead of pork or chicken).
If you like to get hands-on, you'll have fun folding the corn husks. But even if that's not the case, don't be intimidated; the prep time is 25 minutes, all in all. And we must admit the end result is 100% worth it.
Have a sweet tooth? Plantains are sweetest when ripe – especially when cooked. And since they're high in vitamins and minerals, fried ripe plantains are an amazing enchilada side dish if you're craving something sweet but nutritious.
With 5 minutes of prep time and 10 minutes of cooking time, this recipe is arguably the easiest side dish to make on this list. Simply wash, peel, slice, and fry before draining. For extra flavor, sprinkle with grated cheese.
Don't be fooled by the name; sweet corn cake is a traditional Mexican side dish made from masa harina, sweet corn, and butter as the main ingredients. It's soft, moist, and sweet – a mouth-watering side dish that's perfect for enjoying with enchiladas.
This recipe takes things up a notch as it's inspired by Chi-Chi's Mexican sweet corn cake, one of the restaurant's most popular sides. The best thing? Prep time is only 10 minutes in total.
Looking for something light? This Mexican chopped salad is refreshing, zesty, and healthy. What's more, it's a colorful salad that looks as good as it tastes, so it's ideal for serving to your friends and family.
You'll need a handful of ingredients to make the salad and dressing, but the good news is that you're sure to find most of the ingredients at home. With the tortilla chips, it takes 50 minutes to make, but only 25 minutes if you just want to prepare the salad.
Arroz primavera, or Mexican white rice, is perfect for serving with any Mexican dish and is super easy to make. You only need a handful of ingredients, which are white rice, onion and garlic, oil, kosher salt or vegetable stock, and mixed vegetables.
Follow this recipe and you'll end up with arroz primavera that's soft and fluffy. It takes 10 minutes to prepare and 30 minutes to cook, which mostly involves mixing the ingredients in a pan as instructed. The two final instructions are the secret to the fluffy texture!
Forget traditional fries. These fries are made from jicama, also known as Mexican turnip. They're low in calories and high in fiber, nutrients, and antioxidants, so this recipe is perfect if you're looking for a nutritious yet exciting enchilada side.
The main ingredient here is one medium jicama, the rest are oil and seasoning. These baked jicama fries take just over an hour to make, but you'll be glad to know that 10 minutes of that is prep time. Considering how these fries taste, it's 100% worth the wait.
Here's another refried beans (frijoles refritos) recipe, except that it uses Cuban black beans instead of pinto beans. The result is a staple Mexican side that's less creamy but more flavorsome, with a higher amount of vitamins and minerals.
Like the refried beans recipe listed above, we recommend this amazing enchilada side if you're looking for an easy protein fix. It only involves three simple steps to make, with 10 minutes of prep time and just 25 times of cooking time.
Elote is a popular Mexican street food made from corn on the cob. Also called Mexican street corn, elote involves grilling and covering the corn in mayo or Mexican crema, then topping it with Mexican cheese, lime, and chili.
Does it sound good? This is our favorite elote recipe. It only requires a handful of ingredients and is ready to serve in 30 minutes. Mexican street corn is a side that looks as good as it tastes, so it's one that's sure to impress whoever you serve it to.
Last but not least: Mexican rice, made from white rice flavored with spices, diced jalapeño and red bell pepper, onion, chopped cilantro, and tomato sauce. This recipe is traditional Mexican rice made easy, with a flavor profile that will dance off your tongue.
It's yet another perfect enchilada side because who doesn't love Mexican rice? This easy Mexican rice recipe takes 30 minutes in total and serves four, but we recommend doubling the ingredients. You and your friends will want more.
Final Thoughts
And there you have it: 15 amazing enchilada side dishes that you need to try today. These amazing side dishes are fun and easy to make, offering authentic Mexican flavors that will go down a treat with any enchilada recipe.
So, did your mouth water? Which amazing enchilada side dish will you try first? Either way, bookmark this page for future reference, and make sure to check out our other best recipe lists for more eye-catching cooking inspiration!
Frequently Asked Questions
What's Typically In An Enchilada?
An enchilada typically contains a chicken, ground beef, vegetable, or shredded cheese filling wrapped in a corn or flour tortilla. Red enchilada sauce is the most common sauce used for enchiladas. Enchilada toppings can include cheese, sour cream, and diced onions.
What Do You Eat On Top Of Enchiladas?
You can add more flavor to enchiladas with a range of popular toppings. The best enchilada toppings include shredded or grated cheese, sour cream, diced onions, chopped cilantro, sliced jalapeños or peppers, sliced avocado, and sliced black olives.
15 Amazing Enchilada Side Dishes To Sink Your Teeth Into
Course: Other Recipes
Directions
Pick a delicious enchilada recipe from above
Get your ingredients ready
Make a side dish for your enchiladas
Enjoy.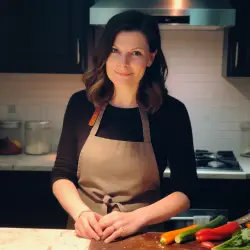 Latest posts by Barbara Hunt
(see all)