Most meat eaters adore ribs.

With their rich combination of tender meat marbled with flavorful fat and various seasonings or sauces on top, the taste and texture of ribs is an omnivore's dream come true.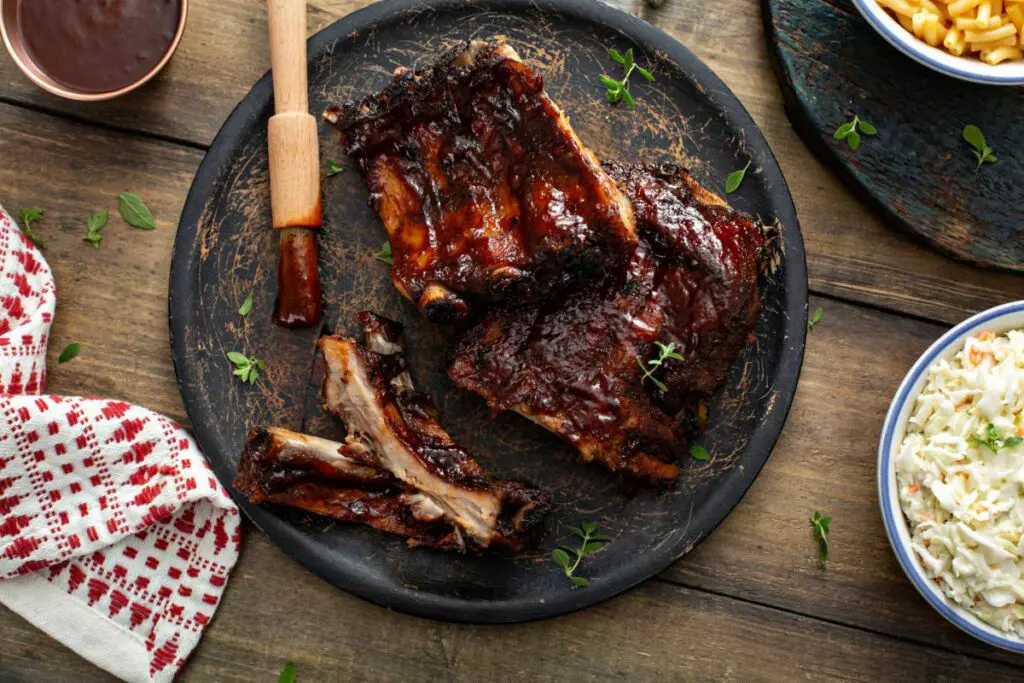 They are best enjoyed with a side of something, though. After all, you want something that complements the savory richness of the ribs, something with contrasting flavors, textures, or freshness, creating a more balanced and enjoyable culinary experience.
Ribs pair well with many sides, so choosing one may take a while. Well, that was until now, as we have picked out 15 of our favorite rib side dishes, so you can sit back and choose one for your next rib meal.
From simple sides like coleslaw to filling pasta salads, we have something to please everyone below. Let's treat those taste buds to some delicious sides!
1. Easiest To Make – Coleslaw
We start with the quickest and easiest side dish there is to make – coleslaw. Oh, it's one of the tastiest, too!

All you need to do is mix some shredded lettuce and carrots together with mayonnaise, vinegar, and seasonings of your choice. We typically include salt, pepper, and a bit of sugar for a balanced flavor.
The end result is a simple and refreshing accompaniment for your ribs. There are many variations of coleslaw you can try. The recipe above is one of our favorites, but we also recommend trying a twist with a fruity fusion.

Simply add diced apples, dried cranberries, or even sliced grapes for a sweet and fruity element that complements the cabbage.

Got some BBQ sauce left over from your ribs? If so, these corn fritters are perfect for dipping in. Corn and ribs always go well together, and this corn fritters recipe is a perfect example.

Crispy and golden on their outside with a fluffy, sweet, and tender inside, these fritters are good enough on their own!
You can dry or bake them, but just make sure you make more than you think you need, as you and your family will go through them like there is no tomorrow!
Top tip – When frying or baking corn fritters, ensure the oil or baking sheet is hot before adding the batter to achieve a crispy exterior and prevent sticking.
Although coleslaw took the top spot as the easiest-to-make side dish, this mashed potato casserole recipe is not far behind. Perfect for the holidays (or any day of the week), this casserole is sure to impress anyone who tries it.
We highly recommend making this if you are planning a big get-together. You can make a big batch to feed everyone and, of course, impress them.

These smooth and buttery potatoes are especially delicious with a hint of garlic and a topping of melted cheese.

We love this comforting and indulgent side dish and how it complements the savory texture of ribs perfectly. We want it now!

If you're looking for a tangy side that isn't overly filling, these fried pickles are worth a try. Thanks to their tangy crunchiness, they contrast perfectly with the tender meat of ribs.
When frying them, coat the slices in seasoned batter and deep-fry until golden.

If pickles are not to your liking, try alternatives, such as onion rings, for a similar texture and flavor contrast.

We could include sweet potato fries in all of our "best side dish" posts. They especially shine when paired with ribs, though.

These sweet potato fries complement ribs, especially those with a smoky or spicy flavor profile, as the sweetness of the fries balances the heat.
To ensure crispiness, we like to coat them lightly in oil, arrange them in a single layer on a baking sheet, and bake at a high temperature until golden brown. Also, try tossing on some Parmesan and rosemary before you serve to elevate the flavors even more.
You know, we're pretty familiar with a tasty chickpea salad, and it just felt like a natural choice to whip up a Greek-inspired version when we last had ribs. This recipe is one we love! It's got all those fantastic Greek salad flavors but is heartier and more satisfying.
Trust us, it's a delicious side that goes perfectly with just about anything, especially a plate of delicious ribs!
Looking for more inspiration? How about these Amazing Bbq Chicken Side Dishes?
This cucumber, avocado, and tomato salad with pesto is oh-so good! If you love your veggies, this is the one to go for. With the addition of pesto dressing and fresh mozzarella, this salad packs a flavorful punch.
We like to substitute the avocado with diced bell peppers sometimes. This makes for a refreshing crunch with every bite.
Sometimes, you just want something traditional that you have probably had before, and, let's face it, you'll have it again. We are, of course, talking about potato salad!

When paired with ribs, particularly smoky or spicy ribs, potato salad's creamy and tangy flavors compliment the meat's richness magically.
This classic potato salad recipe offers a wonderful balance of creaminess and crunch, avoiding any excessive sweetness, which is something we're particularly picky about in our potato salads.
9. Packed With Flavor – Dirty Rice
It may not have the most alluring name, but dirty rice is an excellent side dish for ribs and other sauce-covered meaty dishes.

Famous in Cajun and Creole cuisines, the rice achieves its "dirty" color from various seasonings and pieces of meat.
This rice is particularly popular as a rib's side because it is packed with flavor, often absorbing much of the rib's flavor, too. It's so good, you can eat it as a main!
Spinach is a true superfood, but getting some fussy eaters (we're looking at you, kids) to try it is almost impossible! But give them this creamed spinach, and we doubt they'll even know they're eating greens.
When it comes to pairing with ribs, the creamy texture and mild, earthy flavor provide a satisfying contrast to the meat's richness.

If you have no spinach left or are not a fan, you can substitute it with sautéed kale or Swiss chard.
Think of summer, and one smell that comes to mind is corn on the grill.

Easy to make and utterly delectable, some charred corn on the grill will make any day better.

Grilled corn is a hit at any BBQ, but brush some honey-lime butter over the top, and you have yourself one of the best rib sides going.
12. Classic American Side – Succotash
Succotash is a true-blue American buddy for ribs. It's got that sweet corn and buttery Lima bean combo that adds a touch of sweetness and creaminess that plays oh-so-nicely with the savory ribs.
But hey, if you want to mix things up, consider grilled corn on the cob or a cornbread casserole for that same sweet and corny goodness.

You can also try adding in some corned beef or bacon, popular ingredients in some regions of the U.S.
From a classic American side to a good old British favorite – baked beans.

With their tangy flavor, which is also sweet and savory, baked beans are super easy to make and ideal if you're on a tight budget.
This good old-fashioned baked bean recipe is one to use for parties.

They work well with ribs and other party foods, like burgers and hot dogs. We're pretty sure your taste buds will thank you when paired with ribs.
14. Comfort Food – Cornbread
Having cornbread alongside your ribs is like wrapping yourself in a cozy comfort food hug. One's all fluffy and slightly sweet, while the others have that tangy, hearty vibe. Put them together, and it's like a dinner party in flavor town!
Want to level it up? We recommend you toss in some cheese and bacon for a flavor explosion. Or, go wild with sliced jalapeños (not too much if you don't like a lot of spice) and Parmesan cheese to crank up the salty spice factor.
Here's another summery side that has a mix of refreshing flavors that contrast beautifully with the savory richness of ribs. With peaches, juicy tomatoes, and burrata cheese, this salad is not only fresh and tangy but extremely healthy.
We love to pair this salad with grilled chicken or pork for a refreshing burst of flavors, too. One for your next BBQ!
In Summary
From filling comfort foods to refreshing, healthy salads, there is a side that compliments every type of rib out there. If you can't choose between them all, try a few, especially if you're having a social gathering.

The more sides you pile on your plate, the bigger the flavor fiesta will be!
Hungry for more? Take a bite of these Amazing Burger Side Dishes!
15 Great Rib Side Dishes
Course: Other Recipes
Directions
Choose the tastiest side dish from above
Collect your ingredients
Prepare your side dish
Enjoy with ribs!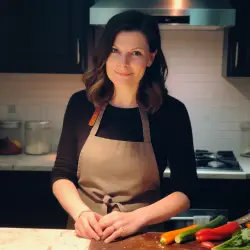 Latest posts by Barbara Hunt
(see all)