You know, a perfect burger is a blank canvas, and the side dishes are the colorful splashes that make the whole meal a masterpiece.
Whether you're grilling in your backyard, hosting a cookout, or simply satisfying your burger cravings, you can't underestimate the power of an incredible side dish.
From creamy classics to crispy surprises, we've rounded up 15 amazing burger side dishes that'll have you reaching for seconds before you've finished the main meal!
Here are our top picks for you to try with your favorite burger meals, whether veggie, beef, chicken, or otherwise!
First up, we've got a classic that's practically a must at any barbecue bash: barbecue baked beans. These beans are slow-cooked to perfection with a smoky blend of flavors that perfectly complement the charred goodness of your burger.
Cooking Tip: To achieve the perfect balance of flavors, let your barbecue baked beans simmer on low heat for a while. This slow cooking process allows the smokiness to infuse into the beans.
Looking to shake things up a bit? Try dill pickle pasta salad. It's a tangy twist on traditional pasta salad that pairs amazingly well with a juicy burger. The dill and pickles add a refreshing zing, while the creamy dressing brings it all together in a harmonious dance of flavors.
Cooking Tip: When making dill pickle pasta salad, reserve a bit of the pickle juice to add the dressing. It's a secret ingredient that brings an extra punch of tanginess and enhances the overall pickle flavor.
For those looking to keep it on the lighter side without compromising on taste, Paula Deen's lighter quinoa Hoppin' John is here to save the day. 
Packed with protein-rich quinoa and a medley of spices, this dish brings a Southern touch to your burger feast while keeping things wholesome.
Cooking Tip: To ensure fluffy quinoa, rinse it thoroughly before cooking. This removes any bitterness and helps the quinoa absorb those wonderful Southern-inspired spices.
Who can resist the allure of crispy, golden fries? Rachael Ray's sweet potato oven fries take the classic side to a whole new level. Sweet potatoes add a touch of sweetness and vibrant color that elevates your burger experience.
Cooking Tip: Achieve a perfect crisp by making sure your fries are spread out evenly on the baking sheet.
Let's talk about the satisfying crunch that is a delicious onion ring. These crispy wonders are the ultimate sidekick to your burger, providing that savory satisfaction with every bite. Don't forget the dipping sauce – it's the finishing touch that ties it all together. 
Cooking Tip: For extra crunchy onion rings, dip them in flour, then into a mixture of beaten egg and milk, finally coat them with breadcrumbs. This tripe-coating technique results in a satisfyingly crispy exterior.
Ah, the trusty creamy coleslaw – a timeless companion to burgers. The cool, creamy texture and the slight tanginess of the dressing balance out the richness of the burger. It's a match made in heaven.
Cooking Tip: After shredding the cabbage, let it sit in a bowl of cold water for a few minutes, then drain to keep it fresh and crunchy. 
For a burst of freshness and natural sweetness, try oven-roasted tomatoes. Slow-roasting them enhances their flavors, making them a delightful accompaniment to your burger. They're like a little burst of sunshine on your plate.
Cooking Tip: When roasting tomatoes, drizzle them with a touch of olive oil and season with salt and pepper before roasting to intensify the flavors.
Looking to sneak in some greens? Crispy baked zucchini chips are the way to go. These thinly sliced zucchini pieces are coated in a crunchy layer, making them an addictive alternative to traditional chips. Plus, they're a guilt-free indulgence!
Cooking Tip: Patience is key when making this recipe. Make sure the slices are uniform for even cooking and resist the urge to flip them too soon.
An avocado salad is a refreshing and satisfying side dish that brings a dose of creamy goodness to your burger fiesta. Tossed with fresh veggies and a zesty dressing, it's the kind of dish that makes you feel good about what you're eating. 
Cooking Tip: To prevent your salad from turning brown, toss the avocado cubes with a bit of lemon or lime juice.
Let's kick the fry game up a notch, shall we? Baked garlic parmesan steak fries are a mouth watering blend of flavors. The combination of garlic, parmesan, and hearty steak fries create a blend of tastes that's hard to resist. 
Cooking Tip: Make sure to evenly spread the coated steak fries on your baking sheet to crisp them up perfectly.
When Ina Garten is in the house, you know you're in for a treat. Her potato salad recipe is a sophisticated take on the classic, featuring tender potatoes dressed in a delectable mix of herbs and seasonings. 
Cooking Tip: When making this recipe, let the boiled potatoes cool slightly before mixing them with the dressing. This prevents the potatoes from absorbing too much moisture.
If you haven't tried fried pickles yet, you're missing out on a tangy and crispy delight. These bite-sized pickles are coated in a crunchy batter and fried to perfection. They add a unique touch to your burger spread that'll have your guests begging for the recipe. 
Cooking Tip: Use a thermometer to maintain the oil temperature. This ensures that the crisping process is perfectly even.
Why keep the grilling fun exclusive to your burgers? Throw some potato slices on the grill for a smoky twist on classic potato sides. Grilled potatoes have that perfect balance of tender insides and crispy exteriors that makes every bite pure satisfaction.
Cooking Tip: Parboil the potatoes before placing them on the grill to speed up the cooking process.
Mac and cheese isn't just for kids – it's for the young at heart too! Creamy baked mac and cheese is a comfort food that pairs harmoniously with the indulgence of a burger. The combination of cheesy goodness and that satisfying crust on top is a winning duo.
Cooking Tip: Choose a blend of cheeses for this recipe, this helps to create a well-rounded flavor profile.
If you're looking to add a touch of elegance to your burger feast, consider asparagus with roasted red peppers. The vibrant colors and sophisticated flavors make it a side dish that impresses without stealing the spotlight from your main course.
Cooking Tip: Arrange the asparagus in a single layer on the baking sheet to ensure even cooking.
Conclusion
And there you have it, folks, a mouth watering journey through our favorite burger side dishes that are poised to improve your burger game like never before. 
We've taken a delicious detour through tangy, crunchy, creamy, and savory flavors, transforming your ordinary burger mea into an extraordinary feast for the senses. 
So, whether you're flipping patties in your backyard, or organizing a sizzling summer barbecue, or just enjoying a casual meal with friends, these side dishes are your golden ticket to culinary bliss.
Frequently Asked Questions
What Vegetables Are Good On A Burger?
When it comes to enhancing your burger experience, crisp lettuce, juicy tomato slices, and thinly sliced red onions bring a delightful crunch and a burst of color. 

A layer of pickles adds a tanginess and a satisfying contrast to the savory patty. Don't forget avocado slices lend a luxurious creaminess, and for a hint of heat, jalapeno or banana pepper rings.
How Can I Make My Burger More Interesting?
You can make your burger more interesting by experimenting with unexpected toppings and condiments. Consider adding unique ingredients like caramelized onions, spicy sriracha mayo, or a fried egg for an extra layer of flavor and texture. 

Switch up the cheese with options like blue cheese or pepper jack, and explore different types of buns such as pretzel or brioche. Don't be afraid to draw inspiration from international cuisines, incorporating flavors like tzatziki, guacamole, or kimchi to create a burger that's not only interesting but also a true culinary adventure.
15 Amazing Burger Side Dishes
Course: Other Recipes, Recipes
Directions
Pick a recipe from above
Click the recipe name and visit the website
Collect the ingredients and the food
Enjoy – don't forget to leave a review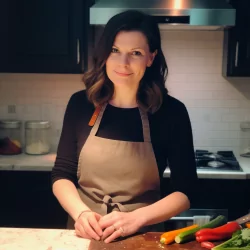 Latest posts by Barbara Hunt
(see all)