If you're on the lookout for some lip smacking, oh-so-delicious side dishes that won't ruin your keto game, you've landed on the right page!
We've rustled up a fantastic list of 15 keto friendly side dishes that are bound to tickle your taste buds and make your meals truly memorable.
We've spent countless hours experimenting in the kitchen, finding innovative ways to create dishes that are not just keto friendly but bursting with flavor. We're here to share our favorites with you, so let's dive right in!
Yep, you read that right – mac and cheese, keto-fied! This baked cauliflower "mac" and cheese takes gooey, cheesy goodness to a whole new level. Roasted cauliflower florets are enveloped in a creamy, dreamy cheese sauce that will have you begging for seconds (or thirds!).
Cooking Tip: To achieve that perfect gooey cheese texture, consider using a mix of sharp cheddar and cream cheese for the sauce – it'll make all the difference!
Pairs With: This indulgent dish pairs beautifully with grilled chicken or a juicy steak. The rich flavors complement the meat wonderfully.
Hold on to your taste buds, folks, because this recipe is about to blow your mind. These mini cabbages are transformed into something magical with the help of crispy bacon and luscious garlic parmesan sauce.
Cooking Tip: For extra crispy brussel sprouts, make sure to thoroughly pat them dry before roasting to get that satisfying crunch.
Pairs With: These delectable sprouts make an excellent sidekick to roasted pork tenderloin or even a perfectly cooked salmon filet. The bacon adds that smoky flair to any protein.
Crunchy cravings got you down? Lift them up with these keto tortilla chips. Using low-carb tortillas, you two can enjoy chips to your heart's content alongside some of your favorite dipping sauces. 
Cooking Tip: Rolling out the tortillas thinly before baking is the key to achieving that perfect crispiness. Don't be shy with the rolling pin!
Pairs With: These crunch chips are a match made in heaven with a zesty guacamole or even a tangy salsa for that ultimate snacking experience.
Sink your spoon into a bowl of comfort with Paula Deen's creamy squash soup. It's like a warm, cozy blanket for your taste buds – minus the unnecessary carbs.
Cooking Tip: Roasting the squash before blending intensifies its flavor and gives the soup a delightful depth.
Pairs With: A grilled cheese sandwich made with keto-friendly bread is a classic companion to this soup, creating a comforting and satisfying meal. 
Who says you can't have your biscuits and keto too? This recipe for keto bacon cheddar chive biscuits are fluffy, buttery bundles of joy packed with savory goodness. You won't believe they're keto-friendly!
Cooking Tip: make sure your butter and cheese are cold when cutting into the dough – it's the secret to achieving those flaky layers.
Pairs With: These biscuits elevate a simple bowl of soup or chili into a complete meal. They also go fabulously alongside a crispy salad for a well-rounded lunch.
Elevate your meal game with a classic: creamed spinach. This version is velvety, and incredibly satisfying, making it the perfect sidekick to any main dish. 
Cooking Tip: Squeeze out as much moisture from the cooked spinach as possible to prevent your cream sauce from becoming watery.
Pairs With: This pairs perfectly with a juicy grilled steak or a succulent roasted chicken breast.
When in doubt, trust the culinary guru herself, Ina Garten! Her zucchini with parmesan recipe is simplicity at its finest. Sliced zucchini meets the magic of parmesan, creating a side dish that's pure sophistication. 
Cooking Tip: Opt for larger zucchinis to make slicing and cooking easier – plus they're less likely to become mushy.
Pairs With: This tastes incredible alongside a seared piece of fish like salmon or a light grilled chicken breast.
Prepare to have your taste buds dazzled by this recipe for garlic butter mushrooms. These fungi are sauteed to perfection in garlic-infused butter, making them an ideal partner for grilled meats or a star in salads.
Cooking Tip: Don't overcrowd the pan while sauteing – mushrooms release moisture, and overcrowding can lead to steaming instead of browning.
Pairs With: These buttery mushrooms are the perfect topping for a burger or tender piece of grilled steak.
Avocado aficionados, unite! These bacon avocado fries are a keto revelation. Wrapped in crispy bacon, these fries are baked to perfection, combining creamy avocado with that irresistible crunch.
Cooking Tip: Make sure your avocado slices are ripe but still firm to the touch – they'll hold up better during baking.
Pairs With: These unique fries are the ultimate accompaniment to a grilled chicken breast or even a summer salad.
Thanksgiving on keto? No problem! This recipe for keto cauliflower stuffing delivers all the comforting flavors of traditional stuffing without the carb overload. It's so good, you'll want to gobble it up year-round.
Cooking Tip: For a nutty crunch, consider adding chopped toasted pecans or almonds to the stuffing mixture. 
Pairs With: This keto-friendly stuffing is a must-have for your holiday table. It pairs beautifully with roast turkey or a tender pork roast. 
Step aside, potatoes. These crispy baked carrot fries are stealing the spotlight. These vibrant orange wonders are seasoned and baked till crispy perfection, making snack time both healthy and irresistible.
Cooking Tip: Make sure to cut the carrot sticks uniformly for even cooking and consistent crispiness.
Pairs With: These colorful carrot fries are a delightful side to a lean protein like grilled chicken or seared fish. 
Rachael Ray knows her stuff, and her brussel sprouts with bacon recipe is a testament to that. Roasted to a delightful crisp and topped with bacon bits, these sprouts are a flavor explosion. 
Cooking Tip: Cutting the brussel sprouts in half before roasting exposes more surface area, resulting in crispier edges.
Pairs With: These sprouts with bacon and perfect alongside a tender pork chop or even a well-seasoned steak. 
Transport your taste buds to the Mediterranean with this invigorating Greek salad. Fresh cucumbers, juicy tomatoes, tangy feta, and that quintessential olive oil drizzle – it's a vacation for your palate. 
Cooking Tip: Use the best quality extra-virgin olive oil you can find – it truly makes a difference in the flavor of the salad.
Pairs With: This dish pairs perfectly with grilled lamb chops or a light, flaky white fish.
Elevate your holiday spread with this recipe for holiday roasted vegetables. Bursting with color and flavor, this medley will have everyone at the table singing your praises. 
Cooking Tip: Cut your vegetables into similar sizes to ensure even roasting.
Pairs With: A succulent roast chicken or a savory pork roast.
Craving some Southern comfort? This chicken-fried cauliflower delivers all the crunch and flavor of its carb-laden cousin. It's a keto twist on a beloved classic.
Cooking Tip: Use a thermometer to monitor the oil temperature – it's essential for achieving that crispy, golden coating.
Pairs With: Indulge in this side dish alongside creamy keto-friendly gravy and some sauteed spinach.
Conclusion
And there you have it, dear foodies – a delectable lineup of 15 keto side dishes that prove taste and health can coexist harmoniously. 
From cheesy concoctions to veggie wonders, these recipes are culinary love letters to the keto lifestyle. 
So go on, embark on an adventure in your kitchen and whip up these sensational sides. Each bite is a reminder that keto can be as glorious as it is gratifying. Here's to happy cooking and savoring the flavors of keto paradise, one side dish at a time!
Frequently Asked Questions
What Junk Food Is Keto?
Keto-friendly junk food alternatives include pork rinds, keto cheese chips, dark chocolate (70% cocoa or higher), nut butters (without added sugars), avocado chocolate pudding, and certain low-carb ice creams. 

Additionally options like fat bombs, zucchini/eggplant fries, and cauliflower pizza crust can satisfy cravings. Always check ingredient labels for hidden sugars and additives.
What Everyday Snacks Are Keto Friendly?
Keto-friendly snacks include cheese, nuts like almonds and macadamias, hard-boiled eggs, plain Greek yogurt, pork rinds, veggies with dips, and many more. Always check labels for carb content.
What Vegetables Are Not Allowed On Keto?
On the keto diet, starchy and high-carb vegetables are generally limited or avoided due to their higher carbohydrate content. Vegetables like potatoes, corn, peas, and carrots are typically not allowed in large quantities on keto because they can contribute to exceeding the daily carb limit. 

These veggies contain more carbs than leafy greens and low-carb options, which are preferred on the keto diet to help maintain ketosis, a state where the body burns fat for fuel instead of carbohydrates.
15 Great Keto Side Dishes
Course: Other Recipes, Recipes
Directions
Pick a recipe from above
Click the recipe name and visit the website
Collect the ingredients and the food
Enjoy – don't forget to leave a review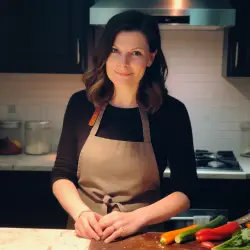 Latest posts by Barbara Hunt
(see all)